Fashion
Fendi Spring/Summer 2018 Menswear
That Friday feeling… it manifests itself mere moments before you leave the office, ready for the weekend adventures of your choice. Almost tangible, it is infused with an air of optimism, relaxation and regrouping no matter the season. Come the summer months, however, and that fleeting moment of utter freedom is accentuated further by longer, sunnier, brighter days and a generally elevated mood.

If that sounds all too familiar, then you're totally grasping the inspirational context behind Fendi's Spring Summer 2018 Men's collection that walked the runway on Monday as part of Milan's Fashion Week Schedule. This is executive realness on the verge of the weekend. Corporate aplomb walking hand-in-hand with sunny holiday daydreams. In a naturally subdued palette of beiges, sand, greens and flutters of that all-important pink, Fendi's latest offering focuses around formalwear so versatile that stands its ground from boardroom to pool bar: suits and big blousons are worn with sleeveless shirts while shorts and tracksuits find their perfect matches in silk shirts. Slingback loafers are paired with running socks and neckties complete even the most laid-back looks.

This season sees the advent of what the brand has coined 'The Skype look': a playful mismatch of sartorial options that somehow work together while concealed behind the office desk: tops and bottoms clash beautifully and interestingly enough, so do the fronts and backs of many pieces. All notions that adhere to that mood-flipping feeling that rolls around when you're about to clock out.

This is corporate escapism, the Fendi way! 

www.fendi.com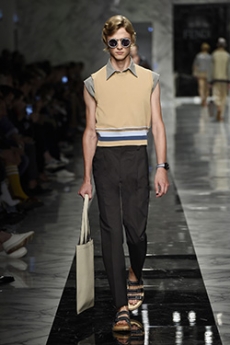 Fashion
COS RE-OPENS ITS KURFÜRSTENDAMM STORE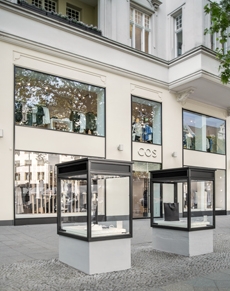 COS is going back to where it all started by re-opening its Kurfürstendamm store in Berlin. Back in 2007, the Kurfürstendamm store was the first COS store to open on the German market and has since then evolved into eighteen stores.

This time, the Kurfürstendamm store is set over two stories and 625sqm, offering the full collection across COS womenswear, menswear and children's wear. COS wanted to create a dynamic yet timeless space and has therefore preserved the building's original architectural features while mixing it up with modern updates. The stores interior goes in line with the brand aesthetic by combining functionality and design, creating a contrast interior of blonde wood against concrete and marble.

www.cosstores.com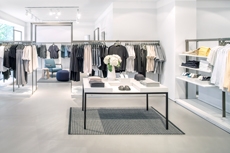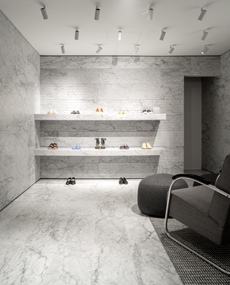 Fashion
Finding Eden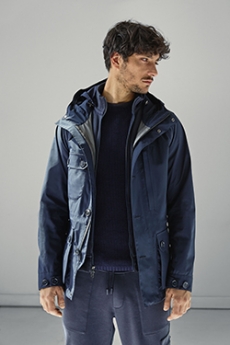 A brand's advertising campaign has a very specific aim in mind –as a carefully crafted fusion of the brand's core values and signature visual codes, this collection of references is meant to encapsulate and appeal to its archetypal customer.

As the age-old moniker attests, less is (usually) more. Adhering to long-standing traditions and stripping down to a the bare essentials may just be the key ingredients for a campaign in which the ideal customer is present at both ends of the process; they are simultaneously an inspiration and the receiver of the end product. In an age where endless attempts of innovation and out-of-the-box thinking are swarming our daily lives, a back to basics approach comes as a breath of fresh mountain air.

Enter Woolrich's latest campaign – UTAH: a campaign that focuses and is built around characters residing in Eden, Utah. Located north of Salt Lake City and nestled in a lush valley between Snowbasin and Powder Mountain, Eden seems to exert an irresistible force that pulls lovers of the great outdoors towards it effortlessly, inviting them to partake in the vast array of activities it offers.

The campaign aims to embody the effortless equilibrium that characterises the daily lives of Eden's residents who are all infatuated with the great outdoors in ways totally personal to each and every one of them. The importance of people and space, the balance between work and home life, the melding of style and exploration all became focal points. For Woolrich, this is about much more than stopping and smelling the roses, it's about pausing on a long walk to hear stream, feeling the wind on your skin, watching the trees grow and basking in vibrant sunsets. Simply put, this is a celebration of nature's simultaneously calm and invigorating energy and the endless possibilities it opens up to anyone eager to listen.

Woolrich has been at the forefront of outdoor lifestyle innovation for more than 180 years but its roots can be traced back to tradition and the oldest, continuously operating woollen mill in the US. The Woolrich Mill provided wool blankets to civil war soldiers and continues to produce them to this day. Since then, the brand has been consistent in delivering outdoors-oriented products since the 70s when people began to engage with nature in new and exciting ways. Men and women took their free time to explore natures splendour in a more recreational setting with backpacking, camping, mountaineering and cycling being just a few of their preferred activities.

From simple wool socks to its famous cold-busting parkas, the brand's products embrace and highlight the authenticity of the outdoor lifestyle. Functionality, comfort and durability are key characteristics of Woolrich's offerings for both men and women that are further elevated by quality materials such as wool, cotton and down. Completely in-tune with the needs of its customers, the outdoor brand now incorporates technical performance fibres like nylon and polyester in all its garments.

For Woolrich, there's a simple constant: as long as there are people keen to venture into the wild, it will help them do so in comfort and style.

www.woolrich.eu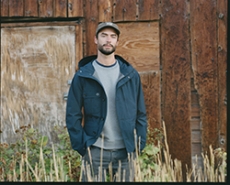 Fashion
Dior Fall/Winter 2017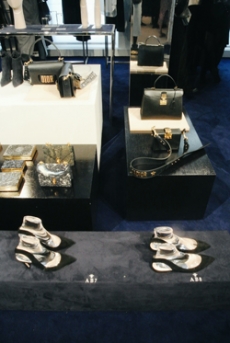 Taking the reins of a legendary fashion house is always a challenge. Maria Grazia Chiuri is not new to the job. She, together with Pier Paolo Piccioli, took the helm of Valentino one year after Sir Garavani's retirement, keeping high the stakes of the house, bringing it back to international acclaim.

At her second collection for Dior, Chiuri's wish to bring a revolution and play with the house's codes is even more clear. She is a woman, and as every Italian woman, she is naturally engaged in elevating women's power and society's perception of the female stance. If you were expecting a Valentino's modus operandi you were mistaken.

Maria Grazia Chiuri is not easily affected by predictions. She has a vision and she is certainly not playing the safe card. Dior Fall Winter 2017 was entirely declined in shades of blue, a blue that Chiuri found in the archives of Dior – particularly on a taffeta silk dress designed in '54 - and quickly got fascinated by. It's the blue of uniforms, of elegant evening dresses and certainly of denim. It's a young contemporary collection. Chiuri wishes to picture the contemporary woman emerging the tense political climate of our time.

Last season's motto "We should be all feminists" left the place to a more consistent and strong statement where the clothes speak by themselves. The basques created by Stephen Jones give a further accent in this sense. It almost as we see a troupe of suffragettes, marching one after the other advocating women's freedom to dress however they find fit.

www.dior.com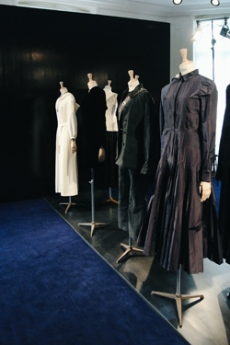 Fashion
Loewe Fall/Winter 2017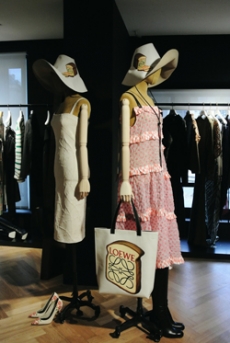 Loewe's creative director J.W. Anderson is transforming this luxury Spanish leather brand into an impressive fashion house where cultural references, design, architecture, and the beautiful leather craftsmanship coexist.

Like for his eponymous label, Anderson is able to create a dialogue between the arts, where fashion is at its centre, without any stretch. The romantic and enchanting feeling reminiscent of Gone with the Wind's Rossella O'Hara ball gowns together with a playful splash of Commedia Dell'Arte's Pierrot and Harlequin, where the polka dots and the western hat felt perfectly parts of the same image. But also the signature handkerchief hem dresses and a parade of countless accessories declined in new colours like the polka dot iconic puzzle bag.

As in every season we see experimentations with butter lamb leather in exceptional peplum waist-cinching tops, dresses, suits, outwear in a variety of colours: lipstick red, moss green, and the forever favourite almond and black. There are so many fascinations Anderson took into account for Loewe Fall Winter 2017 and it just feel fresh and captivating.

www.loewe.com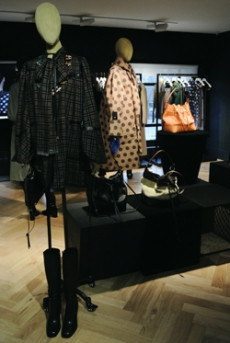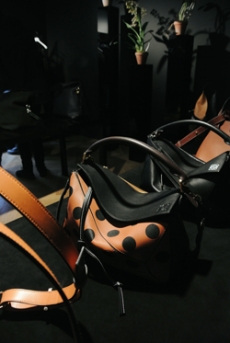 Fashion
Nicholas Kirkwood Fall/Winter 2017
"The Dark Matters", for Fall/Winter 2017 Nicholas Kirkwood created a series of monochromatic shoes with a strong 80s aesthetic.

Geometric and graphic lines adorn the heels and boots for this strong and architectural collection. The English designer - inspired by artists like Daniel Buren - used a sculptural approach and the forever-favourite feminine/masculine dichotomy references.

The austerity of black in contrast with lurex and silver mirror smooth leather uppers, plexi-heels, pearls inlaid into a metal frame sole and luxurious black suede, adorn the collection in a play of contrasts. The name of the collection also refers to a new fabric created by Kirkwood: a black glittering stretchy textile used for a new sock-boot and a slip-on mule. It's a rich and sophisticated collection with new silhouettes and the omnipresent irreverent mood of Kirkwood's work

www.nicholaskirkwood.com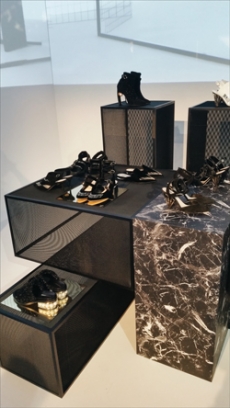 Fashion
Dries van Noten Fall/Winter 2017 Ready-to-Wear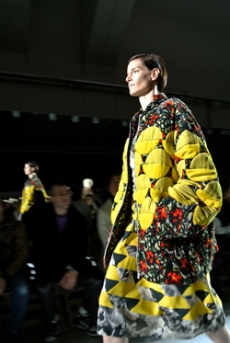 Imagine a tribe of legendary models from the 90s, with their ageless beauty, power walk and barely-there makeup. Imagine them now walking for the most loved and respected fashion designer of our time for his 100th show.

Dries van Noten surprised everyone when the show started: all the models who walked for him, from the very beginning, were all present: Amber Valletta, Caroline de Maigret, Malgosia Bela, Kirsten Owen, Trish Goff, Kim Noorda, Guinevere Van Seenus and legendary Kristina de Coninck opening the show. Together with the more recent favourites. It was an overwhelming flow of emotions for whomever has followed and worked with this acclaimed Belgian designer since 1993.

The collection was a parade of all the prints, the cuts, the colours from past collections, the story of Dries van Noten in toto. It was an incredible archive research, as some of the print designs didn't exist anymore. The strong sentiment of timeless style and ageless beauty was pervasive, look after look. The oversized coat, the relaxed long dresses, the denim, velvet, and beautiful fur stoles. The mix-matched colours with a lemon yellow splashing the entire collection. It was a celebration of joy, of positivity, of the essence of femininity itself.

The sound of a crowded street, the cars, the people, a dog barking accompanied the vastitude of a collection of music and movies extracts played: from Jun Miyake's Lilies of The Valley - the musician who closely worked together with Pina Bausch, one of Dries Van Noten's dearest muses – to the late David Bowie singing Heroes in the a cappella finale. "…you, you can be mean. And I , I'll drink all the time. Because we are lovers. That is a fact"

www.driesvannoten.com
Fashion
UGG is REAL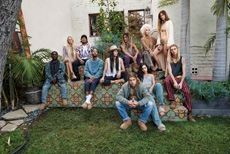 A new global marketing Spring/Summer 2017 campaign has been launched by UGG to break down stereotypes.

Aptly titled "REAL" and bearer of a strong message, the campaign features a collective of authentic Californian artists, musicians, surfers, creatives and eccentrics that in their provocative, progressive and free spirited attitudes mirror the core values of the Californian fashion apparel.

Inspired by the beaches, mountains and iconic architecture of California, the stories of Tasya, the songs of Warm Brew, the trips of Colleen and many others will mix together to give birth to a whole contemporary romance where diversity is the main splendid character.

www.ugg.com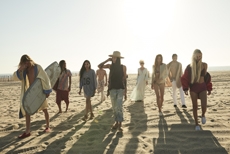 Fashion
Philipp Plein Autumn/Winter 2017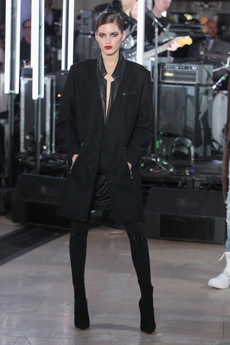 Brooklyn-born rap and hip hop artist Nas, opened Phillip Plein's Autumn/Winter 2017 fashion show in the iconic New York Public Library. The show was a personal love letter to the city's neighbourhoods and the diversity that characterises them, highlighting their ability to shape and define an identity. From the Bronx and Chelsea to Queens and the Upper East side, every area has something to offer.

"Neighbourhood Kings" was emblazoned across the collections' garments – it does not matter where you come from, for Philipp Plein, you are the king of your own hood. A diverse cast of personalities and models – including rappers Desiigner and Fetty Wap - strutted down the runway as The Kills performed an electrifying live set.

Music, style, gender and race all had their say in this collection that did not distinguish between men's and womenswear: the girls wear boy's T-shirts and oversized hoodies while the boy's were styles in women's jackets and dresses. Streetwear and couture are also fused together: an embroidered evening dress was paired with a bomber jacket, there was an intarsia mink coat worn with a hoodie and thigh-high sneakers marched alongside heeled boots. Catering to self-expression and their own personal sense of style, the collection's strength lies in its bid to highlight individuality.

But Plein's ode to the Big Apple did end there: the prints also tell a tale of New York. Symbols from dollar pill comprise the print of a hooded fur coat, the Statue of Liberty and FBI ("Fashion Beyond Imagination" patches decorate sweaters and bombers. Floor-length puffer coats and snakeskin jackets are transformed into urban armour thanks to metallic details and the addition of studs.

www.philipp-plein.com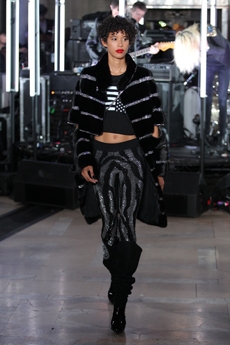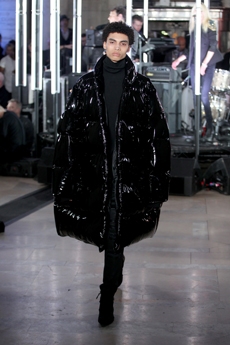 Fashion
Mode Suisse Edition 11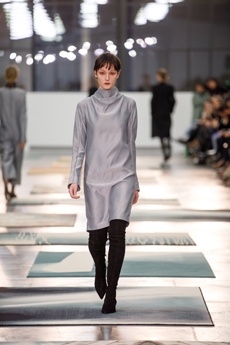 February 8th 2017 marked the showcase of Mode Suisse Edition 11 at the Migros Museum fur Gegenwartskunst in Zurich. Once again, a wealth of design talent was represented. Among them high-flying label Julia Seeman, Garnison's post-dandy menswear, LYN Lingerie's luxury handmande collection, Julian Zigerli's second appearance of womenswear and gender-fluid menswear that have made him a household name as well as Berlin-based experimentalist womenswear label studiowinkler. Additionally WUETHRICHFUERST made their much-anticipated debut.

The evening's highlights included the showcase of Masters' students Jeremy Gaillard, Flore Girard de Langlade and Vanessa Schindler, who is the winner of the Prix d'Excellene Hans Wildorf. Additonally Zurich favourites enSoie had the audience craving for its nonchalant style while Vivienne Rohner strutted the catwalk laid with previously unseen carpets by Schonstaub. Special guest designerDorothee Vogel's desirable duvet coats and floaty dresses ended the show.

Edition 12 of Mode Suisse will take place in Zurich in September 2017.

www.modesuisse.com
Fashion
The adventurous gentlemen of BOSS Fall/Winter 2017
Gentlemen who voyage across the world without ever losing their style, inspired Hugo Boss for its latest collection, dedicated to those ready to take on the world.

Adventurers and explorers' outfits that combine performance and functionality with Boss' key foundations: precise cuts and construction. The modern traveller wardrobe will be composed of wider 80s silhouettes mixed with slimmer, modern cuts and long and short designs. Love for details is never forgotten by the brand that for this collection added a touch of maritime influence in pea coats and duffels secured with buckled straps and chunky fastenings in the style of nautical equipment.

Fabric research is just an added value to a proposal that puts quality first. Boiled wool, bonded leather and cotton to provide protection and create incredibly à la mode oversized shapes. Fisherman-style knitwear is crafted in chunky constructions and zipped closed with ring pulls to be functional and masculine at the same time. The color palette varies from off-white to burgundy and olive green passing through navy shades.

Modern travellers can sleep soundly: their luggage will always be fashionable.

www.hugoboss.com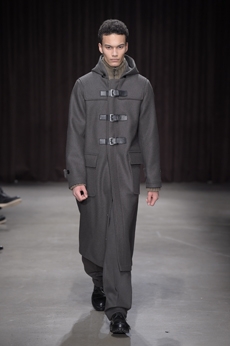 Fashion
NEW TENDENCY x Meiré und Meiré
New Tendency showed its 2017 product innovations at the Meiré und Meiré Factory.

The Bauhaus tradition has influenced the development process of everyday contemporary objects for New Tendency. Their furnishings serve to compose an ideal setting for modern working environments. With the emergence of co-working spaces, New Tendency have picked up on the need of flexible and functional configurations and strive to inspire those who are surrounded by their creations in their daily lives and their professional environments.

Showcasing their work in one of the leading creative agencies in Germany was therefore a natural progression.

Among other objects, New Tendency presented its December Edition at the Meiré und Meiré factory, a line that was the result of a fruitful collaboration with the agency, furthering their devotion to creative partnerships. The Artist's Edition of the lamp served as the inspirational springboard for the creation of New Tendency's premium line, Black Label that will soon be expanded to include more exclusive pieces with clear geometrical components.

Raw structures, industrial materials and natural elements formed the perfect hybrid framework for New Tendency's minimalist yet progressive designs. The presentation at the Meiré und Meiré factory didn't treat New Tendency's furnishings as conventional exhibits; they were instead integrated in the agency's daily goings-on serving as both a working space and a meeting point.

For New Tendency's exhibition at the Meiré und Meiré Factory, Mike Meire grouped the December edition pieces with side tables from the META line to create an island in the middle of the space. The installation was staged on raw concrete and stone slabs between dry plants, paint buckets and cardboard boxes. Fluorescent lights floated above it, different colours and textures of plastic foil sheets hanging over the top. The industrial ensemble was characterised by deliberately rudimentary fragmented elements that served as a beautiful contrast to the high-end claim of the products on display.

In the age of digitalisation, where products are becoming increasingly perfect Mike Meiré  felt the need to infuse the products with textural and tactile elements proposing 'Brutalism x Redefining Nature' and paying tribute to Le Corbusier's New Brutalism.

www.newtendency.com
www.meireundmeire.com
Fashion
Osservatorio Prada: the love story between cultural statements and fashion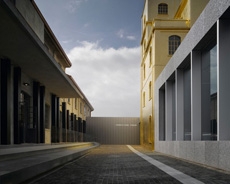 An invisible thread silently connects fashion with art, a thread that only a few can pick up and follow. A feat that when achieved unlocks the secret behind timeless designers like Miuccia Prada.

Famous not only for creating garments and accessories that are considered pieces of art, Miuccia, has never hidden her devotion to art. Therefore, dedicating the famous Fondazione Prada based in Milan to art, seemed only natural. Collecting the most interesting exhibitions and pieces from contemporary and modern artists, Fondazione has become one of the most coveted destination for art-o-holics. Last December saw the opening of a new venue of Fondazione Prada that pays homage to photography and celebrates visual languages: Ossevatorio Prada.

Based in the Galleria Vittorio Emanuele, the core of the Milanese fashion area, Osservatorio is a place of exploration and research of the latest tendencies and expressions of contemporary photography. Photography is, indeed, the contemporary epicenter of the global flux that digital communication is going through; that is why Osservatorio wants to unveil the cultural implications that it has on our society.

"Give Me Yesterday" by Francesco Zanot was the inaugural exhibition for Fondazione Prada's latest venue. A collection of more than fifty pieces of Italian and international artists that explores the usage of photography presented like a personal diary that travels from the 2000's to the present day.

Fondazione Prada's contribution to the Italian art scene will leave an indelible mark, just like a photograph does.

www.fondazioneprada.org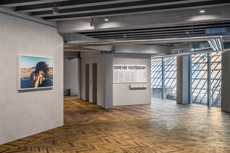 Fashion
BILLIONAIRE Fall/Winter 2017: Texas under spotlights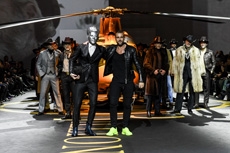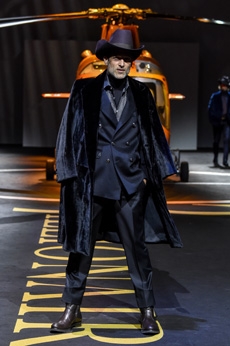 Once upon a time, soap opera characters served as primary sources of style inspiration and this season Billionnaire by Philipp Plein travelled back in time to pick up the trend. Remember Dallas?

Set in Texas, the show reached cult phenomenon status and was Philipp Plein's moodboard for Fall/Winter 2017. The Billionnaire man is a wealthy and stylish globetrotter: skiing in Aspen and gambling in Monte Carlo. The collection reflects the attitude of a character that isn't shy about showing off his personality.

Snakeskin jackets, chinchilla bombers and full-length overcoats feature alongside astrakhan and crocodile skins as the ultimate statements of elegance whether on the slopes or in the city. Trousers are high-waisted and denim takes centre stage in trousers and double-breasted jackets.

From knitwear to eveningwear the attention to detail is meticulous, fully conveying Plein's references: classic Texan hat included!

www.philipp-plein.com
Fashion
Jil Sander Fall/Winter 2017: Between High Fashion and Mother Nature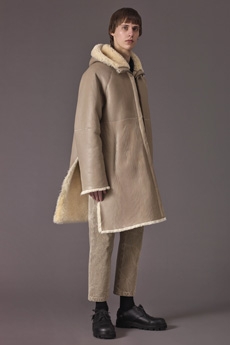 The uneven fight between humans against a powerful and merciless nature is the chore of Jil Sander's latest collection that brings us an incredible taste of glacial novelty for the upcoming Fall/Winter season.

Inspired by 'Independent People' by Nobel Prize winning author Halldor Laxness, the collection plays with the colors of Icelandic landscapes ranging from chalk grey to yellow. Shades of ice, brown and lava are chosen to give life to coats, parkas, heavy felts and comfortable shapes designed to face the harsh temperatures of Nordic winter in style. Military cotton and heat-sealed waterproof wool make coats and blousons, put together by big Velcro stripes.The collection's prints are a new take on glitch art that plays with disintegrated images.

"Rather keep your mind free and your path your own"said Laxness, and Jil Sander looks to have learned the lesson perfectly.

www.jilsander.com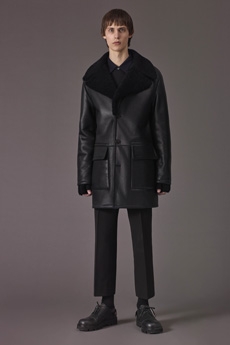 Fashion
A sporty-chic Z ZEGNA at PITTI 2017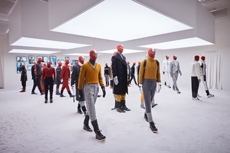 The latest Z Zegna collection takes you on a vintage ski trip for Pitti Uomo 2017, a sporty-chic mood that nobody expected but many welcomed.

It is no secret that the Florence fashion fair was created to bring innovation and prêt à porter all around the world and Zegna knows that well. For the first time the Italian brand presented a line that combines tailoring and performance evolution. For the slopes and the streets, the proposal is a Techmerino total look that takes a quintessential role in this season where layering is key. A foundation of matte black, optical woolen, asphalt grey mélange, light camel and pine leaf green in combination with sportswear graphics take us back to the late 70's ski seasons in Sankt Moritz where sport never strays too far from fashion and elegance.

The brand decided to converge comfort and excellence in a savvy colour palette that pays tribute to the textile innovation Z Zegna is known for.

www.zegna.com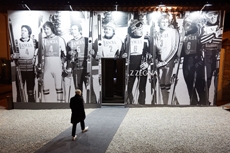 Fashion
Colette x UNDEFETEAD: the hypes' sneaker exchange
The hype around sneakers has never been so present. Parisian it store Colette, one of Europe's biggest go-to destinations for street-wear designer apparel has partnered with LA-based label UNDEFEATED for the much-anticipate "Sneaker Exchange". Included in the exchange are no less than 84 brands like Bodega, END, Kith and Slam Jam just to name a few.

Two limited edition and revamped Adidas sneakers to be launched during Paris Fashion Week will be part of this January's exchange. The redesigned editions of iconic models, the Campus 80 and EQT Support. The Campus 80 is bright, in white leather with a royal blue heel while the EQT Support's darker influences are manifested through its deep navy blue shades.

Both models are playing with the concept of opposites, pairing and simultaneously contrasting influences, ideas and cultural currencies, personifying perfectly the concept of the exchange.

www.colette.fr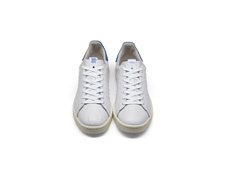 Fashion
VERSACE Spring/Summer 2017: enjoy the ride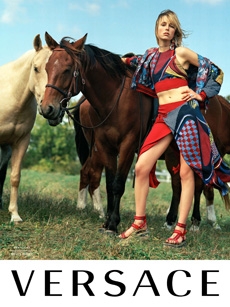 Savagery and freedom have always been messages carried by Versace that since its birth thanks to its innovative ways of conceiving fashion has endlessly imposed its creative dynamism among the highest fashion brands.

From attitudes to backgrounds, the Spring/Summer 2017 campaign shot by Bruce Weber is the proper representation of what Versace has always meant in the haute couture. Conceived by artistic director Donatella Versace, the freedom and dynamism of summer and the active mood are perfectly encapsulated in these shoots. Models Edie Campbell, Anna Ewers, Mitchell Slaggert and Jake Lahrman, found themselves in the Kentucky countryside surrounded by horses, perfect symbols of this "freedom" collection.

Freedom of choice, freedom of expression and freedom of speech, These are the messages carried by this collection and Versace in general, because as Bruce Weber said: "it's always interesting that fashion can carry messages in a subtle way and make people think about their own lives and how they can make it better."

www.versace.com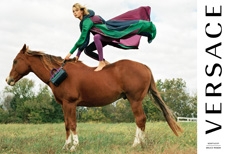 Fashion
K•Swiss Turns Camo for its 50th anniversary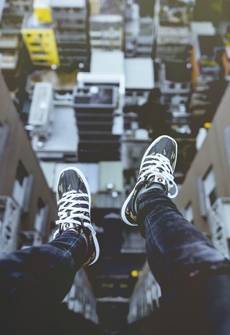 K•Swiss opted for a stylish celebration for its anniversary. The sportswear brand teamed up with Japanese street fashion label AAPE BY A BATHING APE to launch a limited edition collection.

For the occasion, the American tennis brand turns its classic '66 model into a fashionable camouflage sneaker featuring, its now famous, ape-inspired pattern. This makes for a fresh, new take on the brand's most iconic silhouette.

K•Swiss' signature five stripes, classic D-rings and the unique three-piece toe design along with an all-covering printed pattern fuse together to creates a blend that reflects the DNA of both K•Swiss and AAPE.

www.kswiss.com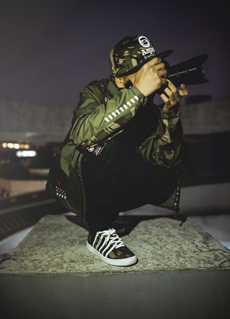 Fashion
KENZO X EASTPAK…and CHARITY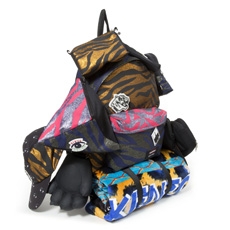 Once again the iconic Padded Pak'r® backpack by Eastpak will serve as the "carte blanche" given to a selection of the world's most influential designers to create a unique work of art.

When it comes to creativity and eccentricity, Kenzo, one of the brands participating in Eastpak's Artist Studio competition along with Giambattista Valli and Vêtements, never disappoints giving birth to a "never-seen-before" piece. Humberto Leon and Carol Lim's prints trimmed with a tiger claw key holder and a graphic Kenzo towel and hat, were assembled in a collage that not only twins Eastpak and Kenzo, but fashion and charity too.

The collection, comprised of one-off creations from each designer will drop on the 1st of December, World AIDS day. And for a good cause too: all proceeds go to the Designers Against AIDS organization to raise awareness, even among fashion victims, for HIV/AIDS.

www.kenzo.com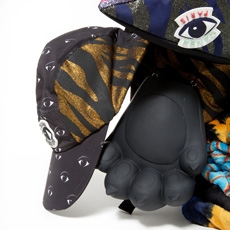 Fashion
Play Heart: the new emoji star by COMME des GARÇONS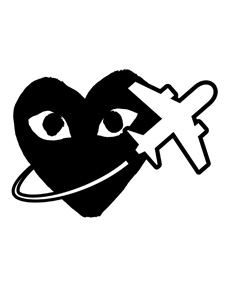 Following the trend launched by huge brands like Versace, Diptique, Karl Lagerfeld and many others, the Japanese fashion brand COMME des GARÇONS decided to dedicate a new emoji pack to one of the most recognizable icons in fashion.

We're talking about the brand's eyed-heart character, which was first used in 2002 as symbol of the iconic PLAY collection. The heart, which was designed by the polish artist Filip Pagowski, has now been transformed in a playful holiday's emoji that will make heads, or better Iphones, turn.

In perfect style with CdG attitude, 24 emoji will brighten our keyboards to communicate feelings and emotions moreover to wish the most fashionable "Happy Christmas" ever.

Born "all of a sudden from the first draft" like its designer announced, the COMME des GARÇONS' emoji pack is now available. Let's heart our Iphone!

www.comme-des-garcons.com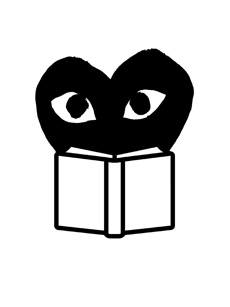 Fashion
Dance your style off at Pitti Uomo 2017
Between 10-13th of January, dance and fashion will create a perfect parallelism in what is preannounced to be the most multimedia and vibrant edition of Pitti Uomo.

During its 91st season, the Florence fashion kermises will show the previews of F/W menswear collections following the slogan " Tell me how you dance and I'll tell you how you dress".

Pitti Dance Off, the theme chosen for the whole exhibition, wants to be an invitation to express our body and attitude evoking the ultimate essence of diversity and encouraging freedom of personal style as a common thread for both dance and fashion. Over 1220 brands, among Zegna, Paul Smith, Tommy Hilfiger and new emerging talents will participate, dancing together at the rhythm of street style music. A special #PittiSign has also been launched, a sort of distinctive "finger tut" taken from the street dance tradition in order to symbolize Pitti Immagine's initials and create awareness around the exhibition between the youngest.

With sets designed by architect and designer Oliviero Baldini, irony will be the key to literally invade the famous Fortezza da Basso welcoming new menswear, and maybe social, horizons.

www.pittimmagine.com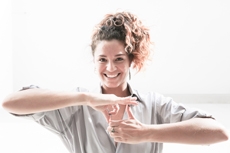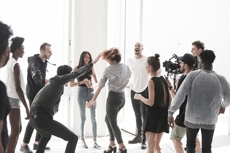 Fashion
Prada presents 'Past Forward'
Miuccia Prada has teamed up with director David O. Russell to produce a cinematic poem that transcends logic and goes beyond traditional narratives and plots.

This futuristic silent dreamscape explores the nature of time through an intertwining series of scenarios, characters, costumes and genres that blend into each other. Viewers are left to decide on their own which parts of this amalgamation are memory, which are dream and which are real life.

The star-studded cast that includes, Freida Pinto, Allison Williams, Kuoth Wiel and John Krasinski among other recognisable figures, are dressed from head to toe in signature Prada outfits as they perform their roles in shifting combinations.

Much like in silent movies from the 30s music plays a pivotal part in the short film and infuses the moving images with tangible emotion. The absence of word also allows viewers to get completely immersed in the beautifully shot black and white scenes that unfold before one's eyes. Executed in a way that does not distract from the process of deciphering complex and nuanced meanings, Past Forward is much more than a silent fashion film. As O. Russell himself stated what is magical and strange about cinema is precisely what is so magical and strange about life – where beauty lives is entirely subjective to the individual.

The multi-platform film project premiered in Los Angeles on November 15th in the company of Prada's esteemed guests and is now available on the brand's official website.

www.prada.com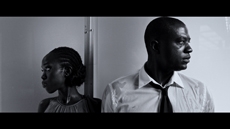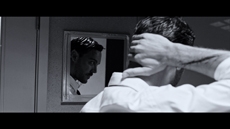 Fashion
Prada Resort 2017 Campaign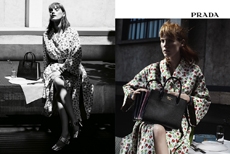 American actress Jessica Chastain features in the latest Prada campaign, shot in Milan by Willy Vanderperre. Captured around the Northern Italian city's most memorable places, like the Civic Planetarium "Ulrico Hoepli" and the newly introduced Fondazione Prada, the images see Chastain dressed in Prada essentials. As Prada firstly goes through its own traditions, the new blend of textures and patterns make feminine and masculine fuse, seeing the brand explore a different venture.

www.prada.com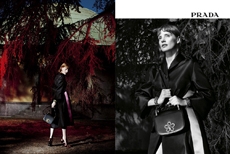 Fashion
Hermès Spring 2017 Ready-to-Wear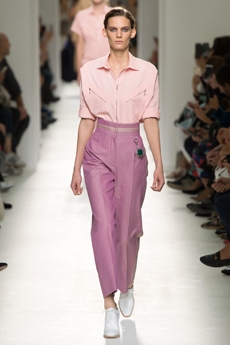 In the few past seasons since her arrival at Hermès, Nadège Vanhee-Cybulski has been balancing elegant understatement and her continuous research of chromatic nuances alongside clean cuts, in search of that perfect balance true to one of the most classic French luxury maisons.

A relaxed, simple atmosphere — far from any decorative fuss. With no display of the iconic bags nor the famous carrés, Vanhee-Cybulski's intention to put a strong focus to the clothes and her very own redefinition of the brand's Ready-to-Wear was clear since the last collection in March.

For Spring 2017 we see again calf and floor length and splendid knitwear. The first looks in denim with faded pink tones feature a dress tapered at the waist, a silhouette also declined in fuchsia leather. This luxurious material, trademark of the house, is certainly one of the protagonist of the collection together with subtle reference to male wardrobe: relaxed high waist wide pants matched with blouses with ajour details or in silk cigaline, a calfskin coat made of assembled panels. All perfectly balanced.

The final bias cut long dresses make a fresh romantic entrance into the composed atmosphere. The new Hermès is taking shape.

www.hermes.com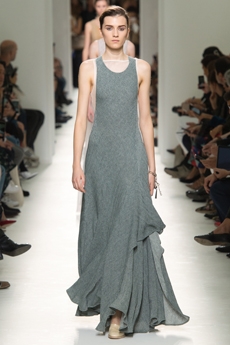 Fashion
Emporio Armani Spring 2016 Ready-to-Wear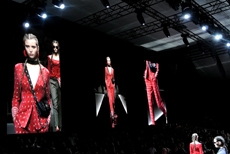 In the occasion of the store re-opening in Boulevard St-Germain, Giorgio Armani surprised everyone staging Emporio Armani Spring Summer 2017 show in Paris. Entering the venue in Bercy arena we all felt that disarming disorientation. Where are we? Is this really the French capital or we have been teleported in Armani HQ in Milan? Giorgio Armani built a set evoking his very own Tadao Ando's theatre and its striking minimalism. The squared mirrored catwalk, the descending seating. The pitch black and luminous white. As almost as whispering that Armani empire, style and philosophy can raise anywhere. The collection was eclectic. If the first squad - including some male models - arrived in composed functional looks in the tones of desaturated blue and grey, an extreme variation of styles and colours took the lead. Soft silk satin pyjamas, unstructured blazers with matching trousers forming that perfect contemporary power suit. Liquid fabrics ruling tailored pieces. As the troop continued marching in we saw coral red hues, faded green, white, cobalt blue, purple. And the unexpected South Asian elephant prints, becoming the running theme through part of the collection: at the hems of pants or adorning the neckline of the summery long dresses. There was a multitude of accessories, from flats-shoes to heels of all shapes, small bags worn at the waist or crossbody, statement earrings. All meticulously styled. Emporio Armani for Spring 2017 displayed that urban language, typical of the label, but also the essence of its young broad audience in all the facets.

www.armani.com


Fashion
Versace Spring 2017 Ready-to-Wear
If you were expecting overt ostentation from Versace this season, SS17 will have you back on your heels. Sensuality was served in bounds, but it wasn't offered up on a plate. There were nuggets nestling in the ruching of wrinkled parachute gowns, silks slashed at the neck and snatched at thighs to wrap the body with its impermeable sheen. Asymmetry set the sexiness askew, with bodycon co-ords carved of second-skin jersey silks and mapped with curling bars of sea green and grape. Satin shirts sported their collars splayed, sleeves rolled to the elbows as hems tumbled from waistbands, accordion pleat skirts slipping to the lower hip. As if in a bid to curb the unkempt, fastenings were fastidiously apparent, but even they were trying to escape; side-squeeze buckles slipped from razor-sharp suiting while bulky zips made their way erratically across color-block coats with scarce regard for symmetry, and buttons betrayed their orthodox lines in favor of boomerang bends.

Ribbed wools ran chevron stripes down sweaters, cool hues quelling their urgency, though the quiet didn't last long. Waxy red leathers bore a more brazen brand of sensuality, a commanding contrast calling upon cropped jackets and silken kilts, sullied by the occasional slubby knit. The only ode to order made a masterwork of the skin, sculpting the strength of naked features, chiselled to par the power cuts which were ironed flat and clipped to a brusque edge.

www.versace.com
Fashion
Nike VaporMax for COMME des GARCONS
Available early 2017 and announced during the CDG Spring 2017 runway show, designer Reo Kawakubo joins forces with Nike to create the Nike VaporMax for COMME des GARCONS. The VaporMax Air, which is described as "a powerful visual appearance of walking on air" consists of a thin consistency providing cushioning. Redesigned to fit Kawakubo's contemporary aesthetic, the new model is a slip-on alternative of the VaporMax.

www.nike.com
Fashion
Bottega Veneta Spring 2017 Ready-to-Wear
Muddy hues made their mark at Bottega Veneta but the overall effect was anything but beige. Rather, it primed a canvas of classics from which showpieces would pop. And there was good reason to call upon the party clothes; 2016 marks a special year for the brand, not only the 50th anniversary of the fashion house, but also its 15th year under the Creative Direction of Tomas Maier. In spirit of occasion, Maier's forward-thinking retrospective featured more than a few familiar faces, from Eva Herzigova and Lauren Hutton to Bella and Gigi Hadid. As a performance piece it pleased crowds, but as a practice of the practicality of Bottega Veneta, it blew minds – it confirmed that which we had always supposed but never truly knew: Bottega makes clothes we can all wear – nuanced, transitional clothes which seem to shapeshift according to the spirit of the woman who wears them. SS17 sculpted supple shells of coffee-colored crocodile, swinging to calves as mackintosh coats or cropped as curt little bikers. Separates clung to the torso in flimsy wools, button-up blouses making a second skin of macramé as A-line skirts sheathed legs in shaggy sable lace. Color was rationed, but when it bled through the cracks, it blazed. Lurid contrasts courted hot pink yarns against waxy red leather skirts, cinched like paper bags at the waist, while ditsy florals found their way onto faded reams of lemon yellow cotton, bound and belted around the body as refreshingly modest wrap dresses. This tack's been on the table for fifty years, but it's a sensibility that hasn't gone stale. Here's to another half century…

www.bottegaveneta.com


Fashion
Saint Laurent Spring 2017 Ready-to-Wear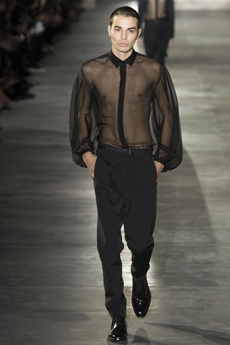 When in mid September Saint Laurent surprisingly released an image shot by Inez and Vinoodh as preview for the new collection by Antony Vaccarello the mood was already set. Featuring his forever favourite muse Anja Rubik in a leather embroidered body suit matched with a denim jacket and a strong sensual look the designer gave a taste of his new direction.
Vaccarello created a collection very much rooted in his DNA.: leather, sexy on its extreme, naked. As declared by the Belgian born designer himself, his point of reference, a puff shouldered dress designed by Yves in '82, embraced the whole collection. It's the trashy spirit of the 80s, the clubs, the black fishnet tights, the denim and the heart shaped neckline. Vaccarello declined it with bosom bared through transparent chiffon, velvet, dark gold lamé, vertiginous short skirts. Staging an homage to the French master but mainly surely drawing the line of what his new course for Saint Laurent — soon to be back with "Yves" in its logo as announced by the fashion house — will look like.

www.ysl.com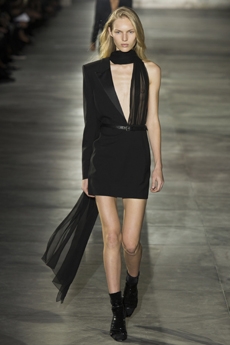 Fashion
Acne Studios Fall/Winter 2016 Campaign
Photographer David Sims has collaborated with Acne Studios on its latest Fall/Winter 2016 Campaign with three separate stories, which will be fully released during New York Fashion Week starting 5th September. Acne Studios' Creative Director Jonny Johansson has long admired the work of Sims and envisioned the latest campaign to be a fashion story without boundaries incorporating David Sims' classic take of fashion shoots and his ability to set a specific mood without a conventional narrative.

www.acnestudios.com
Fashion
Adidas at the Olympics in Rio
Designed for the athletes currently in Rio for the Olympics and competing in September at the Paralympic games, Adidas has developed a variety of new applied science, coloured BOOST technology and designs in athletic shoes. The adizero MD is suitable for races between 800- and 1.500 meter, allowing for higher speeds on the curves of the running course through the special Pebax-and TPU sole. The adizero Avanti design is primarily designed for long distance runs from 1500m to 10000m. This is the first shoe to only have four instead of the usual five spikes, which makes the shoe lighter but still grants enough stability. The 360-Degree Printed Knit, as there's no insole necessary, is one of the lightest shoes Adidas has ever developed, while the adizero adios is the fastest running shoe in the world at the moment, with German running-twins Anna and Lisa Hahner sporting them on their feet.

www.adidas.com
Fashion
Aitor Throup's 10th anniversary
Artist, designer and creative director Aitor Throup celebrates 10 years in the fashion and design industry by unveiling a redesigned aitorthroup.com website, which features a complete insight of Throup's creative archive from the last decade. The compilation of his work shows unseen projects as well as work from the early days of his career and current jobs, from design, film and photography to his work as creative director. The most recent New Object Research collection will be shown, as well as archived projects like the collaboration with Norwegian fashion photographer Sølve Sundsbø, among many others. The Royal College of Art alumni and his 'A.T. Studio' challenge traditional systems and propose authentic ideas and new ways of storytelling.

www.aitorthroup.com
Fashion
COS Autumn/Winter 2016
Ghanaian artist Lynette Yiadom Boakye's paintings serve as inspiration in COS Autumn/Winter 2016 rich colour palette, which is made of dark navy, intense blue, ochre, burgundy and forest green.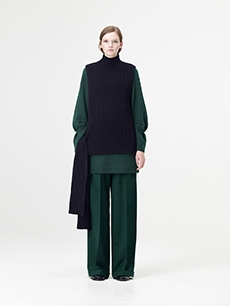 For the women's collection, COS has modified its classic structure, with an emphasis on exaggeration, through high turtlenecks, prolonged sleeves and oversized, wide trousers. Key for this collection is layering and blends of different materials, as a silk shirt is placed over a cotton skirt and a asymmetric scarf worn with a viscose-plated knitted top. Essential accessories this season is a leather shopper, which doubles as a clutch.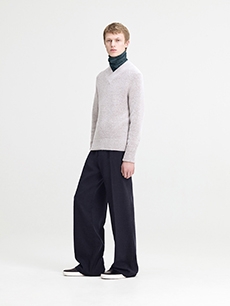 The colour palette and silhouettes for the men's collection are inspired by Berlin-based artist Lev Khesin. Again, layering takes a primary role, as we see a padded technical vest combined with wool. COS has developed its pure tailoring to a softer silhouette. The brown oxford shoe, as well as the modernized leather sneaker are fundamental in this autumn collection.

www.cosstores.com
Fashion
Alexander McQueen AW16 Campaign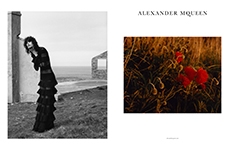 Creative director Sarah Burton and photographer Jamie Hawkesworth came together to create the Alexander McQueen AW16 Campaign, featuring in demand model Mica Arganaraz. The duo has a shared love for British nature and wildlife, which brought them to Shetland, a subarctic island northeast from Great Britain. Placed in the rocky Scottish landscape, Hawkesworth's images portray a sense of young and surrealistic beauty and continue McQueen's admiration for romantic, natural scenery.

www.alexandermcqueen.com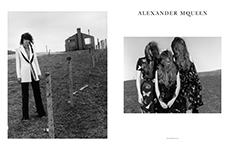 Fashion
Vivienne Westwood Autumn/Winter 2016/17 Campaign
"The inspiration for the campaign was completely guided by our Paris show collection", says Andreas Kronthaler of the Vivienne Westwood Autumn/Winter 2016/17 Campaign which features Ms. Westwood herself. Shot by Juergen Teller and styled by Sabina Schreder, the campaign portrays a spiritual look, cast with a fun and young group of boys and girls, styled in an "East meets West" theme. Kronthaler explains when envisioning the campaign, they were focused on finding a spiritual place to shoot and stumbled upon a middle-eastern rug, which gave them inspiration. 

www.viviennewestwood.com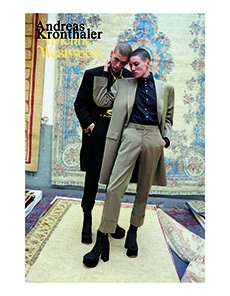 Fashion
Viktor&Rolf Autumn/Winter 2016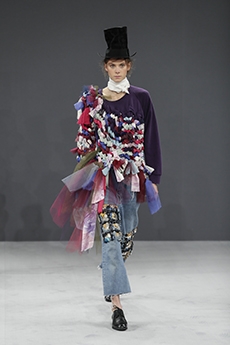 Recycling is the main inspiration for Viktor&Rolf Couture Autumn/Winter 2016, as they look and use their own archive as starting point for their newest collection. Viktor Horsting and Rolf Snoeren use torn up fabrics and mix them to create a new abundant silhouette. The garments are embroidered with buttons, beats and crystals, the looks styled with top hats. Another influence for the collection is Dickens' Vagabonds, quoting; "Those that belong nowhere, wandering from place to place, roaming the city." The final sees the wanderers, roaming the runway.

www.viktor-rolf.com
Fashion
Calvin Klein Fall 2016 #mycalvins
All of the Calvin Klein brands; Calvin Klein Collection, Calvin Klein, Calvin Klein Jeans and Calvin Klein Underwear are combined in the Fall 2016 campaign under its title "I ___ in#mycalvins. The short video and images are shot by photographer and filmmaker Tyrone Lebon, who also shot Calvin Klein's Spring 2016 campaign. Casted for Fall 2016s campaign are talented actors, musicians, fashion role models and athletes, along with professional and street casted models. This includes songwriter and producer Frank Ocean, supermodel Kate Moss, fashion icon Grace Coddington, rapper Yung Lean and Real Madrid footballer James Rodriguez. The campaign feels personal and authentic because of the intimate conversations with the cast. "Through our Fall 2016 campaign, we push the boundaries of traditional advertising with our content and our cast," reveals Melisa Goldie, Chief Marketing Officer of Calvin Klein, Inc. Launched today on its website, www.ck.com/mycalvins, you'll find a selection of 50 videos with interviews of the cast, behind-the-scenes footage and more.
Fashion
Jil Sander Fall/Winter 2016 Campaign
Jil Sander reveals the Fall/Winter 2016 Campaign starring Australian model Julia Nobis and up-and-coming model Jonas Gloër. Photographed by Willy Vanderperre and styled by Olivier Rizzo, the shoot took place in Paris, city of couture fashion. Vanderperre portrays Jil Sander's minimalist aesthetic beautifully in a series of striking images.

www.jilsander.com
Fashion
Giorgio Armani New Normal A/W 2016/17 Campaign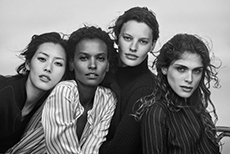 Giorgio Armani announces its New Normal Autumn/Winter 2016/17 advertising campaign, shot in black and white by Peter Lindbergh on the Plage du Touquet in France. Giorgio Armani New Normal focuses on today's women, proposing classic, timeless garments. The series of natural images promotes the idea of a global, multi-faceted beauty and features models Liu Wen, Liya Kebede, Elisa Sednaoui and Amanda Murphy. "I wanted to show different types of beauty, without barriers – four young women who experience the present in their own ways", thus revealing Giorgio Armani.

www.armani.com
Fashion
MBFW: Augustin Teboul S/S 2017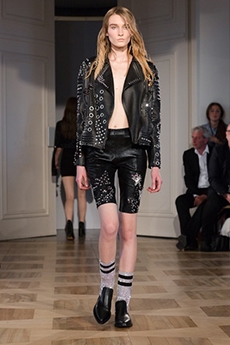 Accompanied by mellow music of a rock band with slow drums, a lingering bass and drawn out vocals, the presentation of the Augustin Teboul S/S 2017 collection is re-imagining mermaids as punk rock princesses at the Berlin Fashion Week. The models' hair is slightly wet and swept back, as it would be after a swim in the ocean. Torn leggings and fish net tights remind of mermaids caught in fishermen's nets. Frilly applications on hats paired with round sunglasses look like bathing caps. Cut-outs, holes and slashed fabrics give the collection a certain edge, vibing off a careless attitude. A lot of exceptionally short mini skirts and dresses dominate the runway. 
Sheer black shirts are worn over leather panties. Leather bodies with frills and mesh tutus remind of a punk rock princess style. A provocative touch is added by models wearing tiny crop tops or nothing at all underneath loose androgynous jackets. As always Augustin Teboul loves to display the dark and grungy side of fashion, and yet again does not stray from the label's favourite colour black, with only a bit of white, blue and red here and there. The black is paired with square patches and patterns of different kinds of sparkles, sequins and studs. There are sparkly scarves and sparkly socks in patent leather loafers – sparkles everywhere. The collection is the perfect androgynous combination of frazzle and dazzle, a glittering glory of grunge.

www.augustin-teboul.com
Fashion
MBFW: Lala Berlin Spring 2017
Lala Berlin's Spring 2017 collection, called Hypnotic Nights, is presented in the highest penthouse in Berlin, among an exclusive group of 200 invitees. The looks are energetic and vibrant, made of delicate silks and with elegant pleats. it's colour palette a mix of red, orange combined with black, blue and brandy-coloured garments. The presentation saw Heike Makatasch en Laberenz at the turntable, opening up the dance floor for the guests. Leyla Piedayesh said that then she saw the view of Berlin for the first time, a completely new perspective stretched before her. "I was so touched, I didn't want that feeling deprived from anyone."

www.lalaberlin.com
David Bailey for Valentino AW16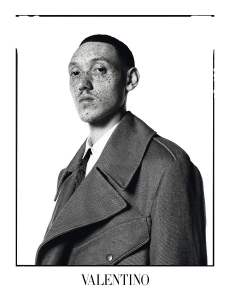 The original documentarian of London's Glitterati, David Bailey, has pointed his coveted lens in the direction of Valentino's AW16 collection. The monochrome classicism of this look is a perfect match for Bailey's chic style, with this reflected in the leather jackets, crisp polos and embellished outerwear of the season's look. Creative Directors, Maria Grazia Chiuri and Pier Paolo Piccioli, drew inspiration for their show from the Beat Generation as well as musicians like John Lennon and Mick Jagger, fusing 60s style with a more muted and modern sensibility. By taking a trip to the past and matching it with a modern monochrome look, the jackets and outerwear of Valentino AW16 are one of the smartest looks of the season.
Fashion
PFW: Dior Homme Spring 2017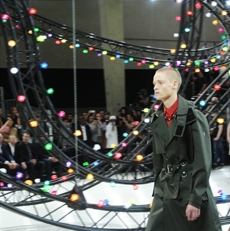 The 80s Punk together with the New Wave scene in a modern key. Kris Van Assche fun fair for Dior Homme proposed tailored pieces,  sportswear and strong punk elements interconnected in a balance of contrast. Van Assche worked his inspiration from its childhood in Antwerp and the rebellious world of those years. We see tailored jackets combined with relaxed oversized pants together with sleek slim trousers matched with bomber jackets. It's certainly a collection that plays around contradictions and opposites. Classic rigor is subverted by flashbacks of 80s subcultures with a multitude of details entirely made by the artisanal in-house team : pinstripe fray,  printed flower embroidery patches and the red thread hand-sew stitching through denim, suits, knitwear, almost as recalling of a statement scar stitching - beautiful and yet painful.
www.dior.com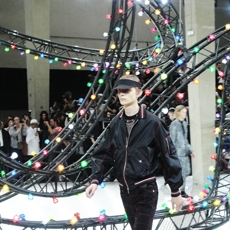 Fashion
Roberto Cavalli Fall/Winter 2016 Campaign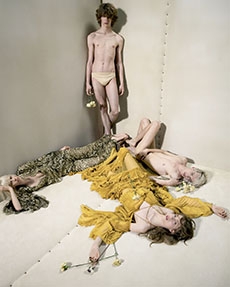 A focus on the new Cavalli tribe and the art of the garments is shown in the Roberto Cavalli Fall/Winter 2016 advertising campaign, show by Tim Walker. Dressed in the men's and womenswear pieces by the brands creative director Peter Dundas, a collection filled with embellished, embroidered and dazzlingly textured pieces. The images portray a sense of youthfulness and sensuality, as the models lay clothed in and nude covered by roses against a minimal background, giving the portraits a bohemian, yet glam rock feel.

www.robertocavalli.com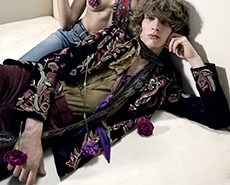 Fashion
PFW: COMME DES GARÇONS HOMME PLUS
Rei Kawakubo wanted to tease with the idea of today's world receiving too much information. Themed after Hans Christian Andersen's Naked King' we see the Spring/Summer 2017 collection for Comme des Garçons Homme Plus, a show filled with transparent items, printed with designs made by Italian company Fornasetti and with messages such as 'beauty is in the eye'. Comme des Garçons Homme Plus collaborated with Nike Dunk style on it's footwear for the show, a line-up of trainers in different variations of colours.

www.comme-des-garcons.com
Fashion
Marcelo Burlon SS17 Show
Marcelo Burlon believes in the strength of the melting pot as he is a fearless social aggregator and enthusiastic herald of the liberating power of multiculturalism. An intertwining of worlds, a convergence of polar opposites defines his credo and practice of creative director and contemporary polymath. As visually bold and culturally layered as it possibly gets, the outcome keeps a note of authenticity that comes from real-life personal experiences.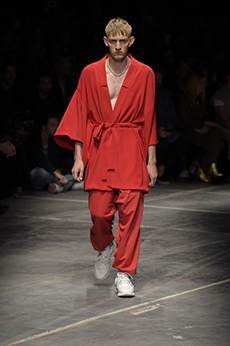 This season Marcelo Burlon embarks on a loud sonic trip across ninja iconography, metal assertiveness and outer space futurism. The germ of this new exploration of the fast-paced, high-spinning, hyper-performing, urban style comes from Burlon's childhood days spent under military dictatorship in Argentina.The collection is an ode to noise that ignites unstoppable waves of change. Under the slogan SONIDO, spelt out loud in gothic fonts, a new cultural clash happens within the County of Milan premises. Numbers and graphic weaves mix with Ninja stars and County's very own Patagonian symbols, swarming on bomber jackets, hoodies, tops and shorts.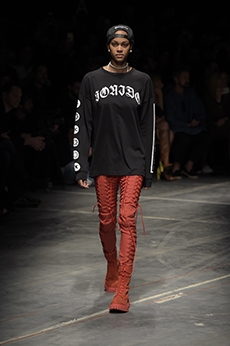 Kimonos both long and short and sliced samurai skirts point towards the East, chain-mail and PVC nod at the future, lace-up trousers provide a slight tingle of fetish. Shapes have both an utilitarian and adventurous feel, while a profusion of embroideries adds texture and visual stimulation. Clear PVC parkas and elongated sheer vests amplify the layering of the looks. Robotic trousers, jumpsuits and multi-pocket field jackets put a combat mode into play. In his quest for the balance of opposites, Marcelo Burlon keeps celebrating the clash as the essence of now and only fuel of progress.

www.marceloburlon.eu
Fashion
G-Star RAW Research X Aitor Throup
During Paris Men's Fashion week, G-Star RAW has revealed it's newest, most leading capsule-collection yet; G-Star RAW Research, in collaboration with artist Aitor Throup. When speaking about the collaboration, Throup explains he began collaborating after realizing the brands success comes from taking risks and questioning traditions of denim. After a few years of working together, naturally the brand and Throup came up with the idea to open a lab and explore new possibilities for all things denim.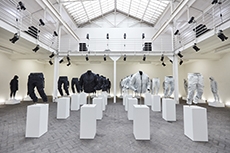 Thus creating G-Star RAW Research. Aitor Throup has been working with G-Star on various projects and collections, since becoming its creative consultant back in 2014. This collection explores two points of development in the process of denim, one untreated, RAW denim, one bleached white with nearly no indigo left. The first G-Star RAW Research-capsule collection will be available in limited stores mid-November this year.

www.g-star.com
Fashion
WOOLRICH SPRING/SUMMER 2017
Woolrich John Rich & Bros have for the Spring/Summer 2017 collection created a line-up with casual, organic apparel, blending two worlds together – The outdoors, a fishermen look with matching hat and wellies, and a city look with hints of sport and utility wear. The collection envisions garments which can shift through seasons, instead of being tied to one period. Its jackets are light, water-resistant and breathable, something every man needs. The collection is inspiration for the Woolrich E-bike, a bicycle developed in collaboration with Australian brand Deus.

www.woolrich.eu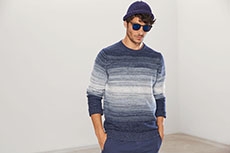 Fashion
MFW: GUCCI SPRING 2017
"We shall not cease from exploration, and the end of all our exploring will be to arrive where we started and know the place for the first time." T.S. Eliot
Alessandro Michele. Bravo. The Gucci Spring/Summer 2017 is as close someone can portray a dream as it gets. The collection portrays travelling, exploring the world, gaining knowledge and coming back to a different 'home'. The soundtrack feels dreamlike, the runway floor is painted green with snake print, the collection a kaleidoscopic affair. The collection sees Donald Duck embroidered on fitted blazers and floral patterned suits, a merge of modernity and nostalgia.

www.gucci.com
Fashion
MFW: MARNI SPRING 2017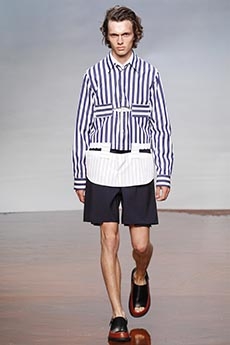 Consuelo Castiglioni is often praised for her progressive and refined designs; Marni's Menswear Spring 2017 is no different. The collection perfectly suits a quirky, businessman aesthetic, making for a show full of modern and dynamic designs. Rich red leathers are introduced in the form of trench coats, camel suits are included for the sophisticated Marni man, while the blue striped prints keep the collection young. Accessorized with both backpacks, briefcases and stylized sunglasses, Consuelo Castiglioni did good, Marni Spring 2017 is a winner.

www.marni.com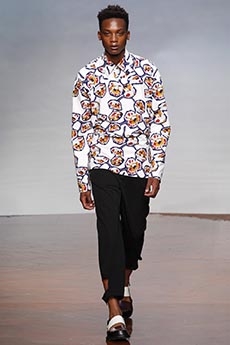 Fashion
MFW: ETRO SPRING 2017
Instead of the usual pout, models for the Etro Spring 2017 collection walk down the runway with a smile. And a dog, which instantly makes this show a success. Creative Director Kean Etro scouted the predominately non-professional models walking the runway himself and gave them the opportunity to decide for themselves what they'd like to wear. The collection feels fresh but casual, with loose-fitting tops and trousers along with tribal prints and dark hues.

www.etro.com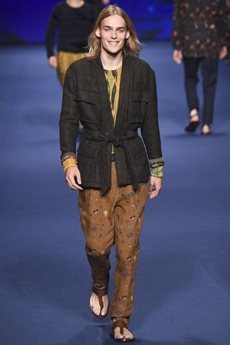 Fashion
Hugo 'Your Suit, Your Way'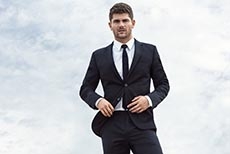 HUGO's 'Your Suit, Your Way' campaign breaks the boundaries of convention and reveals the dynamic attitude of the Superblack suit. Set on the edge of Malta's dramatic coastline and the impressive sea arch, it provides the ultimate setting for cliff diver David Colturi to push himself, both physically and mentally, to demonstrate the Superblack suit's power. The video finds Colturi standing determinedly in the suit on the cliff face, before breaking into a run, then leaping into the unknown, turning in the air and plunging into the sea. 
The campaign delivers an unexpected perspective and shows how the HUGO Superblack suit, with its innovative tailoring and modern slim-fit style, inspires men to wear a suit in new, individual ways that defy convention. The message is clear: the Superblack suit, made using double-dyed yarn for a deep black color and iconic HUGO style, can be worn anytime, anywhere.

www.hugoboss.com
Fashion
WUNDERKIND x Les Petits Joueurs
Eye –catching and playful designs that are spotted in the hands of it-girls and celebrities worldwide consist the new WUNDERKIND x Les Petits Joueurs handbag capsule collection by the Italian accessories designer Maria Sole Cecchi. Maria Sole is one of the young talents invited by Wolfgang Joop to interpret his vision of the WUNDERKIND style for Fall/Winter 2016. The collection marks the beginning of a series of design collaborations with young emerging talents.
The exclusive handbag range with fun details, bold statements and quirky geometric patterns translate the spirit of the WUNDERKIND Fall/Winter 2016 collection at its best. Janis is a compact size clutch in printed fur, which recalls the WUNDERKIND African wax print just like the Daliah Bucket with its embellished stars and studs. Exquisitely crafted in Tuscan leather, Jackie turns a classical luxury handle bag into a humorous statement piece. Handmade by skilled Florentine artisans utilizing exceptional materials the three models elevate all day-to-night ensembles

www.wunderkind.com
Fashion
Prada Men's Special Displays
Prada announces the opening of three special displays in stores in France and Italy, just before its Men's Fashion Week Spring/Summer 2017 collection is scheduled to show this Sunday. The first part of the display will be situated in the Florence store in Via Tornabuoni, which will be exhibited until the 26th of June. A series of exclusive images, shot by art director Willy Vanderperre shows backstage stills from the Prada Uomo and Donna Autumn/Winter 2016 collections, combined as the dis-dressed project.

The Milan store in Monte Napoleone will take its inspiration from the digital age. Placed throughout the store will be LED screens, presenting images of the dis-dressed project and "Chronicle", a short film exploring the parallels between architectural interventions and the Autumn/Winter 2016 collection.

Exhibited on the top floor of the Paris store in Faubourg Saint-Honoré will be a series of the Prada Uomo Autumn/Winter 2016 advertising campaign, with images featuring actor Eddie Redmayne, shot by photographer Craig McDean. This will be in store to view from the 22nd of June until the 8th of July.

www.prada.com
Fashion
LC:M J.W.ANDERSON
Second time BFA Menswear Designer winner J.W.Anderson latest collection has drawn inspiration from Antoine de Saint-Exupéry's novel Le Petit Prince, a philosophical story pointing out the abnormalities of adult life. Though J.W.Anderson mentions, this collection is ''not about being nostalgic, it's about being childlike.'' Swimming goggles, headpieces resembling crowns, extremely long sleeves and sweaters tied around the waist indicate to this childlike theme, but its a refreshing way of accenting the collection. 'Petite' trench coats, culottes and shoulder bags granted the compilation the androgynous view J.W.Anderson swears by, but military bombers and plaid shirts were also included, giving the collection a masculine touch.

www.j-w-anderson.com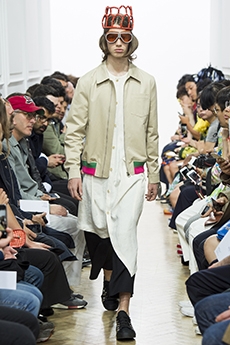 Fashion
Giorgio Armani Campaign Autumn/Winter 2016/17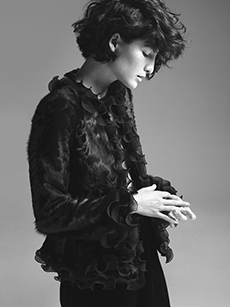 Giorgio Armani reveals its Autumn/Winter 2016/17 campaign, shot by fashion photography duo Mert and Marcus (Mert Alas and Marcus Piggott). Both photographers have said they are heavily influenced by photographer Guy Bourdin, which shows in their latest work. Modelling for this shoot were models Maartje Verhoef, Heather Kemesky, Julian Schneyder, André Bona, Mathilde Brandi, and Andrey Zakharov, who were photographed in black and white, which the brand describes as giving it an atmosphere that is subtly introspective and suggests a sense of realism.

www.armani.com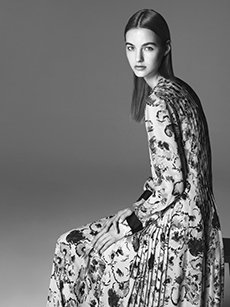 Fashion
New Collection The Vampire's Wife
Strongly influenced by her husband, Nick Cave's lyrics and with a desire to create the feminine and delicate clothing she was missing, Susie Cave created her own fashion brand. Having had more than 20 years experience in the fashion industry prior to starting up the business, she knows what looks and feels good on women and what doesn't work. The former model worked closely together with her friend Alex Ademson and founded the new brand The Vampire's Wife when she couldn't find anything she'd like to wear. As she told Vogue the garments are, amongst other things, inspired by Russian Ballet and raw nature. The new collection has just been launched and is available on matchesfashion.com
Fashion
Palladium Champions Pack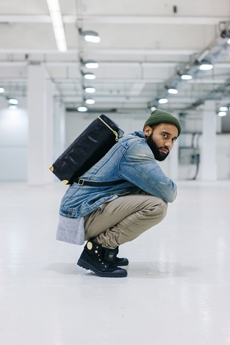 Inspired by the Paris Fashion Week and at the same time from the eclectic style of football stars, Palladium Boots have prepared a very special edition of their beloved classic Pampa Hi: the Champions Pack. For the Palladium Boots Champions Pack the materials that were used can be seen for the first time on Palladium boats. The iconic logo patch on the side of the shaft was plated with 24 carat gold, just like the eyelets of the boat. Noble, waxed laces add an additional high fashion appeal.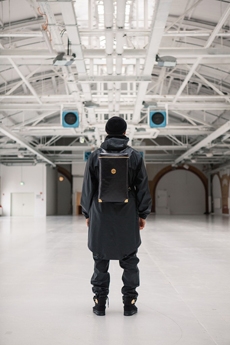 Palladium Boots Champions Pack consists of the Pampa Hi in black and a matching, specially designed backpack. This special collection was produced as a tribute to our Champions in very limited quantities.

Palladium Boots is a brand made in France and inspired by this beautiful country.

http://www.palladiumboots.com
Fashion
Gucci Menswear Pre Spring/Summer Cruise 2017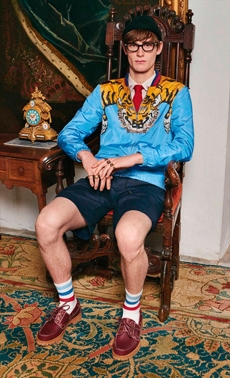 Gucci has a fresh and youthful approach on this Pre Spring/Summer Cruise 2017 collection.
Alessandro Michele reinvented the house by taking snippets of its past, mostly from its heydays in the 70s, and reworking them into something that feels both reverential of their origins but also distinctly neoteric.
 
The collection was unique, distinctive, and unforgettable. The clothes had the compulsorily trinity needed to satisfy the social media saturated consumers of today. The retro style remains on the Menswear collection and the colours are bright with red, burgundy, green and blue to conquer on this collection while the patterns have stripes, animal print, chequer and floral. 

www.gucci.com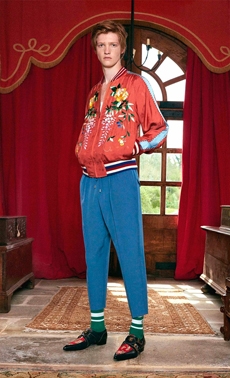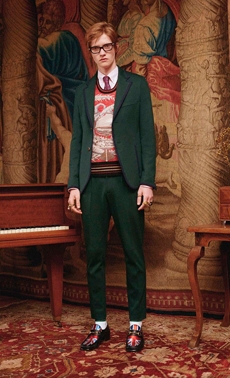 Fashion
Drykorn Fall/Winter 2016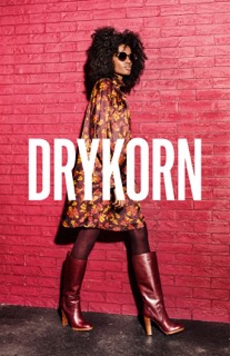 A touch of 60's, 70's and 80's lays in the new men and women's collection of Drykorn. The firm takes us a fashion trip back to the past with its new Fall/Winter Collection 2016. Inspired by the Detroit of the 70's the men's collection has large collars, broad lapels and flaps that come to the fore once again. Soft materials like velvet, corduroy and wool jerseys play an important role and emphasize the look of the natural, warm color shades like beige, cognac and rust. As an opposite pole to the unconventional ready-to-wear production, the focus of the collection lies on authenticity and heritage styles. Robust lambskin jackets, cut off raw denims and corduroy shirts cater for a solid work wear style. The collection focus on the silhouette and oversized jackets are combined with low crotch pleated pants. In the women's collection Fall/Winter 2016 the highlight is the comeback of the bohemian chic with a focus on playful mix of colour, material and pattern. The ''Mod Look''of the 60's also celebrates a revival with mini dresses and skirts in leather in combination with high neck blouse and biker jacket. In terms of colours orange is the new black and delicate grey and pure white can be found in the classic patterns like glen check, herringbone or pinstripe. The ''Bad Taste Spirit''of the 80's comes to life again. Sportswear unites with glitter and it is paired with wild leopard patterns in indigo blue and dark green. Waist?high is the name of the game when it comes to military and skinny pants. Draperies, Victorian elements and little details cater for the romantic twist that is presented in velvet, lace and nappa leather establishing the ''Gothic'' trend. DRYKORN represents premium processings and high quality materials. The Credo is: perfection of the nonchalance which is reflected in every production step.

www.drykorn.com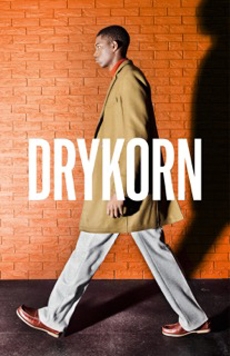 Fashion
Kaviar Gauche Launches Bridal Concept Store
Duesseldorf's Koenigsallee flaunts a whole lot of exquisite designer stores, but until March 17th, an exclusive bridal concept store was yet to be present. Berlin-based designer duo Kaviar Gauche, aka Alexandra Fischer-Roehler and Johanna Kühl, had their aim set on changing that. In a love-focused, bloomy ceremony, they launched their first Duesseldorf bridal concept store on the famous shopping mile in attendance of their elaborated clientele. Between champagne-colored walls and smoked-glass mirrors, guests such as modern art collector Julia Stoschek and director Oskar Roehler admired not only the bridal couture itself, but accessories and wedding essentials galore. The concept store is heaven-on-earth for a wedding planer, or at least the dream inspiration for a bride-to-be. Headpieces, shoes, bridesmaid dresses and registry outfits, even jewelry and candles – Kaviar Gauche makes sure there's nothing missing once you step up to the altar. All those pretty things are surrounded by tasteful design, centering around the steel tree-wardrobe designed by architect Amir Abadi. As a message on the wall puts it, on the Koenigsallee in Duesseldorf, you will not only find a wedding dress, but "everlasting love". We do!

www.kaviargauche.com
Fashion
Versus Versace Fall 16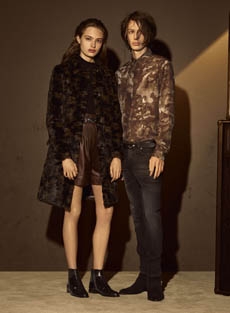 With its Fall/Winter 2016 collection, Versus Versace has unleashed a collection that is marked by toughness and an almost invincible spirit. Revisited camouflage prints, zip-up bombers, coats and cargo pants define the season for both men and women and embody the strong attitude that lies beneath this collection. For women, Versus plays with tomboy toughness by including loose fit jeans and flat ankle boots in the range. As camouflage is reimagined with the Versus lion head, the camo shirt meanwhile becomes the new city essential for the man. Both lines include pieces with a fierce attitude, such as a fur-collared blouson in menswear or a diamond slashed lingerie top for women. The urban conquest has been a sub-theme for a number of collections these past season and this collection sees Versus Versace join the trend wagon. Whether you need to fight the city jungle or just want to top off your fearlessness – Versus Versace is the gear to chose.

www.versace.com
Fashion
CHANEL Fall/Winter 2016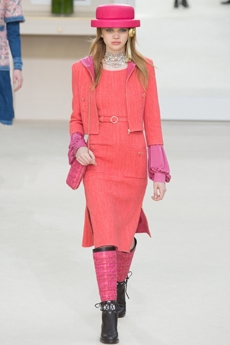 A trip inside the mind of Karl Lagerfeld must feel like an hourlong guided tour through the world's biggest museum. His creative mind, or the ones behind it, is like an infinite archive with multiple crossings, shortcuts and junctions. Therefore, it is no surprise that even after decades, the maestro still finds a way to put a spin on the very, very classic brand that is CHANEL. Still, a CHANEL presentation these days sometimes holds more surprise in the setting than in the fashion on display. This time, though, Lagerfeld stepped away from themes and backdrops and onto the "real" runway. On there, he showed classic CHANEL elements, from tweed-tops to tartan trousers, and one everlasting classic accessory: the impeccable, traditional CHANEL pearl necklace, worn in multiple layers on numerous looks. Topped off with a French twist on a bowler hat, it's maybe the accessories that deem this collection contemporary. However, the choice of colors also checks off everything that is on the line for this season: starting off with shades and combos of pink, the collection then moves onto dark blues and greys, to a range of beige and nude tones, only to end with a – what else- classic rendition of black-and-white looks. That trip to Lagerfeld's mind really must be quite the voyage. Where do we sign up?

www.chanel.com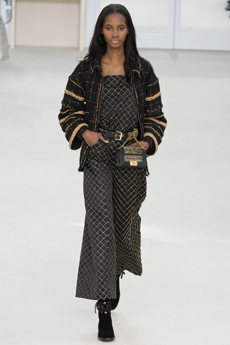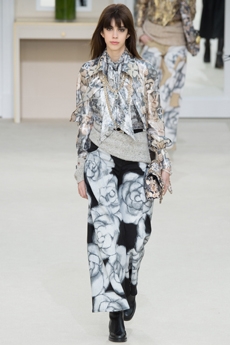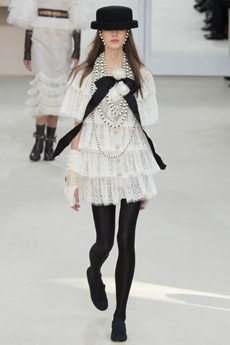 Fashion
LOEWE Fall/Winter 2016
Just like in their latest advertising campaign, earthy colors and monochrome looks dominated the LOEWE runway at their Fall/Winter 2016 presentation. The inexplicable, elusive mind that is Creative Director Jonathan Anderson always seems so put together a distinctive and strict aesthetic in which every garment is utterly different from the other, but in which everything blends perfectly like grains in the sand. At Paris Fashion Week, the Spanish label thus unveiled a collection of various flowing silhouettes, with dresses and skirts being the most prominent pieces. Paired with either asymmetric or body-tight tops and contrastingly oversized coats, they brought to life a modern look that speaks to women from Barcelona to Beijing equally. The cool, sophisticated combinations are interrupted by this season's go-to accessory: purses disguised as cat and mask-faces dangle around the models' neck, giving a funny twist on the tourist-style money bag usually very wisely banned from fashion. LOEWE though quite literally let the cat out of the bag, and the result will have the fans purr in pure bliss.

www.loewe.com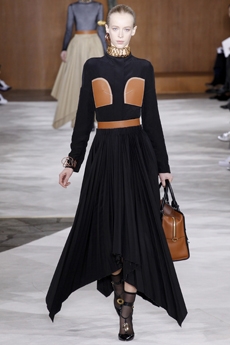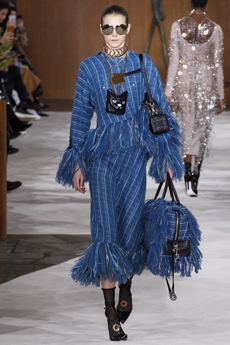 Fashion
Looking for Marni: Eyewear Presentation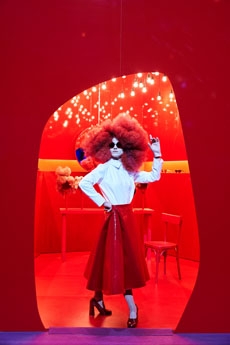 For its latest eyewear presentation, Italian label Marni stepped up its game. Their showcase "Looking For Marni" was not just a presentation, not just an exhibition or event: it was a theatrical demonstration, an intimate performance piece that highlights the famous links between art and fashion design. As Marni says, a brand is defined by its actions and not just the aesthetic it creates. Thus, the Italian house took its creative atmosphere to the stage and unveiled their showpiece at the Padiglione Visconti, a singular industrial space that is currently being used as a rehearsal atelier by the La Scala Theater. The theatrical spirit easily transferred itself onto Marni's presentation: a cast of dancers is presented with a variety of props, ranging from oversized tables and chairs to a raised stage – that is, if the performers are not dangling from the ceiling. The theater piece was conceived in collaboration with Susanna Beltrami and her dance company and has a duration of 90 minutes. Marni's aim is not solely to entertain, but also blend the lines between performer and spectator. Looking For Marni is both a theatrical and real-life experience. Poetic feelings ignite in between the performance and its viewers, bringing to life the incomparable, eclectic Marni spirit. Come to think of it, it's hard to think this presentation was only about eyewear, after all.

www.marni.com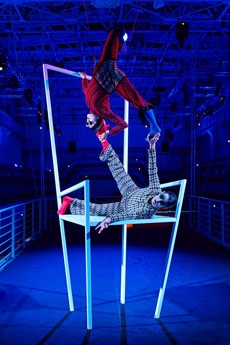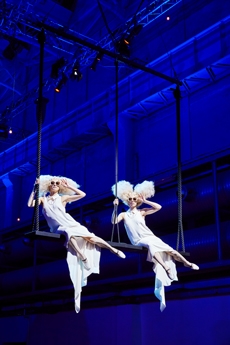 photos: D. Lovati
Fashion
Moschino Fall/Winter 2016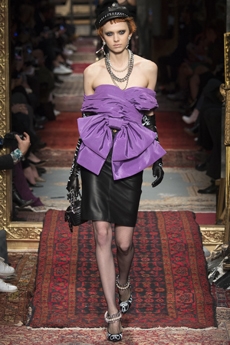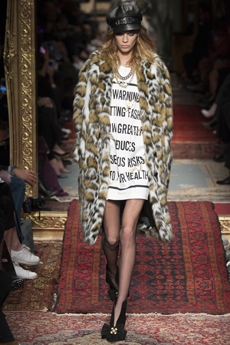 It seems like after seasons of blazing colours, logo prints fast food and toy designs, Jeremy Scott has found another way to express himself. His latest Moschino Fall/Winter collection is no shy one, but definitely a retreat from the bold and buzzing statements made in the last seasons. This collections is more of an outlook back on Pop culture: it's a little Madonna, in the 80s, a little of the 2000s, a bit of Kate-Moss-street style from 2010. That speaks for the first half of the collection, at least. After half of the looks have vanished from the runway, eccentric Scott is back on track. Burning ball gowns alluding to the 15th century find their climax in a design that sports a larger-than-life chandelier that surprisingly is not the show finale. That, in fact, is maybe more Scott himself, as he struts down the runway trough the gold-framed show scenery. One thing's for sure: with Moschino, boredom is eradicated from the dictionary. He is the one to open doors to his own underground club, where Madonna, Kate Moss and all the other faces party until dawn. Or until their dresses burn. That is, if they haven't before.

www.moschino.com
Fashion
Fay Fall/Winter 2016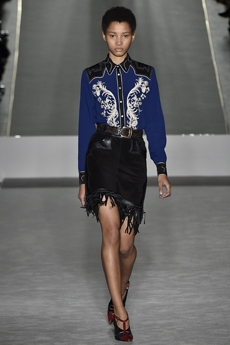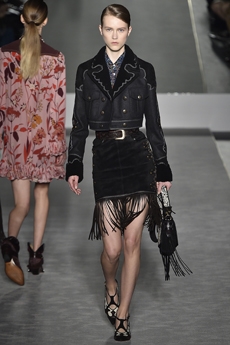 When we think of cowgirls, the outdated cliché that most likely pops to mind is pink fringes, hot pants and knotted check blouses. Fay's Fall/Winter collection has none of that. At Milan Fashion Week, the outerwear label presented a collection that was designed for the cool cowgirl, the one that rocks a hoedown with understatement instead of on a mechanic bull. With a color palette very much sticking to blacks, dark blues, greys and browns, the collection is ready to be worn not only in the desert but on the city sidewalk. However, it's not all gloomy western with Fay-designers Tommaso Aquilano and Roberto Rimondi. Shifty floral dresses that end mid-thigh release the collection of its seriousness and add a light and very, say, "western chic". Between that, the designs also feature allusions to other cultures, with vaguely aztec patterns reminding of even more southern inspirations. The finishing touch comes in form of glittering, fringed and embroidered party dresses, taking the selection from the saloon to the salon. Slip into one of Fay's new designs and we'll bet you, you'll never get that odd cowgirl cliché again.

www.fay.com
Fashion
Emilio Pucci F/W 16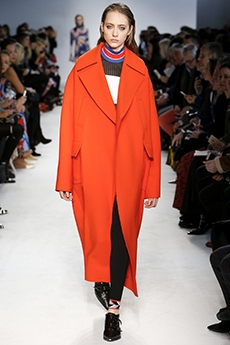 With a green coat and a striped jacket, Emilio Pucci started its Milan Fashion Week show quite subtle. One look later though, the Italian brand went in for the big bang - and that speaks for the rest of the show. This season, no piece at Pucci goes without pattern, without fluorescent colours or newly assembled stripes. Starting with patterns that in their design recall mountaintops, the collection then went to full-on patterned looks, from chevron stripes meeting modern-art-inspired colour blocking to a mixture of camouflage and flower power creating a whole new look. Shiny tops blazing the brand name in its classic writing break up this potpourri of patterns, while plain coloured coats also give the eye a break. Emilio Pucci went in for the big bang, but we don't mind, since that mountaintop pattern looked so good, we're definitely fancying a ski trip now.

www.emiliopucci.com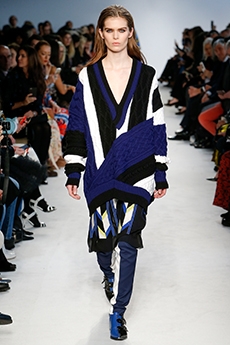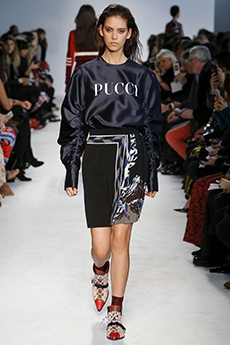 Photos: Monica Feudi
Fashion
Mulberry F/W 16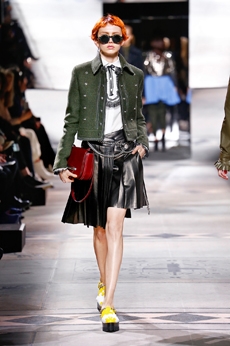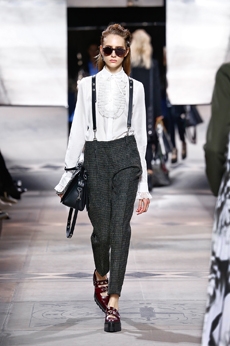 She is a bright student, broody in her own melancholy, surrounded by heavenly pearl shimmer, a dark romantic at heart. Poetic words define the latest collection by British label Mulberry. This by no means is capriciousness, but lies in the inspiration of the brand's new creative director Johnny Coca. For his first Mulberry F/W creations, the designer was inspired by no other than William Shakespeare. It's his ability to capture every stream of society, from royalty to nobody that Coca admires and therefore translated into his new collection, along with inspiration from the contrast of London streets. The result is a clothing range defined by contradictions. Sharp tailoring meets pure femininity; soft pleats are fused with bold cuff details. Johnny Coca is testing his limits, but always holds onto the British soul. Majestic, big-collared capes go along soft tulle dresses and luxury knitwear. Details such as an overload of rings allude to royal influences, while on the other hand variously sized buttons suggest functionality. May the poetic inspirations to this collection be recited often, as for Mulberry, to be or not to be is out of question.

www.mulberry.com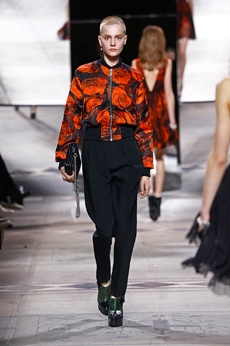 Fashion
CHANEL SS16 Eyewear
It's doesn't even last a minute, but the new CHANEL eyewear campaign literally flashes you. The mini moving image is defined by flashing blue lights, creating an iridescent atmosphere that recalls both ambulance sirens and dance club nights. Amidst this lightshow sits no one other than CHANEL's favorite associate Cara Delevingne, sporting a simple hat and, of course, the prominent sunglasses. While the glasses themselves allude to the look of a mirror mask, their special trait is the "quilted" border, created by laser cut fabrication. It is those lines that breathe more CHANEL into the sunglasses than into any pair ever before. Wear them to the club or on the high-street - these glasses will have the attention flashed at you just like the lights flash at Cara.

www.chanel.com
Fashion
Marc Jacobs Fall/Winter 2016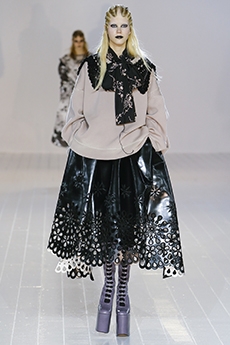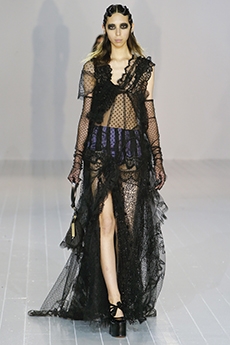 When in New York, the Marc Jacobs models took to the runway, all the unscrupulous fashion crowd was left with was surprise. Few hours later, fashion critics found themselves in frenetic ecstasy about the new Jacbos designs, and there are plenty reasons why. It is hard to put this collection into words, as it was eclectic and layered – in both literal and fashion sense. Jacobs created the big show, defined by the big silhouette. Strutting on knee-high, laced boots, the models sported coats, blazers and capes in voluptuous egg shapes to be paired with impressively embellished dresses and loose sweaters. The materials one can't even begin to enlist, for there are so many to choose from. Leather, denim, fur, feathers – Marc Jacobs has it all. The selection of models, who all presented a 1920s hair style, in parts was another surprise. One look was showcased by no other than Lady Gaga, who blended into the runway line-up quite effortlessly. For the grand finale, Jacobs later presented another enormous checkered cape, only to then bow to the applause as if nothing had happened. If only all surprises could be this magnificent.

www.marcjacobs.com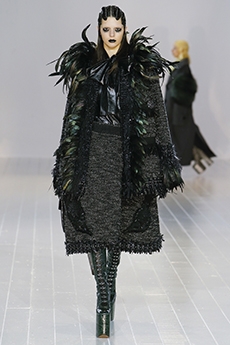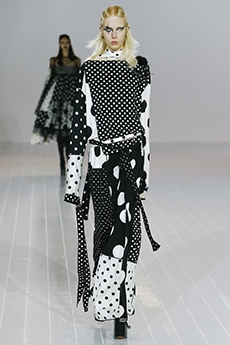 Fashion
CHANEL Opens on Königsallee in Düsseldorf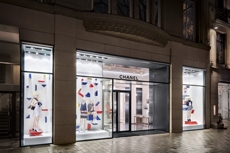 Get out your address books (pardon, smartphones) and switch to contacts: CHANEL has a new address! The Parisian brand changed its Düsseldorf location on the notorious shopping mile Königsallee to number 40. After having been located on the backside of an inner courtyard for years, CHANEL is now full front accessible to shoppers from allover the world. The new store opened its doors on February 10th and hosts 350 square meters of divine luxury goods. Customers enter the boutique via a gallery, where they are met by Andrei Molodkin's oil sculpture CHIC. Further on, an accessory room displays all smaller goods from handbags to sunglasses, scarves and jewelry. The watch collections of Mademoiselle Privé, J12 and Première find dedication in an additional section. Naturally, the clothes themselves deserve their own honoring: two intimate and comfortable Prêt-à-porter salons invite the shopper to prop down on a tweed sofa, lounge in a Wendell Castle chair or have a glance into the book on the Ingrid Donat table. New York architect Peter Marino was entrusted with the design of this particular boutique and incorporated the two CHANEL core characteristics: timeless modernity and Parisian refinement. Inspiration to the new rooms was Mademoiselle Chanel's famous apartment at Rue Cambon 31, where intimacy and elegance were united in every room. Safe to say that after such a precise reinvention process, Königsallee No. 40 is its equal in every way.

www.chanel.com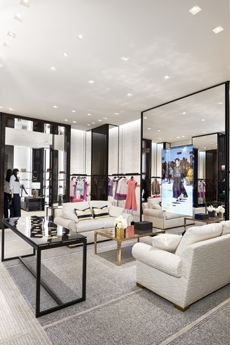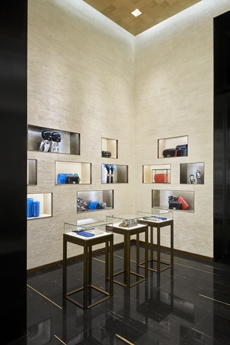 Fashion
RedValentino Spring/Summer Campaign feat. Birdy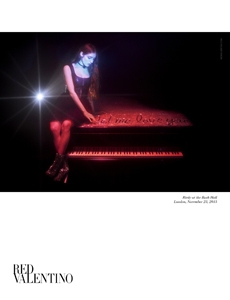 She's the girl with the angel voice, the delicate songstress that made hits at an age where others were concerned with anything but landing record deals: Birdy. Now, the 19-year old British singer has been tapped for a fashion campaign. Valentino sublabel REDValentino cast the singer as their new testimonial. The scenery takes her to London's Edwardian theater Bush Hall. In the dimly-lit setting, Birdy moves like the grande dame, or as Valentino puts it, a modern-day Marie Antoinette. Never dropping her ethereal and dreamy attitude, she poses on a piano in shiny black gear or takes the stage dressed in a floral see-through dress. "I love the enchanted world of REDValentino and the romantic dresses that have always been associated with the brand, so I was delighted to be part of this collaboration and to have my music in the campaign" Birdy gushed over the campaign. By her music she means her song Winter playing in the background, supporting the both romantic and magical atmosphere. Least to say, we're enchanted, too.

The campaign is launched exclusively on www.redvalentino.com.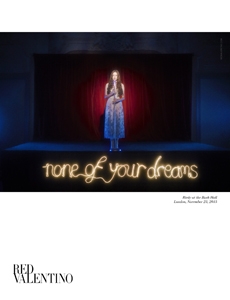 Fashion
Eastpak X Tim Coppens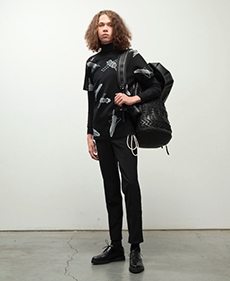 Over time, high fashion has encountered many unusual and unexpected collaborators. At New York Men's Fashion Week, it was once again met with another surprising category: backpacks. For his F/W collection, designer Tim Coppens teamed up with no other brand than classic backpack manufacturer Eastpak. The American brand, which has defined the backs of many on their way to school and university and the designer have previously collaborated for Eastpaks Artist Studio line. The 2016 rucksack line is the first collection of the collaborators after the work on the studio. Presented during Coppens' show at NYMFW, the collection consists of bags that are constructed from a lot of influences. Just like Eastpak, Coppens finds his inspiration in international youth cultures. The new designs carry everything (metaphorically and literally) : traits of Japanese street wear, technical materials, unexpected color combinations met with western influences and finest craftsmanship. Available only as a limited edition, the collection presents backpacks in four colors, made from high-quality leather and adorned with contrasting lacing. Mesh inserts give the necessary sporty touch while an easy-to-handle top flap makes space for all belongings. Eastpak is no longer seen on the way to school, but on the way to rule the cat – and sidewalk.

www.eastpak.com
www.timcoppens.com
Fashion
Givenchy Men's F/W 16 & Couture S/S 16
At the latest Givenchy presentation, viewers found themselves caught somewhere between a game of Tetris and the inside of a gum bubble. In Paris, the French fashion house chose to reveal both their menswear designs for F/W 16 and the couture designs for SS 16 in one captivating show. Ricardo Tisci's theme for this collection apparently was freedom, which he chose to express in a variety of designs that weren't at all as monochrome as the seating. For the menswear, Tisci alternated between sharp silhouettes with classic outerwear and more layered, colorful designs. Cobra-flagged knitwear was seen next to tribal inspirations and fringed coats; embellished collars on jackets and coats went along with college sweaters and pinstripe combinations. The couture marked a welcome contrast to all that. Sheer dresses had their parts as much as expressive dotted designs. Lace and other thin materials gave the collection a soft touch, whereas tight bandeaus in a wrapped style suggested a confident couture look. For his latest presentation, Ricardo Tisci's bubble might have been pink as gum, but we sure do enjoy it in there.

www.givenchy.com
Fashion
Icosae F/W 16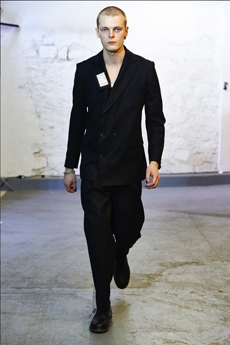 Take the cash and run – a thought than some of us might encounter more than once in life. For Icosae, it's the title to their latest F/W 16 designs, shown at Paris Fashion Week. They took the cash and ran, ran through time in particular. The designers drew inspiration from a vast pool of media and youth cultures. From groups like London suede heads to the techno music generation, they extracted inspiration from music, photography, drawing, sculpting and mostly paintings. The result is a balance between realism and just enough abstraction that ends up in a deconstruction of tailoring proportions. Asymetrical shapes mark this collection just as much as the dark colors that underline the urban atmosphere. Take the cash and run – but only dressed in Icosae.

www.icosaeofficial.com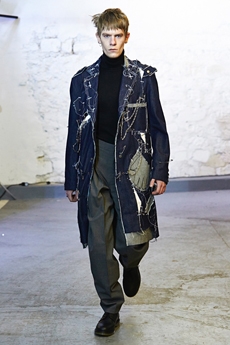 Fashion
Dior Homme Show & Dinner F/W 16/17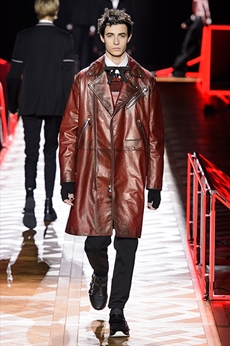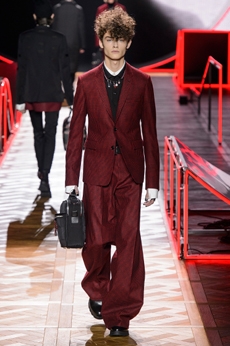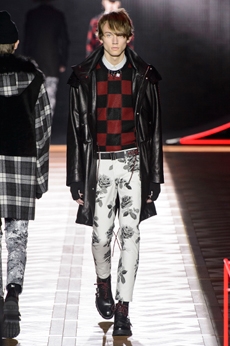 At the Dior Homme Show, the atmosphere was one to be taken in slowly. Red lights met skate parks and let the models waltz through the venue surrounded by larger-than-life video installations. The collection itself took on the "very rouge" vibe of the scenography, working several red tones either in small or large-scale checks combined with dark colors and eccentric black-and-white prints. Monochrome flower prints went along with detailed knitwear patterns and smaller millefleur print. To finish off the special occasion, Dior continued the show with a celebrity-attended exclusive dinner at the Paris Museum of Modern Art. Fascinating clothes followed up by fancy food? What a night!

www.dior.com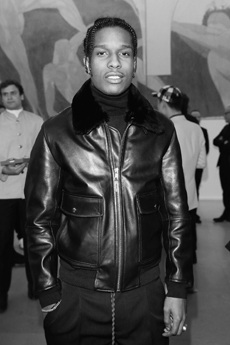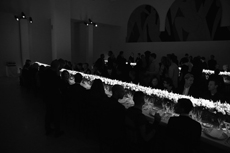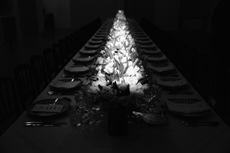 Fashion
Augustin Teboul F/W 16/17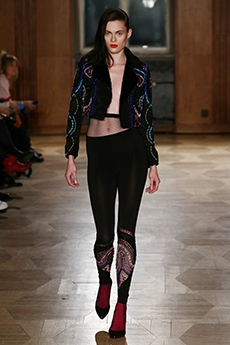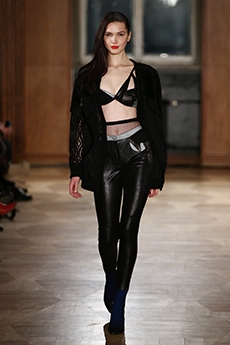 Annelie Augustin and Odély Teboul combine glamour and rock'n'roll in their collection like no other. The most astonishing design choice for FW 16/17 was hands down color. Both ladies are renowned for their femme fatale aesthetic circling 50 shades of black. This season, popping 80s hues made a guest appearance in delicate mesh structures and beading, from barely there tights to bodices, adding a glam rock touch in deconstructed knits and graphic structures to the all-black core of the collection. As a result, the Augustin Teboul woman becomes the naughty lovechild of Olivia Newton-John and Molly Ringwald. Delicate wovens mixed with luxe wool and leather pack some punch and cater to elegance and laissez-faire. Annelie Augustin and Odély Teboul always keep their eyes on their woman: an enigma wrapped in a riddle, teasing the beholder with lots of skin before pulling away, covering in long layers of darkness.

www.augustin-teboul.com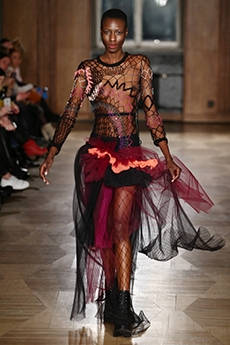 Fashion
Whitetail Fall/Winter16/17
Estonian label Whitetail is renowned as one of the key players in sustainable fashion and ethical production. Designer Margit Peura stuck to her minimalist cuts, enhancing each design with a golden headpiece. A distortion of the viewer's perspective was the result, putting the clothes rather than the individual behind them in focus. For FW 16/17 Whitetail worked with a range of materials and textures: knitted sweaters and dresses stand next to see-through chiffon blouses, heavy woolen coats and delicate woven skirts. Eclectic prints, appliques, buttons and ruffled hems add a playful twist to the collection. Bright colors transformed last season's muted Whitetail aesthetic. This time around bold red, royal blue, light grey, khaki and salmon liven up glum winters skies.

whitetail.luxury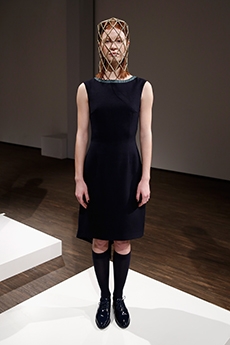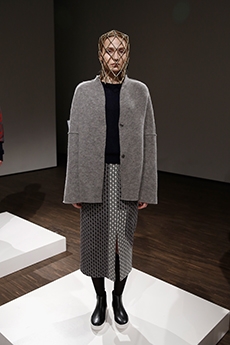 Fashion
Lemaire Fall/Winter 16/17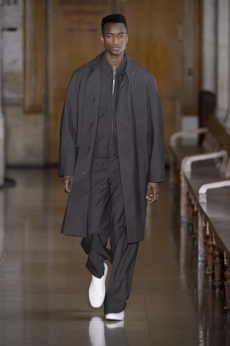 At Lemaire's menswear presentation, dark colors and very classic cuts were in store. The label presented a menswear wardrobe perfectly suitable for its wearers daily business. Classic single and double -breasted coats were featured next to simple jackets with oversized pockets and slim-cut blazers. Paired with a sophisticated black cape and baggy pleated trousers, the outerwear makes for a contemporary look that the Lemaire man can take on a business meeting, a date, or just pop out for a drink in. It's versatility that makes good clothing, and we thank Lemaire for delivering just that.

www.lemaire.fr
Fashion
KENZO Fall 16/17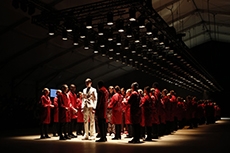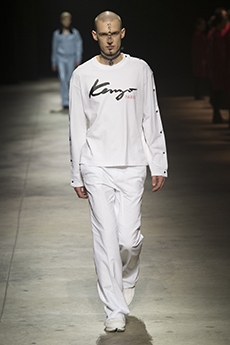 To find inspiration for their latest collection, KENZO designers Carol Lim and Humberto Leon lived the jet set life. Multiple journeys to japan and numerous concerts are base to their F/W 16/17 designs. Therefore, Japanese culture in its entirety, but especially music and concerts play a distinctively important part: the new KENZO collection is an ode in itself, an ode to music, an ode to fans, and to positivity. Leon and Lim were fascinated by the unique connection between musicians and their fanbase and wanted to emphasize the feeling of positivity that is harbored by a concert crowd. But how does one translate such a feeling into clothing? KENZO does by creating a relaxed look with a nevertheless slim silhouette. Comfortable wool pants combined with faux crocodile leather jackets melt the cool and the eccentric, the latter supported by a mix of psychedelic prints. Attention to detail is key, with peace-symbol buttons and the KENZO founder signature used as embellishment completing a vast collection. What to do now? Check for plane tickets to Japan. Or at least for a concert ticket. Or both. Jet set is on!

www.kenzo.com
Fashion
Xavi Reyes FW 16/17
The Spaniard followed the call of Berlin's capital to present his FW 16/17 collection during MBFWB, while the key players of this season's official campaign, Natasha Poly, Atsuko Kudo and Jeff Barks had flocked to the front row from their previous Fashion Talk to take in the unisex designs. Combining the masculine and the feminine, futurism and tradition in edgy cuts, asymmetry, muted hues and free silhouettes. Inspired by his home, the Extremadura, he breaks melancholy severity with romantic elements such as white embroidered lace, flounces and oriental patterns oh so typical for the southern Spanish region.

www.xavireyes.com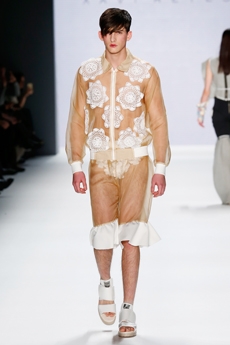 Fashion
Dries Van Noten: Peacock and Psychedelic F/W 16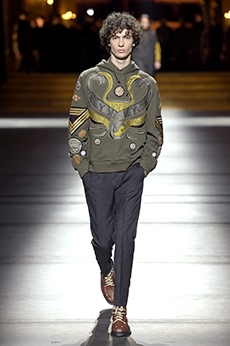 Dries Van Noten's latest collection is quite well defined by its own accessories. Listen up, and create your own image of it: Army style marching boots, classic city and dress shoes, faux fur coat collars worn as shawls and, last but not least, golf shoe tassles worn separately. Such a summary of deconstructed, estranged characteristics applies to the whole collection. This season, the Dries Van Noten man is a modern day peacock that displays his feathers with pride. Besides that, there is some psychedelic jugendstil displayed. The Van Noten wearer is an iconoclast that carries his very own uniform. Still, uniforms have also soaked into this collection. Insignia of regalia are ripped off and embellished onto the wardrobe of an iconic man. Bullions are worn as badges of ornament – restraint is not on the menu for Van Noten these days. Far more, he is all about deconstruction: clothing construction is subverted and the silhouettes, materials and colors mix in an open-minded assembly. Forms of formality of the sartorial are met with the oversized, robust uniform wools go along with silk jacquards, fine cashmere and velvet. The colors also spill broadly, from classic, to military, to outright flamboyant. Today, with Dries Van Noten, we're not just us. We're like a peacock. Only with this collection, each of our feathers looks different.

www.driesvannoten.be
Fashion
Marina Hoermanseder Lifts Off for F/W 2016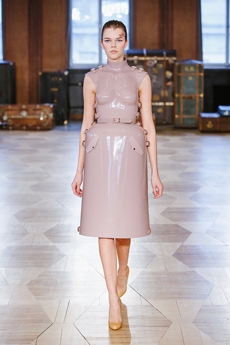 Amelia Earheart without a doubt was one of the most impressive women in this world. Flying across the Atlantic Ocean as the first woman to do so, she has established a legend-status that has been mentioned across various media for years. What stands out in all of this coverage is her imperturbable passion and bravery. Marina Hoermanseder takes that as an inspiration for her F/W 16/17 collection. Inevitably, the garments mirror Earhart's looks in form of flight jackets, pleat-fronted trousers and hooded coats. Female self-determination meets subtle, masculine notes. Hoermanseder's woman is independent and displays her femininity in a charming way. Embroidered embellishments and shiny buckles add both a functional and fashionable touch. These details support the use of premium leather and make the looks a high-end "avion" style. Without a doubt, Amelia Earheart was one of the most impressive women in this world. And we're quite sure she would have felt pretty good in this gear.

www.marinahoermanseder.com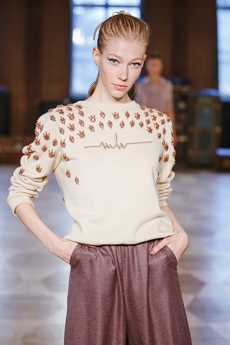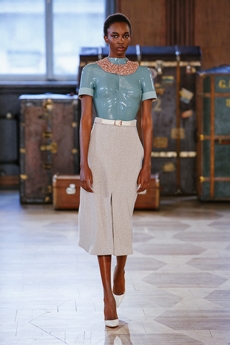 Fashion
G-Star RAW Celebrates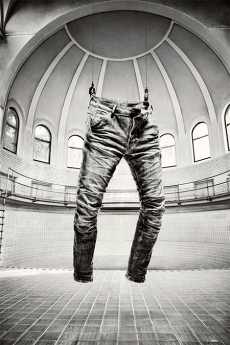 For G-Star, the 20th anniversary of their most famous denim design must feel like the growing up of the first-born child. Elwood 5620, the brand's most revolutionary and cult piece, turns 20 this year. Thus, in celebration spirits, G-Star has decided to do what maybe separates this celebration from a normal child's birthday: they're throwing an all-year party. At the end of every month, a new Limited Edition design of the Elwood 5620 will be revealed. Among these editions will be collaborations with artists and former G-Star cooperators. And it has already kicked off: for January, the G-Star Elwood Moto was released, homage to the Enduro races that took place until the late 1960s. The original Elwood 5620 model was released back in 1996, as the first denim pants to feature 3D-denim technology and a design unique to its name. Until now, the Elwood has stayed relevant to G-Star and has become a brand DNA of sorts. As the cherry on top of the birthday celebrations, Ellen Von Unwerth shot a special SS16 campaign only dedicated to the pants. Any birthday wishes left? We don't think so.

www.gstar.com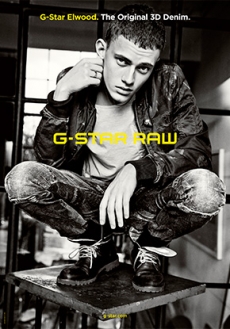 Fashion
Bally's Private Party: FW 2016 Menswear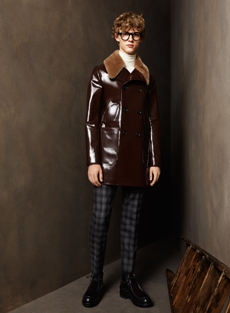 When was the last time you attended a really good party? Like, actually, a really good one? Mesmerizing guests, good music and just the right amount of elusive small talk. Been some time, hasn't it? Well, Bally is about to invite you to the best party in a long time. Titled "A Checkered Past- Scene 1", the brand released the menswear Fall/Winter collection along with the story of an edgy-but-glamorous ballroom party. The crowd: artists, rock stars, aristocrats and geeks – eventually everyone you wished for. Photographers lounge next to artists and talk about California, while a rock'n' roll frontman reminisces about his last tour. All of these very inspirational people have found their place in Bally's new collection. If the allover print shirt with kiss-inviting lips paired with some green fur coat isn't yelling for a rock star, then what is? If it's not the velvet suits and slouchy fedora hats that walk into the artist's wardrobe, then what is? If it's not the shiny, double-breasted coat and glasses that make for a good geek, please let us know, then what is? 2016 is not that old, but Bally has already hosted the party of the year and somehow, just very quietly, has become every one of their guests. Cheers!

www.bally.com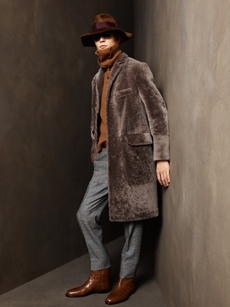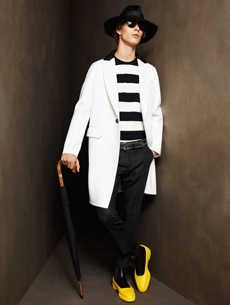 Fashion
Diesel Black Gold F/W 2016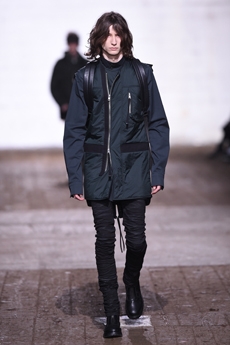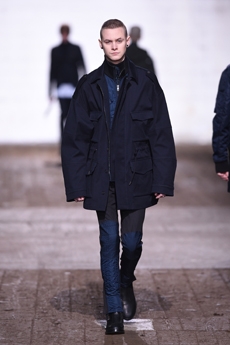 Diesel Black Gold has a special delivery for you! Inspired by urban bike messengers, the label presented its menswear Fall/Winter collection at Milan's Men's Fashion Week. Creative Director Andreas Melbostad and his team thought of couriers riding their bikes through urban capitals while designing the garments that create a rebellious attitude in an industrial setting. References to functionality are obvious, with cycling pants and "double trousers" (shorts stitched to narrow-cut styles) making it easy to move through the city, even if you're not delivering a package. Set against that, capes, parkas and field jackets with voluminous silhouettes submit the "fashion" element in this collection. Regarding accessories, the bike messenger is present again: cross-body bags and leather pouches for the arm keep the hands free – for whatever the urban setting has to hold for you. Leather combat boots top off the primarily dark collection in style. Well, seems like tomorrow, we'll be taking the bike to work. If it's that stylish?

www.diesel.com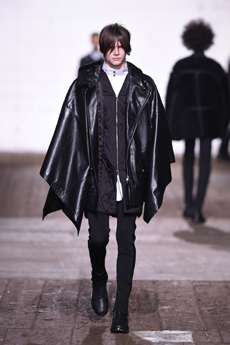 Fashion
Calvin Klein Collection Fall 2016 Runway Show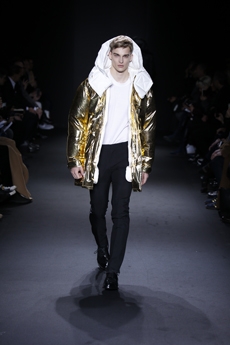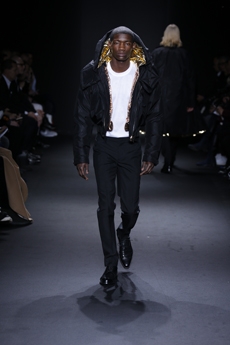 Like pulling a fan from the purse, last weekend, Milan pulled out its best, notable designers and brands to feature their latest menswear F/W 16 collections. One piece of that multifaceted fan was Calvin Klein Collection. The label's Creative Director Italo Zuccheli presented his collection, featuring 42 looks shown by seven male and four female models, at the company's headquarter. The gender-crossing casting is set to underline the universal power of men's tailoring, which was also highly visible in the new designs. Keeping it both classy and classic, the garments include core pieces fundamental to the brand's identity and menswear essentials. The exquisite tailoring stands next to sumptuous textures and silhouettes. This collection's eye catchers are a selection of dazzling outerwear pieces, displaying a range of gold, silver and rose gold. Other than that, Calvin Klein's color palette stays rather neutral, with a selection of black, white, camel and ivy rounding up a collection that spins between eye catching and toned-down pieces. Of course, in the end, Calvin Klein finds a way to balance itself out. That's the key to fashion, isn't it? Felicitazione!

www.calvinklein.com/shop/en/ck/collection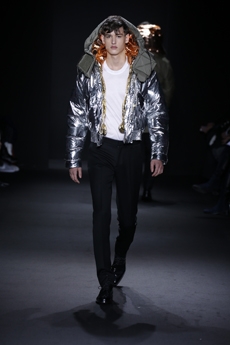 Fashion
PAULE KA Spring/Summer Advertising Campaign 16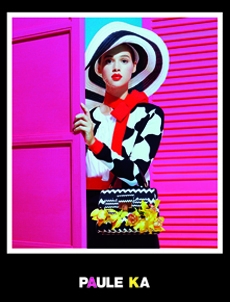 For a grown-up, elegant and sophisticated woman, is there ever such a thing as a crush on clothes? We believe there is, and it comes in form of PAULE KA's SS 16 advertising campaign. For the latest visuals, the brand collaborated with photographer Miles Aldridge to catch the spirit of both Pop Art and 50s French Riviera. Aldridge and Alithia Spuri-Zampetti, new Creative Director of PAULE KA, were inspired by the bold colors and cubist forms featured in the paintings of Richard Lindner, as well as the poetic portraits of Henri Matisse. Together, they have moulded this inspiration into a contemporary vision of Parisian elegance. French-Canadian model Anais Pouliot poses in the 'couture-chic' the brand is known for, embodying femininity and sophistication. Not only with the design has the brand gone on a trip down memory lane, but also with this campaign's execution. Aldridge, being one of the few non-digital photographers left in his realm, releases a special edition of collectible Polaroids along with the campaign. Paris, Polaroids and Pop Art? We're certain that grown-up, elegant women around the world will be crushing about this.

www.pauleka.com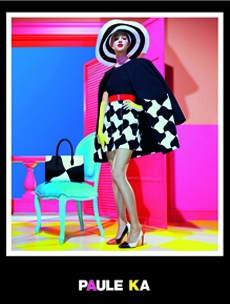 Fashion
FENDI Women SS16 Ad Campaign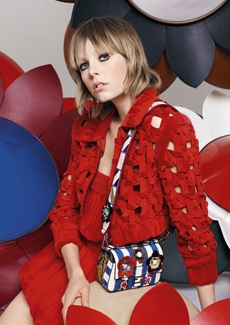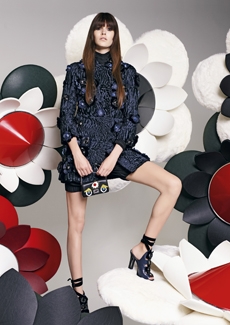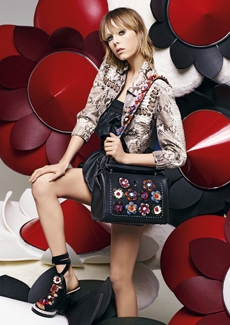 Flowers for a beautiful woman. Who wouldn't wish for that? FENDI is here to help. But instead of placing a bunch of nice flowers on our doormat, the brand has spread them all over their latest designs, revealed in their Spring/Summer 2016 campaign. Whether it's fur, plexi, studded leather or graphic details – flowers are key at FENDI this year. The new campaign transfers a good breeze of spring, applied also to the clothing through pure eclecticism, layered luxury and the playful alternation of lengths, cuts and volumes. Natural hair and makeup make clear that this campaign is not an advertisement for little girls – but for the strong woman on the look for a fresh, cool wardrobe. For these visuals, Karl Lagerfeld took to the camera again and shot models Edie Campbell and Vanessa Moody surrounded by larger-than-life-sized flowers. "Edie and Vanessa are the girls of the moment, each with a different style representing the typical model of fashion of today and the woman I thought of for this collection is the one who can identify herself with these girls.", the designer commented. Other than flowers and models, one can also make out FENDI bags such as "Peekabo", "3Jours" or "Micro Baguette" as the stars of the new campaign. And of course, they blossom in their most beautiful way, too. We sure wouldn't mind one of those on our doormat.

www.fendi.com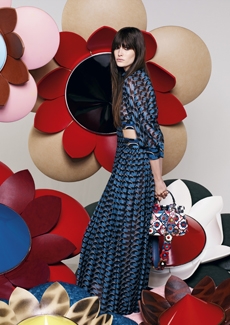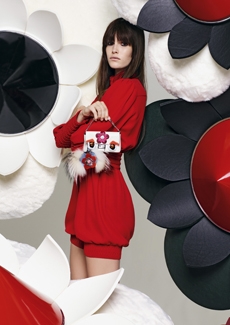 Fashion
Behind The Scenes with VETEMENTS: SS16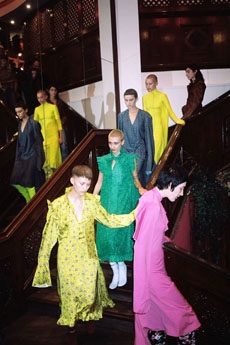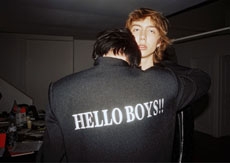 Fashion shows and collections are a nice thing, no doubts detected. Sometimes though, it's even more interesting to peek behind the curtain, to have a behind-the-scenes view at the new collections. Blooming label VETEMENTS has decided to enhance their latest SS16 collection with a book that gives us exactly that: an unfiltered look at the designs, a behind-the-scenes, a personal close-up. Shot exclusively by Pierre-Ange Carlotti, the book features modern photography that depicts models as they check their phones, hug or take their position for the presentation. The artworks additionally feature a handful of detail shots, with the VETEMENTS shoe design being the center of attention more than once. The book will be published by London publishing house "Idea", according to whom it is the largest photography book ever dedicated to a single fashion collection. 304 pages thick, it will be available at the Comme des Garçons Trading Museum in Paris from January, 23 onward. After that, stocks will go to Idea's Dover Street Market locations in London, New York and Ginza, Tokyo. Ever wanted to be behind the scenes at a fashion show without having to leave your seat? Flip open the book and be ready to dive in.

www.vetementswebsite.com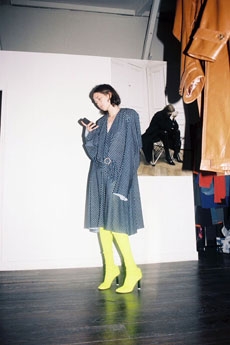 Photos: Pierre-Ange Carlotti for Idea
Fashion
Casely-Hayford: Irregimental Youth F/W 16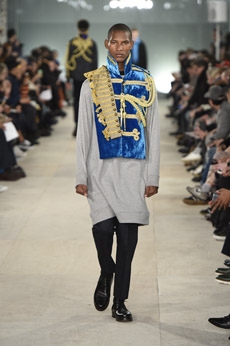 London Collections: Men last weekend was all about protection. Uniformity and regalia seem to have been an ongoing inspiration in multiple collections, whether referenced subtly or interpreted with full-on dedication. Design duo Casely-Hayford has taken on this omnipresent inspiration to focus on British subcultures old and new. The concept sounds complex: appropriating establishment uniformity to create anti-establishment individualism. The result are references from the early 60s, like the Beatles' psychedelic "Sergeant Pepper" album cover, to the use of military clothing by today's Hip Hop favorites. To throw in some more edge, the father and son duo also incorporated elements from the Skinhead and 90's rave culture. For the accessories, Casely-Hayford collaborated with American shoe brand Sperry to combine the roots of craftsmanship and modern sportswear. A key item is the hybrid of boat shoe and creeper, performing a split between past Teddy boys and today's sportswear modernists. Nevertheless, military stays the driving force in this particular collection. Hand embroidered regimental elements are being reimagined in MA1-jackets. Oversized nylon coats come in the essential military green and not only make for a big appearance – but also protect. Because that is what it's all about. It's on!

www.casely-hayford.com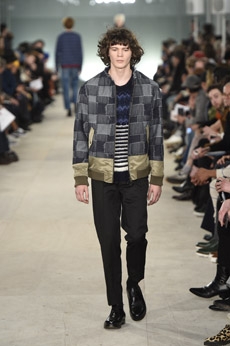 Fashion
SIBLING FW Men 2016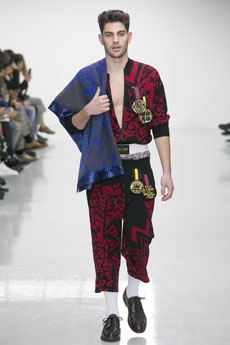 SIBLING succumbs to obsession. With their latest AW16 collection, the designers dedicated their work to the Pop culture of the 1970s and 1980s. More precisely, two icons that have subverted in the worlds of music and art like few others: Grace Jones and Jean Michel Basquiat. Eccentric in every way, Jones' album covers inspire the collection's color palette. Acid yellow and blood red shoot through traditional colors like royal blue and grey, making the viewer squint in a good way. Now, it doesn't just take the color palette to make an honest dedication - which is why for the silhouettes, the label refers to Basquiat. Luxurious Dormeuil fabric jackets, baggy pleated trousers and cropped wide suit jackets emphasize the loose shapes Basquiat is known for. Of course, his artwork is not to be left out and finds dedication in the SIBLING Fair Isle sweater. Going back to Jones, the Boxing Shorts make an allusion to her combat image. Completed with a more feminine, glittering Boxing Gown, the man is not only ready to rumble but also to revel. Now, if all of this is the result of an obsession, we might just get infected, too.

www.siblinglondon.com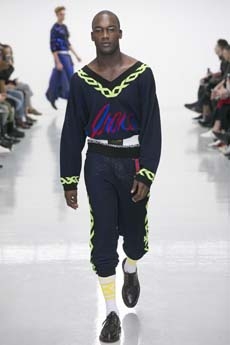 Fashion
Miu Miu Spring/Summer 2016
This year, acting and fashion seem to go together better than ever. While Prada has appointed three young actors as their new testimonials, sister brand Miu Miu also once again enlists upcoming actresses as their new campaign faces. For the Spring/Summer 2016 campaign, international screen newcomers Millie Brady, Julia Garner, Matilda Lutz and India Salvor Menuez pose as the new Miu Miu woman. The visuals have a straightforward, uncoded message and were shot by no other than the brand's long-time creative partner Steven Meisel. The collection itself features a diversity of colors and materials. Greys and taupes intercut with maroon, gold and blue while materials like tweed, satin and leather are also used simultaneously. It is with no difficulty that one can sketch an image of this new Miu Miu woman: the risk-taker, the iconoclast, creatively intelligent with a rebellious sense of fashion. Looking to define that in one word? We'd say impeccable.

www.miumiu.com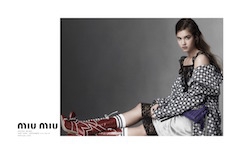 Fashion
Paul Smith for David Bowie: Blackstar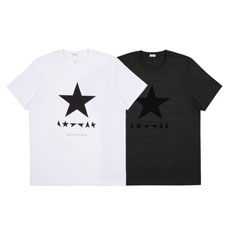 In celebration of the release of his latest album "Blackstar" on January 8th, David Bowie has cooperated with British brand Paul Smith for a set of limited T-Shirts. The designs feature the same logo as Bowie's album, consisting of a prominent star in the middle, underlined by a row of smaller star fragments. Graphic designer Jonathan Barnbrook, who also collaborated with Smith and Bowie for the latter's 2013 album "The Next Day", has conceived the artwork concept. Available in black and white, the shirts are up on sale at paulsmith.co.uk from the day of the album release. Paul Smith was happy to renew the cooperation with Bowie after the two have been friends and collaborators for years. "I've known David Bowie for many years and have been fortunate to spend time with him in the past. I was delighted when he asked me to collaborate on the release of The Next Day in 2013 and equally delighted to work with him again on creating a T-shirt for the release of "Blackstar", the designer commented. The album is Bowie's 27th studio work.

www.paulsmith.co.uk
www.davidbowie.com
Fashion
JIL SANDER Spring/Summer 16 Advertising Campaign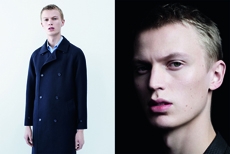 Naturalness and simplicity have forever been trademarks of German brand JIL SANDER's collections. Now, the new visuals for the Spring/Summer 2016 campaign were revealed – and they make clear that the fashion label once again sticks to its status quo. Shot by Willy Vanderperre in Paris, the campaign shows models Lexi Boling and Jonas Gloeer presenting a collection defined by purity. Womenswear designs allude to one of this year's key colours, an almost pastel blue that is used in the design of wrap dresses, shirt blouses and handbags. Other than that, the collection stays rather un-summery, featuring dark colors like a deep blue in a classic menswear coat or even black. If now the thought of "boredom" creeps into your mind, JIL SANDER is ready to talk back: especially the new women's designs surprise with shoulder cut-outs and restyled coat collars. They might stick to their status quo, but JIL SANDER does it just right. Never change a winning team, people say. We agree.

www.jilsander.com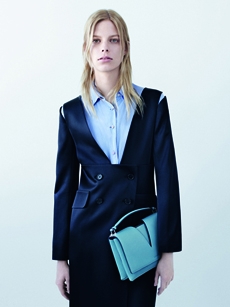 Fashion
J.W. Anderson Pre-Fall 2016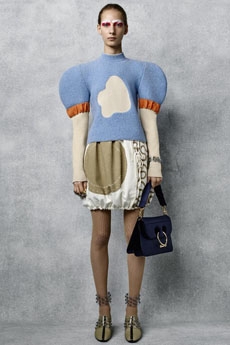 For his latest Pre-Fall collection, British designer Jonathan Anderson has channeled his inner medieval expert. Most noticeable are the leg-of-mutton sleeves featured on woolen jumpers and a short, bolero-style leather jacket. Combined with voluminous trousers that also recall clothing from past centuries, the designer has successfully transferred our ancestors into the present. These references stand alongside a shiny, tracksuit-inspired combination with blown-up, patched pockets that make room for whatever today's fashionista has to carry. The collection's dresses once again are reminiscent of ancient clothing: they remind of habits, only to be transferred into the present by stitched pleats and ruffles. The key accessory comes in form of the "Pierce" bag, that without a doubt lives up to its name: the clasp indeed recalls certain body jewelry. Who knew that one day, medieval sleeves and piercings could go along so well? And for that, ladies and gentlemen, we have J.W. Anderson.

www.j-w-anderson.com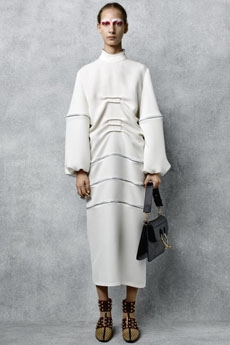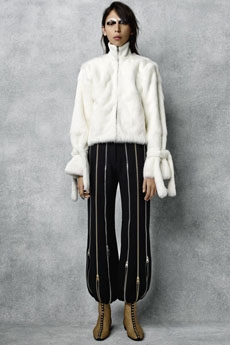 Copyright: J.W. Anderson
Fashion
Burberry Unveils New SS16 Campaign
Since Burberry premiered its festive campaign with emerging British talents earlier this year, it seems like time has flown by. The next campaign, Spring Summer 2016, is out and again features the promising talents of tomorrow. This time, only, they originate from the fashion scene. The latest designs are being premiered by future faces such as models Hayett Belarbi McCarthy, Misha Hart, May & Ruth Bell and many more. Shot by Mario Testino in London, the "cast" of this new campaign reflects the attitude of the new collection – energetic and vibrant. Featured in their first ever Snapchat campaign in October, the ready-to-wear pieces center around one new key item: the Burberry rucksack. For this new accessory, Christopher Bailey and his team dug deep into the archives and found inspiration the military section from the early 20th century. The new product is a lightweight carryall with a soft structure and multi-zip pocket added for functionality. Functionality is also the theme behind the new womenswear designs: "Functionregalia" links regalia elements with function clothing. The menswear collection follows a similar path: sartorial clothing is mixed with unconventional elements. All of this does not neglect the key Burberry items: trench coats, scarves, ponchos – it's all there and frankly, it wouldn't be Burberry without them. With each collection, the British brand proves once more that tradition in no way equals boredom: whether it's materials, shapes or colors – Burberry's reinvention is endless. If only time wouldn't fly by so fast.

www.burberry.com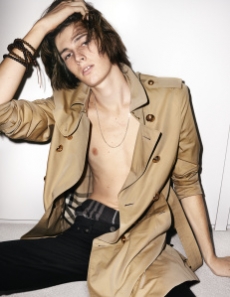 © Copyright Burberry/Testino
Fashion
Review: Fashion Film Festival in Paris
Last week marked the 8th edition of fashion icon Diane Pernet's festival "A Shaded View on Fashion Film". The diversified event, abridged "ASVOFF", was held for four days at Centre Pompidou in Paris and included a selection of 80 competitive short films. Guest of honor was fashion design legend Jean Paul Gaultier who was awarded a Carte Blanche and led the jury alongside Iris van Herpen, Colin McDowell and Nicolas Godin. Musical ensemble Chicks On Speed took the stage clad in colorful, sequined gowns for a powerful performance that sparked pleasure throughout the Centre. The festival featured again a variety of master class discussions, one focusing on film music with jury member Nicolas Godin and Nicolas Saada, who discussed their collaboration on the film "Taj Mahal." Another special session was dedicated to the history of the Woolmark label. With new talents, big names and a collection of exciting visuals, the festival once again deserves an everlasting round of applause. Can't wait for next year.

www.ashadedviewonfashionfilm.com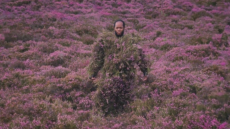 Fashion
UNAIDS' ProTESTHIV Turns One Tomorrow with an Exclusive Collection of Tees
Since its launch last year, the UNAIDS campaigners behind ProTESTHIV, have pledged to raise awareness of HIV testing on a global scale, in the hope of ultimately eradicating the deadly virus by 2030.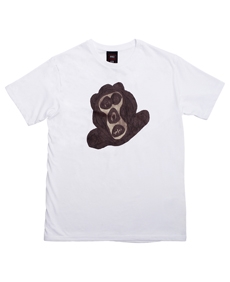 In marking World AIDS Day tomorrow (December 1) and as part of this campaign, a collection of five unique T-shirts will be released on sale. The contemporary artists FUTURA, André, Dustin Yellin, Scott Campbell and Aersoyn-Lex have exclusively designed the tops, visually tackling an internationally unavoidable subject. 

ZOO has the exclusivity to give away a selection of tees. What to do? Be creative with one of our current covers and send your creation to info@zoomagazine.com, or easily purchase the extremely limited edition collection in the concept stores Goodhood (London), STORM (Copenhagen), Colette (Paris), 290 Square Meters (Amsterdam) and Soto (Berlin), with all proceeds going to UNAIDS…At 50€ per tee that must be the definition of money well spent. 

www.unaids.org
Fashion
BOSS, Bauhaus, Bespoke
The last director of the Bauhaus movement once said, "The Bauhaus was no an institution. It was an idea. An idea as readily applied to clothing as to buildings – architecture for the body".

It's no surprise that BOSS Creative Director Jason Wu has had a long-standing admiration of the Bauhaus movement. Its rigorous geometric lines form the basis of many a post-2014 BOSS collection, after Wu has combined such Bauhaus principles with the BOSS DNA of exceptional precise menswear tailoring to create a new look for the modern woman.

 Now Wu looks to this artistic movement again, and draws inspiration from the Bauhaus artwork of Josef Albers and Wassily Kandinsky in his new interpretation of the classic BOSS Bespoke handbag. With a dramatic yet simplistic aesthetic, the vibrant palette of the Modernist "intarsia" bag is patterned in various luxurious materials, such as suede, box-calf and embossed lizard and crocodile prints…if Wu's time at BOSS could be summed up in one item, it would have to be this one. 

www.hugoboss.com
Fashion
Zadig&Voltaire Launch Candide Bag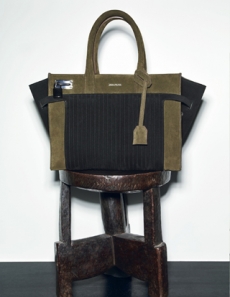 Named after the Voltarian hero, the brand new Candide Bag is destined for cult status. Complete with biker quilting, a stitched Zadig&Voltaire logo and an off-centre padlock, Cecilia Bönström has designed an urban piece that symbolizes the label – think Parisian chic meets edgy rocker. If this wasn't enough, the made-in-Italy, striking bag is realized with Fall/Winter versions, solidifying its iconic status for the label. Available in three sizes and a chic selection of red, black and khaki suede and leather, the Candide Bag fits the needs of the modern Zadig&Voltaire woman. We want.

www.zadig-et-voltaire.com
Fashion
Acne Studios Open New Berlin Flagship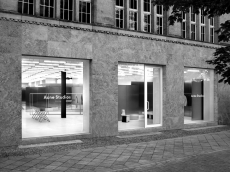 October 31, 2015, marked a big day for Acne Studios as they unveiled a flagship store in a city very special to the label. As chairman Mikael Schiller put it, "Berlin is a quite emotional city for us, as it was the first city outside of Scandinavia where we opened a shop more than a decade ago".

The new 260 sqm store is located on Potsdamer Stra?e, the centre of Berlin's art gallery district, and is consistent with the new Acne Studios Interior aesthetic. With sharp stainless steel walls and chalky pale yellow concrete walls, the clever design is reminiscent of Berlin taxis and houses the ready-to-wear collections for both men and women including the FW15 line, as well as accessories, denim and footwear. The label have also announced that New York will be the next city to welcome new Acne Studios boutiques.

www.acnestudios.com
Fashion
Stone Island: Reflective Research '992-'015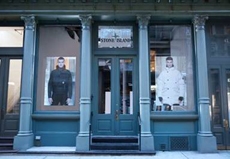 Debuting during the Tortona Design Week 2015 in Milan, Stone Island are bringing a retrospective exhibition of their innovative explorations into light refraction to New York. "Reflective Research '992-'015" recounts the various textile manipulations that Carlo Rivetti's label have experimented with since 1992, during an extensive study of safety workwear clothing. This involves an approach of using resins consisting of thousands of glass microspheres in coating textiles – meaning that when these fabrics hit the light in a dark setting, they completely light up.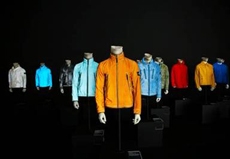 The nostalgic exhibition includes a number of experimental processing techniques adopted by the brand on finished textiles and numerous items that never made it to production. The Stone Island Fall/Winter 2015/16 Collection will accompany it in a special presentation. Impressive.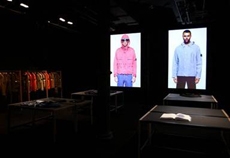 "Stone Island: Reflective Research '992-'015'" is on exhibition at 41 Greene St, New York, until November 15, 2015.

www.stoneisland.com
Fashion
Dior Homme Unveils New Parisian Store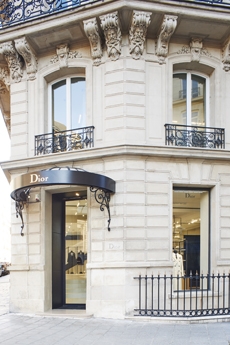 Following their romanticized "Paris XVIE" campaign featuring Boyd Holbrook, Dior Homme have opened a brand new boutique for their menswear line at 24 Rue François 1er.
Across two floors, its beautiful interior design blends ideologies of modernism and elegance with tradition with pioneering innovation. Executed in a minimal palette of black leather and wood, Dior grey and white, the store provides a tranquil setting with impressive light reflective resin structures that bridge the gap between outside and in. Available in store will be all collections designed by Kris Van Assche as well as a space for custom orders.
The boutique even offers an exclusive made-to-measure, home-visit service by the label's tailoring atelier…The Dior Homme's shopping experience couldn't get more enjoyable than this.

www.dior.com
Fashion
Akris Spring/Summer 2016 Collection at PFW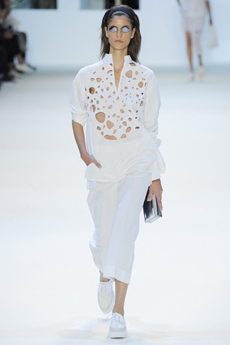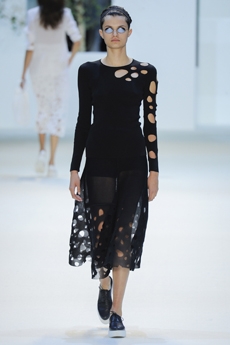 This season in Paris saw Albert Kriemler enlist Sou Fujimoto, a Japanese architect, in creating innovative fabrics for his latest collection. You'll get no prizes for guessing which theme the collection was made in respect to: architecture.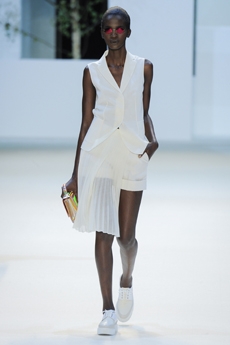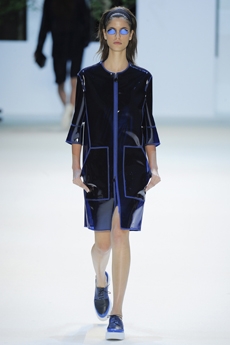 The usually, ultra minimal effect of Kriemler's vision was spruced up somewhat with these textured fabrics and insistent peeping window holes featured on tunic tops and dresses. Geometric lines cut across asymmetric shapes amidst a wealth of fine tailoring and chic silhouettes. Altogether, this made for a modernistic collection unusual to Kriemler's typical approach.

www.akris.ch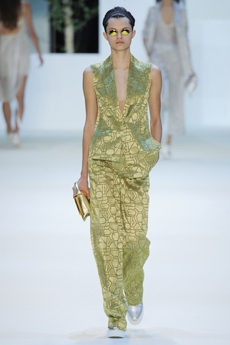 Fashion
Alexander McQueen Spring/Summer 2016 Collection at PFW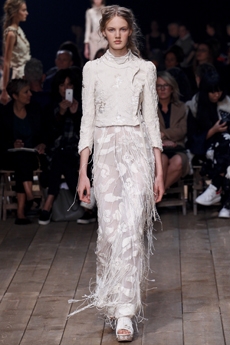 It seems as if Sarah Burton has relaxed somewhat in the current season at Alexander McQueen. The intimate collection showed Burton to get familiar with McQueen's ancestral roots, in drawing her inspiration from the 17th-century Spitalfields silk weavers, who settled in the East End of London after fleeing religious persecution in France.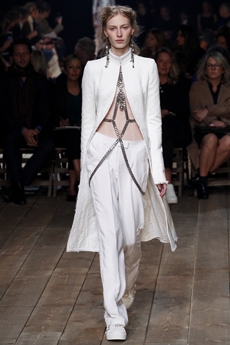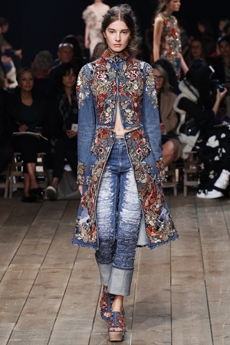 An elegant assortment of lace and ruffles formed a long, slim silhouette on models, who wore chandelier earrings with their hair loosely pinned back. Dramatic chained body jewelry added a stab of McQueen grit to the gracefully feminine collection.

www.alexandermcqueen.com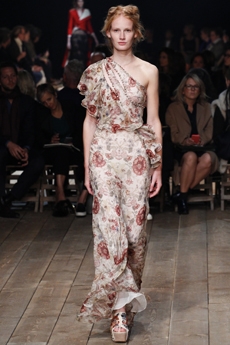 Fashion
Valentino Spring/Summer 2016 Collection at PFW
There is a powerful message behind the latest Valentino Collection from Maria Grazia Chiuri and Pierpaolo Piccioli. Their inarguably beautiful collection of bold prints and delicate patterns presents a fusion of cultures between Italy and Africa.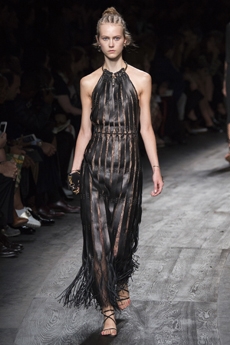 Braided hair, ethnic inspired jewelry and a palette of strong, vibrant colors appear in conjunction with ruched dresses, studded detailing and leather patchwork reminiscent of the Roman Empire.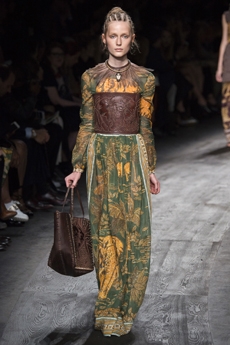 No doubt people will question the ethical appropriation of the show… However, with the ongoing refugee crisis we hope that people will take something positive away from it and see the beauty of cross-culture, as Chiuri and Piccioli intended.

www.valentino.com
Fashion
Christian Dior Spring/Summer 2016 Collection at PFW
The film "Picnic at Hanging Rock" has provided Raf Simons with a great source of inspiration with this collection for Christian Dior. The ultra feminine line, pleasing to dedicated Dior fans everywhere, was packed with white Victorian-style ruffles, shapes and necklines.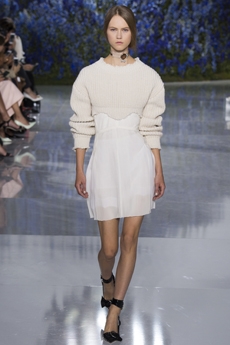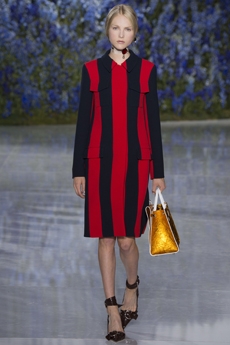 With neckscarves and brooches reading with "1947", Simons has once again got nostalgic for the monumental New Look collection of that year and incorporated relaxed interpretations of classic, rigid lines into this collection. Adding a splash of contemporary androgyny Simons throws in some chunky knitwear and tailored suits.

www.dior.com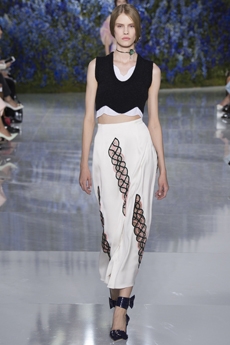 Fashion
Vetements Spring/Summer 2016 Collection at PFW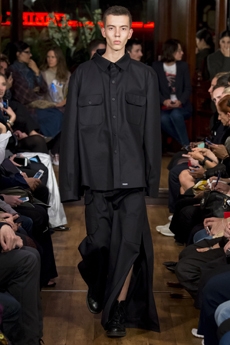 Now in their fourth season, Vetements are no longer the new kids on the block. This collective of young designers who are proving the power of friendship are now also winners of the LVMH Designer Prize. Their latest collection pushes the irrelevance of gender and depicts the ultimate expression of cool.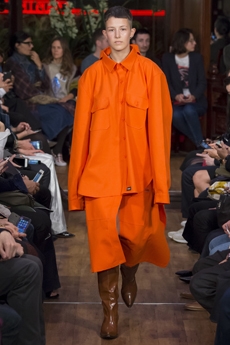 Making a return to the catwalk are their signature gigantically proportioned suits, this time with dramatic splits up trouser legs and appearing in striking blues and oranges. Jacquard sweaters, Star Wars wide-leg trousers and thigh high boots emblazoned with the Vetements name are taken together to reinforce alternative, youth culture within the context of Parisian fashion.

vetementswebsite.com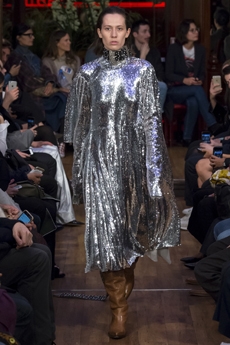 Fashion
Boris Bidjan Saberi Announce New Womenswear Campaign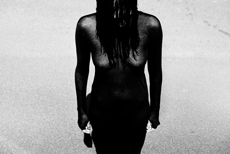 The values of Boris Bidjan Saberi's label explore functionality within the urban context of street wear. Primarily concerned in protecting the curvatures and geometric angles of the human body, Saberi adopts innovative techniques when experimenting with fabrics, reimagining and rearranging in a destructured style. Previously only creating menswear lines, this campaign presents the growing prominence of the women's collection for the brand in an exclusive preview on our ZOO Magazine site.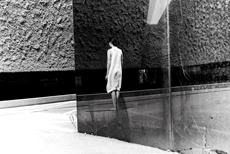 The Spring/Summer 2016 Collections combine aspects of two fundamentally different worlds, work wear versus deep-sea diving suits. Inspired by the construction of neoprene suits, Saberi reimagines some of the label's most signature looks using organic materials in a wholly novel light. The sheer inquisitive nature of the luxury fashion brand, along with high quality tailoring and handcrafted passion, means for an inspiring collection composed of forward-thinking creativity.

www.borisbidjansaberi.com
Fashion
Sergio Rossi Spring/Summer 2016 Collection
Consolidating the label's partnership with Bianca Brandolini d'Adda, Angelo Ruggeri has named her as a main source of inspiration for his current, Bohemian chic Sergio Rossi collection.
In having a vintage moment with the Italian footwear brand, classic 1970s clogs are reworked into wedges that display intricate patterns contrasting the rich appearances of wood and cork. Ruggeri contrasts these chunky shapes with delicate stilettos and flats, whilst also creating a stylistic juxtaposition between day and night; eccentricity and minimalism. The line, exuding Summer and optimism, is realized in a mainly neutral palette with a multicolor camouflage effect adding excitement. With the adoption of strings, embroidered thread and crochet patterns in the unique designs, we are left with a beautiful collection embodying creativity and femininity.

www.sergiorossi.com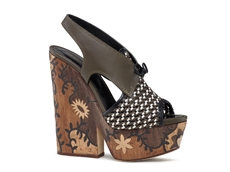 Fashion
Versace Spring/Summer 2016 Collection at MFW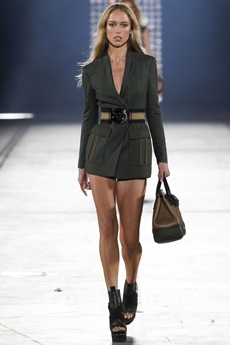 Refuting the retro looks we are seeing all over Milan at the moment, Donatella Versace is making a stand for her name and bringing back sexy into the world of fashion.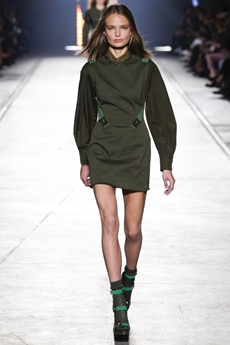 Her beautifully tailored army jackets and waistcoats that cinch into the waist with a Versace crested belt are teamed with chunky platform sandals and pulled up khaki socks to ooze sex appeal and her feeling of the moment; female empowerment.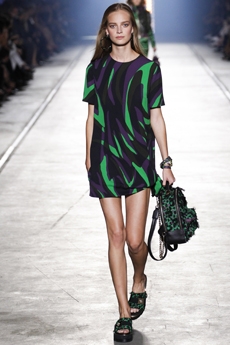 Then come the snakeskin effect fabrics, the camo-meets-animal print, the sheer shirts and slit skirts. Donatella is defiant in her vision of Versace… And it proves to be iconic.

www.versace.com
Fashion
Jil Sander Spring/Summer 2016 Collection at MFW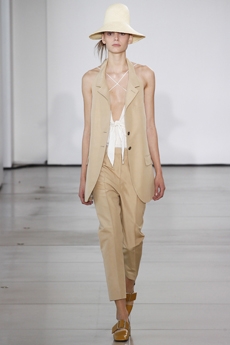 In his third season at the label, Rodolfo Paglialunga has reworked the classic Jil Sander principles. Blazers are slashed, a coat deconstructed to embody an overlaying dress with the signature shirt cut and twisted into a new contemporary idea.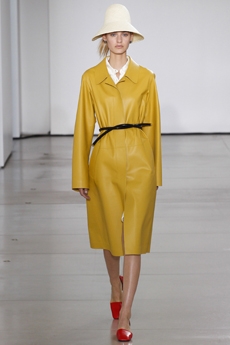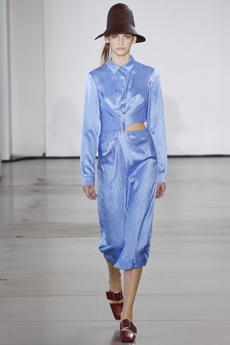 There is the odd flash of color, an asymmetric neckline and a vacant shoulder strap, with a buckle motif cropping up above the footwear and unexpectedly on silk dresses at the end of the show. The collection is undoubtedly minimalistic, as all Jil Sander should be.

www.jilsander.com
Fashion
Moschino Spring/Summer 2016 Collection at MFW
With a construction site as the backdrop, an actual car wash that sprayed bubbles and a road-runway, no prizes for guessing the whacky theme of the current season with Jeremy Scott, "carwash couture".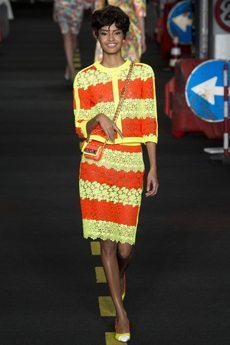 Models were walking puns in safety-cone colors and equally outlandish roadwork themed accessories. In referencing a Chanel skirt suit in neon safety tape, the collection proved to be undeniably smart thinking… And as the show went on the looks got bigger. One was literally a ball of feathers with a model somewhere beneath (this being the "carwash" part).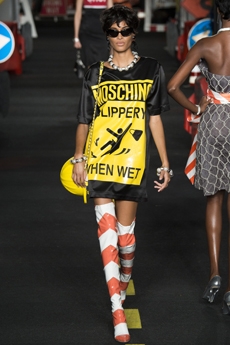 The only cautionary part to this tale however is the rampage of Scott-fans that will ensue when this collection hits the shops… It seems the hard-hats are necessary after all.

www.moschino.com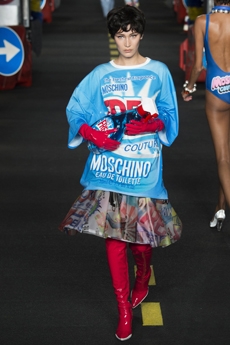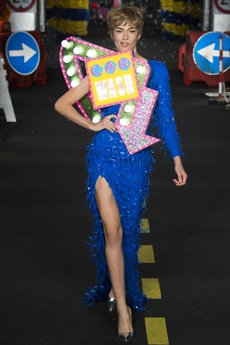 Fashion
N°21 Spring/Summer 2016 Collection at MFW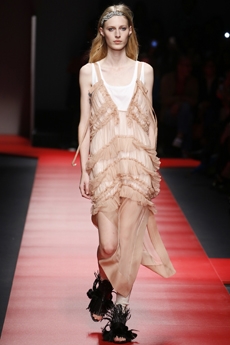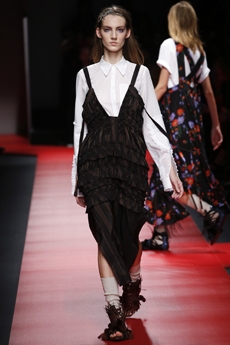 With this collection, Alessandro Dell'Acqua claims inspiration from 1920s Italian photographer/actress Tina Modotti and Corinne Day, a.k.a. the photographer responsible for some of the most iconic photos of the nineties.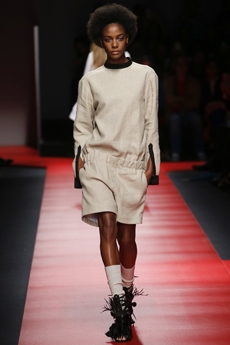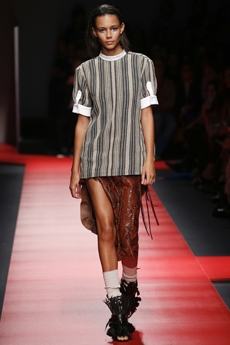 An eighty-year gap means that the current N°21 line sees an avid mix of glamour and grunge. Models wearing jeweled headbands and ruffled chiffon are also wearing plain vests or t-shirts. Feathered slippers are worn over pulled-up socks. Florals, lace and python leather appear amongst deconstructed garments, shirts and dungarees… Dell'Acqua has created a clever mix of old and new and masculine and feminine with the current line of N°21.

www.numeroventuno.com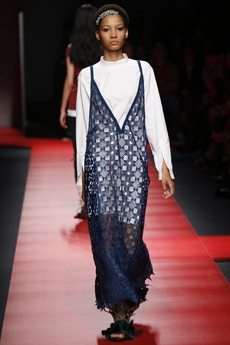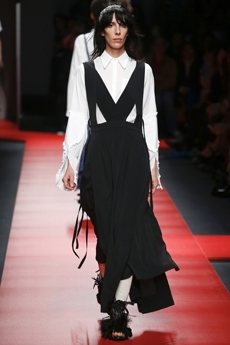 Fashion
Burberry Spring/Summer 2016 Collection at LFW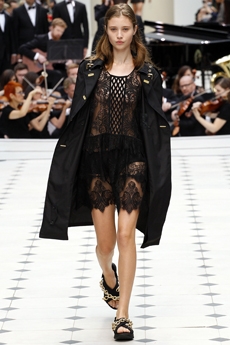 Military-style coats with regimental studs, ribbon cording that reminds you of army uniforms and intricate lace made in the UK – the distinctively British fashion brand lives up to its namesake.
Throw in a classic trenchcoat and a personalized Cara Delevingne backpack and you couldn't get "more" Burberry, though the clunky, chainlink sandals teamed with flowing slips and maxi dresses scream urban grunge.
Mix this with a range of sophisticated, heavy coats and you see Christopher Bailey's move away from the idea of season-specific clothes with this collection. Making the show even more memorable, Bailey had Alison Moyet provide the soundtrack with the backing of a 32-piece orchesrtra.

burberry.com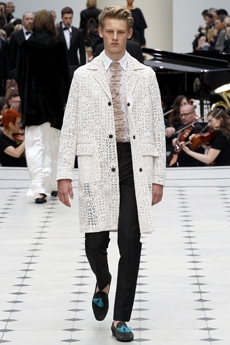 Fashion
Gareth Pugh Spring/Summer 2016 Collection at LFW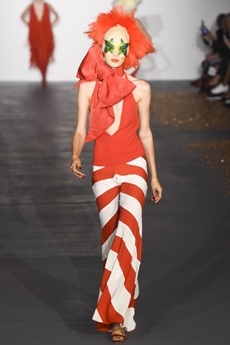 With bold prints, latex and an unflinching red, black and white palette, it was go hard or go home for Gareth Pugh's latest collection. Diverting away from last year's ritualistic themes this season was all about flamboyance.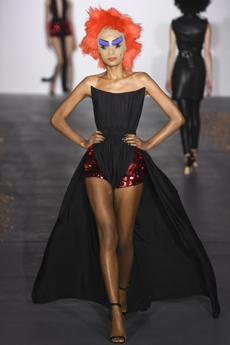 Masked models with choppy wigs wore plunging V-neck cuts and asymmetric shapes. Adorning his clothes with coins, this eccentric motif reappeared throughout the show and reminded onlookers that sometimes, you just have to go all out. At his LFW debut, this show has proven to be iconic for the designer.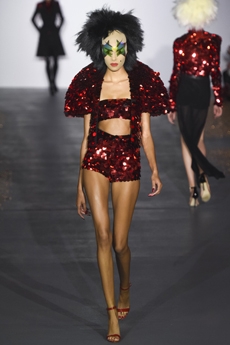 Fashion
"Volez, Voguez, Voyagez – Louis Vuitton"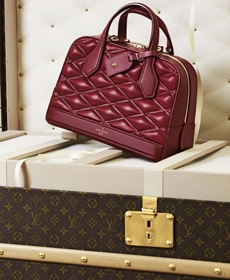 The Grand Palais was constructed in preparation for Paris' spectacular Universal Exhibition in 1900. Around 48 millions visitors swarmed to the event, whilst George Vuitton created one of the most iconic attractions as part of his role in organizing the entire section concerning "Travel & Leather goods". A majestic merry-go-round formed the platform for an array of pioneering and elegant Louis Vuitton luggage and bags.

As a celebration of over a century of Louis Vuitton, the Grand Palais will now host "Volez, Voguez, Voyagez – Louis Vuitton". Retracing the label back to its 1854 origins, the collection consists of a remarkable overview of Louis Vuitton's journey, paying homage to both it's founders and current creators. Curator Olivier Saillard delved into the archives of the fashion brand to deliver "a fresh vision of our past, present and future", according to Louis Vuitton's CEO, Michael Burke.

The "Volez, Voguez, Voyagez – Louis Vuitton" exhibition will run at the Grand Palais from December 4, 2015 until February 21, 2016.

www.louisvuitton.com
www.grandpalais.fr
Fashion
Diesel Black Gold Spring/Summer 2016 Collection at NYFW
Apparently first inspired by a girl wearing her boyfriend's shirt, Andreas Melbostad has taken this idea and ran with it. Perhaps too far, as at times this collection can seem a little repetitive.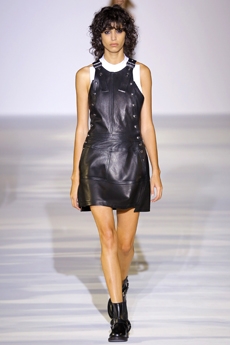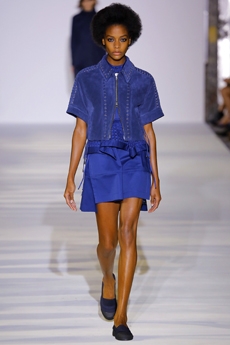 With hints of sportswear mixed into the cuts and footwear, Melbostad has created an urban line with that characteristically Diesel Black Gold biker effect...
Think oversized leather dungarees, embellished leather jackets and patchwork jeans. This is all realized in a mainly monochrome palette with the emergence of a beautiful deep blue towards the end of the show.

www.dieselblackgold.com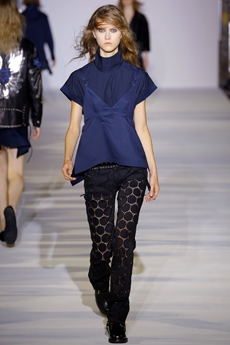 Fashion
Alexander Wang Spring/Summer 2016 Collection at NYFW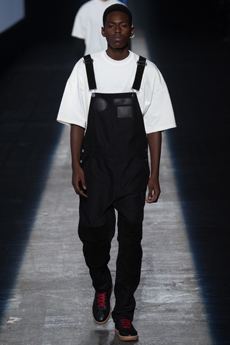 This sports-inspired line consisting of a neutral palette with the odd splash of vibrancy, suggests Wang has momentarily had his fill of all-black following last season. Mesh vests, crop tops, caps and sneakers make up the newly ex-Balenciaga director's collection, oozing contemporary casual.
Departing from last season's look of a subcultural, gothic-rave scene, with only studded sandals as a memento, Alexander Wang has chosen to shift his focus to urban New York streetwear for his Spring/Summer 2016 Collection.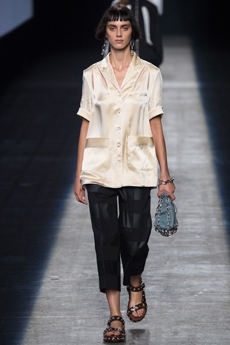 Finished off with a nostalgic highlights reel of the past ten years of his career, along with a star studded front row, the shows reflects Wang as the great New York showman that he is.

www.alexanderwang.com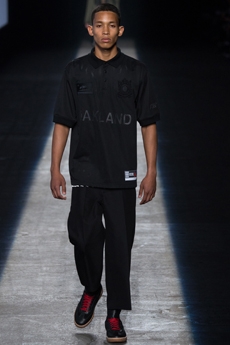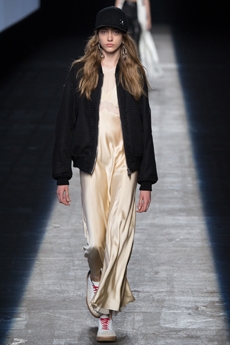 Fashion
Paul Smith Presents "A Suit To Travel In"
Paul Smith has been making suits since the 70s. As the label's Fall/Winter 2015 ad campaign proves, they know what they're doing. The short film shows the British Olympic medalist Max Whitlock demonstrating the sheer flexibility of "A Suit To Travel In", which is available for men and women. Without causing a single crease, Whitlock performs a sequence of impressive, dynamic gymnastic moves... If that can't convince you then I don't know what can.

www.paulsmith.co.uk
Fashion
Miu Miu Tells a Coming of Age Story with "Les 3 Boutons"
"It's playing a game with reality," Varda says. "The game is called cinema".

Agnès Varda, a.k.a The "Grandmother of the Nouvelle Vague" and the first female winner of Cannes Film Festival's honorary Palme d'Or, has directed the tenth installment of Miu Miu's "Women's Tales" celebrating contemporary femininity and empowerment.

"Les 3 Boutons" sees Varda toy with ideas of classic fairytales versus modern-day reality, avoiding the clichés so often associated with girlhood. Introducing Jasmine Thiré as a typical, 14-year-old farm girl,she takes a break from milking goats upon the arrival of her postman. Avoiding the easy Cinderella tale, the inquisitve Jasmine dons her school uniform and begins a journey of self-discovery. Along the way, she gradually loses three buttons. Each of these seems to mark some element of change in her life, which can be applied to all of us, irrespective of age.

www.miumiu.com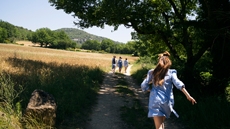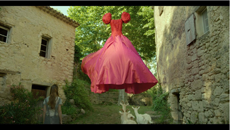 Fashion
Moncler Announce Opening of New Boutique in Costa Mesa, California
Moncler unveil latest store in the exclusive Orange County's South Coast Plaza, Costa Mesa. This luxury shopping centre is regarded as one of California's most significant. The one-­story boutique welcomes you to lose yourself in the world of Moncler, stocking the label's mens and womenswear collections beside a huge array of accessories.

With the marble floors, French wooden paneling and two large store windows, designed by the Gilles & Boissier architecture studio, this new boutique is worth the visit. If unfortunately you can't make it all the way to California, the highly established Moncler can also be found all over the world in cities and ski resorts.

www.moncler.com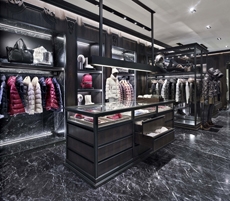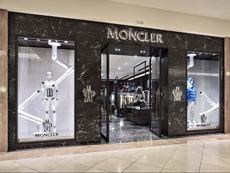 Fashion
Theory Unveil Latest Campaign with David Sims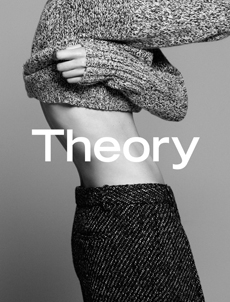 Theory reunites with photographer David Sims in launching their AW 2015 campaign. Natalia Vodianova and Clement Chabernaud also return in promoting the brands' new collection in a variety of chunky knits and woolen suits.

The New York based label have once again avoided cluttering their minimalistic, modern image and opted out of following the current trends. Since being appointed as co-creative directors of the fashion brand last season, Lisa Kulson and Ben Stubbington have stripped back Theorys' image. Simplistic looks in luxurious, soft fabrics, the fashion brand has evolved to produce unique pieces that are simultaneously easy to wear, wardrobe staples. With their new image, Theory is all about transforming the ordinary into the unordinary. They have created a contemporary, urban uniform, with their reinvention of everyday, work attire.

www.theory.com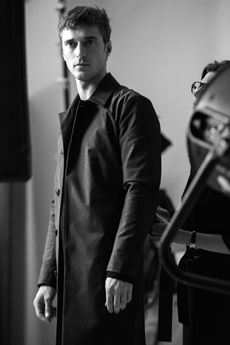 Fashion
Emporio Armani Presents The Fall/Winter 2015/16 Campaign starring Calvin Harris
DJ and producer Calvin Harris stars in the Brooklyn located campaign, a monochrome of cinematographic features shot by photographer Lachlan Bailey. The highly prolific musician Calvin Harris is portrayed in various workplace environments clad in the FW collections' garments, ranging from leather jackets to the iconic Emporio Armani underwear, eyewear and watches. The continuing collaboration strengthens the ties between the fashion house to the world of the energetic dynamism of contemporary music – with innovation, and futurism intertwined with an assured sense of style. www.armani.com
Fashion
Lily-Rose Depp for CHANEL
Following in the footsteps of her mother Vanessa Paradis, Lily-Rose Depp has been made the new CHANEL ambassador and the face of its Pearl eyewear collection. The embodiment of youth, modernity and femininity, the young actress plays a baby doll surrounded by a lofty world of sweetness and style. Her appearance at the Haute Couture show signalled the start of Ms. Depp's journey as CHANEL's fashion darling. Discover the Pear eyewear collection campaign shot by Karl Lagerfeld in September 2015.

www.chanel.com
Fashion
Rihanna x Stance: Murder Rih Wrote
Stance has announced that Rihanna is joining the unique sock brand as its contributing Creative Director and named a Punk & Poet brand ambassador. In celebration of this new venture, Stance has released two limited edition styles called Murder Rih Wrote, one in an over-the-knee style and one as a crew sock. Each set is a true collector's piece, with only 1500 sets produced. Rihanna's complete Stance sock collection will be unveiled this coming fall, a collaboration that epitomizes the rule-breaking, carefree and self-defined essence of both Rihanna and Stance.

www.stance.com
Fashion
Armani Privé Fall/Winter 2015 at Paris Fashion Week
Joan Jett had a lovechild with Prince and their union was a match made in Armani Haute Couture heaven. The rebellious, confident air of the 80's inspired collection was undeniable. There were short raven-haired wigs, boldly colored ombre sequin getups, bulky geometric accessories and puffy but glamorous feather creations. Nevertheless, the elegance seethed out of every garment, its glamour needing no heel. The elevated 80's looks were however strengthened by the choice of flat footwear, allowing for the eyes to focus wholeheartedly on the beautiful shimmer of the Privé wonder.

www.armani.com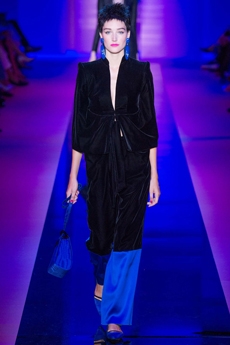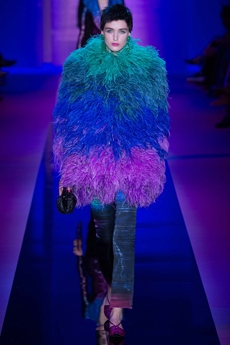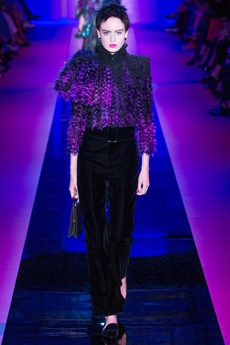 Fashion
Miu Miu Club and the 2016 Croisière collection during Paris Fashion Week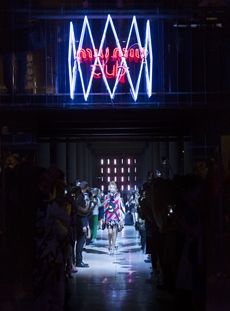 In celebration of the 2016 Croisière collection and the fashion house's first fragrance, Miu Miu set the AMO to create a one of a kind pop-up club in the French capital. Inspired by the cabarets of Les Folies Bergères and the jazz-filled streets of Montmartre, the space was a true feast for those longing for the seductive Paris nightlife. Alongside the collection showcase, the event was a full-bodied celebration of Parisian culture, including a cocktail gathering, exclusive dinner and musical performances by several DJs including Seth Troxler and Frederic Sanches who ensured the party was fit for its grand Paris venue. The resort collection echoed the carefree, dark side of the Miu Miu venue, with curiously shaped tops and punkish prints scattered throughout. The silhouette was a mashup of several decades it seems – from 60s minis to 20s drop-waist dresses. It was as if all of Paris' nightlife ghosts had come alive to celebrate again.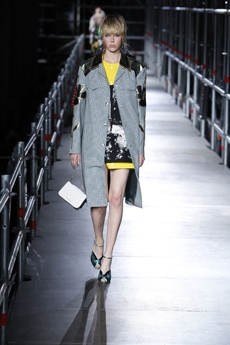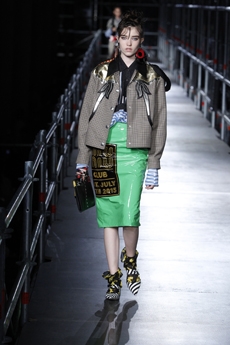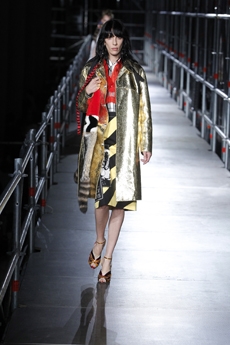 Fashion
Atelier Versace Fall/Winter 2015 at Paris Fashion Week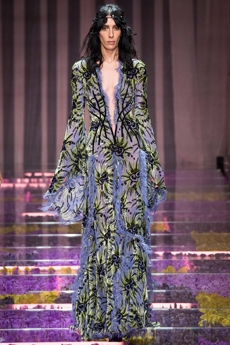 It was a dark and twisted fairy wonderland. Pastel colored fabrics draped beautifully and effortlessly around ethereal models were paired with shiny go go-dancer platforms, dark eye makeup and tousled 'morning after' locks. The spectacle of the Atelier Versace show was striking – thousands of glass-encased orchids lined the runway, headlining models included Doutzen Kroes, Karlie Kloss, Lara Stone and Sasha Pivovarova and the crowd was not disappointed. Donatella received a standing ovation at the end of the mystical fairy-gone-bad couture showcase. The gowns were mesmerizing and looked to be taken straight out of the Grimms' original fairy tales – gritty and fascinating as they are.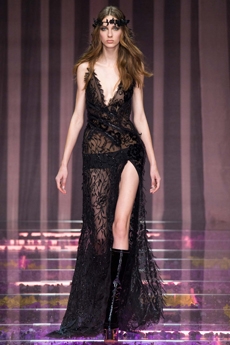 Fashion
Louis Vuitton Series 3 – Fall/Winter 2015-2016 Campaign
Starring new muse Alicia Vikander and returning beauty Jennifer Connelly, the campaign is shot by Juergen Teller and Bruce Weber and showcases the FW 2015-2016 collections worn by the quintessential Louis Vuitton woman. The refined elegance of the garments and the women is highlighted, juxtaposed against an industrial, stark background. Creative Director Nicolas Ghesquière has had an amazing season following the stunning resort collection and continues to take the brand to new heights.

www.louisvuitton.com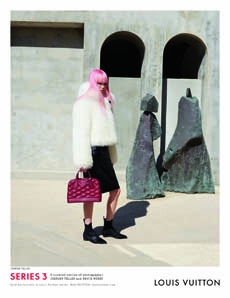 Fashion
Saint Laurent Menswear Spring/Summer 2016 at Paris Fashion Week
Another nod to the essences of rock stardom, Hedi Slimane's Saint Laurent man is one of effortless androgyny. Black skinny jeans and a fringed leather jacket, cut out jeans, flannel and printed lettermans – the SS 2016 collection seems tailor-made for the festival crowd. Considering the attention of which the stereotypical festivalgoer's outfit is subjected to these days, it is not surprising that a fashion house as big as Saint Laurent is manifesting their own take on the rugged urbanite. Like Woodstock's iconic fashion imprinted itself firmly in the mainstream, so it seems, does the reformulated versions of it – this time in the form of Hedi Slimane's vision of Californian music culture.

www.ysl.com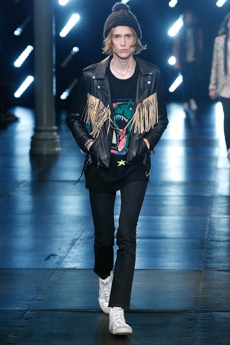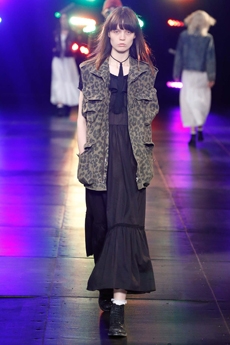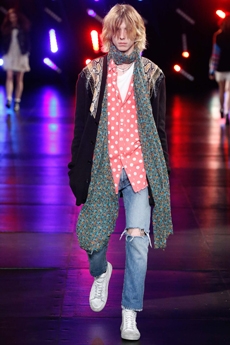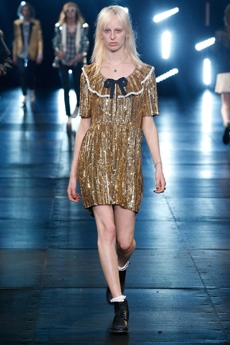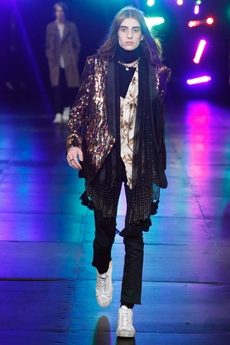 Fashion
Louis Vuitton Menswear Spring/Summer 2016 at Paris Fashion Week
Drawing from the animal-inspired imagery of Asian origin, Kim Jones presented a silky, aloof and quirky collection at Paris Fashion Week. As seemed to be the trend with the menswear collections recently, Jones drew inspiration from the intermingling of cultures and notions. Apparent in his garments were the sporty essences of the American variety: accessories resembled bowling bags, sweaters and letterman jackets were fashioned with a Louis Vuitton high-fashion tweak. Indeed following the spectacular womens' resort collection, Jones does not disappoint. There is something in this collection for anyone, and it is with this strong sensibility for wearable eccentricity that the 2016 Menswear collection shines.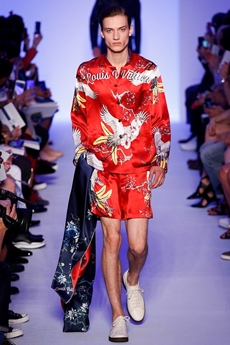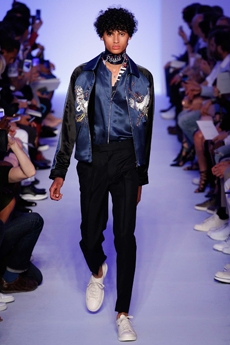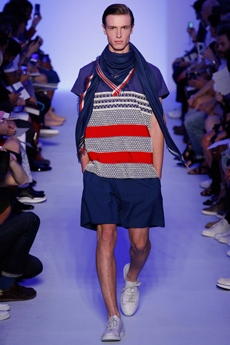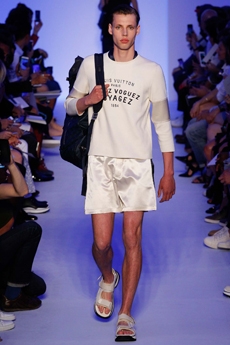 Fashion
Raf Simons Menswear Spring 2016 at Paris Fashion Week
Bags were flung across shoulders attached to a literal chain – imitating a heaviness of memory and past. Indeed, Simons' influences were perhaps more obvious than not, with headscarves cloaked around the models' faces and that patterned beige coat that seemingly every single elderly woman ever depicted onscreen is in possession of. The chained bags might be symbolic of these vestiges of the past, clinging onto the next generation – here, most explicitly, through clothing. Raf Simons' collection is perhaps steeped in somewhat heavy conceptualism, but it's also totally cool.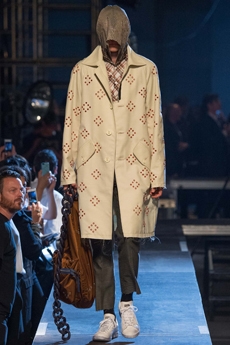 Fashion
Ermenegildo Zegna Menswear Spring 2016 at Milan Fashion week
With effortless drapery, Stefano Pilati truly showcased a mastery of tailoring in the Ermenegildo Zegna Spring 2016 menswear show. Colored darkly, constructed perfectly, the Ermenegildo Zegna man is dressed in a reconceptualization of professional attire. In place of the tight-fitting suit we are presented with a flowing yet unmistakably masculine suit. Some garments are perhaps reminiscent of a sophisticated pajama getup, yet somehow Pilati's art direction steers the collection away from cliché.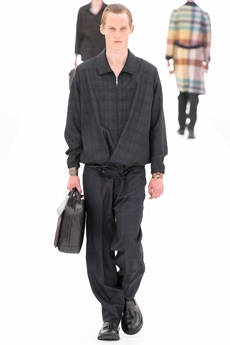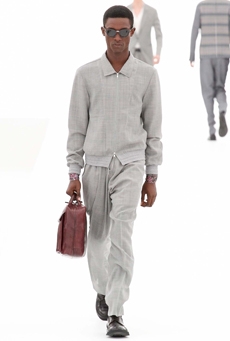 Fashion
Gucci Menswear Spring 2016 at Milan Fashion Week
Alessandro Michele does not veer from the pristine vision of a John Lennonesque man brought to life in a reformulated sense. With tinted eyewear, flowered lace and shabby-chic hair, the Gucci man emerges as a well-stocked, well-researched vintage savant. Even with such direct references to the 70s silhouette, Alessandro seems to aim more at playing with the aspect of youth culture and the fashion choice of eccentricity, who often draw from old closets.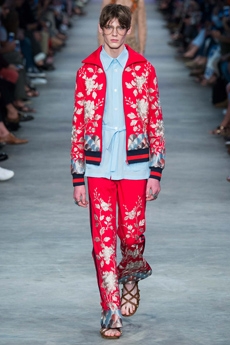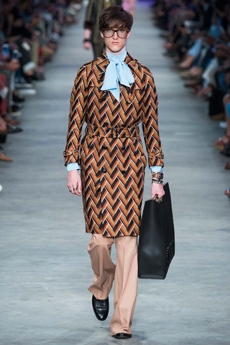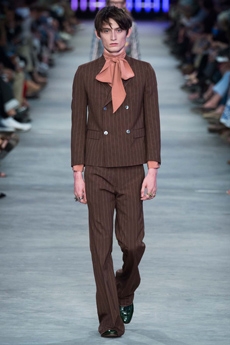 Fashion
Gucci Fall Winter 2016 Campaign
"Those who are truly contemporary are those who neither perfectly coincide with their time nor adapt to its demands."

Embracing the liminal quality of those who inhabit both past and present mentalities, the Gucci FW 2015-2016 campaign explores the disconnection of those not entirely at home in the present moment. The elegant mix of vintage elements and futuristic fabric combinations positions the collection within the elusive space between "no longer" and "not yet".

Creative director Alessandro Michele explains that the collection is the summation of his envisioning of today's urbanite attitude – blurring divisions of gender and time permeate every garment. In a campaign photographed by Glen Luchford, models Tessa Charlotte Bruinsma, Tobias Lundh, Lia Pavlova and Sven de Vries inhabit the bodies of the 'Gucci contemporaries'. There is no doubt that Michele has delivered a stunning collection - be it past, present, or other.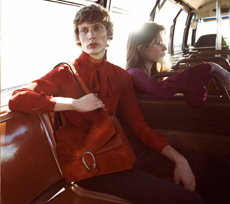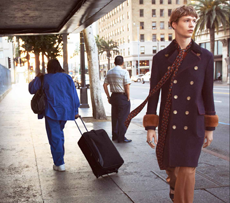 Fashion
Versace FW 2015 Campaign
Versace's color-blocked playground stars models Karlie Kloss, Caroline Trentini and Lexi Boling as the fashion house's campaign protagonists. Championing the strong sophistication of the Versace essence, primary colors dominate and provoke. Introducing the #GREEK motif, Donatella Versace's artistic direction steers the iconic brand towards a remixed, modernized play on the mod-dress.

The striking campaign is the result of the photographers Mert Alas and Marcus Piggott, who enhanced Donatella's vision of the woman unfazed and empowered by boldness through color and cut.


For more go to
www.versace.com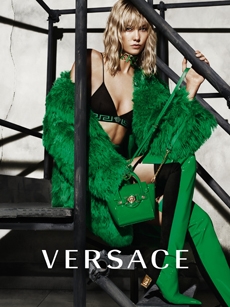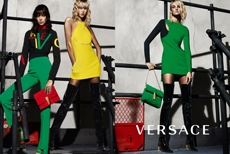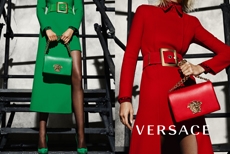 Fashion
Gucci Cruise 2016 Collection
New York City set the stage for the morning show of Gucci's Cruise 2016 collection on June 4th. The collection, conceived by its prolific Creative Director Alessandro Michele, consists of an easy-going, youthful appreciation of urban city life. Staged in a warehouse in the city, models walked in through the venue straight off the streets, reflecting the collections' fresh, ready-to-wear vibe and vintage affinities of the urban city crowd.

Following the collection, Michele hosted a private supper party in celebration of the collection in The Browery Bar and Grill, with a custom menu provided by Bushwick eatery Roberta's. Special performances by Karen Elson featuring Jackson Smith and DJ Kim Ann Foxman reflected the laid-back, edgy take on vintage city-chic of the 2016 Cruise collection.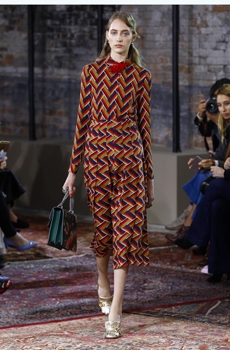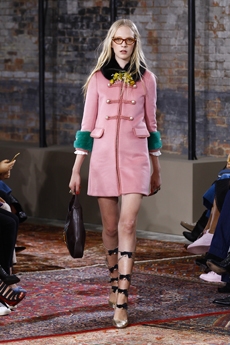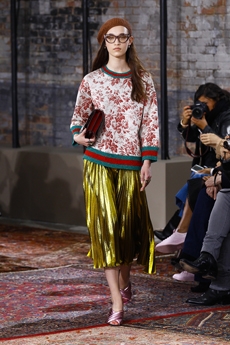 Fashion
The New G-SHOCK MRG-G1000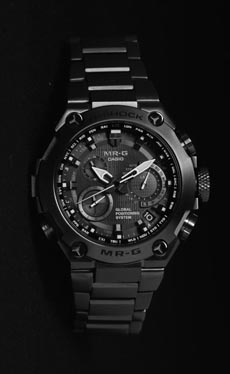 For more than 30 years, G-SHOCK wares have ascended upon the time-telling industry with impact due to its Japanese-made (Made in Japan) engineering. G-shock was born from a desire to create timepieces of enduring quality. The robust double-coated Titanium housings envelop the newest in G-shock developed technology - creating a near indestructable timepiece.

The latest addition to the G-SHOCK MR-G flagship series is the MRG-G1000. Shock-resistant and stocked with a hybrid GPS and Radio controlled timekeeping system, the independent solared powerded MRG combines affinity for technological utility with a classically strong aesthetic. Made from Titanium with a diamond-like coating which protects the MRG-G1000, the watch is strengthened by a face of sapphire glass, making the piece both anti-reflective and scratch resistant.


For more, go to
Fashion
Replay Spring/Summer 2016 in Mykonos
Ringing in the summer season on the Greek island of Mykonos, Replay hosted about 700 guests for the launch of their 2016 SS collection. Treated to a sun-filled show with models such as Alessandra Ambrosio, Bar Rafaeli and Sara Sampaio, the Nammos Beach Club set the stage for Replay's theme 'Destroyed Denim'.

Inspired by the idyllic surroundings of the Mediterranean, the collection is wholly emblematic of the laid-back, relaxed lifestyle of island trendsetters. The theme effortlessly pairs the rugged styles of Replay's classic denim wear with billowing, bright fabrics.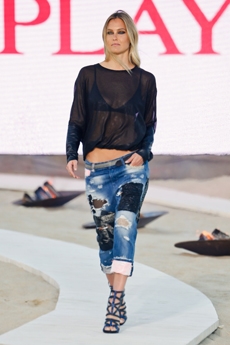 Inspired by the idyllic surroundings of the Mediterranean, the collection is wholly emblematic of the laid-back, relaxed lifestyle of island trendsetters. The theme effortlessly pairs the rugged styles of Replay's classic denim wear with billowing, bright fabrics.

www.replay.com
Fashion
Miu Miu Fall 2015 Campaign
Unveiling another elevated lookbook, Miu Miu's recent campaigns have reigned supreme in shaping high street trends. From the angular yet plush handbags to the heeled brogues – their 2015 fall campaign just might set off another rush towards vintage revival.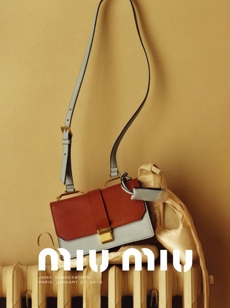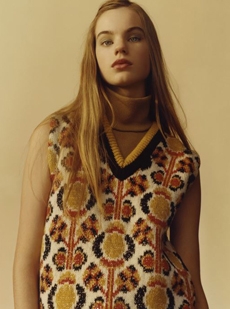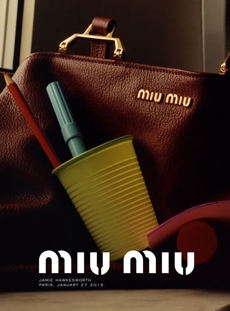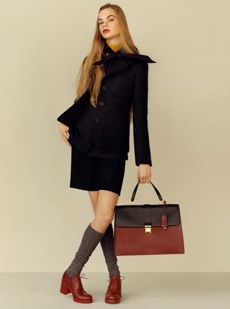 Jamie Hawkesworth's images tell the story of Miu Miu's ongoing affair with the power of opposites. Starring model Estella Boersma, the images reflect the items' sophisticated and the innocent play with the sensual and confident, through a femininity that treads a multiplex path. This juxtaposition is reiterated in the incorporation of vintage upholstery-inspired fabrics in combination with contemporary masculinity in the form of tailored shorts suits.

Exploring the subtle and direct oppositions of form and silhouette, Miu Miu brings to the table a closet packed with desirables.

www.miumiu.com
Fashion
Filippa K: Sustainability Is The Guide To Growth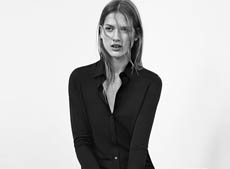 Filippa K's newly launched online platform finally communicates their long-term efforts towards sustainability in fashion.

Founded in 1993 by Filippa Knutsson and Patrik Kihlborg, their vision "Fashion where sustainability is the guide to growth" is channeled through a wardrobe consisting of stripped-down, simplistic designs, essential pieces. Garments of clean design and high quality seem intrinsic to the Scandinavian philosophy, where the flexibility of designs easily transition from season to season and year to year. Durability and a timeless quality is key in this configuration, where style not necessarily opposes sustainability.
Inspired by ecosystems and planetary boundaries, the company is devoted to the reduction of the textile industry's environmental and social footprints. Their choice of materials and production practices reflect an acute awareness of the long and exhaustive supply chain, in an attempt to produce less of what is needed and deliver long-lasting garments. Their recently launched products "front runners" are completely recyclable in the fabric tencel (wood), including the corozo nut as buttons. 

We want to be part of the solution rather than add to the problem.
This philosophy is based on two main concepts: The Curated Wardrobe and Circular Design. A curated wardrobe is simple rather than excessive, and should be created to last over time – the ecosystems and its inherent processes of reuse in turn inspire the circular design concept.  
To read more about Filippa K's Sustainable philosophy, visit their website at:
 
www.filippa-k.com/sustainability-1
www.filippa-k.com
Fashion
Prouvé RAW Office Edition launches during International Design Week
The collaborators G-Star RAW, Vitra and the Prouvé family are launching the second series of the Prouvé RAW furniture collaboration: the office edition.
Meeting the demands of the modern-day office, the ten-piece series refashions the designs through the use of heavy-duty fabric materials in industrial shades of green, reflecting the re-use of factory floors and workshops for creative agencies. The Office Furniture project was initiated through a variety of custom workstations, conference tables, office chairs and other pieces of furniture made to furnish G-Star's Amsterdam offices.
Catherine Prouvé explains the collection's contemporary renewal: "I like the fact that this edition honors my father's original design, while complementing it with contemporary details. This follows his understanding of design, which he regarded as a dynamic process. To him design was a never-ending evolution, constantly striving to respond to changing needs."
Orders for Prouvé RAW Office Edition may be placed as of May 2015.

www.g-star.com
www.vitra.com
Fashion
Diesel reintroduces Jogg Jeans
Back in 2011, Diesel launched Jogg Jeans for the first time. By using a special fabric, they made it possible to create jeans that were just as soft as a pair of sweatpants, but durable as denim at the same time. This year, Diesel is reintroducing Jogg Jeans with a campaign shot by artist Doug Abraham. It captures exactly what Jogg Jeans are about, along with the identity of Diesel.
Fashion
Antony Morato Celebrates Italian Tradition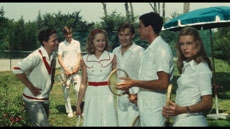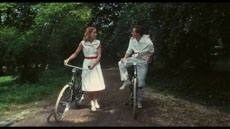 As a typically Italian brand, Antony Morato has shown that it is all about culture, style and the passion for beauty. To celebrate Italian tradition and their heritage, the brand has decided to become a part of the restoration of The Garden of the Finzi-Continis, an Italian classic. This elegant masterpiece stands for what Antony Morato strands for, and continues to inspire us. The film was directed by Vittorio De Sica in 1970 and won an Academy Award in 1972.
Fashion
Bottega Veneta opens their first Home Collection Boutique in Milan
It is just like every thing else Bottega Veneta is about: extremely sophisticated and elegant, made with the highest quality materials and crafted by hand. Bottega Veneta's home collection includes furniture, lighting and home decoration. For the first time, the brand has opened a boutique that is completely dedicated to this collection, right in the heart of Milan.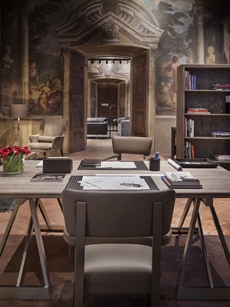 You can visit the store at Via Borgospesso n.5 in Milan.
Fashion
Hermès as Paris Fashion Week Fall/Winter 2015
Nadège Vanhee-Cybulski presented her vision on Hermès for the first time with the Fall/Winter 2015 collection. Even though the entire show was essentially Hermès, Vanhee-Cybulski managed to show her own signature as well.
Since Hermès is well known for their leather, she has chosen to put some extra focus on this natural material for next season. The cuts of the garments are straight and give a minimalist vibe. All of this is enhancing the idea behind Hermès luxury; modest luxury with the highest quality, which is made for the wearer to enjoy.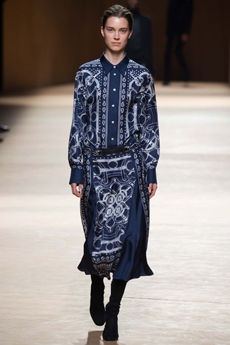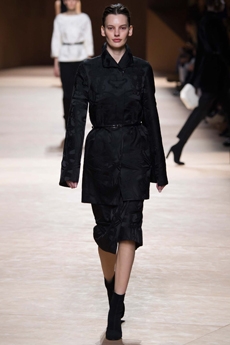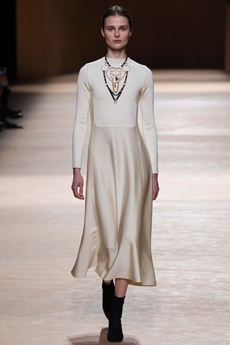 Fashion
Alexander McQueen at Paris Fashion Week Fall/Winter 2015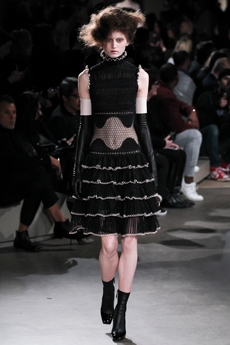 Burton's latest collection for Alexander McQueen told the story of life. The build-up of the show portrayed the beautiful beginning, the development and death of a rose as a perfect metaphor. The middle part of the collection was in full bloom, which was visible in silhouette and rich detail. Compared to other designers, Burton has chosen for different floral print for fall.
Key looks were short dresses that seemed to be literally made out of large flowers. The body was covered in ruffled chiffon, while the skirt looked like a popped flower.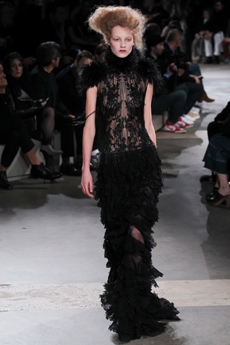 Fashion
WUNDERKIND at Paris Fashion Week Fall/Winter 2015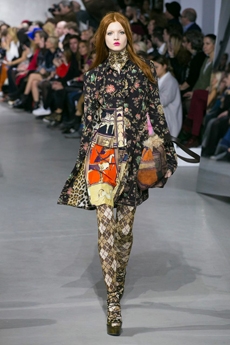 During the latest WUNDERKIND show, Wolfgang Joop gave us interesting combinations. Contrasting colors and clashing prints, bourgeoisie and bohemia. All of this was tangled up together into a collection of garments that still managed to be highly wearable and inspiring at the same time.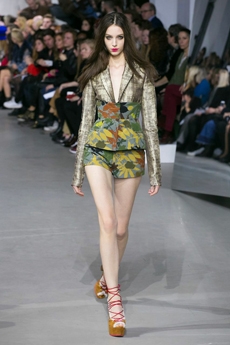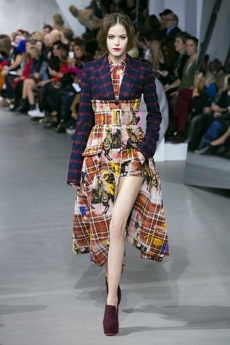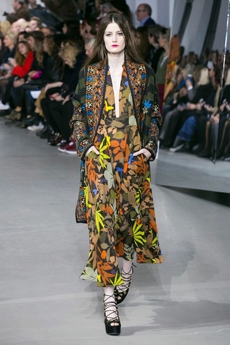 Westwood-esque silhouettes and luxurious tailoring emerged together into something that we can call a perfect balance. WUNDERKIND continues to embrace prints, and they do it well.
Fashion
Vivienne Westwood at Paris Fashion Week Fall/Winter 2015
Vivienne Westwood's Fall/Winter 2015 show was a ball, literally and figuratively speaking. Punk and hippie influences engaged together into a love affair, which made every look so completely and utterly Westwood.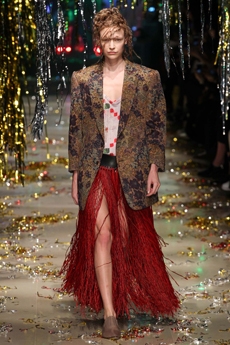 The entire show felt like a reference to a fairytale, but this time it was one on acid. Tall hats gave the assumption that they belonged to snow whites dwarfs, while the red flowered cape seemed to be inspired by Little Red Riding hood. A man in a princess dress (including corset), with his face covered in black lines and his body with tattoos, paraded around as if there was nothing strange going on.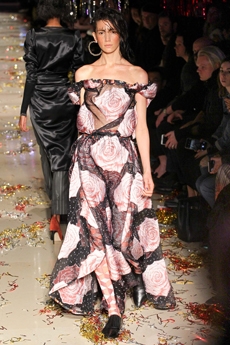 Every garment was interesting and breathtaking, but what Westwood managed to do with our imagination was far greater. She took us away.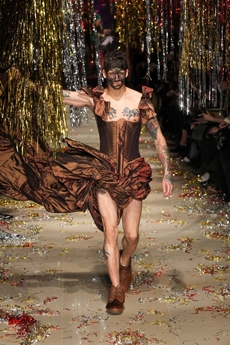 Fashion
Givenchy at Paris Fashion Week Fall/Winter 2015
Whatever Riccardo Tisci does for Givenchy, there is always a good layer of melancholy. For Fall/Winter 2015, we see full looks in velvet with cut out patterns that hint to Victorian times. Next to century old details, Latin influences were clearly part of this collection again.
Naturally, we cannot ignore the jewelry that Tisci has brought back for next season. The focus was on the face once again, with nose rings and details under the eyes and on the chin.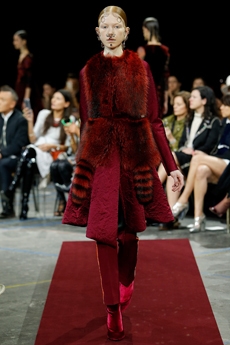 Tisci's Givenchy lady has a certain mystique around her. Her appearance tells a story of brokenness, while still being confident and slightly intimidating.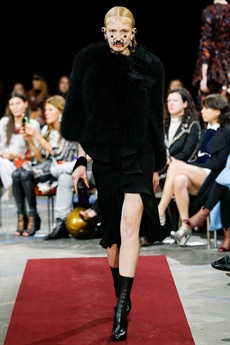 Fashion
Lanvin at Paris Fashion Week Fall/Winter 2015
Alber Elbaz is good with colors. He is also great with fabrics. He is brilliant with silhouette and always knows exactly when to stop adding. For his latest Lanvin collection, he found inspiration in the desert and in tribal wear. What he presented was proof of how a woman can change constantly. From a modern nomad to a new minimalist, from a powerful ruler to a slightly more innocent companion.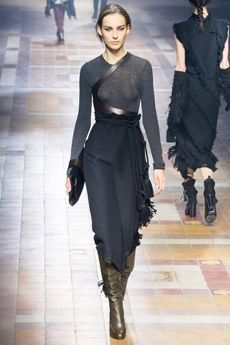 The combination of black velvet and subtle harnesses in leather, gave us some kind of medieval feel. Short ruffles almost felt Siberian and straight lines were minimalistic.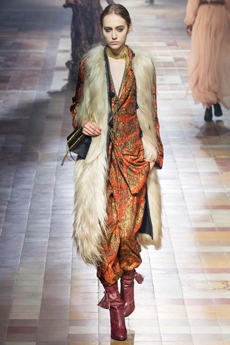 Fashion
Loewe at Paris Fashion Week Fall/Winter 2015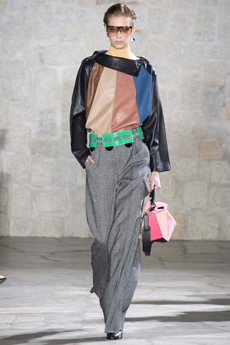 Jonathan Anderson has nothing left to prove, but he continues to amaze us with every collection he creates. The thing with Anderson seems simple; he does not produce or even design, he creates. With every collection for Loewe, he manages to bring us a step closer to himself.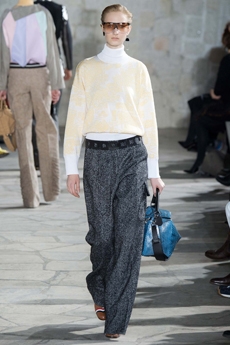 For next fall, we see surprisingly more color then for the previous season. Once again, we see oversized, flared pants with large dresses and coats. The way Anderson drapes his garments combined with the choice of fabric, gives the looks an awkward flow that defines the silhouette. One that continues to intrigue.
Fashion
Missoni at Milan Fashion Week Fall/Winter 2015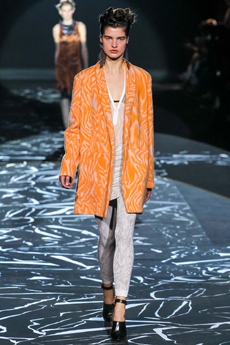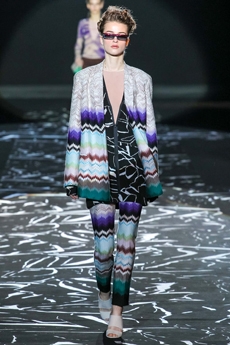 Angela Missoni has designed a collection that is a combination of eighties and late nineties vibes. Mismatched prints give us a fresh perspective on Missoni, and what it can be as a brand. Unlike all the black collections we've seen the past few weeks, Missoni gives us color for fall. It's celebrating knitwear and the endless possibilities of it.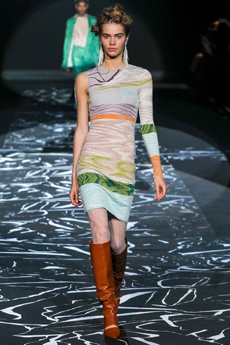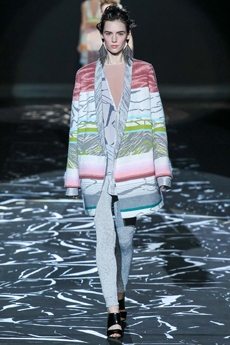 Fashion
Giorgio Armani at Milan Fashion Week Fall/Winter 2015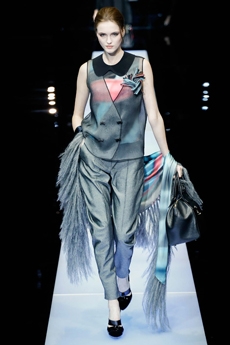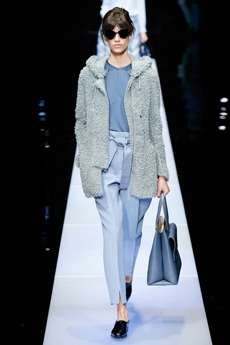 Metallics and brushstrokes dominated the latest show by Giorgio Armani. The collection consisted mostly out of jackets and pants, which made overall strong impression. Straight silhouettes and subtle layering made gave the collection a somewhat minimalist feel. Just like in the Emporio Armani show we saw last week, icy blues were everywhere to be found.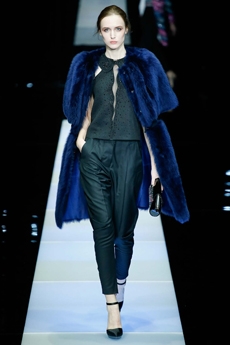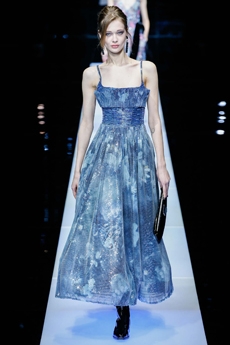 Fashion
J.W. Anderson at London Fashion Week Fall/Winter 2015
J.W. Anderson is showing us something we have never seen him do before. He is introducing a new way of layering, with green, black and white corduroy pants under skirts and dresses. Anderson's inspiration is visible in every part of the collection. Exaggerated shoulders, bright colors, draped velvet, shiny metallic and large plastic rings that accentuate the waist all reflect the early eighties.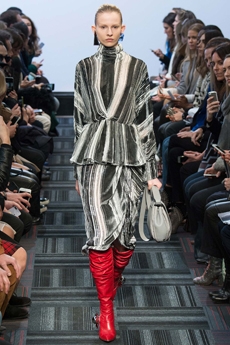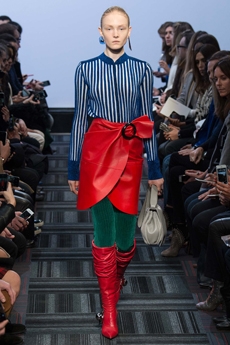 Ankle length leather coats in light pink and dark brown and knee-high boots with draping on the top stood out the most during his show.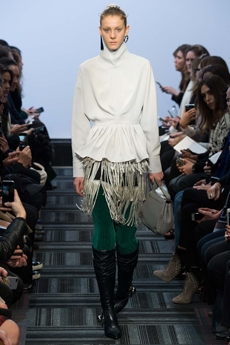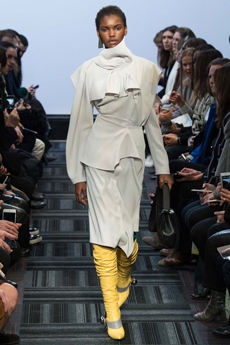 Fashion
Burberry Prorsum at London Fashion Week Fall/Winter 2015
Every season, Christopher Bailey manages to give the Burberry classic a completely new life. For Fall/Winter 2015, he –like many other designers- decided to jump back fifty years to create a collection that was both lavish and engaging.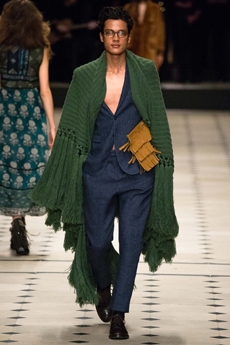 Mirrors, fringes and the use of suede referred to Woodstock-esque times. Other bohemian elements such as crochet and folklore-inspired prints also dominated the ensembles. Even though the colors and prints were bold, each and every piece seemed to be timeless.
The trench coat was portrayed in various ways, showing its power as an adaptable classic. Combined with over-the-knee boots in patchwork suede, this look is one that will not disappoint.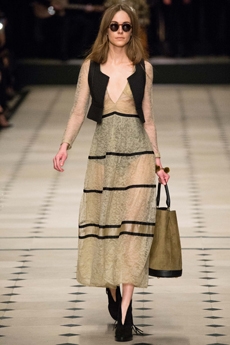 Fashion
No. 21 at Milan Fashion Week Fall/Winter 2015
For Fall/Winter 2015, No. 21 tells us a modern fairytale. It takes us into a world of paradise, where serenity and comfort are key. Soft pastels and leafy prints make us want to jump right into the rabbit hole. Details such as black lace gloves under pink chiffon dresses show how subtlety can make the difference.
Alessandro Dell'Acqua, the creative director behind No. 21, can be seen as a master of the art of layering. Different textures and the finest materials are combined to create perfectly balanced looks. Delicate chiffon, warm wool, marvelous fur and subtle lace show his feel for quality and perfect finish.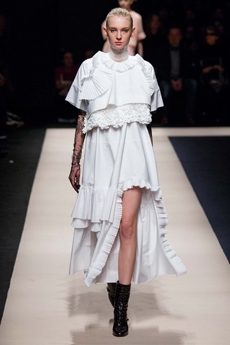 The collection seems to bring an ode to the soft side of womanhood, something we've seen less of for next fall. Kindness and purity are tangled together in the fantasy that Dell'Acqua portrays.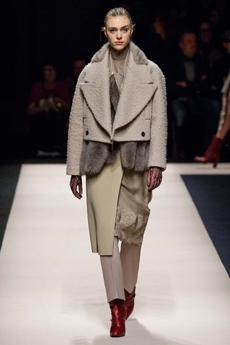 Fashion
Into the Mind of Ghesquière
Lately, there have been many different ways of presenting collections, but Nicolas Ghesquière is once again taking things to another level. He brings his spring 2015 women's ready-to-wear collection for Louis Vuitton to Los Angeles, where they opened a multi-room exhibit. In the gallery, located in the heart of Hollywood, Louis Vuitton takes you on a journey through Ghesquière's creative process and shows you his timeless inspirations. Series 2 makes you think differently about fashion, shows the essence of Louis Vuitton and allows you to travel through the mind of this master.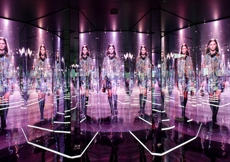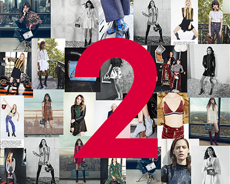 Fashion
Diesel Black Gold at New York Fashion Week Fall/Winter 2015
Andreas Melbostad is not the only designer who chose black as the main subject for his fall 2015 collection, but he sure is the one who managed to make black seem so colorful. High contrasts in masculinity and extreme femininity make each and every single garment in this collection effortlessly sexy, while being slightly intimidating at the same time. Short, flappy skirts are combined with oversized men's jackets made out of wool. Lace details make the items seem softer and daintier, while belts and metal buckles hint at bondage.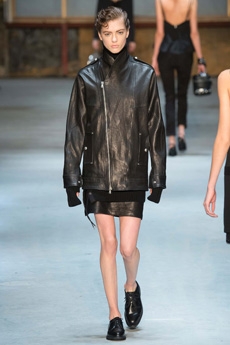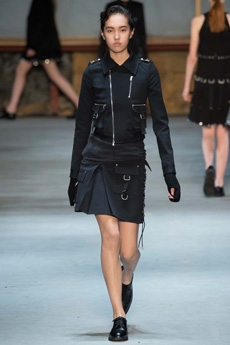 Fashion
Diesel launches Spring/Summer 2015 Campaign with #DieselHigh
Since he took to the helm nearly two years ago, Nicola Formichetti has commanded quite a change in the tides for Diesel, leading with the radical #DieselReboot, and arriving now at #DieselHigh.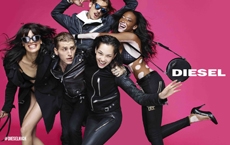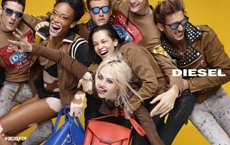 Launching with the SS15 campaign, #DieselHigh celebrates optimism, love and a soul set on living life to the full. Dependably breaking barriers, Formichetti's gleeful vision is surprisingly subversive, as smiling faces were shot by the lens of a typically insouciant Nick Knight.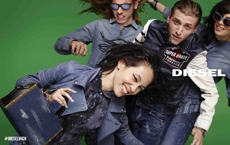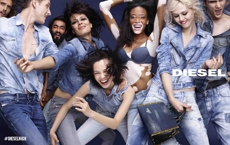 Spontaneous and spirited, models such as Winne Harlow and Charlotte Free vault out of frame, jumping and laughing in a dizzying patchwork of Diesel denim. Photographic evidence, if ever it was needed: Diesel is most certainly destined for higher things.
Fashion
Kenzo at Paris Fashion Week: Menswear Fall/Winter 2015
Kenzo's geek went intergalactic this season, all aliens and anoraks with a street sensibility.
Sonorous hues were muddied, thrust off-key to droning ochres and teals. Combat jackets were cuffed with ribbed thumbholes, while fingerless gloves slipped subversively under slim-fit boiler suits. Flight bomber jackets were pulled by plummy claret tones, topped by chubby fur collars, all the shades of a splendidly sickly rainbow.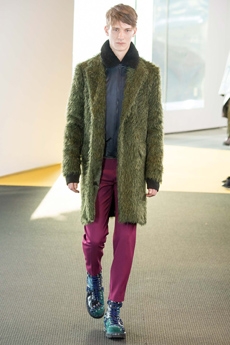 Drawstring bags were rustled from rigid vinyl leathers, plasticky and grooved like a twist-tie sack. Marled knits were basted together with blue bootlace wools, an orderly striped patchwork, profound with a plush grain – the letters 'UFO' emblazoned in a 'found' appliqué alphabet. Devoré velvets carried sunburst hues, puddling over pilot jackets that snatched above striped woollen flares, while hairy fur coats emerged in a monstrous green. Acrid orange denims were marbled by an acidic wash, while ski suits and sweaters were scrawled in batik insignia. Dense leather skins bore a steely silver grain, capes cloaking bodies like tailored reflective blankets or trickling to the floor in the form of baggy pants. Now we're more than ready to enter the space age.

www.kenzo.com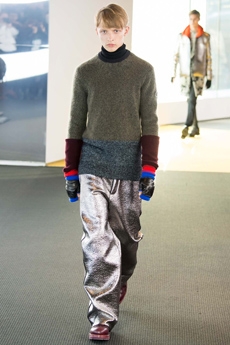 Fashion
Maison Margiela at Paris Fashion Week: Menswear Fall/Winter 2015
It was a trippy hit of tinsely lurex, pimp coats and puddled psych prints this season at Maison Margiela – an exercise in ritzy decadence for lanky outsiders.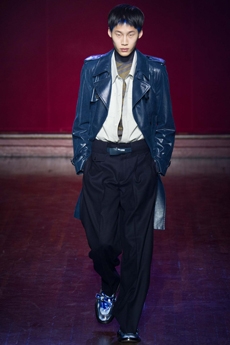 Waxy leathers took on redolent hues, cloaking shearling and trench coats in murky plums and teals, trimmed with delightfully dated salmon-pink teddy bear wool collars. When they weren't garish and glossy, painted leathers were put to use as patchwork, their tattered patinas stitched to hessian toiles and engineered into blazers and flared pants.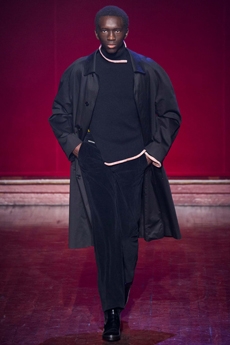 Mauve marbled with olive green to craft slender cashmere crew-necks, tucked into swaying oxford bags and finished with a gentler interpretation of the Chelsea boot. Drainpipes took on the sheen of supple skins, paired with chunky Nordic knits for a mawkish insouciance. Meanwhile, cardigans and skin-tight sweaters were striped in frizzy lurex, unashamedly ostentatious with their sweet-wrapper sensibility.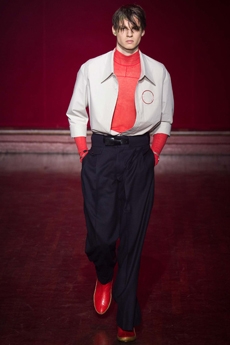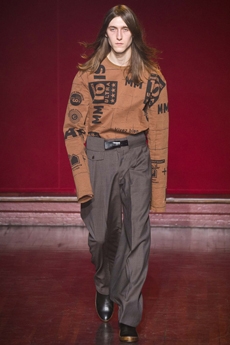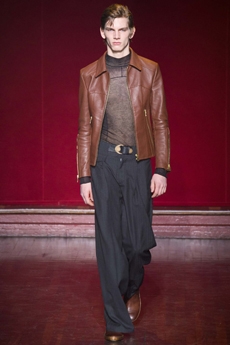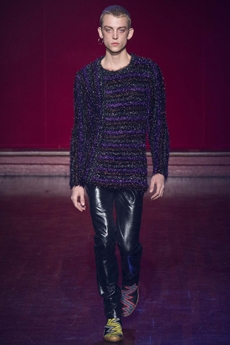 Fashion
Haider Ackermann at Paris Fashion Week: Menswear Fall/Winter 2015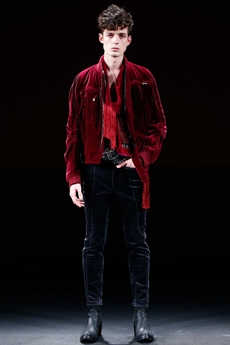 Anyone who doubts that plainness can be plush has not yet seen Haider Ackermann's offering for FW15. Silhouette was strictly stripped-back, any extras pared-down, leaving the remains of a very opulent sartorial skeleton.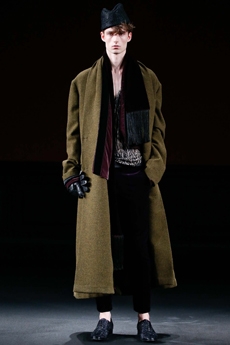 Peachy velvets gleamed in redolent hues – teals and burnt oranges against full-bodied Beaujolais; none was safe from its sumptuous pile, skinny pant suits and longline blazers, crew neck sweaters and opulent bombers. Supple leather pants rumpled at the ankles, cinched at the waist by a rubbery black biker jacket and topped by a chunky fisherman knit. Fringed scarves, meanwhile, tied the look to debonair decadence, draped over a leopard skin coat or satin-lined smoking jacket. All the while tattered tank tops and beanies saved the collection from timeworn pastiche – a contrast that was as resolutely modern as it was irresistibly charming.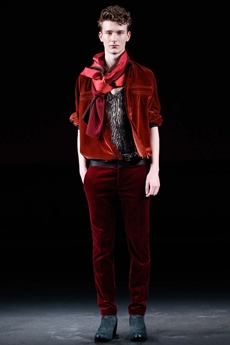 Fashion
Malaikaraiss at Berlin Fashion Week Fall/Winter 2015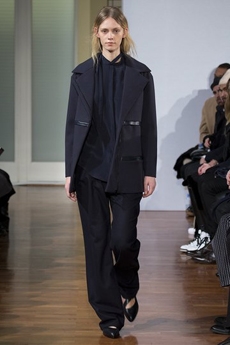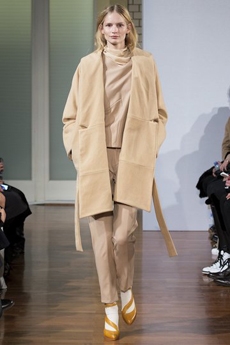 Boy meets girl this season at Malaikaraiss, and under the cult credibility of Reality Bites, the collection's core point of reference.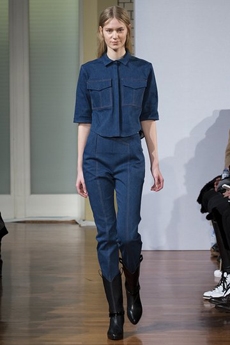 In-line with inspiration, the finished product was suitably cool, ruffled layers decked in passive buff tones, texture instrumental to the sense of brooding depth. Ribbed polo necks peeped from under sleeveless silk dresses, hues turned down to a mellow saturation, save for the unctuous burst of a mustard heel. Color was rationed, meaning when it emerged, it was all the more ripe and redolent for its restriction, in deep plummy wines, ochre and cerise. Mensy shirts and safari jackets were cloaked over broad-line culottes and partnered with bleach-white cowboy boots, their lack of elaboration almost sterile, yet effortlessly avant-garde. As the premise so specified, the collection was rife with contradictions; slim cuts appeared beguilingly baggy, high-necks seemed slack, all the while asymmetric hems tailed off from the formality normally dictated by silk – not least when paired with lightly-studded leggings. Double-denim brought a touch of the teen, but somewhat more erudite in its regulation wash, brilliantly bland in sparseness and symmetry. If reality bites, there's a delightful diversion to be found in Malaikaraiss.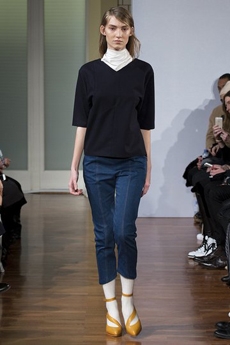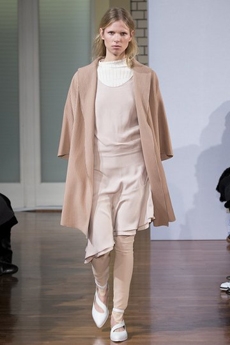 Fashion
Sopopular at Berlin Fashion Week Fall/Winter 2015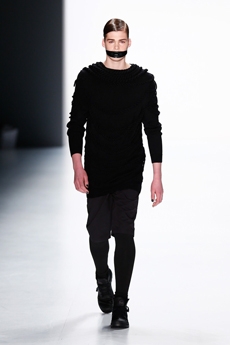 Sopopular had clearly been mixing with the wrong crowd this season, bearing all the markers of the tough tribe with the bullet-hole knits and bomber jackets in a plethora of panther-black leather.
Three-quarter length pants in felted wool crumpled up at the midriff, waistbands folding over like neat paper bags. Crew neck sweaters were glossed in a sable sharkskin sheen or decked in chunky rope, each an understated elaboration, yet resounding in their effect.
Winning friends through dominion? Sopopular will show you how.
Narrow collar shirts emerged in all-over ebony leather, while cropped tracksuit bottoms assumed similarly supple skins. Macintosh raincoats and capes were sapped of all pigment, their parchment-paper translucence layered over an ink-black uniform, making way for fuzzy plush dressing-gown coats, knotted nonchalantly at the middle.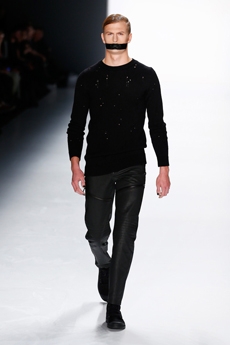 Fashion
Iceberg at Milan Fashion Week: Menswear Fall/Winter 2015
Here's a question: who would ever think that mixing a pair of baby pink roll-up pants with a patterned burgundy full-zip sweater is a good idea? Federico Curradi, the Creative Director of Iceberg's menswear line, for one, certainly would - and rightly so. As awkward as the pairing sounds, the surprisingly effervescent look was just one of the highlights of the Italian brand's Milano presentation.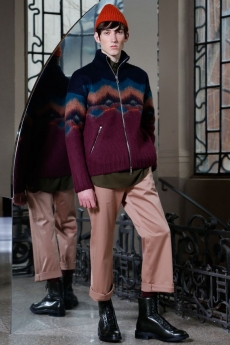 There was something soothingly poetic about Iceberg's latest offering. The aforementioned pants. The shrunken beanies. The Seinfeld-esque fit. By combining undersized pieces with their ballooned-up counterparts, Curradi delivered the utmost magical ensembles, albeit perhaps a little strange-looking to the untrained eye.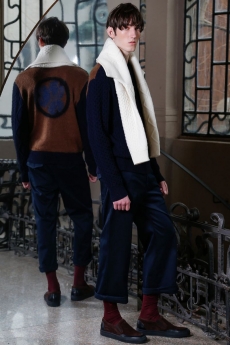 There's no denying that under Curradi's masterful direction in the men's division, the one-time knitwear-only specialists have grown into a fashion force to be reckoned with. And with no more than 20 looks for FW15, the public is inevitably left craving for more. Quality over quantity? At Iceberg, any time.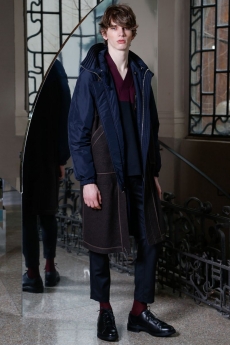 Fashion
Sibling at London Collections: Men Fall/Winter 2015
Overkill is a fallacy. There are times when the evidence is conclusively clear, such are the virtues of an all-pink palette. At least Sibling didn't surrender to restraint this AW15 – and so much the better for it.
Firstly, the hue – a lurid top-shelf affair – so gleefully distasteful. Its use was indiscriminate, raking a gaudy fuchsia through black and white barcode stripes to bear a raucous rendition of a schoolboy blazer. The entire collection, as it happens, was a testimony to old English school days, and as such, cardigans and scarves dripped with delightfully garish lines, clashing with Argyle golf sweaters and hockey socks – underneath, the plain but still audacious flamingo pink shirt and tie, adding unctuous depth in pattern's wake.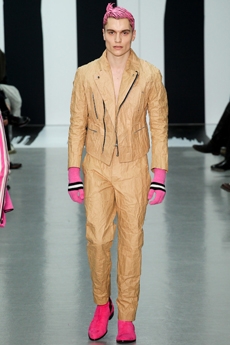 A one-colour binge is not without its idiosyncrasies, as was proved when the spice pink was snatched back to a tedious beige – a witty trompe-l'oeil of a fabric, feigning the guise of a crumpled paper bag to forge kraftpaper short-suits and biker jackets. But even those conscious of its disguise were almost tricked by its next prank, as a quick flash of the lining will testify; turn over the woefully-bland brown paper, and the highlighter-pink persists.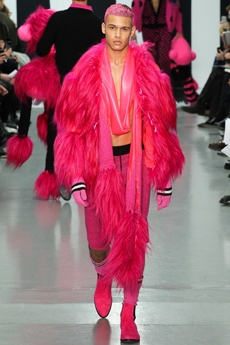 Coats were suitably and shamelessly synthetic, as full-blown swollen yeti pelts or as fuzzy fluro edging to a chunky leather suit. Knitwear, being the Sibling signature, quite rightly stole the show, offensively threadbare and monstrously oversized; on their best behaviour they bore Billy Bunter checkerboards, and on their worst, ripped to shreds – but slashes were more chivalrous than boorish or tatty, like neat round peep-holes to burrowed layers. Then there were the teddy bears, naïve knitted mascots great and small.
Discipline is overrated – it's worth breaking the rules to be pretty in pink.
Fashion
Burberry at London Collections: Men Fall/Winter 2015
FW15 and Burberry's tour of the quintessential Englishman continues, this time via the Spice Route. Khaki kaftans and batik scarves coddled – colossal cloaks of fringed alpaca. Tapered pants arrived in sensible tones, almost utilitarian in earthen, practical wools. Paired with paisley shirts in shrill saffron pigments, the look called to mind the New Age pilgrim – 1969, fresh off the hippie trail – all Afghan coats and John Lennon glasses.
And this nomad wore his travels on his sleeve, quite literally – a heady mix of Mughal florals and mirrored Banjara sacks. Souvenir-styling gave the game away, printed shirts starched and buttoned up to the collar, stiff as a board beneath oxford blazers. But it was the tactility that told of a tourist's eye, as though textures had been plucked straight from the traveller's living room, eclectic as an opium den in fuzzy carpet fur and imitation leopard, cloistering chubby coats in sateen cinnamon and teal. Persian rug prints found their way under plush velvet smoking jackets, while that undying classic – the eternal trench – received a renovation, clad in a grid of teal tiles. Who knew Burberry was so bohemian?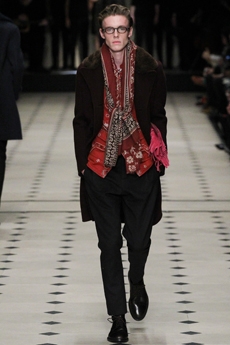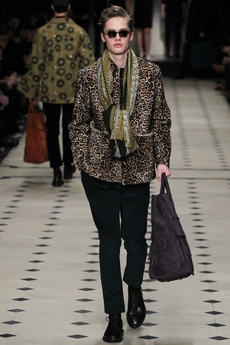 Fashion
BOSS Womenswear Pre-Fall 2015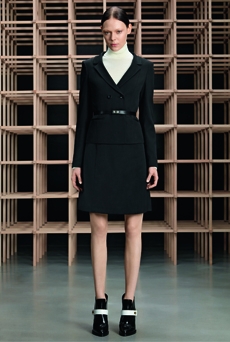 They say opposites attract. Should you need any convincing, Jason Wu's latest collection for BOSS Womenswear provides perfect proof.

Pre-Fall 2015 painted a picture of contrasts, inverting male and female sartorial codes with playful wit for an all the more considered take on androgyny.

Longstanding BOSS icons orientated the aesthetic, bolstered by a stalwart menswear motif in both outline and adornment. Windowpane and houndstooth checks are pregnant in scale, caricatured as pixelated macro prints or re-woven as tweeds, tailoring redefined by this new modern heritage. Digitized suiting fabrics arrived in the form of laser-cut chiffon, jacquard knit and fine herringbone beading, sombre in its monochrome baseline but revitalised by flashes of verdant green.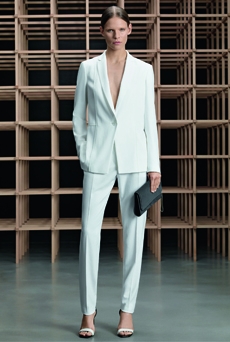 Evening dresses strike a covetable balance between tuxedo and sumptuous gown; the tuxedo softened by an extended shirt, and the gown rendered redolent by a hardy composition of geometric chiffon panels, engineered to the body.
And the role reversal extended to the accessories, with cufflinks replacing the hardware detail on handbags, belts and Chelsea boots, reconfigured under androgyny's idiosyncratic eye. "A marriage of opposites", as Wu so coined it. A match made in heaven, to all intents.

www.hugoboss.com
Fashion
Valentino New York Flagship Celebration
On 10 December, 2014, the House of Valentino will celebrate the recent opening of its new Fifth Avenue flagship store. The evening will see the presentation of an exclusive Haute Couture capsule collection, created especially for the event by Valentino's Creative Directors Maria Grazia Chiuri and Pierpaolo Piccioli.

The magnificent 20,000 square foot store, conceptualised by the brand's Creative Directors in collaboration with 'David Chipperfield Architects', houses women's ready-to-wear and accessories as well as the complete men's collection. A special area is dedicated to Denim Made to Measure.

Opened in August 2014, the Fifth Avenue location is the second Valentino boutique in the Unites States to carry the men's offering.

www.valentino.com
Fashion
Rouge Absolute by Valentino X Cire Trudon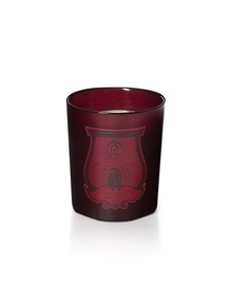 Just in time for the festive season, Valentino's Creative Directors Maria Grazia Chiuri and Pierpaolo Piccioli have introduced 'Rouge Absolute', a new scented candle created in collaboration with Cire Trudon, a legendary candle manufacturer established in 1643. The candle, available in select Valentino stores, is presented in a red glass jar, encapsulating the House of Valentino's sophisticated essence, and exudes a wonderful scent defined by geranium and jasmine, with accents of leather, patchouli, amber and balsam fir.

'Rouge Absolute' is made from biodegradable, vegetable origin wax and lasts from 55 to 65 hours.

www.valentino.com
Fashion
WUNDERKIND Fall/Winter 2014 Campaign
Adopting a sophisticated aesthetic with an eccentric edge, the WUNDERKIND Fall/ Winter 2014 campaign interprets the quirky yet cool style of the collection.
Depicting model Sara Sperling against an intriguing painting filled artistic studio backdrop, the campaign is exciting yet chic as it exhibits a lively and elegant theme.
Describing Sara Sperling's role in the campaign, art director Wolfgang Joop declares "In the chaos between arrival and departure she retains her sovereignty. She moves effortlessly between opulence and nonchalance and embodies the strong and confident woman WUNDERKIND stands for."

www.wunderkind.com
Fashion
Akris Pre Fall 2014
A bold colour palette and slick silhouettes composed the Akris Pre Fall 2014 collection with distinct prints, chic suits and shapely jackets.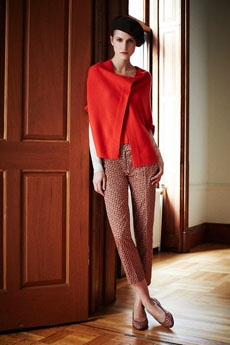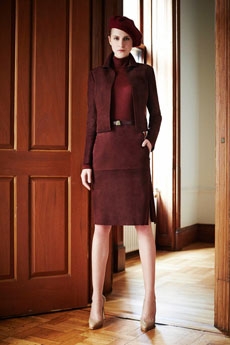 Inspired by the 1967 film Bonnie and Clyde, the collection fuses stylish sophistication with cool elegance to create a slick and sleek amalgamation. High waist trousers paired with smart shirts, nude heels and berets exuded cultivated style while sharp leather jackets added a contemporary aesthetic.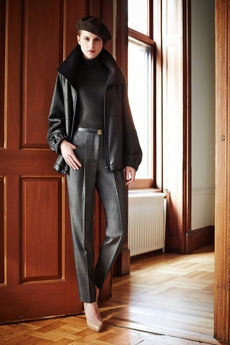 Creative director Albert Kriemler embodied the iconic style of actress Faye Dunaway through red, white and black prints producing a 'sleek glamour' style and a strong disposition. 

www.akris.ch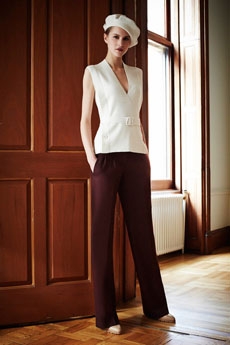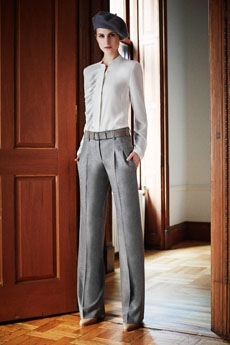 Fashion
Sissi Goetze at Berlin Fashion Week Spring/Summer 2015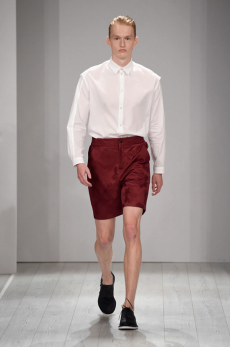 Menswear has been given more and more of a platform at Mercedes-Benz Fashion Week Berlin. One of the stand-out designers in this respect is Sissi Goetze. Her SS15 showcase is marked by muted colors, structured menswear cuts and an array of prints. Hibiscus prints in rusty shades of brown brought intrigue to tailored slacks. Goetze matched those with crisp white button downs and gray shirts. Sartorial sportiness shone through in her mix of relaxed jackets and knee length shorts– the perfect outfit for the grown-up urban man. 
On the upper body, Goetze sees men wear layers upon layers for SS15, adding surprising combinations to the usually bland summer uniform. Her entire collection is a continuation of seasons past, as the designer does not believe in the quick fluctuation of fashion, but rather in a stylish and sustainable wardrobe. Her pieces for SS15 are exactly those coveted items one has to have in his closet for season to come. 

www.sissigoetze.com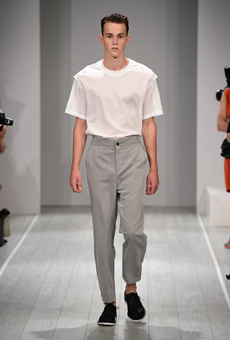 Fashion
Sandro Fall/Winter 2014 Campaign
Capturing "two young artists in their element" the Sandro Fall/Winter 2014 Campaign epitomizes dark and stylish elegance.
Starring model Edie Campaign in her third collaboration with Sandro, the womenswear is chic and casual yet sophisticated. The menswear, modelled by Elliot Vulliod comprises of sleek and laid back proportions and silhouettes, combining the relaxed with the cosmopolitan.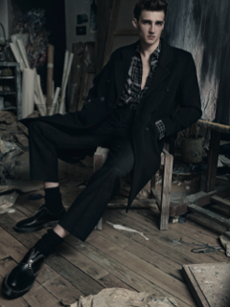 The campaign, shot by photographer Karim Sadli will appear in the September issues of magazines.

www.sandro-paris.com
Fashion
Laurèl at Berlin Fashion Week Spring/Summer 2015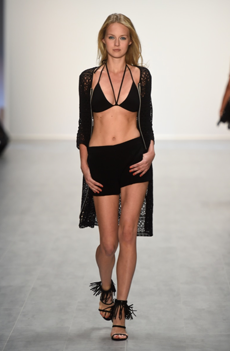 Elisabeth Schwaiger was obviously in the mood for a sun-downer when designing Laurèl's SS15 collection. Tropical prints, tie-dye, fringe, crochet and ethno appliqué are the codes by which the quintessential hippie look goes by, and strutted down the runway here. In tried and tested Laurèl fashion, designs didn't go overboard, making sure that the holiday vibe may carry over to the office during the glimmering summer months. Pant suits, leather pants and jumpers for work, mini and maxi dresses as well as kaftans for play are the staples of this SS15 showcase. Vibrant turquoise, azure and grass green furthered the summer holiday feel of Schwaiger's versatile and wearable SS15 collection.

www.laurel.de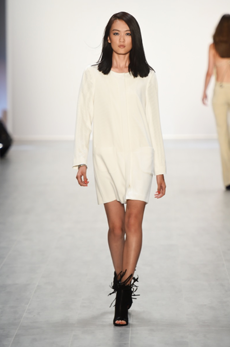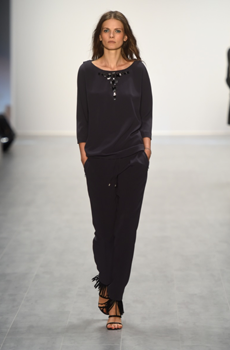 Fashion
Marcel Ostertag at Berlin Fashion Week Spring/Summer 2015
Photos by Mercedes-Benz Fashion
The motto "Modern Bohemian Rhapsody" set the tone for Marcel Ostertag's SS15 show during Berlin Fashion Week. The collection aimed at celebrating versatility first and foremost by employing Ostertag's characteristic design elements such as material mixes. Chiffon, cotton and high-tech fabrics marry to create intricate design details. Overall, floor length gowns and étoile dresses are spiced up with neon prints. Almost understated sweaters do pop afterall in shades of neon green an orange. Ostertag puts the boho in his rhapsody by adding fringe to skirts and coats – an all time classic. Towards the end of his showcase Ostertag calmed the runway down by sending out slightly quieter styles in black and brown, see-through shirts and the classic trench, proving himself to be a jack of all trades that never seizes to amaze.

www.marcelostertag.com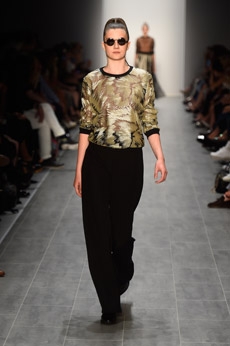 Fashion
MALAIKARAISS at Berlin Fashion Week Spring/Summer 2015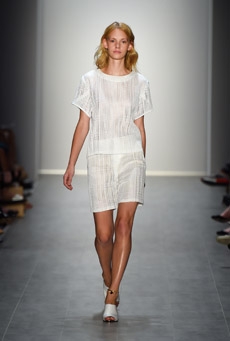 Photos by Mercedes-Benz Fashion
Womenswear label MALAIKARAISS wants us to stay "Wild at Heart" for SS15, and even dares to stray from its comfort zone to convince us. Amazing attention to detail and textiles went into this presentation that caters to the quintessential MALAIKARAISS girl: a contemporary hybrid of Annie Hall and Klimt's Portrait of a Lady. The 2014 Start your Fashion Business finalist mixed playful and straight-forward styles, androgyny and art-deco to showcase a collection for the modern women: tough yet sensual. Soft shades of white, mint and nude clash with vibrant orange and red on a semi-transparent canvas, so that each look shows off just enough skin without being tacky. The quirky Berlin-based designer also incorporated three print trends into her SS15 collection: blink-and-you'll-miss-them stripes, large dots and toucans. All this came together in a youthful and cheeky collection, that hollers "FUN, FUN, FUN!"

www.malaikaraiss.com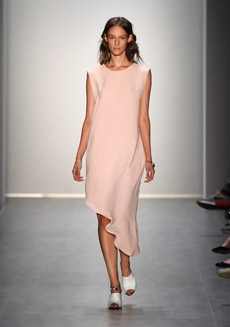 Fashion
Franziska Michael at Berlin Fashion Week Spring/Summer 2015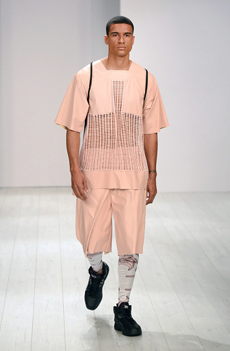 Oversized shoulder fits, ankle grazing coats and belly tops for women and men alike make an out-of-this-world statement combined with trainers and sport socks at the Franziska Michael Spring/Summer 2015 show. Mesh and neopren cloth are the fabrics of coice. Long elastic leggings in a shimmering white with aquatic patterns complete most looks. Two jumpers with prints of faces in childish grimmaces and added fake blonde hair trailing down the back complete the collection's strange touch. Black, pale pink and mint are the main colours seen in glossy leotards or wide trousers covered in perforations in the shape of dots. A pinball machine turns the runway into an arcade hall, making the models with thick-rimmed glasses and hats that could be from the 90s the cool kids from back in the day.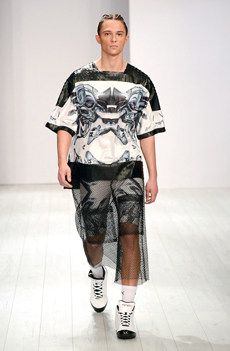 Fashion
Maison Martin Margiela Haute Couture Fall 2014
Exploring and contrasting shapes, patterns and textures, the Maison Martin Margiela's Artisanal collection Fall 2014 Haute Couture show embodied elegant eccentricity. Models wore transparent polka dot decorated face masks as they walked the runway in heavily patterned shirts, asymmetrically cut dresses and sheer polka dot skirts. Unique and striking patterned patchwork squares made up floor length straight dresses and knee length, flat white boots and long, above the elbow white gloves created an air of elegance.

www.maisonmartinmargiela.com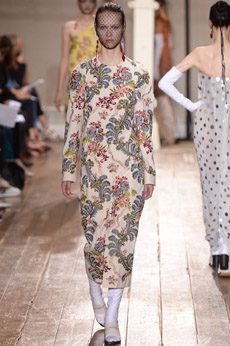 Fashion
CHANEL Haute Couture Fall 2014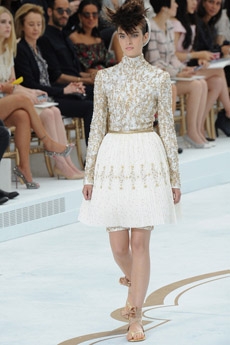 Presenting an amalgamation of embellishments, texture and patterns, the CHANEL Fall 2014 Haute Couture show fused classic CHANEL sharp silhouettes with intricate details, producing an emaculate aesthetic. Sandals with ballet style ribbons were the footwear of choice, providing an easy way to walk in the glitter decorated suits, well - tailored, refined coats and exquisitely embroidered dresses. Stunning jewels adorned elegant sweaters and dresses and exploratory pieces were displayed through intriguing embellishments and innovative shapes.

www.chanel.com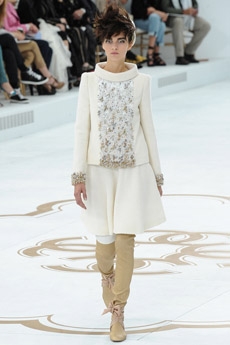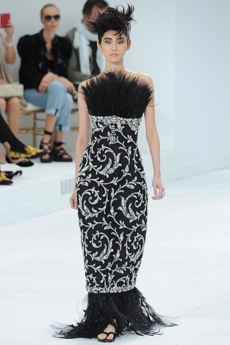 Fashion
PHILIPP PLEIN Fall/Winter 2014 Campaign
Entitled 'My American Dream', the PHILIPP PLEIN Fall/Winter 2014 campaign presents the dynamic creations exhibited in his Fall/Winter 2014 Milan fashion show.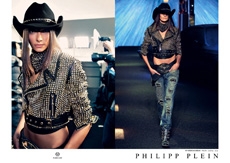 A cowgirl style fused with rock and roll influences formulated the Milan show with outfits heavily embellished with gold studs, stylish all black leather pieces, extravagant fur and bold glitter.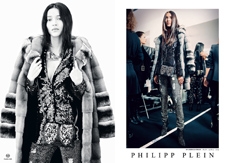 Incorporating footage from the show including images shot live during the event as well as backstage, the campaign captures the vivacious spirit of the collection and translates the thrill of the show onto captivating still images.

www.philipp-plein.com
Fashion
Ann Demeulemeester at Paris Fashion Week Spring/Summer 2015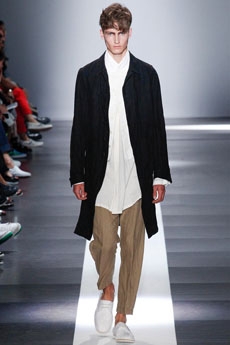 In an chic mix of monochrome, the Ann Demeulemeester Spring 2015 Menswear collection provided a contemporary and casual compilation. Relaxed silhouettes accompanied by loose material resulted in a nonchalant look whilst long, sleek blazers exhibited refinement. The clothing was athletic yet sophisticated with easy going styling and a simplistic colour palette adding to the laid back ambience. 

www.anndemeulemeester.be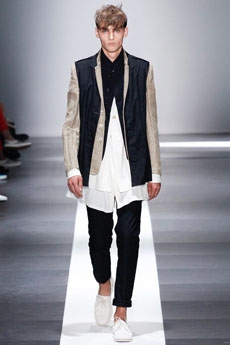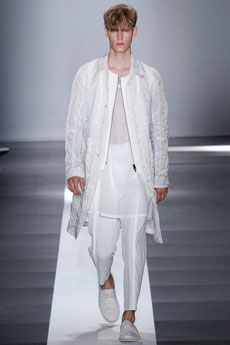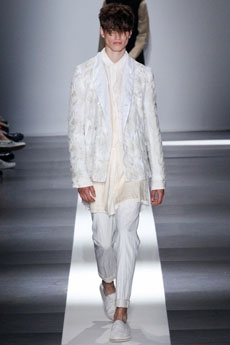 Fashion
Jil Sander Fall/Winter 2014 Campaign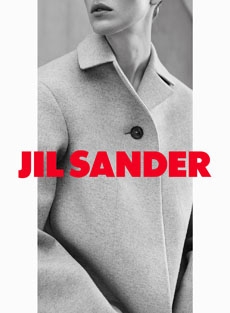 Featuring models Iselin Steiro and Rogier Bosschaart, the Jil Sander Fall/Winter 2014 campaign epitomizes minimalism with entirely black and white images shot against a simplistic and subtle background. 
Emulating the refined sophistication key to the Jil Sander aesthetic, the campaign, shot by photographer Karim Sadli captures effective lighting and the sharp silhouettes of the garments next to a plain backdrop allowing the clothes to speak for themselves.

www.jilsander.com
Fashion
Hermès at Paris Fashion Week Spring/Summer 2015
Photos by Jean-François José
Adhering to a demure colour palette of light gray and beige with specks of orange, navy blue and mustard yellow, the Hermès Spring 2015 Menswear collection was causal and cool, consisting of soft cardigans, casual jackets and slim trousers. Signature, distinct Hermès prints and patterns were decorated onto shorts, trousers and skirts and worn with slip on sandals and sneakers. Brightly coloured neck scarfs added vividness into the collection and croc jackets provided nonchalant luxury.

www.hermes.com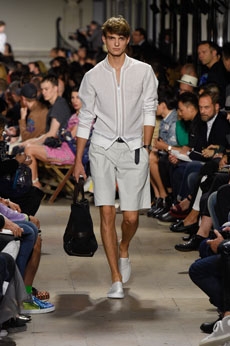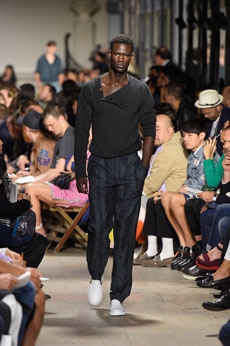 Fashion
Zegna Couture by Stefano Pilati at Milan Fashion Week Spring/Summer 2015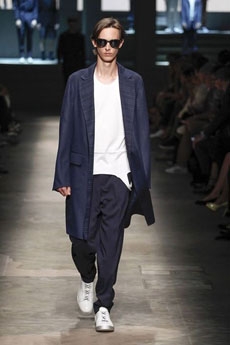 Applying a modern aesthetic to formal menswear, Stefano Pilati's Spring 2015 collection for Zegna Couture incorporated relaxed lines with sleek tailoring to produce a refreshingly contemporary collection. Loose fitting garments were worn with chic brogues and sneakers and colourful shirts were styled with kerchiefs and structured blazers, resulting in a striking and classy amalgamation. 

www.zegna.com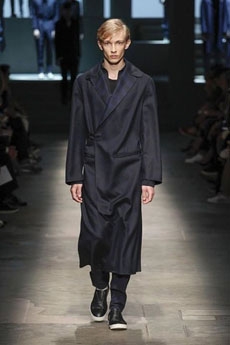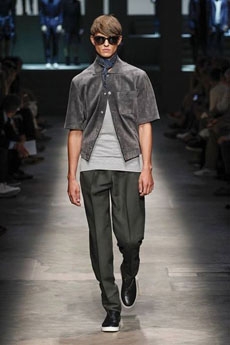 Fashion
Haider Ackermann at Paris Fashion Week Spring/Summer 2015
Rock and roll became colorful, bold and exciting at the Haider Ackermann Spring 2015 Menswear show. It was grungy, edgy and overlylayered whilst remaining sleek and refined. Oversized scarfs were effortlessly wrapped around necks and experimental fabrics including patent black, gold velvet and patterned silk were used. Outfits were effectively created, giving a thrown together look and almost over styled yet undeniably chic. Not following rules, Ackermann mismatched patterns and prints in an impressive amalgamation. 

www.haiderackermann.be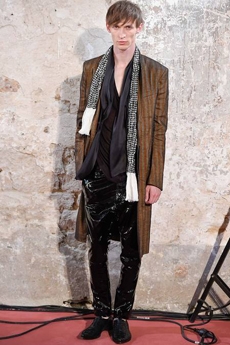 Fashion
Diesel Black Gold at Milan Fashion Week Spring/Summer 2015
 Producing a polished, rock and roll aesthetic, the Diesel Black Gold Spring 2015 Menswear show cleaned up an edgy and rugged style by applying a skinny design to black jeans, relaxed t - shirts and sharp blazers. Exquisite and artistic printed black leather motorcycle jackets served as statement pieces and were worn with skinny trousers and leather boots. Zip up turtle necks oozed sophistication and zip decorated jeans provided a distinct edge.

www.dieselblackgold.com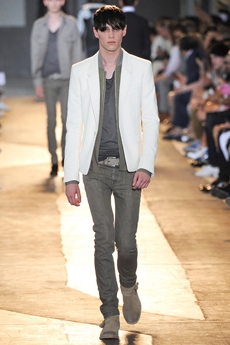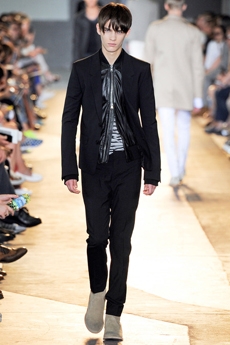 Fashion
Fendi at Milan Fashion Week Spring/Summer 2015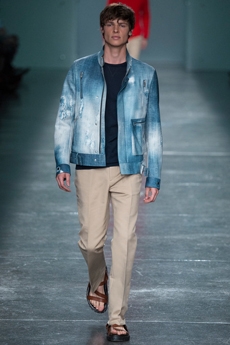 Colour was effectively clashed and blocked at the Fendi 2015 Menswear show. Sharp and slick with a quirky edge, the collection kept a slick and refined silhouette whilst experimenting with colour, shape and texture. Stone washed denim was worn with beige, neon brights were mismatched with demure colours and black mesh was used on gilet's and worn over blazers. The combination was simple yet exciting and fused styles in a creative amalgamation.

www.fendi.com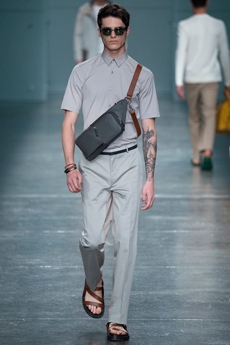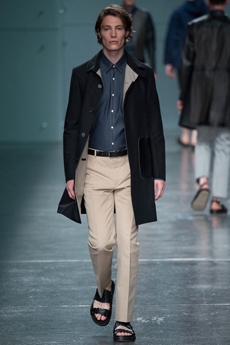 Fashion
Tod's at Milan Fashion Week Spring/Summer 2015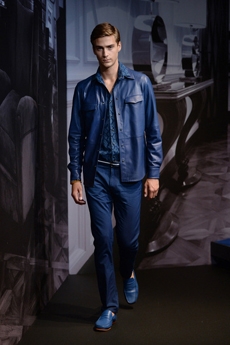 Applying a laiback approach to classic menswear, the Tod's 2015 Menswear show was casual, clean and cool. Luxurious, dark navy blue served as a key colour and was incorporated onto sleek suits worn with elegant, leather loafers. Amongst the sophistication, a more casual aesthetic was offered through blue and white jeans. Suede was a popular material, providing the fabric for soft blazers and jeans. Detaching itself from the traditional and conservative, the collection provided something refreshing and contemporary without loosing the refinement. 

www.tods.com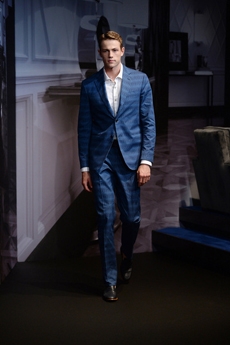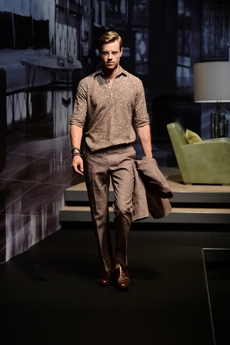 Fashion
Costume National at Milan Fashion Week Spring/Summer 2015
Refined and sophisticated in a demure and bright colour palette was showcased at the Costume National runway during men's fashion week in Milan. The collection consisted of an array of suits ranging from all patent leather pieces to bold orange and purple to pin stripes. Exuding laid back rock and roll, the clothing was effortlessly slick; neckerchiefs and tightly fitted trousers oozed cultivated style while the strikingly bright purples, oranges and blues adhered to a youthful and loud aesthetic.

www.costumenational.com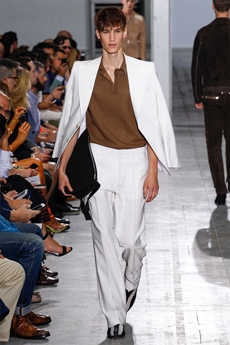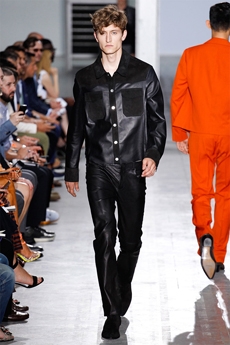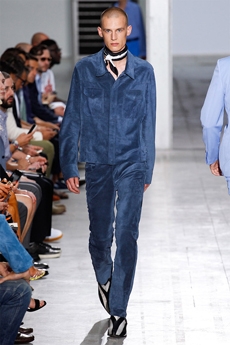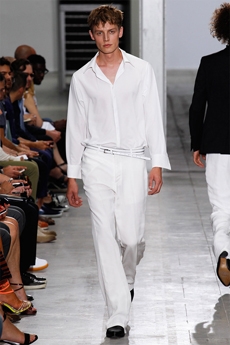 Fashion
Trussardi at Milan Fashion Week Spring/Summer 2015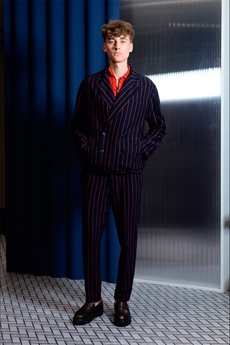 A casual take on the traditional suit was presented at the Trussardi showcase. Classic blazers were replaced by cool bomber jackets, pinstripe suits were paired with leather flat form sandals and modern and stylish double denim was embraced. Materials and patterns were experimented with; patent black leather was used on loose fitting trousers and bold black, red and white brushstroke prints were emblazoned onto straight trousers. The outcome was contemporary yet cultivated.  

www.trussardi.com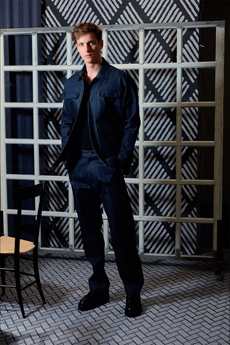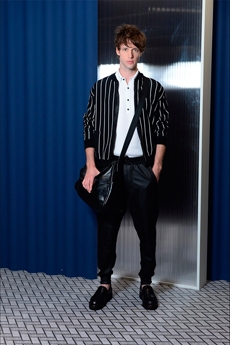 Fashion
Missoni at Milan Fashion Week Spring/Summer 2015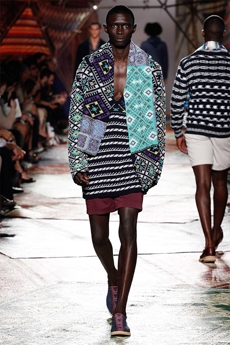 Adopting tribal prints and patterns, the Missoni Spring 2015 menswear collection presented a cool and casual aesthetic. Colours were clashed and knitted materials were decorated with colourful and intriguing stripes. Bare chested models walked down the runway clothed in patterned gilets, shorts and sandals and striped, matching blazers and trousers were worn with relaxed, soft cream brogues. The collection exhibited a vibrant and lively way to sport casualwear.  

www.missoni.com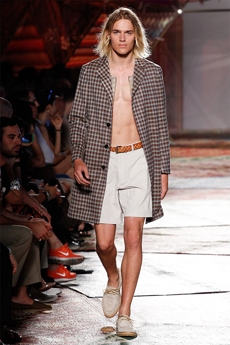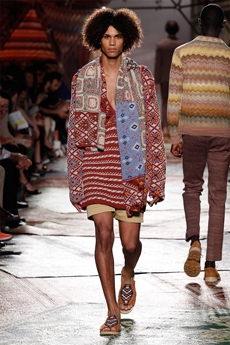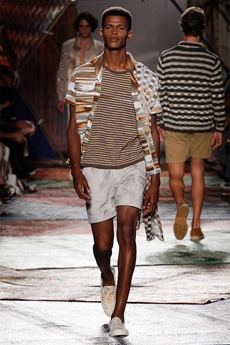 Fashion
Brioni opens Flagship in Milan
Italian luxury menswear couture house Brioni has opened their largest Flagship in Milan located in the city's luxury shopping area. Conceived by Creative Director Brendan Mullane, the 1,200 square meter flagship spans across three floors and comprises of formalwear, leisurewear, accessories, eyewear, textiles and footwear.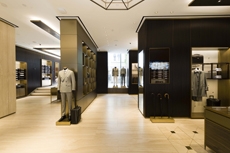 Sophisticated and refined, the store is a completely renovated historical palazzo and contains plenty of natural light with the entrance opening into a large foyer. The first floor houses leisurewear and the second floor hosts an expansive VIP room where visitors can find time to relax. Six full-time tailors will be present in the flagship, offering an exclusive service to clients and guaranteeing an exquisite experience. Walls, ceilings, floors, tables and chairs are upholstered in a luxurious dark blue suit fabric and a select choice of prized materials are in elegant beiges, taupes and browns.
With the flagship opening on June 19th 2014, the inauguration will take place on Saturday 21st and consist of a structural light installation in collaboration with Greek artist Michael Anastassiade entitled 'Blue Hour'. The installation will be displayed until July 12th.

www.brioni.com
Fashion
London Collections: Men Day 1
As London Fashion Week's quieter, calmer and all together more laid back alternative, London Collections: Men commenced with catwalks from Lou Dalton, Lee Roach and Agi & Sam and presentations from Jonathan Saunders, Nicholas Kirkwood and DKNY MEN.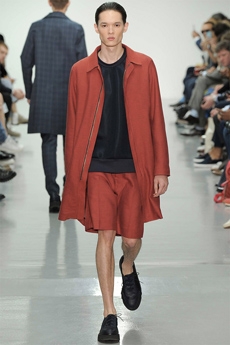 Centered at the prestigious Hospital Club in Covent Garden, the event hosted established as well as upcoming menswear design talent in an exciting combination of runways, showcases and parties. Luxury mens fashion designer Lou Dalton presented a well-tailored and sleek collection with a contemporary and youthful twist at one of the first catwalks of the day. In a cool and summery colour palette of bright whites, powder pinks, blue and silver, the collection comprised of Dalton's signature attention to detail on simple yet distinct patterns and shapes.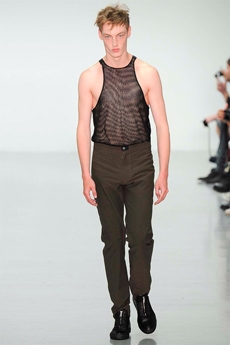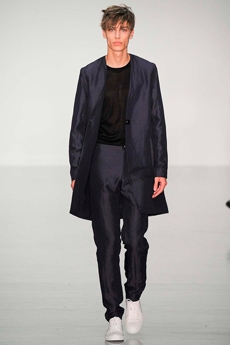 An expansion on his usual minimalism was showcased at the Lee Roach show. Roach offered a relaxed and modish alternative to the traditional suit by pairing logo printed t – shirts with matching blazers and straight trousers and included mesh vests and military references through khaki and circle and stripe emblems. The simple colours contrasted with the experimental layering to produce a sleek yet effortlessly cool aesthetic.  
Scottish born designer Jonathan Saunders presented a chic and bright collection incorporating simplistic patterns and clean designs in a distinctive array of colours. As an edgy yet sleek amalgamation of stripes, colour blocking and layering, the collection presented electrifyingly bright yellows accompanied by deep cool blues and galactic silvers. Smart and edgy metallic suits and light, breathable jackets were the standouts amongst sharp and definitive ensembles.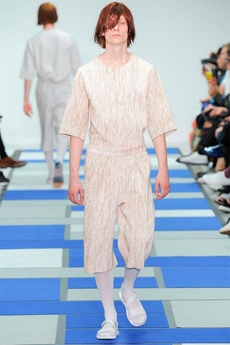 Wrapping up the catwalks of the day, Agi & Sam fused masculinity with femininity in an exciting blend of shapely silhouettes, loose fitting garments and intriguing patterns printed onto two pieces and jackets. Throwing tradition out of the window, the innovative design duo applied an original style pairing knee length socks with sandals, smart pleated trousers and original prints resulting in a strong yet relaxed outcome.  
Day one did not disappoint and launched another year of exhilarating Mens fashion.  
Fashion
BOSS Fall/Winter 2014 Campaign
Under the artistic direction of Jason Wu, the BOSS Fall/ Winter 2014 campaign captures sophistication and refinement for both women and men.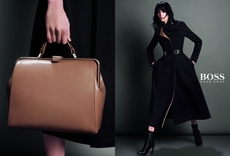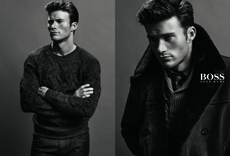 Establishing a contemporary look for the BOSS brand, the campaign styled by Joe McKenna and shot by Inez and Vinoodh presents BOSS's traditional tailoring in a modern fashion. The face of the womenswear, model Edie Campbell embodies a strong, powerful femininity in the campaign while actor Scott Eastwood is formal yet modern in BOSS's timeless and cosmopolitan menswear.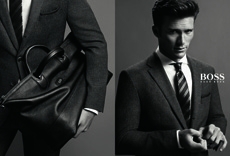 As his first campaign for BOSS, Jason Wu applied a "a fresh, different approach" and expresses how the campaign "not only shows the BOSS clothes, but evokes the BOSS lifestyle."

www.hugoboss.com


Fashion
The dreamlike dimension of PHILIPP PLEIN
PHILIPP PLEIN's pre fall 2014 collection fuses dreamlike patterns with multicolour photographic collages to create unique designs that are illustrated onto biker jackets, dresses, bags and shoes.
Depicting a dreamy vision, the prints comprise of the jaws of a tiger, a surreal Taj Mahal, images of elephants in the desert and jewelled panthers. Detailed and creative, the kaleidoscopic prints are both intriguing and strikingly stylish, incorporating architecture, nature and far away destinations in a whimsical yet vivid amalgamation.

www.philipp-plein.com
Fashion
Prada opens up a new store in Vienna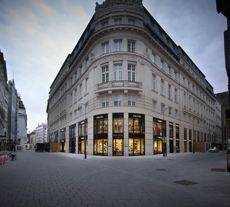 Created inside a prestigious and historical building, the new Prada store in Vienna hosts women's and men's ready-to-wear, leather goods, accessories and shoe collections.
Black and white-chequered marble floor, green fabric- clad walls and high furniture decorates the 1430 square-metre store that is extended over two floors. The chic new space designed by architect Roberto Baciocchi is both elegant and feminine and provides a leisurely and luxurious shopping experience.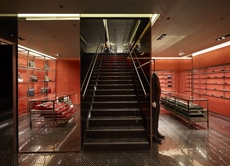 With large, enticing windows on the outside and a sleek, immaculate design on the inside, the exquisite new store imitates Prada's modern aesthetic and slick style. The store opened on 19th May 2014

www.prada.com
Fashion
Bally Fall/Winter 2014
Casual sophistication is at the core of Bally's Fall/Winter 2014 collection with classic lines and sharp tailoring being combined with laidback yet edgy styling.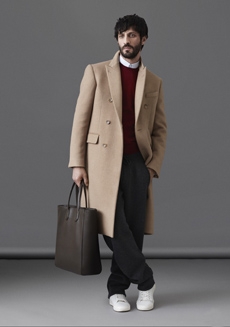 The womenswear is both formal and easy-going comprising of pin striped flared suit trousers paired with casual trainers and tailored overcoats, beanies and thick turtle neck sweaters. Ideal for the workplace, the long body fitting pencil skirts and shirts are perfect for the cosmopolitan woman and the cool, leather biker jackets add a necessary hip aesthetic.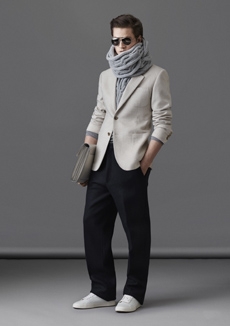 With an impressive range of accessories, the latest Bally collection provides endless ways to add sleek vibrancy to your wardrobe. From croc and snakeskin print bags to a range of ankle boots, low heels, brogues and knee length boots in a variety of colours, the accessories effortlessly compliment the clothing.
Equally classy, the menswear offers a variety of refined clothing ranging from dapper coats, suit trousers and blazers to dynamic multi coloured trainers, thick leather fur lined biker jackets and oversize leather backpacks.  
The collection fuses elegance with edginess, making it easy for Bally to stylishly transport us into the Fall/Winter season. 

www.bally.com
Fashion
Sisley Store in Mitte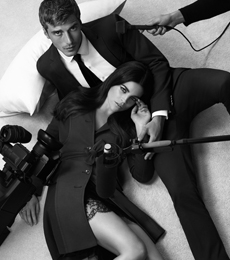 Depicting youth and freedom, the new Sisley concept store opened in Mitte, Berlin on 27th February 2014.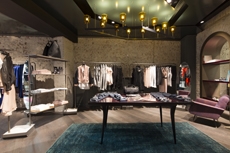 Located in the prestigious Mitte district in the centre of Berlin, the store allows visitors to have a unique and stimulating shopping experience as the store displays "its own distinctive nature and its own unique features". The store's layout is inspired by the film The Dreamers by Bernardo Bertolucci and translates this into a dreamlike, sophisticated and youthful décor.
Inside this new concept, visitors will find themselves enter an intriguing atmosphere consisting of peeled walls, black and white chequer patterned floors and cognac chandeliers. Fusing the sleek with the bohemian, the store displays chic body hugging, colour-block dresses, stylish trench coats and modernist jumpsuits as well as artistic maxi skirts, long muslin dresses and silk tops.  
Situated at 12 Neue Schönauser Strasse, the exciting new store embodies the brands playful yet chic aesthetic and transforms shopping into an interactive, sensorial experience.

www.sisley.com 
Fashion
The GUESS Hotel Pool Party @ Coachella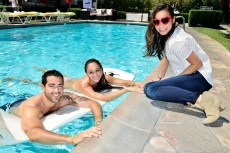 Fun California based music festival Coachella took place from the 11th April to the 13th and hosted an eclectic mix of live performances from artists such as Disclosure, Pharrell, Lana Del Rey, Skrillex and MGMT.
Amongst this exciting musical sphere, all-American fashion brand GUESS presented the GUESS Hotel Pool Party spread over two days and consisting of cocktails by the pool, a GUESS ping pong table and the sounds of DJ's Lindsay Luv, Jamieson Hill and Dexter Love. Celebrities enjoying the care-free summer atmosphere included Hannah Simone, Whitney Port and actor Ryan Kwanten.
On day two of the party, the grand opening of the annual GUESS Hotel was opened by music from musician Alex Merrell dressed in Marciano and offered delicious food and tasty drinks as well as performances by Izzy Lawrence and Whitney Fierce. Celebrating the early Summer with GUESS at Coachella, the party was enjoyed by Josh Henderson, Coachella headlining band Arcade Fire and Jamie Chung.

www.guess.com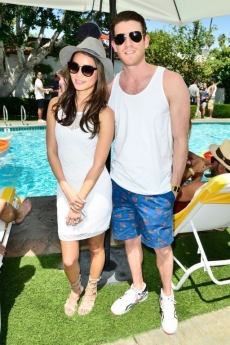 Fashion
G-Star Raw Opens First Women's Store in Germany
Denim specialist fashion brand G – Star Raw have created a unique retail concept, G – Star Women, a new store entirely dedicated to womenswear on Schäfflerstrasse in Munich, Germany. Situated over 225 m2, the impressive and specially designed store has a minimalist aesthetic and the ground floor consists exclusively of denim in various fits and styles to ensure that every woman is able to find her "perfect piece".
On the second floor, customers are invited to seek stylish accompaniments to their perfectly fitted jeans in a "comfortable" and "relaxed" carefully designed fitting zone. Aiming to exemplify "G-Star design philosophies in product engineering and denim craftsmanship", the Munich store consists of appealing attributes including a striking full height mirror and the aforementioned staircase to enhance the in store shopping experience and environment for the female consumer.

The female only store which is located in the bustling city center opens on 16th April 2014 and aims to utilize the notable G –Star DNA to provide a tailored, simple and stylish shopping experience for women.

www.g-star.com
Fashion
G – Star Raw Presents Afrojack SS14 Capsule Collection
The eight piece collection comprises of long tees, short – sleeved hoodies and caps decorated in simple and contemporary black and white artwork and adorned with the word 'RAW'. The DJ and denim brand provide a flawless combination as the designs are both hip and laidback and stylish yet casual. Upon releasing his new album, the platinum selling DJ will be offering a free ticket to his performance at the W hotel with the first 250 purchases and the capsule collection is now available at selected G – Star stores and stockists.  
Funky denim fashion brand G – Star Raw has launched a second and even more exciting capsule collection in collaboration with DJ/ Music producer Afrojack. Emerging from Afrojack's favourite piece; the G – star A-Crotch, the collection like the first collaboration is based around this piece which was custom made in leather for his performances. The signature A – Crotch will be available in black coated denim, white denim and leather.

www.g-star.com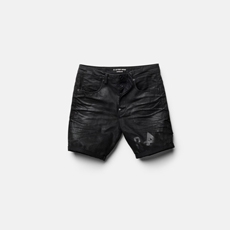 Fashion
Hogan Spring / Summer 2014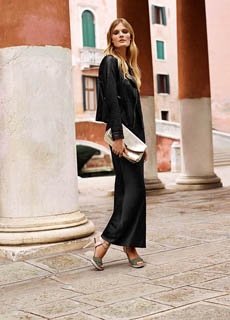 Spring has indeed sprung and with Hogan's Spring Summer 2014 collection being shot in the picturesque and romantic city of Venice it has sprung particularly attractively this year. The uber casual and effortlessly chic collection comprises of light, fitted jackets, jeans and sneakers for laidback daywear and sexy heeled sandals, black leather and metallic clutches to bring on the night.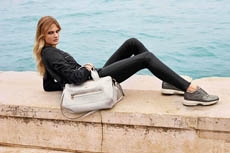 All modelled by the stunning Constance Jablonski who describes the clothes as "a selection of easy-chic pieces" in a diary style memoir written to support the campaign, the pieces depict an ideal spring holiday and combine comfort with style. In her memoir Jablonski illustrates her fast paced life full of travel and inspiration and always carries a compilation of "little jackets, skinny pants and my Hogan H222 that stay with me 24 hours a day".
The menswear collection is modelled by Fifty Shades of Grey actor Jamie Dornan and continues in the theme of cool and easy, relaxing on a boat day attire to sleek, sophisticated yet relaxed pieces for the night. Consisting of slim fitting trousers, light blazers and stylish brogues, the collection provides clothing that is slick, effortlessly cool and embodies the carefree spirit of spring.

www.hogan.com
Fashion
Vivienne Westwood at Paris Fashion Week Fall/Winter 2014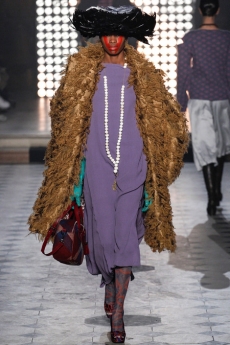 Vivienne Westwood invited us into her vivid imagination and world of eclectic inspirations during her FW14 show. Referencing a capacious variety of influences, styles and cultures, the collection mismatched colours and patterns, exhibited bizarre blue face paint and clashed textures. We were given extravagance through fluffy, shapely, large overcoats and exaggerated top hats, it was spectacular! Possibly the most inventive designs came from the sheer, shoulder padded, turtle neck wedding dress and martial arts style wrap jacket paired with loose fitting trousers, boots and Red war face paint. Vivienne gathered her vast sources of influencers and compiled into a outlandish yet amazing collection.

www.viviennewestwood.co.uk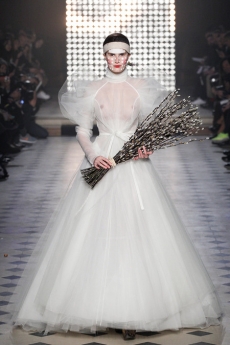 Fashion
Valentino at Paris Fashion Week Fall/Winter 2014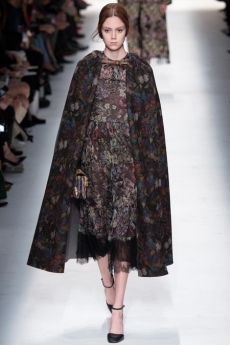 60s style colour combinations and dress silhouettes transcended into sheer bohemian floral gowns at the Valentino FW14 show showcased at Paris fashion week. Colour combined metallics paired with sparkly strappy heels transformed the glamour into a wearable yet fashionable night look and exquisitely printed fur overcoats and capes represented the opulent yet hip theme of the collection.

www.valentino.com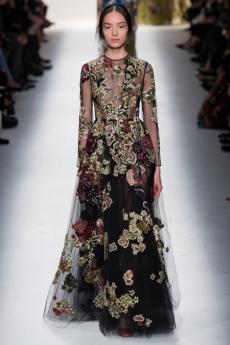 Fashion
Lanvin at Paris Fashion Week Fall/Winter 2014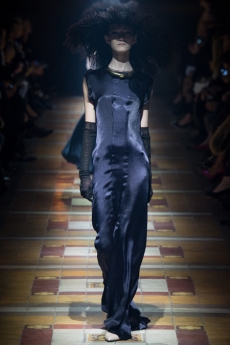 Opulent elegance was apparent at the Lanvin FW14 show with just enough drama to make it spectacular. The collection hinted towards the extravagant with ruffled fabrics, heavily gathered material and head to toe fur pieces whilst still remaining wearable. Black leather long pleated and interestingly cut dresses epitomized the theatrics of the show. The 1920s were referenced through flapper girl style beaded head caps worn with refined silk knee length square dresses. This theme continued onto looks consisting of feather detailed large floppy hats worn with silk floor scraping dresses and sheer gloves. This was avant garde at its best.

www.lanvin.com
Fashion
Hermès at Paris Fashion Week Fall/Winter 2014
An oversized, loose fitted yet effortlessly sophisticated look was presented at the Hermès FW14 show. The oversized, structured coat still provides a strong focal point of an FW collection and Hermes simplified this classic piece by pairing it with nothing or a similarly coloured suit. Simplicity was a key theme projected onto all in one black leather outfits, gathered dresses and matching one colour suits until clashing pattern combinations and luxurious silk dresses and suits brought back the lavish element.

www.hermes.com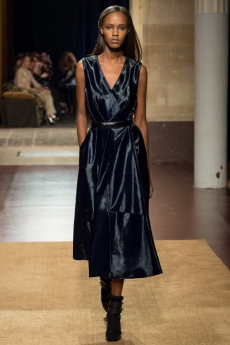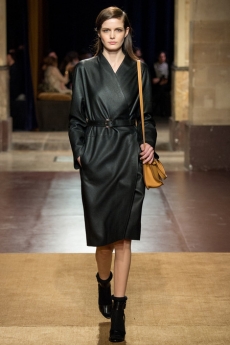 Fashion
Isabel Marant at Paris Fashion Week Fall/Winter 2014
The Isabel Marant FW14 show felt comfortable yet stylish and chic. The clothes consisted of different shades of army green, contrasted with the laidback, largely loose fitting material with a strong, militant power. Relaxed knits were paired with structured overcoats to add a sleek sharpness and a hint of dark glitter thrown onto jackets, skirts and tops gave a certain and very much needed perzaz. The show illustrated a relaxed army girl while still adhering to a high fashion look.

www.isabelmarant.com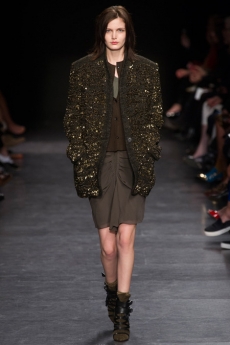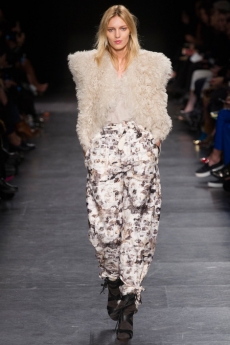 Fashion
Dries Van Noten - Inspirations, Paris, Les Arts Décoratifs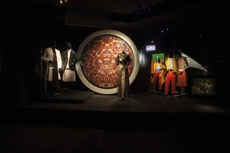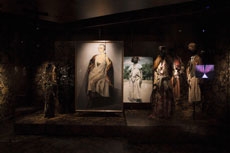 Notable Belgium born fashion designer Dries Van Noten has assembled a collection of his fashion inspirations compiled from his 30 years as a designer in the industry. Dries Van Noten who comes from three generations of tailoring has created an exhibition entitled 'Dries Van Noten Inspirations' that explores how he works when it comes to creating his designs and the correlation between art and fashion. The experience provides an excursion into a fascinating creative mind and demonstrates the clash of styles that are present when it comes to drawing influence from various modes such as music, cultural citations and historical references. Stating that "fashion is more than just pretty clothes" Dries allows us to see the beauty of creating fashion through the use of over 400 pieces. The exhibition is about revealing, celebrating and sharing the creative process behind conceiving magnificent clothing and will run until 31st of August 2014 at Les Arts Decoratifs in Paris.

www.lesartsdecoratifs.fr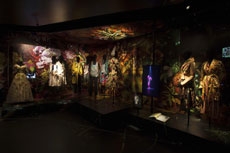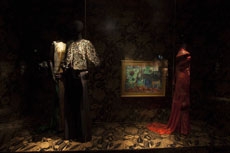 Fashion
Day 1: Gucci at Milan Fashion Week Fall/Winter 2014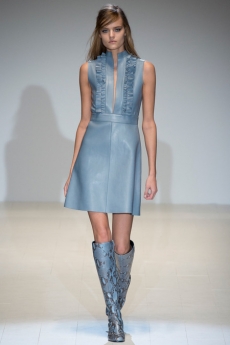 Delicate pastels, structured silhouettes and snakeskin shoes were at the forefront of the Gucci FW '14 show during Milan Fashion Week. The show displayed an array of uniquely cut dresses and luxurious fur coats in a colour palette that transcended from playful pastels to deep burgundies. Metallic silver details embellished deep black dresses and magnificent knee high snakeskin print patent boots.

www.gucci.com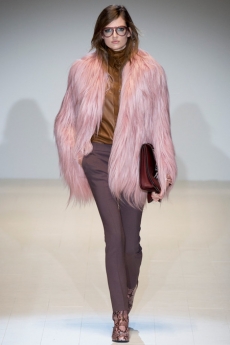 Fashion
Day 6: Dsquared² at Milan Fashion Week Fall/Winter 2014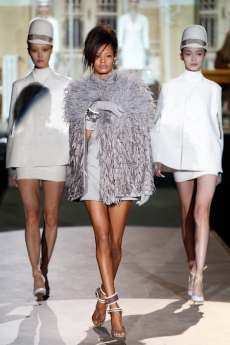 Glitzy glamour met sleek style at the Dsquared² FW '14 show displayed at Milan Fashion Week. Short dresses were worn with extravagant overcoats to create drama and floor length, glamorous dresses were exaggerated with fur jackets and long, embellished capes. 1960's dress silhouettes were referenced through short, buttoned up mini dresses and ostentatiousness was epitomised through heavy embellishments.

www.dsquared2.com
Fashion
NIKE AIR FORCE 1 x RICCARDO TISCI
Designer and taste maker Riccardo Tisci reinterpreted the Air Force 1, a basketball sneaker well beyond a cultural statement. Many different scenes have adapted the shoe and taken it from the courts to the streets. Nike +R.T. Air Force 1 is all about respect: respect for sportsmanship, respect for an authentic aesthetic, respect for those stars of the basketball court who started the hype, and respect for street culture. Both Tisci and Nike are aware that dissonance creates intrigue produces new inspiring designs. And Riccardo Tisci, the creative director behind über-label Givenchy, is just the right designer for the job.
He created four styles with uppers ranging from low-cut to knee-high. With the Air Force 1 Lo and Air Force 1 Mid, he went a more conventional route; all the while the boot-styles Mid Calf and Knee High appear in highly unusual and dramatically new silhouettes. Multi-colored laces catch the eye and resonate with an almost tribal attitude of a global community. With a shoe as universally appealing as this one, yet very personal, Tisci really dug deep to get to the core of its allure and extract the essence of the Air Force 1 for his designs. He found that the sneaker disregards gender, cities and styles. It is much more part of a democratic community.

The different Nike Air Force 1 x Riccardo Tisci will be available by March 2014.
www.nike.com
Fashion
Jean Paul Gaultier at Paris Fashion Week Haute Couture Spring/Summer 2014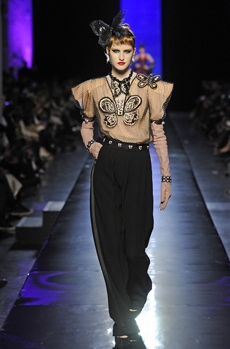 Not far away from the Jean Paul Gaultier headquarters, at 'Le Comédia' -an old Parisian theater- the French couturier's show took part on wednesday night. The theatrical spectacle was inspired by cabaret and French Revue from the twenties and thirties. And a glamorous Burlesque-themed performance started, when it's showgirls flounced down the runway wearing feathered and butterfly-shaped headpieces.
Black satin costumes were followed by multi-coloured tight wasp waists, corsets and net-laced dresses made of semi-transparent light fabrics. As a big surprise Dita Von Teese closed the show.

www.jeanpaulgaultier.com
Fashion
Tillmann Lauterbach at Paris Fashion Week Fall/Winter 2014
Tillmann Lauterbach's latest collection was called "Neo-Dada" and that resulted in a more losely way of tailoring and influences from the street. The rather monochromatic collection was dynamic in it's play with formal and informal and different lengths in the same silhouette. Colorful touches like orange gloves and tips of shoes, together with sporty influences made the show youthful, but the fabrics and techniques made sure the collection remained refined. Best results of these clashes were the tweed bomber, layered pants and roomy, hooded sweaters.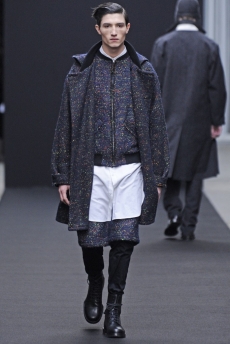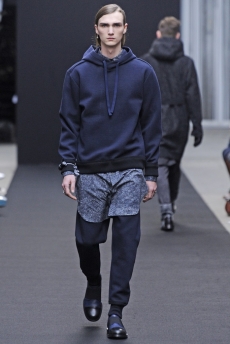 Fashion
Paul Smith at Paris Fashion Week Fall/Winter 2014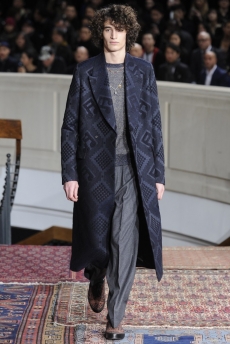 Sir Paul Smith had music on his mind while designing the fall/winter 2014 collection for men. Two currents of recent music history seemed to take the upper hand: in one corner was new wave and in the other psychedelica. The first manifested itself with big coats, knitted jumpers and slim pants while the second explained the bohemian prints, nonchalant fits and smock tops. To cover up next winter, Smith recommends an short poncho worn over leather jackets and big printed scarfs.
Fashion
Patrick Mohr at Berlin Fashion Week Fall/Winter 2014
Freedom expresses a person's ability to act upon their will. However, this statement's boundaries hold true for the fashion world in particular. Dark-skinned models are still a rare commodity in designer's shows. Patrick Mohr, the German fashion scenes enfant terrible, casted dark-skinned models exclusively for work hard. be mohr. – making a loud statement against arbitrary boundaries. With his show, he enticed the spectator to ponder questions of values and autonomy of decision. Front and center of Mohr's tenth show during Mercedes Benz Fashion Week was model Papis Loveday.
His first, and only, appearance during Berlin Fashion Week along with choreographer Nikeata Thompson was a really special moment – an implosion of convention. And even though Mohr almost solely focused on the color blue, on its strength and its interaction with his designs, his fall/winter 2014/15 collection may very well be the most versatile vision of the designer to date. In all its facets, the strong cyan can be seen in blousons, coats, shirts, pants and even in ribbed leggings and socks. The coats had triangular crocodile appliqués on the back and sleeves - Mohr's signature, which has so far accompanied ten invaluable seasons.

www.patrick-mohr.com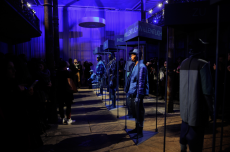 Fashion
Maison Martin Margiela at Paris Fashion Week Fall/Winter 2014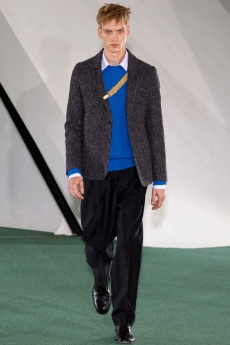 For Fall/Winter 2014, Maison Martin Margiela focused on wearable and sober clothing with subtle twists. Slightly slouchy grey suits had pants with double hems and coats were fastened with suspenders when worn over the shoulder. Big knits were teamed up with even bigger furs and there was a sense of wrapping and folding in the collection. MMM wouldn't do right to there name if they didn't include some decomposing and reassembling with diving-gear, thick tent-like canvas and leather satchels.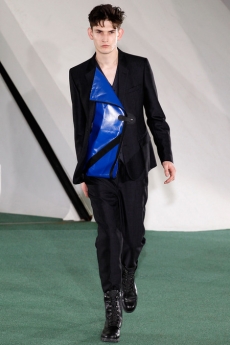 Fashion
John Galliano at Paris Fashion Week Fall/Winter 2014
Sport was unmistakably on Bill Gaytten's mind for his latest collection for John Galliano. All looks were based around leggings and sneakers in all sorts of colors and designs. Longer tops had elastic hems to create a rounded effect and parka's had big hoods and cinched waists. Some looks were finished with more urban items like jackets and overcoats, but even they were made out of exquisite technical materials. The collection was given an upbeat touch with shiny surfaces and pop-colors. 
Fashion
Louis Vuitton at Paris Fashion Week Fall/Winter 2014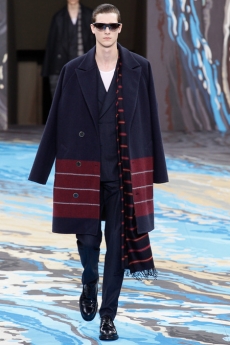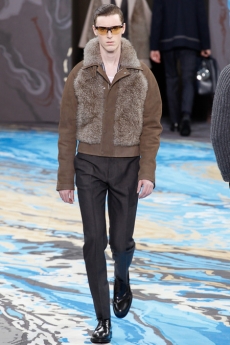 Kim Jones has always been talking about the art of travel for his collections at Louis Vuitton. That is no surprise with a brand that started in luggage but this season he pushed the envelope in that domain. After referencing most continents, Jones this time looked even further. For the Fall/Winter collection the designer looked at NASA maps of the world from space and took aerial photographs of Machu Picchu, Cusco, the Atacama Desert and the Nazca Lines in Peru as an inspiration. He then went to those areas to find the finest local materials. This made for a collection that had an futuristic edge but was earthed in traditional values. Best were looks when there was a tension between formal and casual, for exemple in jumpsuit looks with matching coats or suits worn with t-shirts. Jones also added a new version of the Damier-pattern to the house's codes, called the Damier Cobalt, with a dark blue as a sign of new understated luxury.
Fashion
Carven at Paris Fashion Week Fall/Winter 2014
With dark workwear, elegant but manly shapes and high fur hats, Guillaume Henry at Carven seemed to reference the Beat Generation of New York in the sixties. Tailored pants fell just on the ankle to reveal clunky shoes and big double breasted coats gave the shoulders a slight roundness. Heavy knitwear was tucked in pants and most shirts came without collars. Beginning with blacks and dark blues, the collection later adapted tones like nude, burgundy and a graffiti print. 
Fashion
22/4_hommes at Paris Fashion Week Fall/Winter 2014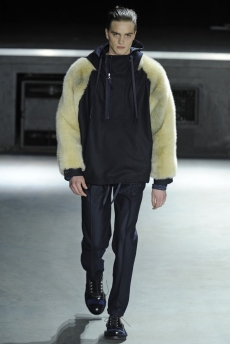 22/4 presented their fall/winter 2014 menswear line in Yoyo in Palais the Tokyo, which now is a popular nightclub but once functioned as the famous cinémathèque. The collection was an exercise in urban sleekness and rigorous brutality. Oversized coats and baggy suits were cinched by colorful elastic bands or wide cummerbund-style belts. Other sporty outings were jogging pants and cropped sweaters, worn over crisp white shirts. The brutality set in with hats, jackets and backs of vests in natural fur. The bomber-jacket, the item pur sang to survive the urban jungle, made several appearances, first draped nonchalantly over a suit but later the recognizable orange lining saw itself transformed in bags and accessories. The balance in those extremes made for an collection both aggressive and delicate.
Fashion
Versace at Milan Fashion Week Fall/Winter 2014
At Versace, looks are young, free, provocative and unafraid. Under the theme 'The biker is the new cowboy', unbridled masculinity will dominate Fall/Winter 2014. Leather pants, fur motorcycle jackets and silk shirts are embellished with wild fanciful prints and appliqué patches showing the classic Versace hardware. Key chains, sheriff badges, motorbike helmets and charm bracelets underlined the new spirit. 'I wanted this collection to be a celebration of individuality and the freedom to be whoever you want to be, in the face of all the oppression in the world right now', says Donatella Versace. 

www.versace.com 
Fashion
Calvin Klein at Milan Fashion Week Fall/Winter 2014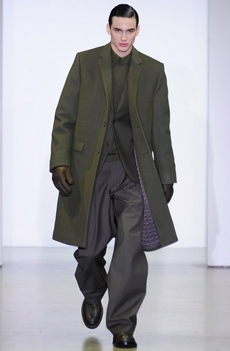 After Calvin Klein has presented the upcoming Fall/Winter 2014 collection during Milan Fashion Week, there are three expressions, that bear in mind: ETERNITY,OBSESSION and ESCAPE. Named after CK fragrances, these slogans, graced numerous of oversized sweaters and underlined how wide-ranging the brand is. The military-inspired collection features baggy metallic pants, leather bombers, backpacks and jean jackets in leather, dominated by earthy warm colours.

www.calvinklein.com
Fashion
J.W.Anderson at London Collections: Men Fall/Winter 2014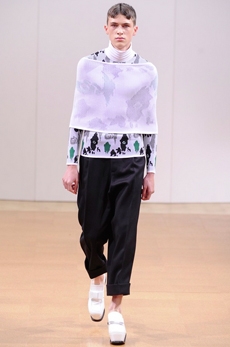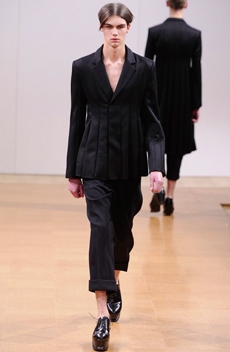 And again, J.W.Anderson blured the lines of gender in his straightforward Fall/Winter 2014 performance at London Collections: Men. Opening the show with a line of tabards, his mannequin's seemed like canvases for his artistic expression stomping down the runway in high-heeled platform boots. Multicolored knitwear, over wide, cuffed trousers and turtlenecks dominated the collection.

www.j-w-anderson.com
Fashion
SEEK at Kühlhaus Berlin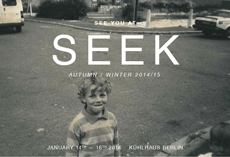 Under the theme 'We look towards pop culture for inspiration; we're influenced by sub-cultures, books, youth movements, films and art', the genuine fashion trade show SEEK will warmly welcome the Fall/Winter 2014/2015 season during next Berlin Fashion Week. Since the trade show was founded in 2009, within this exhibition, SEEK will celebrate it's 5th anniversary. Creative Director Oliver Saunders and Fashion Director Maren Wiebus, therefore, chose the unique location Kühlhaus to present 90 selected international brands including Barbour, Billionaire Boys Club, BBC Black, Gourmet, Duffer Japan, Cheap Monday, Our Legacy, Property Of, Puma Collaborations, V Ave Shoe Repair and so on, to an ever-growing audience. As all of them stand for something close to SEEK creators' hearts and find it's inspiration in their surroundings, influenced strongly by music and art, the issuing labels represent authenticity, quality, design and function. 

SEEK is on from the 14th till 16th of January 2014 between 10am and 7pm at Kühlhaus Berlin, Germany.
Fashion
GUCCI's 'Cruise 2014'
Inspired by the vibrant South American temperament of Rio de Janiero, Creative Director Frida Giannini designed the exclusive 'Cruise 2014' womens' collection, an ex- clusive insight of must-have travel essentials for the modern GUCCI woman. The collection expresses opulent nonchalance, euphoriy, yet a strong glamourous appearance picking up 70ies styles of the Italian traditional house of GUCCI. Feminine overalls in wide silhouettes and slightly oversized proportions are combined with waist belts, among elegant evening gowns and the new kimono-wrap dress made of exclusive silks. Next to glamourous highlights some sporty influences conquer the GUCCI cosmos within bomber jackets, basketball-inspired T-Shirts and the FRIDA Shirt, the first time Giannini's name appears on one of the brand's designs.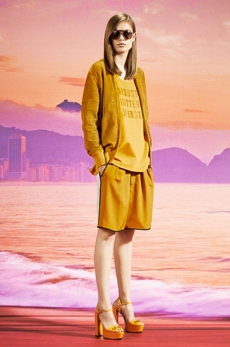 The collection is especially characterized by using various high-quality materials, such as silk, featherweight crêpe de Chine, suedes and cashmere. Some pieces are made of shimmering hand-embroidered iridescent gold and silver sequins, more casual garments are adorned with Macro-Paisley-prints. Photographed against an orange, purple and pink sunset image, the whole colour palette of the collection ranges from exotic colours through to rusty and copper nuances, as well as metallic, silver and bronze shades. As expected, the Cruise 2014 is not missing out on three suitable handbag lines: The 'GUCCI 58', which customizes the charming looks of the season's collection. The 'Harness' combines the design of the GUCCI Horsebit with traditional craftsmanship, whilst the brand's outstanding characteristic bamboo detail gives an elegant allure to the feminine 'Hip Bamboo'. Metallic high-heel sandals and the Espadrilla wedges complete the looks of the sporty- glamorous women's 'Cruise 2014' collection.
Take a look at the whole collection on

www.gucci.com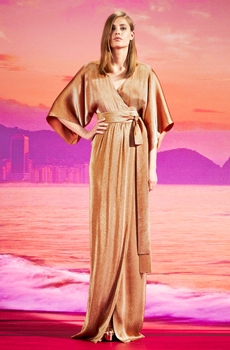 Fashion
The Madeleen- Bugaboo by Kaviar Gauche
The iconic Dutch pushchair brand Buga- boo teams up with avant-garde designer duo Kaviar Gauche in an ultimative collaboration of 'The Madeleen', a stylish and suitable must-have bag for a modern mother. As the brand Bugaboo stands for mobility and innovative design, this accessories sets new standards, especially for the mother's everyday use. The inspiration for this magnificent, yet handy bag came within a workshop of 'It-mums' of the German media landscape, who represented the potential customer and gave direct input of how an essential bag for a modern woman should be and look like. Kaviar Gauche incorporated these informations into the design process and created a bag made of luxurious black soft nappa leather combined with suede. The eye-catcher bag combines the classic tote form with the duffel bag look, has a removable bag-in-bag with various inside pockets and a zip, which separates the base from the rest of the bag. 
'The Madeleen' will be available online from November 2013 as a limited edition of 300 bags.

www.bugaboo.com
Fashion
REPLAY's Laserblast Club Capsule Collection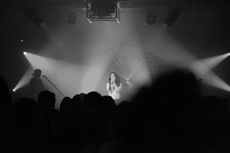 On Wednesday, 23rd of October 2013 Italian denim and casual wear brand REPLAY celebrated the launch of it's Laserblast Club capsule collection at the 'Terrassensaal' in Munich in collaboration with VICE. Stunning British singer Charli XCX -who is the protagonist and new face of this collection and just released her first album 'True Romance' - highlighted this very special event with a vivid live performance, accompanied by flashy computer graphics and laser beamer video projections.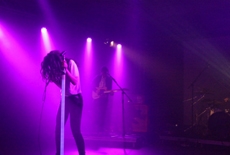 The new REPLAY AW2013-14 line combines club culture with denim, but also points out technological progresses, en- viromental responsibility and eco-oriented thinking. Through using the Laserblast technology to get the typical denim aethetics, REPLAY doesn't need to use big amounts of water, energy and stones or sand to wash the jeans, as the wash is literally put onto the jeans by a laser. Watch the video teaser of Charli XCX for the REPLAY Laserblast Club Capsule Collection on

www.replay.it
Fashion
Norwegian Rain
By Rebekka Ayres
A concept conceived under the umbrella of one of Europe's wettest cities, Norwegian Rain is a label for the elements, fashioned for those who like their rainwear sartorial. The Bergen-based brand threads Japanese sensibility into function-rich outerwear, unperturbed by a market saturated by PVC raincoats and flimsy anoraks. For Norwegian Rain, performance is high, meticulously designed, and aesthetically aware, making the age-old dilemma between practicality and design wholly obsolete. Working in weatherproof membrane fabrics recycled and imported from Japan, designer T Michael and creative director Alexander Helle produce collections bespoke to the style climate of each season. Born from Norway's 'dugnad' tradition – a neighborly philosophy by which communities volunteer their services to achieve a common goal – it was the enterprising imagination of the brand that invited collaboration between Bergen's creatives, culminating in this finely-engineered fabrication. Materials are equally ethical, sourcing organic cotton and abstaining from solvents, while reducing CO2 emissions by 80 percent in the process.
Men's shapes take heed from the time-honored trench, with resourceful cuts shaking off the shackles of their fusty predecessors. Whether double or single-breasted, finishes defy their expectations. By displacing fastenings and concealing cryptic details, raincoats offer a Swiss army-knife variety of options, shape-shifting in seconds to an entirely new guise. Folds serve both high neck and open lapel, converting from spread to standing collar in a matter of moments. There is even a detachable hood to shield against the transient temper of the clouds. While silhouettes transform, color remains consistent, in a muted palette of olive green and greys. Herringbone takes black to a soft and subtle charcoal with its quiet texture, lending just enough elaboration to let the balance hang in the hands of form. Women, too, have a compass of choice, as classic belted macs unbuckle readily into swing capes. The unisex Raincho, meanwhile, marks Norwegian Rain's most ingenious legacy to date, being at once a comfort staple and a sculptural marvel. Horn buttons punctuate the purity of its outer shell, enveloping the body with the considered vigilance of exquisite origami. Embracing the frame with downy cashmere linings, Norwegian Rain's scrupulously-constructed pieces give good enough reason to yearn for rainy days.
norwegianrain.no
Fashion
CHANEL at Paris Fashion Week Spring/Summer 2014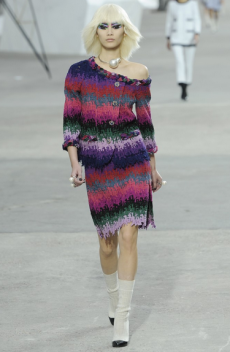 At Paris Fashion Week SS14 CHANEL showcased a vivid, optimistic and cheerful collection that linked art and fashion and manifested the creator's attitude towards a symbiosis between both. Karl Lagerfeld showed elaborate looks in the brand's cult fabric tweed embroidered with muslins, organza and laces, often frayed and torned. Spring/Summer 2014 at CHANEL will be dominated by a colour palette of blacks and whites next to pink, blue and yellow shades. Elements of the traditional costume got assembled in a new design and combine flowing, asymmetric and deep décolleté's with wide or slim silhouettes. Handbags, rings, bracelets and a new interpretation of the legendary pearl necklace completed this remarkable look. 

www.chanel.com
Fashion
Christian Dior at Paris Fashion Week Spring/Summer 2014
The House of Dior for Spring/Summer 2014 conquered the runway with a strong, feminine and very exoctic appearance. This collection was drawing a line of successful new interpretations and a variety of ideas. Raf Simons's creations were built on exclusive fabrics, such as bright silks and jacquards and stunning floral prints related to the impressive runway location, which felt like a surrealistic tropical rainforest setting.
The iconic traditional Dior Bar Jacket appeared next to translucent pleat skirts in neon coulors combined with monochromic metallic garments and very powerful multi-coloured dresses. Wrapped tops emphasized the beauty of a woman's waistline, relating to the sensual spirit Dior is loved for.

www.dior.com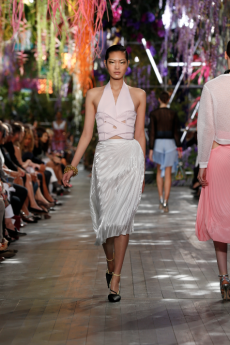 Fashion
Viktor&Rolf at Paris Fashion Week Spring/Summer 2014
The background for the Viktor&Rolf Spring/Summer 2014 collection was an institutional wall (maybe from a boarding school?) with the designers names clad on it in graffiti. That rebellious attitude persisted in the collection were good girls gone pretty bad. The schoolboy-uniforms showed today were deconstructed and heavily studded. Like a gothic cheerleader, the Viktor&Rolf girl pierced her collars or painted her shirt. New was the bermuda-shape, that in it's largeness, moved like a stiff skirt. Optional were the the little kilts in front and in the back.
Fashion
Dolce&Gabbana at Milan Fashion Week Spring/Summer 2014
Designer-duo Dolce&Gabbana for Milan Fashion Week Spring/Summer 2014 showcased garments, that got inspired by Roman and Greek mythology and the perfection of ancient temples and theatres. The collection thematically focuses on beauty, magic and enchantment and exposes pomposity and glamour in a strong manner. The main motives of this show were golden antique coins adorning dresses, headbands, jewelry and belts. Macramé and chiffon textiles in a colour palette of black, red, cream, dark green and esspecially gold dominated this selection of stunning pieces.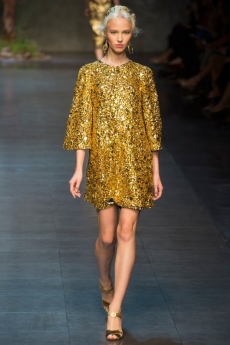 Remarkable prints of almond tree flowers, lithography of Sicilian temples and traditional decorations of ceramics highlighted exclusive fabrics such as lacquered silks, organza laces and gold-printed leather. Along with exclusive, luxury pieces, such as highwaist pencil skirt, fur vests, golden earrings and the newest Dolce & Gabbana bags entitled Eva and Sara, the fashion collection, was accompanied by the original music taken from various movies of Federico Fellini.

www.dolcegabbana.com
Fashion
Philipp Plein at Milan Fashion Week Spring/Summer 2014
Philipp Plein's show at Milan Fashion Week has been a spectaculous highlight opening with an exclusive live performance of "Work" by Australian rapper Iggy Azalea that combined the two worlds of Hip Hop and fashion. With a cast of only black models the german designer wanted to commit a statement towards breaking barriers and rules. Stunning beauties arised the runways in studded baseball jackets made of Nappa leather, striped socks and mini-pleated skirts all dominated by black, white, pink and blue colours and flashy metallic shades. Lacy night gowns made of translucent chiffons created a feminine-chic styling combined with eye-catching highlights of Swarovski crystals.

www.plein.com
Fashion
KTZ at London Fashion Week Spring/Summer 2014
Marjan Pejoski & Koji Maruyama's Spring/ Summer 2014 was a highlight on third day of London Fashion Week. Dominated by black and white moroccan tile textures, the collection had unique pieces made of high- tech fabrics and varnished leather accessoried by oversized, opulent jewellery and metallic embossing. Hitting the zeitgeist with stunning creations such as hijab-looking headpieces, hamsa hands and enveloping garments, the designer duo transformed the runway into a futuristic sci-fi trip to the oriental dessert.

www.kokontozai.co.uk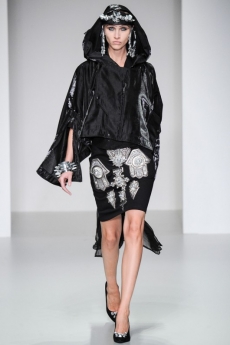 Fashion
Ralph Lauren at NYFW Spring/ Summer 2014
Ralph Lauren put forward a classical and monochrome collection on last day of NYFW Spring/ Summer 2014. Starting with chic business outfits, dominated mostly by blacks and whites and a variety of floral and square patterns. Skirts, three piece suits, as well as evening gowns glazed on the runway. The flow of this clear line during the second phase got pursued by unexpected pieces of vivid, acid- shrill colour ranges. Sharply-cut dresses were put together with matching accessories such as handbags, hats and sunglasses.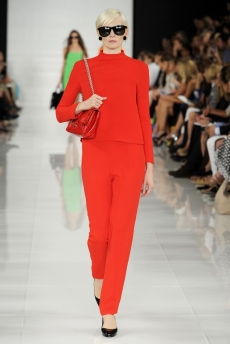 Fashion
Diane von Fürstenberg, Y-3, DKNY at NYFW Spring/Summer 2014
Fourth day of NYFW brought up the soft elegance of femininity as well as the  awareness  of todays' "digital noise". Opening the Y-3 show with flashy lights and various musicians playing on drums and containers, Yohji Yamamoto was teamed up with art director Peter Saville, who stands out for his unique graphics. The combination of blackness and hyper colours generated a postmodern streetwear chic. Bright coloured gradients and watercolour blurring of a multitude of neons, sporty hoodies with slogans, pigtails connected to feathers formed as both a critique and celebration of the contemporary internet culture.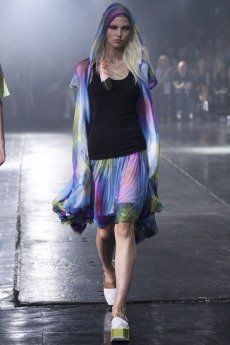 Y-3 Spring/ Summer 2014

Diane von Fürstenberg's Spring/ Summer 2014 reminded of a breezy summer safari with zebra striped dresses, tunics and maxi dresses made of silk.

Diane von Fürstenberg Spring/ Summer 2014

Right on time to DKNY's 25th anniversary
,
Dona Karen
sent out
her fresh collection with overalls, baseball caps, bodysuits, blazers, sneakers, neoprene dresses and anoraks floating over the runway. Single pieces of baggy pants bringing back the 90's and other pieces dedicating to a strong urban energy. The show got closed by Rita Ora -current campaign girl of DKNY- dancing to a song of the Beastie Boys.


www.mbfashionweek.com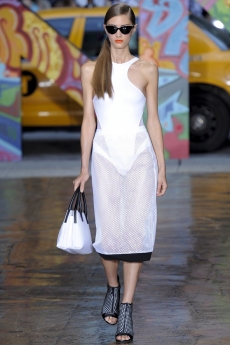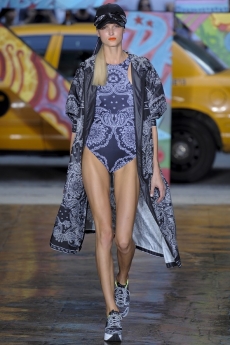 DKNY Spring/ Summer 2014
Fashion
Diesel Fall/Winter 2013 Campaign
Where would you look to find the fashion's face of today? When many would turn to the catwalks, Diesel – with its hopeful spirit ready to 'Reboot' – has herded an army of outsiders from the fertile soil of the brand's Tumblr page. A practising follower of social media, newly-appointed Artistic Director, Nicola Formichetti, was the main protagonist to what is a refreshing chapter in the Diesel story – a change of narrative and a fresh plot to match. Formichetti's vision is one that unearths and champions the most relevant talent of our time – something he has always been keen to depict through his imagery – and the Fall/Winter 13 campaign is no different.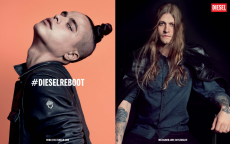 The subjects make for an eclectic cast, comprised of Japan's current obsession (actress Kiko Mizuhara), rosy-haired Bronx graffiti artist (Michelle Calderon) and female Olympian-turned-male model (Casey Legler). Throw in an Italian electro-house DJ (Bob Rifo) and an alienesque Dylan Fosket, and the troupe grows curiouser and curiouser. The styling of each shot was entrusted to the individual, with the vital Diesel staples to hand – a wardrobe of denim and leather pieces, customised by Formichetti himself. Composed in classic-portrait style, the shots frame the atypical models with brilliant nobility, and with Inez van Lamsweerde and Vinnodh Matadin on board as photographers, they strike a formula to render snapshots as artefacts of modern times.

www.diesel.com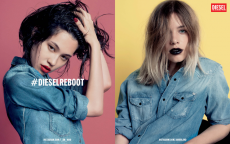 Fashion
Diesel Opens Frankfurt Flagship Store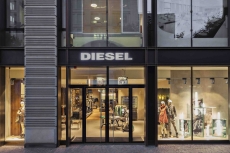 Raising the curtain after a three-year absence from the city, Diesel unveiled its new and long-awaited flagship store in Frankfurt's main metropolis on August 1st. Split over two levels, the 383m² store will present pieces from both menswear and womenswear main line collections and Diesel Denim, alongside a discerning selection of shoes, bags and accessories. Four months of hard labour transformed the listed building into an inspiring retail space, built on the artful marriage of vintage and contemporary design accents, from cold, hard steel fixtures to wood block floors.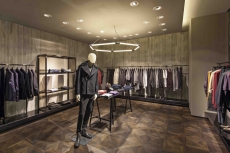 It's most exciting element, however, is its devoted private areas to the Diesel Black Gold ready-to-wear collections - previously exclusive to a select handful of German stores, the Frankfurt store is now home to its most daring and directional line. And the new destination still has surprises in store, as September 5th will mark its large-scale opening event, and will be attended by founder of the label, Renzo Rosso, for what promises to be a truly spectacular launch.

www.diesel.com
Fashion
Mykita Opens Store in New York
Debuting their directional eyeware in the USA for the first time is Berlin-based brand, MYKITA. Adding to its list of worldwide locations that includes Paris, Zurich, Vienna and Tokyo, the New York store now marks the eigth retail space opened by the brand. Set in the heart of SoHo, the new MYKITA store overhauls a space in Crosby Street's defunct art deco factory building, retaining its original character with its industrial finish.
Almost an art installation in itself, the merchandising of the boutique is unique to the eye of MYKITA, drawing upon the concept of mass-production and ready consumption to construct an ambiance that is both inordinately stocked and astonishingly minimal. The store will offer pieces from their main line alongside a covetable capsule collection exclusive to 109 Crosby Street.

www.mykita.com
Fashion
Nieuw Jurk Spring/Summer 2014
Ever reliable to stir controversy, Dutch label Nieuw Jurk shouted from the soapbox of their Amsterdam Fashion Week show with a collection founded on debauchery and scandal. $€XXX speaks mirthifully of the impact of the porn industry and its amplification with the uncontainable presence of the internet.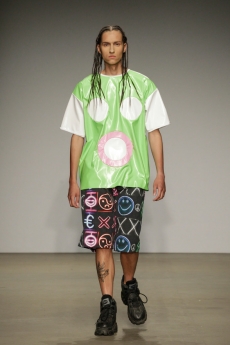 Chunky rubber boots and PVC bodysuits cling tight to skin, buckled and zipped in fetishwear fashion. Motifs were both lucid and lurid, as X-rated imagery jibed with comic rave-print wit. Sex-shop neons emblazoned photographic prints with their depressingly optimistic lambent glow, tiling catsuits and men's co-ords in wearably clubby pastiche; outsized patent tees take on inflatable doll appliqué with surprisingly permissive flare, while the smile of acid-house undergoes crass adulteration.
Accessories were a little more conceptual, though their statement was no less explicit; faux fur patches served playfully as knee and breast patches, while harness bras and candy string bikinis drolly stands up for any witticism left unsaid.

www.nieuwjurk.com
Fashion
Iceberg Celebrate 400th Anniversary of Amsterdam's Canals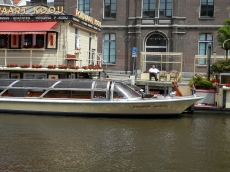 This year the city of Amsterdam celebrates the 400th anniversary of its characteristic Canal Ring. Now a UNESCO World Heritage Site, the canals will play host to jubilant commemoration throughout 2013. One such reveller is the sportswear label Iceberg, whose Ice Iceberg store finds home on the city's legendary shopping street, PC Hoofstraat.
Iceberg climbled aboard the aptly named Juliana flat bottom boat, – a fitting tribute to Gilmar founder, Giuliana Marchini Gerani – before sailing down the Herengracht Canal to the Munttoren Tower, soaking up the bounty of sights on offer from the charming aspect of the water.

www.iceberg.com
Fashion
IWISHUSUN X Marcelo Burlon supported by Warsteiner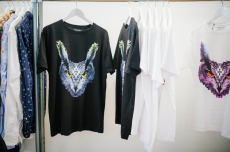 Unveiled during Berlin Fashion Week, IWISHUSUN 's latest collaboration brings the steely punch of Marcelo Burlon's digitized County of Milan rave prints to its new initiative line – limited to a strict 100 pieces.
Piercing through T-shirts in black or white, Burlon punctuates a simple backdrop with an owl motif in signature kaleidoscopic style – a modernised symbol of 360° vision. With the sale of every T-shirt, IWISHUSUN, together with its partner ORBIS are able to use the proceeds to fund cataract eye operations in Dhaka, Bangladesh, limiting the widespread suffering of preventable blindness.
In partnership with the Warsteiner brewery, Burlon's design has also been translated to their limited edition bottles, mirroring the T-shirts with their complimentary monochrome tones.

www.iwishusun.net
Fashion
Vault by Vans x WTAPS
Launching their latest collaboration with military precision, Vault by Vans x WTAPS had customers lining the streets outside Berlin's Firmament store, ready to enlist for their new classic styles, reinterpreted in camo shades of navy, olive greens and blacks.
Lending their iconic silhouettes as a canvas are the Sk8-Hi, Slip-On and Chukka Boot, recieving their warpaint for Fall 2013. Canvas and suede coat with a utilitarian edge, in timeless natural shades that will stand the test of time, like their world renowned skeletons.

The Vault by Vans x WTAPS collection will be available worldwide from August 15th.

www.vans.com
Fashion
Michael Sontag Spring/Summer 2014
Inside and out - the binary behind Michael Sontag's spring/summer 2014 collection. Traditional linings such as horsehair took center stage during his presentation at Mercedes Benz Fashion Week Berlin. Intertwined with silks, light cotton, a polyamide-mix, and denim, the materials shaped his layered looks. The collection was elaborate and conceptualized, yet wearable. Sontag layered shorts of full length pants and topped them off with more layers on top, never loosing the airy lightness of his idea. From muted creme, black and gray to canary yellow and lagoon blue, the color palette corresponded to the trends for spring/summer 2014, as seen during Berlin Fashion Week thus far. Surprising sparkle in the designs came out as they moved along the runway: Sontag added Swarovski crystals to some pleats.

Images: © Mercedes Benz Fashion

www.michaelsontag.de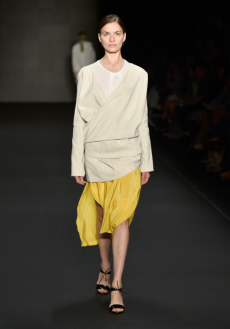 Fashion
Marcel Ostertag Spring/Summer 2014
The most eclectic designer showing during MBFWB is certainly Marcel Ostertag. Always one to take things a little further, the designer himself took to the runway to open his show in a long blush gown jacket. What a way to celebrate his 15th collection thus far. His 'Fragile Explosion' really went for it with vivid colors such as turquoise, green and shimmery gold as well as flower prints, sequins and combos of cotton and jersey or jersey and leather. The almost excessive use of sheer materials brought out the edgy, naughty side of the collection and balanced the more romantic floral and blush pieces. For his anniversary, Ostertag managed to put forward a collection which is cohesive and individual, having a little something of everything.

Images:© Mercedes Benz Fashion

www.marcelostertag.com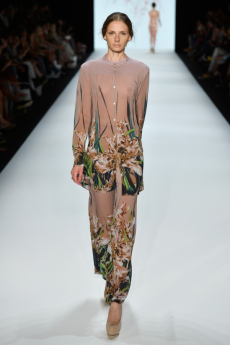 Fashion
Fendi Avenue Montaigne Store Opening
Fendi celebrated its move from 22 Avenue Montaigne to number 51 with the unveiling of The Glory of Water exhibition, exclusive in-store cocktail reception and a dinner hosted at the iconic Petit Palais. Karl Lagerfeld guested alongside Silvia Venturini Fendi, Sharon Stone and Chiara Mastroianni.
The new 600m² bouqitue – a celebration of Italian beauty – was designed with rich femininity. Sumptuous textures coat curves in velvet, leather and sleek stone. Fendi wears its Roman roots on its sleeves, studding walls with travertine plates.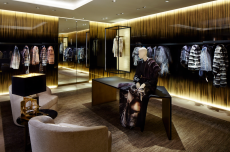 Boasting an exclusive fur room, the new store will provide customers with the oppurtunity to create made-to-order pieces. A spectacular installation will narrate the craftsmanship behind the construction of Fendi's fur lines, with the infamous Baguette bag hanging from a display wall pierced by 30, 000 bronze needles. Bags too can be bespoke, with items from the Selleria line and the Peekaboo bag available to customise to a specification of leathers, colors and finishes.

www.fendi.com
Fashion
Chanel Fall Couture 2013
A mixed bag for Chanel this couture season; true-to-tradition bouclé had us believing we were following a path back to the golden age of the brand. That was until hemlines were snatched back and suede cuissardes gave new meaning to longline. Metallics threaded through the weave of the wool itself, set off by the layering of sequined pastel separates.
Mandarin collars and funnel-necks went a little bit '60s, a little bit space-race, in exaggerated volumes, while rolled-over edges gave an inflated cartoonish finish. Wide belts were embellished with the occasional line of silver – reminiscent of pilgrim styles, they found themselves doubled, even tripled in size. Slung to the hips they seemed careless, but tight go-go shifts in silk said otherwise.
Lagerfeld's experimentation with texture truly came to fruition with the tactile geometrics he mosaiced. Soft sheer underlays peeked through the delicate silver armour of fabrics that were seemingly adorned by the fine art of paper-rolling. Origami cloth squares opened with a cross to give the impression of a gentler kind of studwork, picking out the accenting features of the Chanel silhouette: just the hint of a swan-like neck and a quick flash of feminine wrists.

www.chanel.com
Fashion
Augustin Teboul Spring/Summer 2014
Like dark princesses, Augustin Teboul's models drew the attention during the spring/summer 2014 show during Mercedes Benz Fashion Week Berlin. Each in their own space, divided by white screens, they exuded detachment from the outside world and a kinship with the spiritual sphere. Once again Annelie Augustin and Odély Teboul used their favorite materials - leather, knits, silk and mousselin - which they combined with fringed and patent leather details for spring/summer 2014. While they stayed true to their all black aesthetic, they interpreted it for the lighter and warmer season with styles such as shorts, dresses and crocheted parts. Inspiration came from Christendom and its stark contrast of humility and opulence. Volume once again played a big role in the collection, as did intricate embellishments, reminiscent of ecclesiastical ornaments. Augustin Teboul rounded off their looks with their notorious headpieces, creating the ultimate extravaganza in black.

Images:© Mercedes Benz Fashion

www.augustin-teboul.com
Fashion
IVANMAN Spring/Summer 2014
The label IVANMAN has been around since 2010. The menswear collection is characterized by clear lines, minimalist silhouettes and graphic geometrical details: a testament to the label's balancing act between classic and avant-garde designs. For spring/summer 2014, the deliberate reflection of the present as a time of change served as inspiration. For designer Ivan Mandzukic, fashion is a social phenomenon, which he is trying to break down into its pieces, analyze these and create new clothes with them. The color scheme for spring/summer 2014 ranges from softer white, camel and rose to grungy black. This contrast between soft and feminine and harsh, masculine attributes is evident throughout the entire designs. Stand out elements of the unusual collection were certainly the body belts, baring the models' backs.

Images: © Mercedes-Benz Fashion
www.ivanman.de
Fashion
Dior Haute Couture Fall 2013
Until now, Raf Simons' reworking of Dior was seen to be remarkably orthodox. Only his third couture show for the fashion house, designs were propelled by a kind of creative licence that was perceptibly braver.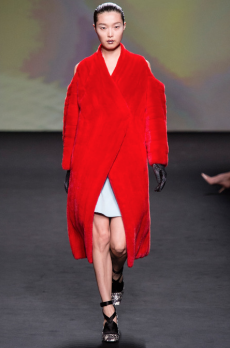 Though heritage houndstooth still made the cut, this time it was magnified, mantled and modernised. A patent sheen picked out the tiered layers of the reinterpreted bar suit – a brazen symbol if ever there were for Simons' eventual metamorphosis of the brand. Fabrics swathed, yet the look remained clean, fitted to the form for a reworked feminimnity that was contemporary, all the while classic.
More surprising still was the arrival of spiked shibori, which sported strapless dresses with spage-age skeleton. Hair and makeup too afforded a sense of the intergalactic, slicked to skull to show silvered lips. Diagonal cuts sliced through the flounce of Dior's past like a scalpel, pastel metallics and sheer holograph prints abducting its legacy and transporting it not just to the present, but resonating the brand firmly in the future.

www.dior.com
Fashion
Hermès Spring/Summer 2014
Veronique Nichanian's collections for Hermès are always about evolution rather than revolution. Her menswear in understated, luxurious and handsome. Where many designers try to shock the wearer with high impact collections and shows, Nichanian seduces them by awakening their desires with luscious clothing. For spring/summer 2014 the collection had a tension between the formal and casual which was perfectly mastered in a look that featured a sharp leather jacket with a t-shirt and a printed scarf. Not surprisingly, the leather pieces were true objects of desire. Trousers, jackets or t-shirts, Nichanian can always create them in a manner so that they are not kinky whatsoever, but an intimate luxury to add to your daily life.

www.hermes.com
Fashion
KRISVANASSCHE Menswear Spring/Summer 2014
Kris van Assche outed a clean and graphically strong collection for his Spring/Summer 2014 collection in fresh and bold colors. The Belgian designer started with suits and infused them with sportswear, resulting in boxy tops with lapels and a zipper across the stomach. The same characteristics came back on a garment which looked like a hybrid of a blazer and a bomber-jacket which were so voluminous that the models almost looked round from the side. Also round were the polka-dot cut-outs on the black sweater. 

www.krisvanassche.com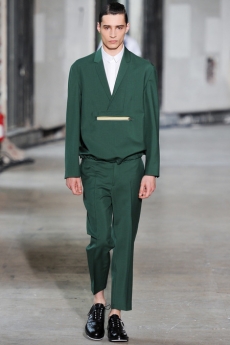 Fashion
Valentino Menswear Spring/Summer 2014
Maria Grazia Chiuri and Pierpaolo Piccioli, the head designers of Valentino, are known for their experimental approach to everyday classics. Their Spring/Summer 2014 collection expressed that approach in a military way mixed with clean lines and new silhouettes. Starting of with full looks in raw denim, the collection later picked up white T-shirts and chinos. Recent hallmarks like heat-bonded leather and camo-print also reappeared. This all with the extreme couture-like skill that the designers are known for. The duo also introduced a new collaboration with Havaianas, combining luxury and practicality in crocodile thongs.

www.valentino.com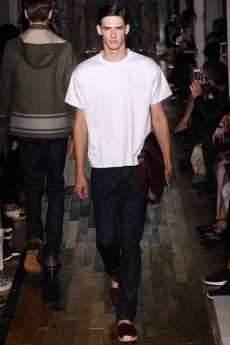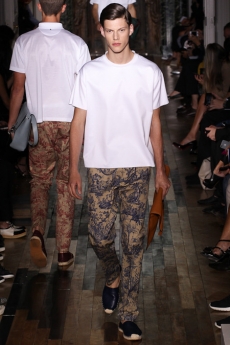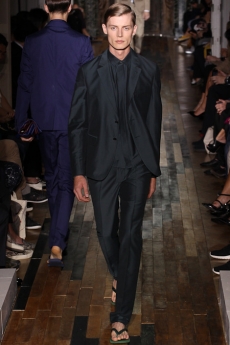 Fashion
Dries van Noten Menswear Spring/Summer 2014
The backdrop of the Dries van Noten show on thursday was a massive curtain of gold foil that shimmered like a pool on a sunny day. In the middle of the hall was a gold drum kit that soon was played by a young woman, providing the models with a hypnotic rhythm. The collection that followed was quintessential Dries: floral prints, see-through fabrics and above all the nonchalance of a very cool guy. The collection was infused with antique military clothing and elements, like a heavy gold embroidery and gold piping and buttons. When the Belgian took his bow, the drummer didn't stop playing and the models, who were lined up against the gold foil, didn't move a feet. This gave a great opportunity to see the clothing up close, and revealed details that only closer inspections make visible.

www.driesvannoten.com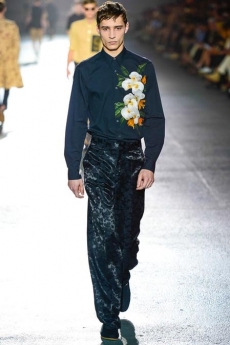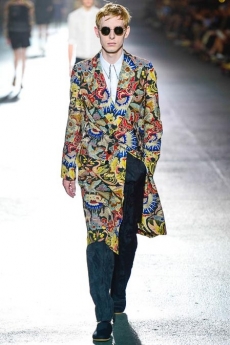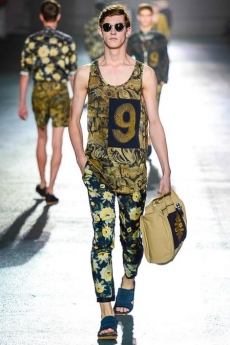 Fashion
Calvin Klein Collection Spring/Summer 2014
Clean and clutter-free: Calvin Klein Collection. In a plethora of blues, sportswear governed the show – a pertinent match for neoprene textures. Simply unadorned, cartooned silhouettes pop through the storyboard with rounded form, cut up by blockish line. Chunky sandals were similarly caricatured, with inch-thick soles in a powder-blue pigment saved for the dusty pages of a comic book.
Leather was likewise animated; in giant crocodile skins, exaggeration was afoot. And then there were the graphics: deafeningly serene were the seascapes and skies that splashed across sweaters in panoramic splendour. An audacious affair for Calvin Klein Collection, delivering a collection that was plump with personality and performed with artful precision.

www.calvinklein.com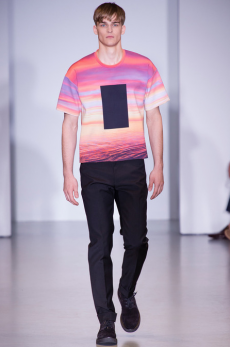 Fashion
Bottega Veneta Menswear Spring/Summer 2014
Bottega Veneta have print down to a science. A peculiar choice, then, to wave in their handiwork with a succession of unassuming prototypes.

And what parodying prototypes they were, mocking with their trompe-d'oeil tailor's chalk. Blueprinting pockets, lapels and buttons alike, it's a struggle to ascertain whether or not tailoring was, in fact, a taunting mirage. If the devil is in the detail, here was one feigning spirit.
Satire eventually gave way to sincerity, with those famously harmonised unconforming checks in harvest shades of oxblood and oat. Gridlock, too, had eyes transfixed, first pin-sharp and then waveringly hand drawn. In varying thicknesses they were, at the very least, potently hypnotic.
Form lent wonderfully to strict flutes of ivory, taking on a jazz timbre fit for the toe-tapping of correspondent shoes – were they not already beaten in the race by thatched leather loafers. Suede bombers made the look seem heavy, whipped up to jawline with layered turtlenecks. Had it not been for the soothing introduction of the open polo, the summer sun would seem menacing. Weather regardless, Bottega Veneta walked designs to be desired come rain or shine.

www.bottegaveneta.com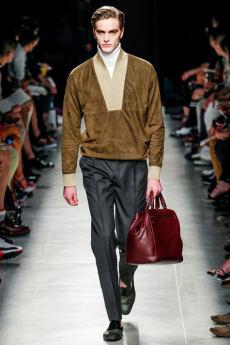 Fashion
Prada Menswear Spring/Summer 2014
Prada's prints certainly know the art of persuasion – seemingly repulsive at first glance, just a few more looks is all it takes before they blossom into something whole-heartedly desirable. Color, too, is applied with a masterful stroke, this time in melancholic hues which contrast and bejewel with off-kilter tones. Deep blood red - the kind reserved solely for velvet - cushions nuggets of equally opulent teal, to flock mournful holiday florals.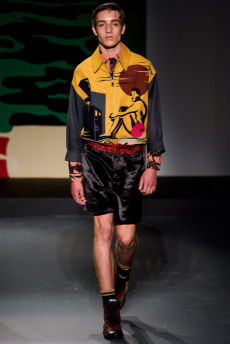 Hawaiian prints, not used to summers in the shade, seem wilted in amongst the cool air. With trousers long and layers heavy, together the look is vaguely autumnal. That is, until, dissected to standalone pieces, whereupon Prada bridges the gap between cliché and capricious.

www.prada.com
Fashion
Versace Menswear Spring/Summer 2014
A celebration of athleticism – that's what Versace gave us with their latest presentation. Bodies suitibly buffed, muscles bust hulk-like from cropped shorts and cuffs rolled just an inch too early. Toned frames were a tight fit for uncompromising leather numbers, though such was the intended effect. Appliquéd in sports tape – skin no exception – tank-style collared shirts adopted light, sporty weights in racer hues, from fluro-blues to day-glow orange.
Suit pants mirror sweats, with ribbed cuffs to boot. It is the gladiator sandals, however, that hold the torch for olympian apparel, reforming the look with modernistic flare.

www.versace.com
Fashion
Stone Island Fall/Winter 2013 Lookbook
Stone Island unveiled their Fall/Winter lookbook this week, with fashion-conscious sportswear the front-running philosophy. Heralding a basic line of leisurewear staples, Stone Island executes the design of plain classics with contemporary flair. The coming collection punctuates the faithful bomber jacket with enticing texture and brazen colour in a slouch fit that oozes offhand cool. Cargo detailing and denim, meanwhile, add a touch of utility to an otherwise practical and casual line. Puffa jackets redefine themselves as objects to be desired in vivid jewel shades, while parkas are the ticket to play down any look with roguish nonchalance.

www.stoneisland.com
Fashion
Philipp Plein Menswear Spring/Summer 2014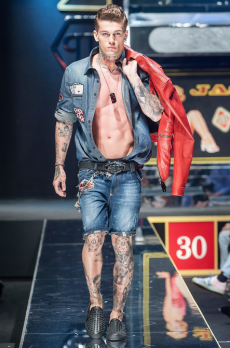 Spring/Summer for Philipp Plein was a surprisingly eloquent pick 'n' mix of subcultures past. Rolling out almost fifty looks, Plein had plenty of room for manoeuvre.
The collection started out somewhere between ted and rockabilly before doing a full 180 to the baggy sweatpants of now. Black and red leather formed the skin of the collection, in weights ripe for biking and with the customary rocker studwork, Jackets were cut to hijack the wardrobe of the teds – complete with leather shawl collar, retro was rewired to duly home Plein's autograph laughing skull motif, amongst the scrapbook of patched denim. Snatching shirts from blazered models stripped back the costume of the look to the current day, paired with distressed-to-the-point-of-write-off jeans hugging hips just enough to give a flash of branded briefs. Where others fail to handle the retro's reluctancy to move with the times, Plein has indefinitely stolen from the best and made it his own, albeit with tongue habitually-placed in cheek.

www.philipp-plein.com
Fashion
Escada Sport Spring/Summer Campaign 2013
Set against the infinite turquoise of the ocean skyline, Escada Sport's Guatemala-inspired Summer collection paints an equally breathtaking view. The campaign, photographed by ZOO's very own Bryan Adams, frames model Sara Blomqvist with the scenery of the promenade, with white walls and palms providing a graphic motif.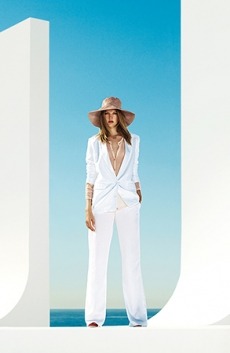 The relaxed beach vibe is embodied by motion, as floor-skimming pajama pants catch sail of the wind. Slouch-fit seperates billow with the breeze, though light summer knits in the hottest of pinks certainly make for a lustworthy windbreaker. Bandeaus and monokinis keep swimwear style subtle, but busy patterns keep the eye entertained. Pure ice-whites provide respite from color, amplifying hues like stained glass. Print, all the while, emblazons with stripes of all species: plain rigid lines , graduated batiks and stencilled florals weave through aztec grids – a souvenir from a Guatemalan summer.

www.escada.com
Fashion
Moncler open store in Sylt
Continuing their expansion within Germany, Moncler are to open a boutique on the northern island of Sylt, stocking clothes and accessories from the Moncler and Moncler Grenoble collections. In keeping with the typical white brickwork and thatched rooves that line the city of Kampen, the new store has been designed to uphold "High Mountrain" traditions. Smoked oak pannelling clads floor and ceiling, making for a cosy interior that is typically 'Sylt' . Elegant touches of black metal and glass enhance rather than detract from the quaint setting – no doubt a design detail of architect firm Gilles & Boissier, who can claim a history of collaborations with the label.

www.moncler.com
Fashion
Burberry Prorsum Menswear Spring/Summer 2014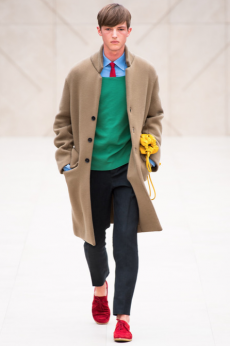 A tent in Hyde Park was the marquee for Burberry Prorsum's homecoming, and what better way to herald British menswear than by paying tribute to England's most prolific creatives. 'Writers and Painters' titled the piece, authored by Christopher Bailey's creative vision.
Like Alan Bennett cutouts, longline woolen coats, sweaters, shirts and oxford slacks weighted the theme of the 'Writer', painted – seemingly – by the brush of David Hockney himself. Off-kilter shades traced the signature of the artist, with blood-red and turquoise piercing from pannels of mustard yellow. At the hand of Hockney, detail is simplified – and so was Bailey's stark color-blocking.
Save a peeking skinny tie and drawstring sack, accessories rarely reared a head. Spotted scarves referenced the painter, though what would either artist be without their chunky trademark frames? Revitalised in a Pop-Art spectrum, the brand's logo studs the surface of box-square sunglasses to optical effect. In praise or pastiche, Bailey's portrait of two artists assuredly paints a pretty picture.

www.burberry.com
Fashion
'Catherine Martin and Miuccia Prada Dress Gatsby' in Tokyo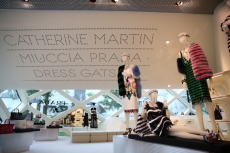 Landing in Tokyo last week – just in time for the Great Gatsby film premiere - was the travelling exhibition Catherine Martin and Miuccia Prada Dress Gatsby. Renowned for her collaborations with husband Baz Luhrmann on such visual feasts as Strictly Ballroom and Moulin Rouge, costume designer and art director, Catherine Martin, once again exercises her meticulous eye for detail as the visionary behind this year's most anticipated adaptation, with Miuccia Prada also at the creative helm.
Curated by New York studio 2x4, the collection showcases the elaborate gowns, shoes and accessories that dressed the stars of the movie – an absorbing viewing that is only enriched by the archive of sketches and backstage footage presented alongside.
Each show is uniquely tailored to its location. At Tokyo's Prada Epicenter, bespoke mannequins reflect the conceptual interior design of Herzog & de Meuron, while full scale body portraits of the actresses in costume bring The Great Gatsby to life in an experience that is at once ascertainable and unbelievably cinematic.

Catherine Martin and Miuccia Prada Dress Gatsby runs in Tokyo until June 30th.

www.catherinemartin.com
www.prada.com
Fashion
Milano Moda Uomo Creative Installation: Ermenegildo Zegna
Drawing a curtain on an eighteen-month hiatus, The Ermenegildo Zegna Group is going above and beyond to ensure the entrance of its new Creative Director, Stefano Pilati, is far from a quiet one. To mark his catwalk debut since leaving Yves Saint Laurent, his work will be unveiled amidst a specially-curated creative installation, falling upon the first day of Milan's Menswear Fashion Week.

The setting of The VI Febbraio Pavilion is steeped in Milanese history, standing as the old fairground site of the city. Recently redeveloped, through the duration of Milano Moda Uomo, it is set to become a hub of artistic activity.

Pilati has enlisted Swedish film director Johan Söderberg, musician Klas Åhlund and pianist and composer Maxence Cyrin to compliment the aesthetic of his creative direction.

The event will be open to the public, welcoming 1,000 guests from June 22nd-25th.

www.zegna.com
Fashion
Isabel Marant for H&M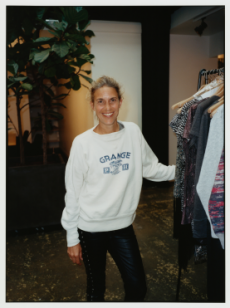 H&M today announced news of their eagerly-anticipated design collaboration, with Isabel Marant named as the latest designer to release a collection for the brand. Arriving in stores on November 14th, the collection will be the first in the label's history of collaborations to include a menswear line, following in the success of the David Beckham loungewear line.

Pieces are expected to follow in the ethos of Marant's effortless attitude to dressing – an idea that threads Parisian elegance throughout her aesthetic. Speaking on the collection, the designer said, "I aim to create something real, that women want to wear in their everyday lives, with a certain carelessness, which I think is very Parisian: you dress up, but do not pay too much attention and still look sexy. The collection is infused with this kind of easiness and attitude. Everything can be mixed following one's own instincts."

Previous partners of the label include Karl Lagerfeld, Versarce and Marni – each of whom have produced sell-out collections and queues to line the outside of the stores. A current climate of understated chic, however, forecasts Marant's to be the most sought-after collection for the brand.

www.hm.com
Fashion
Strellson to launch REFINED Edition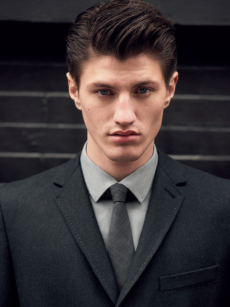 Swiss fashion label Strellson are to launch its premium Fall/Winter 2013 collection this August. The REFINED Edition is set to weave together classic and contemporary styles, through reinterpreted heritage fabrics and timeless design. Herringbone and broken twill are given relavance in the digital age, as stretch technology lends practicality to sartorial fashion. Expect updated takes on the typical Strellson sillhouette, with a capsule line of trousers, shirts, jackets, coats and accessories all in a palette of grey. Horn-rimmed glasses set off the look with astute attention to detail, while real horn buttons denote the modern man's taste for tradition.
The REFINED Edition will be available from Strellson shops internationally and online from August 2013.

www.strellson.com
Fashion
Hermès Festival des Métiers
Does it ever seem like you're getting through handbags like it's going out of fashion? The Festival des Métiers by Hermès may help to explain why. Celebrating the exquisite craftsmanship behind their products, Hermès artisans will demonstrate the art of their trade as part of a touring exhibition. From today, live workshops will open their doors to guests at the Areal Böhler, Düsseldorf, where guests can experience at first-hand the intricate process of tooling, silk engraving and jewelry craft. Oversee the entire process, from pattern pieces to product, as iconic pieces like the Birkin bag are constructed before your very eyes.

The exhibition runs from June 6th – 8th at the Areal Böhler, Düsseldorf .

www.areal-boehler.de
www.hermes.com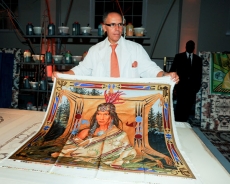 Fashion
G-Star flagship store Berlin
With a versatile event comprised of music, fashion and art, denim brand G-Star opened its new flagship store on Berlin's Kurfürstendamm. Actor Sönke Möhring of 'Inglorious Basterds' fame and presenter Rabea Schif activated the 'champagne crusher' to official unveil the store and open the doors to the RAW art series, a design experiment , which explores the limitless possibilities of denim. The new location houses the entire men's and women's collection as well as accessories on 350 square meters.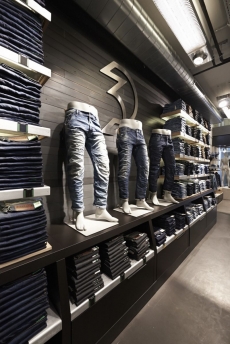 G-Star RAW store 
Kurfürstendamm 16 
10719 Berlin

www.g-star.com
Fashion
Dior Cruise 2014
Raf Simons took the house of Christian Dior to Monaco for it's cruise 2014 presentation. The collection was a clear example of Raf pushing both himself and the French institute that is Dior. A new take on the Bar suit with exagerated shoulders and narrow waist in bright red set the tone for a quite sporty collection. This athletic influence was opposed with a new material for Raf: lace. Another reinvented classic was a piece that at first looked and moved like a "new look"-skirt but was, in fact, a baggy trouser with pleats on the hip.

www.dior.com
Fashion
MM6 Store Opening Paris
Just a few days ago, Maison Martin Margiela opened its first European store. After the first store was opened in New York in September 2012, it was only a matter of time until the next store in another fashion capital followed. The big white MM6 script over the entrance and the black door frame is visible from far away, attracting the Parisians' attention. Located at 22 Place du Marché Saint Honoré the store is located in the prestigious first arrondissement.
The design inside the store contrasts dark wood with shining white tiles. The brown parquet floor leads the customers through the shop, along racks displaying the current SS 2013 collection and faceless white mannequins wearing some of the key looks. The furniture design uses clear lines and simplistic shapes. One of the core materials used for the furniture is glass, either in shimmering see-through or or transparent blue colour. Simplicity is the key to making the MM6 shopping experience a special one.

www.maisonmartinmargiela.com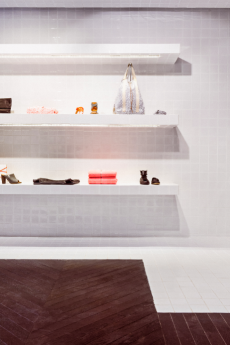 Fashion
Mulberry First Berlin Store Opening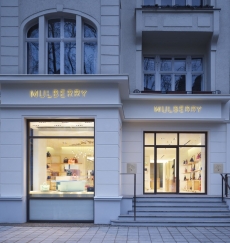 To continue the expansion of Mulberry into major European cities, the next store is opening in Berlin. It's the first store of the luxury fashion house in the vibrant German capital, bringing anything from the classic Bayswater to the casual Alexa manufactured in the tradition of dedicated craftsmanship with it. Mulberry, being one of the few fashion brands which still produces their goods in the UK, has always retained a focus on detailed leather craft and thereby guaranteed highest quality of their products.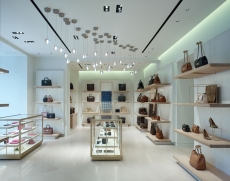 Never forgetting the rural roots of the British brand, the store's design uses natural materials such as oak wood in warm colours or limestone, reminding of the English countryside. The British architects of Universal Design Studio came up with the store's design located at Kurfürstendamm 184.
A special treat welcoming guests at the opening is a kinetic art installation by the artist Frank Hülsbömmer. Besides the ranges of men's and women's leather bags as well as women's ready to wear and shoe collections, the Berlin store is home to the Willow Tote in a shiny brown alligator leather. It's the only one of its
kind in the entire world and available nowhere else.
Fashion
Skies and Beyond by Bottega Veneta and Nancy Lorenz
Something very special was presented by Bottega Veneta at their Milan store during Salone de Mobile. The luxury fashion house revealed an exclusive line of 25 boxes created in collaboration with the artist Nancy Lorenz. After launching the "Lunar Landscapes" box collection in 2003 and the "Botanical" collection in 2002, ten years later the new collection seems to be a worthy follow-up. Its name is "Skies and Beyond".
Each box is made out of wood and is covered in leather or suede. Rare and valuable materials such as white gold, leaf gold and mother of pearl are used for the lid. Every lid looks different and no box is the same, making each box a unique. Those 25 boxes are the perfect storage space for precious things, while they serve as fancy decoration in any room they are placed in.
Nancy Lorenz, who also lived in Tokyo for five years, found inspiration in the handicrafts and use of unusual materials in traditional Asian arts. She is the perfect fit for such a collection, which is all about detailed hand work. All the boxes are numbered and are available to preview on the official website, where one can also order them with the help of personal shoppers via a phone.

skiesandbeyond.bottegaveneta.com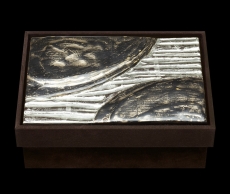 Fashion
New Edition of The Little Black Jacket
While the book entitled The Little Black Jacket: Chanel's Classic Revisited by Karl Lagerfeld and Carine Roitfeld came out in 2012 and its exhibition already toured cities all around the world, the newest edition is just about to be released this year. On 280 pages the book is paying tribute to Chanel's most iconic tweed jacket.

In January 2013 Karl Lagerfeld invited celebrities to his studio in Paris to shoot more images for the new edition of the book. Internationally well-known stars such as Keira Knightley and Diane Kruger reinterpreted the classic jacket and incorporated its look into their own personal style. The photos were taken by the fashion genius Karl Lagerfeld himself. On the official Chanel website the black and white photos can be seen in an interactive online gallery.

thelittleblackjacket.chanel.com
Fashion
New Saint Laurent Store Concept Berlin
After the opening of the new Saint Laurent store in Shanghai, the Berlin store also awaits a new concept. The design and architecture of the store is by Hedi Slimane and turns the 530 square meters of shopping space into a hall of white marble and large black tiles.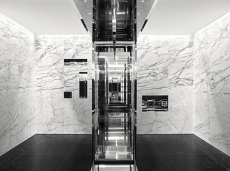 It marks the transposition of techniques and materials of French art deco. The store is located at Kurfürstendamm 52 and will carry not only womenswear and menswear collections, but also accessories.

www.ysl.eu
Fashion
The new Crash by Chanel
by Rachel Marie Walsh
No, this timepiece isn't a cut-out from Dali's The Persistence of Memory. This is Cartier's re-edition of the 'Crash' watch, a design originally produced for the brand's UK boutiques in 1967. Cartier London was an independent company at the time and the melted-looking bezel is as reminiscent of Carnaby Street hipsters as it is surrealist art. In fact, the design was inspired by the broken watch of a Cartier London customer who'd been in a car accident. In the heat of the wreckage, his oval-shaped Cartier Bagnoire Alongée had stretched and warped, yet managed to remain elegant.

Company head Jean-Jacques Cartier was so intrigued by this "survivor" that he put it into production. Cartier liked the irreverence of the shape, especially contrasted against the technical perfection and precise construction of what lay beneath. Over the years, Crash watches from the 60s and 70 - all signed "London" unlike the signature "Paris" for modern watches - have increased significantly in value. One can see the appeal: something that is both luxurious yet which has endured the extreme.

This season, the Crash is available as a ladies dress watch in four models, each with bracelets comprised of drops of white or pink gold and gem-set bezels. One particularly exquisite style has a bracelet covered with brilliant-cut diamonds. In reference to the year it was created, only 267 Crash watches have been produced. An underground classic for true connoisseurs of Cartier.

www.chanel.com
Fashion
Berlin Showroom Fall/Winter 2013-14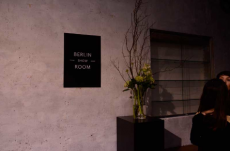 While Berlin it is not one of the world's four principal fashion capitals, its designers are on the right way to establish themselves in the fashion scene. Aside from presenting their new collections at the bi-annual Mercedes-Benz Fashion Week Berlin, this season Berlin designers decided to bring their newest designs to Paris. The event called the Berlin Showroom was the first of its kind. It lasted for four days during Paris fashion week in the beginning of March.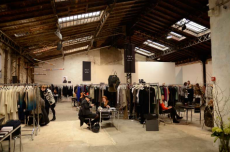 23 designers were carefully selected to participate in the event, amongst them were already well-known designer as well as uprising newcomers. They came together and showcased their work in the Parisian "Espace Topographie de l'art" to over 600 visitors and press.
The professional environment guaranteed success for both designers and buyers, while the fresh feel and enthusiasm of the young event created an inspiring atmosphere. Hopefully the enthusiasm will endure until next season and so the first Berlin Showroom will not remain the last.

www.berlinshowroom.com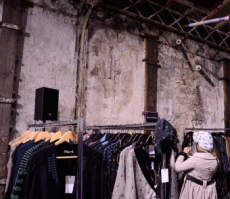 Fashion
Lanvin Summer 2013 Accessories
Not only the good weather is a reason to look forward to summertime, but also Alber Elbaz' new designs for the Lanvin Summer 2013 accessories collection. The key to the new classic, yet modern designs is a sense of purity and precision, defined by clear and geometrical shapes.
The new shoulder bag Partition features different kinds of leather in graphic shapes and golden metal plates as well as screws. It's the perfect companion for any occasion. The Stiletto heel reflects traditional craftsmanship and its most innovative part is the mirrored heel. The shoe combines metal pieces with luxurious matte leather. Like the other accessories the jewellery also features a lot of gold. With its large shining surface, the Oracle reflects the beauty of the wearer and is only one piece of jewellery among a series of cuffs, rings, earrings and wide belts reminding of corsets.

www.lanvin.com
Fashion
Louis Vuitton Fall/Winter 2013-14
For the Louis Vuitton Fall/Winter 2013-14 show the space of the runway was transformed into the hallway of a large Parisian hotel. The walls were draped with old fashioned tapestry and 50 doors out of dark brown wood surrounded the audience. The show immediately conveyed a voyeuristic atmosphere with the viewers being left to wonder what goes on behind closed doors and the desire to take a peek inside.
Once the light turned on, a few of the doors opened and the models left their rooms one after another. Among them were Kate Moss and Georgia May Jagger, who was previously photographed by Bryan Adams for ZOO's last Spring Issue. The collection was a mix of luxurious outerwear and intimate lingerie. The combined styling of the two gave the notion of the models being interrupted either while dressing for a night out or undressing for their lovers. Elegant dressing gowns were thrown on and spontaneously fastened with waist belts, tailored blazers appeared as stand-alone pieces revealing the models' long legs and astrakhan fur coats were worn over slip dresses with lacy hemlines and pajama ensembles.
Many of the coats and dresses featured colour gradient application of sequins, making the patterns of dull plaids more glamorous. Fur linings and lapels as well as feathery details added another alluring touch. The colours were all toned down and no bright colours disturbed the eye. Shining satin and silk fabrics with cutesy patterns of tiny flowers, seductive see-through lace, high quality wool and luxurious fur were the main fabrics of the collection. A number of delicate dresses with flowery embroidery made for a perfect finish, before the models retreated to their hotel rooms once again. Marc Jacobs, being the genius creator of this collection, took his well-deserved bow – fittingly in red pajamas of the Louis Vuitton menswear collection.

www.louisvuitton.com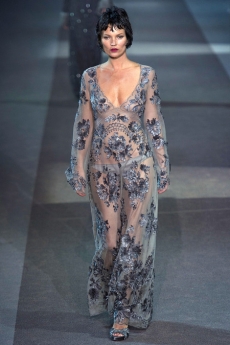 Fashion
Hermès Fall/Winter 2013-14
The atmosphere of the Hermès Fall/Winter 2013-14 show resembled a romantic movie set inside place of the fashion show – the library of the Parisian Lycée Henri IV – with the models as its leading ladies. The French heritage of the Hermès fashion house and of its designer Christophe Lemaire showed in the chic and sophisticated designs of the collection.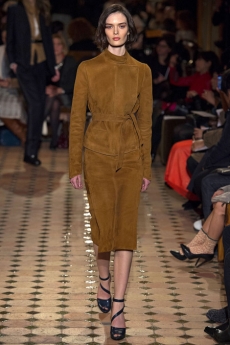 Among them were ankle-length skirts, oversized blazers, V-neck jumpsuits, tailored trousers and a number of elegant white blouses. Leather for jackets and skirts was featured in all kinds of variations from croc leather to suede. The long and wide coats with stand-up collars were a highlight of the runway show. The trick of the styling was to casually layer coats, wearing high quality wool coats on top of large furry coats.
Many of the garments were adorned with black leather trims and various looks had black leather belts with classic golden buckles as accessories. The main colours were different tones of brown from dark brown to hazel, many shades of grey and of course black. Some accents of navy and bright red stripes brought a little more colour into the collection of clear shapes, which every woman can be looking forward to for the wintery season.

www.hermes.com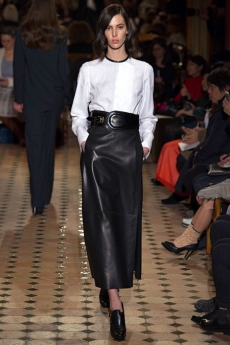 Fashion
Camper Spring/Summer 2013
 by Rachel Marie Walsh
Nothing was what it seemed on Bernhard Wilhelm's Spring/Summer catwalk, what with the crazily-patterned grunge-chic and models in futuristic afros and foil masks. Then again, one of the designer's long-term mantras is "chaos is beautiful."
The shoes were a perfect match, in a blindingly clashing kind of way. Wilhelm's seasonal collaboration with Camper combines wild animal prints with chunky, unexpected soles and natural materials like cork. Conformity and provocation co-exist with a humorous disdain for the plain, as he pushes the boundaries of conventional footwear to create shocking shapes.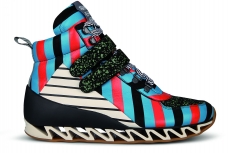 Since Wilhelm set up his brand (together with Jutta Kraus) in 1999, the Ulm, Germany-born designer has refused to be swayed by success. He continues to create an imaginative and wonderfully lunatic world playfully projected onto the Spanish brand's footwear.
The stand-out shoes for women were zebra-print sandals with wildly outsized soles. With ankle-high upper and thong construction, these shoes are both a sandal and a boot, available as a flat or with the on-trend cylindrical heel. Both are lined with leather and rubber. The flagship sneaker for men and women is reinvented with neon camouflage or zebra and Dalmatian-print in black and white monochrome. The soles are boosted with sculpted, zigzag rubber inserts in contrasting colors. All are crazy-cool, just the way Campers should be.

www.camper.com
Fashion
Jil Sander Fall/Winter 2013-14
A unique simplicity has always been one of the essential element of Jil Sander's designs. Her new Fall/Winter 2013-14 collection stays true to her minimalist approach to fashion and clear cuts structure her garments.
Overknee length skirts of flowy light fabrics are part of this year's Fall/Winter collection as are sleeveless dresses with pleat details and deep v-necks. Other tops feature a neckline that resembles a cross between a boat neck and a v-neck. Coats with large pockets and an oversize fit, either worn open or with a belt to accentuate waist and hips, are the highlight of this collection. Their colours vary from a range of blues including navy and azure blue to a bright orange and yellow.
The collection's finale is made up of a number of simple black bandeau dresses with minimalist golden stripes and elegant coats of thick wool and fur. It is the epitome of pure and simple elegance. The signature minimalist design of Jil Sander at its best once again.

www.jilsander.com 
Fashion
Iceberg Fall/Winter 2013-14
With their Fall/Winter 2013-14 collection Iceberg decided to take a trip to the past. The first look of the runway show included a knitted sweater that re-invented the style of the one that was designed by Jean-Charles de Castelbajac in 1983. However, the creme coloured wool and crisscrossed black leather stripes look more contemporary than ever.
The reoccuring pattern of the whole collection was that of stripes – covering sleeves of sweaters, woven into jumpers wool, spreading diagonally across knee-length pencil skirts. Some pullovers were in a patchwork style mixing various stripey patterns of different colours with leather and furry details. Returning to high quality knitwear from jumpers over fitted cardigans to slouchy knit dresses, a variety of wool was used. While the knitwear featured wide sleeves and soft shapes, the collection also included jackets and blazers with sharp tailoring. Throughout the whole collection the designs had a focus on strong shoulders.
Leather cigarette pants with a slim fit in a bold fuchsia displayed a use of bright colours. Azure blue and lemon yellow were other main colours, beside black and white. The final looks of the collection turned the neat stripes into colourful twirls adorned with numerous sequins. All in all the collection had just the right amount of seriousness, but also a playful touch.

www.iceberg.com 
Fashion
Machine-A Store Opening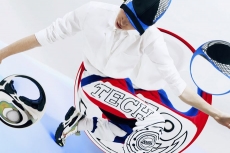 13 Brewer Street just became the new London home of fashion store Machine-A. After months of preparation store owner Stavros Karelis and stylist Anna Trevelyan finally celebrated their store opening. "We're open! Come say hi!" says Machine-A's facebook page in all caps and invites new visitors to come and have a look at the new shop.
It's the store's aim to promote skilled designers and to support the uprising talents of tomorrow from the London as well as the international design scene. Besides the garments of designers such as Raf Simons, Agi & Sam, Chalayan, Louise Grey and Nashir Mazhar, the store will also offer a variety of accessories. One of the store's current treasures is the Fred Butler X Swatch watch. With many more interesting pieces to be offered by the store, a bright future lies ahead for Machine-A.

www.machine-a.com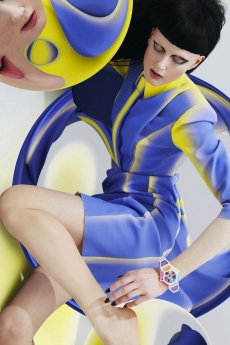 Fashion
Calvin Klein Fall/Winter 2013-14
Determined and with a confident walk the models at the Calvin Klein Fall/Winter 2013-14 fashion show present the garments for the cold seasons to come. It was Francisco Coasta's goal to bring back the coat with this collection, and so he did.
His original inspiration came from a coat worn by the leading lady in the Russian movie Ivan's Childhood, which looked feminine and very tailored at the same time. The coats of this Calvin Klein collection have broad collars and reinforced shoulders, while at the same time waist belts and pleats keep the shape feminine.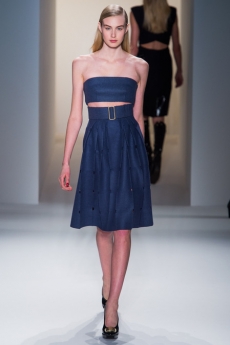 The square golden buckles of the belts reappear on the toe-caps of the chic pumps, which are worn as an alternative to black patent leather boots. While thick twill fabric is used a lot, so is shiny leather for coats, dresses as well as tops with boat necks and cut-out backs. The look of a bandeau top is combined with a high waisted skirt to form a dress that reveals a little more skin than it should in winter time. However, black, creme, deep greens and blues are the ideal colours for the frosty season.

www.calvinklein.com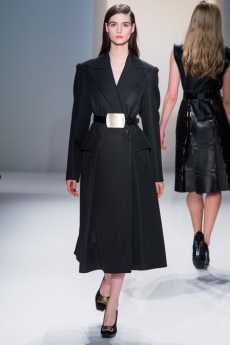 Fashion
Jason Wu Fall/Winter 2013-14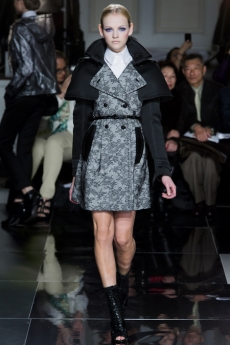 Extreme Feminity is the theme of Jason Wu's Fall/Winter 2013-14 collection. The idea behind it was to dress independent women instead of adolescent girls. Judging from the colours alone, they were more grown up than any of his collections before. The main colours ranged from black over silverish grey with black lace prints to white, while some garments were a warm caramel brown and bright red, just like the Jason Wu gown Michelle Obama donned for her husband's inauguration ball.
Wide collars competed against high buttoned up ones, furry details against feathery dresses. A clear feature of the outerwear were big pockets and lines of black buttons. A variation of black leather belts were worn around the waist of almost model, keeping the serious look together.
The styling was simple yet grown up – evenly parted hair and eyeliner-heavy make up. The scenerey of the runway show had an elegant look to it as well. A massive chandelier was hanging from the ceiling and shiny black tiles marked the path for the models to walk on. However, some garments undeniably retained a playful look with their see-through polka dot patterns and flying pleated skirts.

www.jasonwustudio.com 
Fashion
Raf Simons and Fred Perry Spring/Summer 2013
After successfully launching his Dior Haute Couture collection earlier in January, Raf Simons' new collaboration is just around the corner – with Fred Perry. The designer's vision meets commercial fashion and spices up the traditional tenniswear. The campaign's first teaser video was just released.

Three young men find themselves in a white spaceless place. In slow motion they are swinging their arms around and bobbing up and down the video's frame as if they were performing a very slow dance. With their soft hair and pure skin they look like lost boys. Jump cuts harmonize with the choppy electronic music of screeching sounds and cracking noise. Stressed and scared facial expressions give the video a tense atmosphere, which is in a way contrasting the smooth look of the classic Fred Perry polo shirt.
Eccentric leopard patterns in grey and rusty-red as well as bold blue-black houndstooth patterns cover the shirts, while the collars often stay in a classic black. In other frames of the teaser, the shirts are worn in a layered fashion and colourful collars compete with each other. To truly pay tribute to the collaboration even the logo has changed: Not Fred Perry's name but the one of Raf Simons is written below the brand's signature laurel wreath.

 
www.rafsimons.com 
 
www.fredperry.com 
Fashion
Pointer and COMME des GARÇONS Spring/Summer 2013
After last year's successful COMME des GARÇONS SHIRT and Pointer Footwear collaboration, they are pooling their talents once again for the new Spring/Summer 2013 collection. The classic Benjamin model is coming back in bright colours to be worn on sunny summer days.
Two different tri-coloured variations of the Benjamin will be available instead of the usual unicoloured model. One of the variations features a soft pink and an azure blue, while the other one features a deep green and luscious red.
The design of the shoe resembles a classic Derby or Blucher shoe, but at the same time it also passes as sportswear with its white slightly wedged cupsole. Looking dapper and athletic at the same time the shoe is easy to wear to many different occasions. All in all a relaxed yet smart package.

www.comme-des-garcons.com
www.pointerfootwear.com 
Fashion
Calvin Klein Spring/Summer 2013 Campaign
Provocations is the title of Calvin Klein's Spring 2013 ad campaign and its star is Alexander Skarsgard. The Swedish actor most known for his role as1000-year old vampire in HBO's True Blood appears alongside the Finnish model Suvi Koponen.
The Scandinavian couple is hot and sweaty wearing tight jeans in one scene, staring coldly at each other dressed in chic suits in the next. The entire campaign contains contrasting elements: Roaring fire in contrast to still black water surfaces. Modern symmetric architecture as the complete opposite of a shabby room furnished with an old TV set. Slow motion effects are used throughout the whole 10-minute clip, making fire explosions and the shattering of glass walls even more spectacular. The tiniest turquois glass splinters seem to be floating weightlessly through the air.



Each segment of the ad campaign has a different title: Part III. is entitled Wasting Time with Koponen daydreaming and chilling on the floor in a pair of skinny jeans. End Game is the name of another part with Skarsgard wearing a white suit and slowly lighting a match while staring at Koponen across the room. The campaign promotes garments, jeans and accessories by Calvin Klein all at the same time. The director of the film is Fabien Baron.

www.calvinklein.com 
Fashion
Vivienne Westwood Spring/Summer 2013 Campaign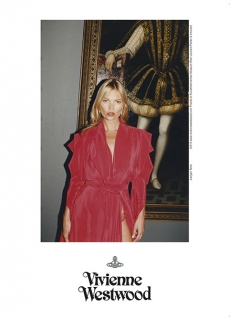 The Vivienne Westwood Spring/Summer 2013 campaign was recently revealed: It stars none other than Kate Moss, Westwood's husband Andreas Kronthaler and Dame Vivienne Westwood herself with her signature fiery mane. German photographer Juergen Teller shot the campaign in the Viennese museum for historic art.
It features garments of the Gold Label as well as pieces from the menswear and accessories line. The backdrop of the ornate golden frames, religious and antique oil paintings contrasts the rebellious feel of the collection and the provocative attitude of the campaign's protagonists.

www.viviennewestwood.co.uk 
Fashion
Lala Berlin Fall/Winter 2013-14
Hats, jumpsuits with diagonal zippers, long light coats with slits in the back and cool biker jackets remind of the punk attitude of the musician Patti Smith. Designer Leyla Piedayesh was inspired by Smith when she created her new Lala Berlin Fall/Winter 2013-14 collection.
However, the designer's ideas are also strongly influenced by her Persian decent. Oriental and ethnical patterns are featured in many of the garments mixed with static geometric patterns.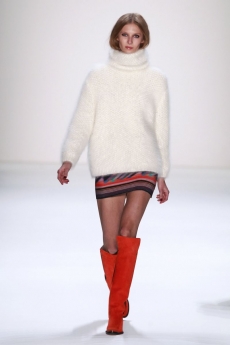 In terms of shapes there's a contrast between wide or long tops and extremely short bottoms. Big woolen jumpers are long enough to be worn as dresses, but are paired with very short skirts peeking out underneath. Any material from cashmere over mohair to angora is used for the thick knits and snoods. Other fabrics are different kinds of silk and leather. The range of colours includes black, grey, blue, red as well as a soft pink.

www.lalaberlin.com 
Fashion
John Varvatos Spring/Summer 2013 Campaign
In John Varvatos' new campaign two generations of guitar virtuosos meet: For once it features the legendary rock guitarist Jimmy Page from Led Zepplin, undoubtedly one of the greatest rock and roll bands of all times. The 28-year old Gary Clark Jr. is his counterpart, a young emerging musician, who released his debut album last Fall and has already been widely praised for his talents as a guitarist, a singer and a songwriter.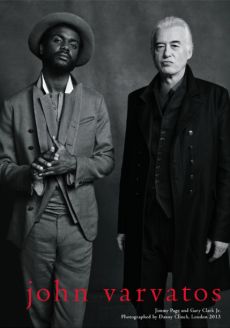 "Having 'The Master' and the 'Young Guitar-Slinger' together in our campaign is a dream come true", says the designer John Varvatos himself. The brand has ever since had an affinity for stylemakers within the rock'n'roll scene.

Photographer Danny Clinch captures the two musicians in a classic black and white portrait. Its simplicity gives the image even more impact. The scenery of the campaign is the famous 1950's concert venue Rivoli Ballroom in South London, where music legends like Tina Turner used to perform. The video clip was shot there as well and is worth taking a look at.


Fashion
Iceberg Fall/Winter 2013-14
Everything looks geometric. A clear structure is the key to the Iceberg Fall/Winter 2013-14 collection. Inspired by the modernist Bauhaus architecture and design, the garments are equally well structured.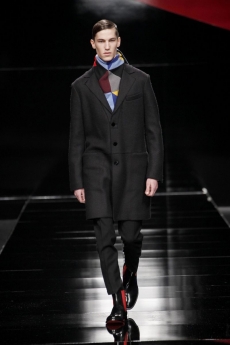 Pumping beats and a robotic voice serenaded the models' static walk down the runway, who resemble robots themselves. Square patterns and necklines are key elements of the collection and  appear everywhere. Soft cashmere and wool yarns are woven into contradicting rectangular patterns.
All in all the collection has a very modern and sporty feel to it. Apart from black and beige, the dominant colours are a bright red, a shiny yellow and a deep blue. Back to the primary colours, back to the roots.

www.iceberg.com 
Fashion
Chanel Haute Couture Spring/Summer 2013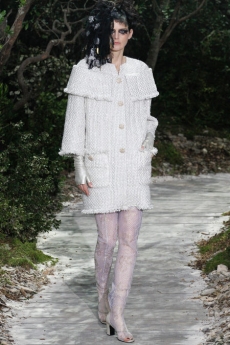 For the Chanel Haute Couture S/S 2013 the Parisian Grand Palais was transformed into a forest: It seemed like tall trees had grown out of the floor surrounding a beautiful amphitheatre overlooking the whole scenery. On a winding path the models made their way through the forest looking stunningly elegant – in thigh high boots out of silver leather or toeless delicate lace.
Through the whole collection an accent on the the neck and the shoulders can be seen. Necklines below the shoulders show a bare neck as a sign of pure and gracile beauty, but square applications on the shoulders and upper arms give the upper body a contrary strong look. Long sequin covered gowns, tulle and lace hems are essential parts of the collection as well. While the show started off with fabrics such as tweed and bouclé, the show finishes of with dresses made of thousands of feathers complementing the feathery hairpieces of the models and the birdsong heard among the trees.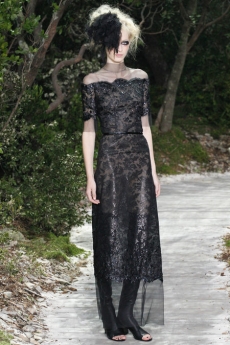 The presentation of the wedding dress makes a clear statement about the ongoing disputes concerning the legalization of gay marriage in France. Only two weeks back hundreds of thousands of people demonstrated near the Eiffel Tower opposing gay marriage, but yesterday two models in the same wedding dress were holding each other's hands while walking down the runway. Lagerfeld's godson accompanied both of them and gave expression to the designer's thoughts on gay marriage and gay parents raising children.

www.chanel.com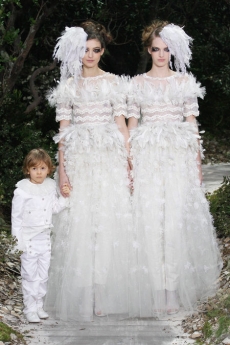 Fashion
Cerruti 1881 Fall/Winter 2013-14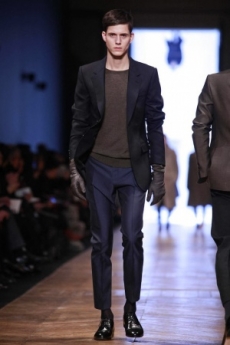 What do you get when an Italian founds and builds a house in Paris? The answer, today, was Cerruti 1881. Long coats in classic colours - black, navy, and camel - were elegant and looked made to match anything. But details - like buttons lining up slyly in the back, a few inches from the hem upwards; or leather-trimmed lapels that in black felt dramatic - were a touch of rebelliousness that felt in line with Paris collections.


Black coats, one in a formfitting suede with a mandarin collar, and another one hooded and loose enough to hide in, added to an aesthetic that seemed to be on a quest for individuality. Subdued sweaters and trousers - 'basics' - then reigned this spirit in. And so teetering on a line between very wearable and and a tad bit developmental, the show came to a close, leaving the question of where new designer Aldo Maria Camillo will take the brand in the future. 

www.cerruti.com 
Fashion
Valentino Fall/Winter 2013-14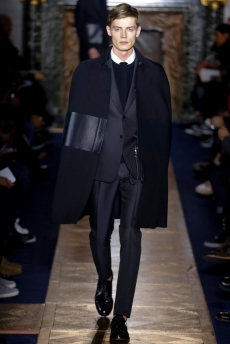 Paris Fashion menswear week started last wednesday and one of the first houses to present their collection was Valentino, who moved the menswear from Italy to France. The Valentino man's new house is the prestigious Hôtel Salomon de Rothschild, where the Valentino Haute Couture woman also lives. Maria Grazia Chiuri and Pier Paolo Piccioli are known for experimenting with material. In this collection, which was London-inspired, they found a way to heat-bond leather to other materials, a technique they picked up during their background in accessories. Broad bands of leather were applied to coats and capes in navy and black. An oversized pied-de-poule motif was printed with the same technique on a smaller version for a trench coat, being both graphic and subtle.
As much as Maria Grazia and Pier Paolo like to push things forward, their menswear never crosses the fine line into fashionable jibber-jabber. Capes, normally considered not the most wearable pieces for men, looked rather relevant. Sharp suits were spiced up with a scarf in cashmere and fur that are attachable to the button of a jacket, as a modern reference to the formal scarf worn with tuxedos. The notion of shadow has been a recurring theme in Valentino's vocabulary of today, and was noticeable in the combination of black and navy and the 'double revers', a darker patch of silk under the lapels. Recurring details like the camouflage, this time in black and grey, and studs, can not be considered as seasonal trends anymore but are part of Valentino's staples, as if it never was any other way.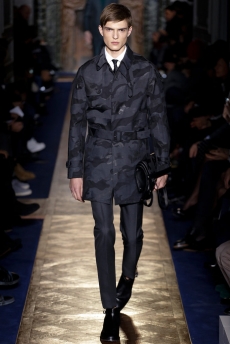 Haute Couture influences always was an important theme for the designers but opposed to before, when the clothes moved away from the body, this season they were much tighter and therefore more sensual, molding around the body because of their knitted backs and use of soft leathers. Materials were mixed to ensure comfort with a leather shirt lined in cotton and a viscose sweater that was cashmere in the inside. The insides of clothing offer a complete new world for the wearer, with a simple mac with a down-jacket interior and a fur coat with a sporty lining.

www.valentino.com
Fashion
Moncler Gamme Bleu Spring/Summer 2018 Menswear
Thom Browne brought his signature hand-made tailoring sensibility to Moncler Gamme Bleu Spring Summer 2018 Menswear collection. Thus was born a perfect conflation between Browne's flair and the brand's expertise in active sportswear and outerwear for a collection that highlights an ease in seasonal transitions.

Down-filled looks made with over-sized plastic zippers and worn over identical looks without the down-filling epitomise the concept of smooth change. The collection was split into three colour-coded subcategories: grey and grey and white, red, white and blue and formal.

Trademark Thom Browne tailored pieces were present in traditional suit material iterations as well as more technical versions that incorporated highly functional fabrics such as technical wool and cashmere, nylon, ripstop, mesh and rainproof slicker.

www.moncler.com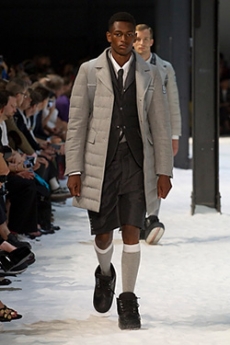 Fashion
HUGO Spring/Summer 2018 Fashion Show
Presenting its mens- and womenswear Spring/Summer 2018 collection, HUGO transformed a factory in Florence into a candle-lit fashion show.

As a tribute to the spirit of the artist, the collection and the space itself illustrated all kinds of sketches and paint strokes that symbolises art and expression. An artist's unconventional perspective upon things, living according to his own rules with an sensitive yet careless attitude, just like the brand characteristics of HUGO, served as inspiration for the collection.

Many of the styles are in collaboration with the Designer Charles Jeffrey, with cut and shape inspired from the first HUGO collection from the year 1993, alongside completely redefined tailoring. The collection also presented oversize jackets and jumpsuits to create a unisex look with a color palette inspired from the artist's studio, reaching from neutral tones to shades of blue, yellow and of course the classic HUGO red.

For HUGO, this Spring/Summer collection is also all about the accessories. From oversized men's bags, sneakers with chunky soles, to long earrings or pearl chains, they all contributed to a playful look.

Amongst M.I.A, Anwar Hadid and many others, present at the show was also ZOO Magazine's current cover star, Gabriel-Kane Day-Lewis, all wearing head-to-toe HUGO.

hugoboss.com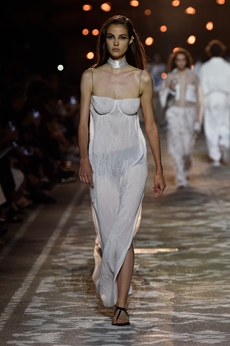 Fashion
Ermenegildo Zegna launches Bespoke Atelier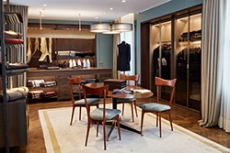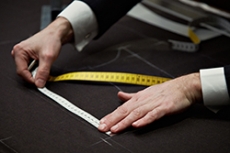 March 15th 2017, marks a pivotal stage for Ermenegildo Zegna, as it announces the opening of the first Bespoke Atelier. The space is dedicated to the label's bespoke service and is locate at the top floor of the Zegna building in Milan's renowned via Montenapoleone.

The stand-alone project revolves around the idea of intimate elegance with a distinctly Milanese feel and treats its bespoke services with a precise ritual. The experience begins right at the entrance where clients are welcomed by a valet and ushered in the Atelier which is conceived to comply with aesthetics and functionality of traditional tailoring ateliers: an apartment cum workshop with the public and working areas connected yet separable.

The large space is furnished with both vintage and new pieces as well as pieces that hark back to Zegna's very own history. Warmth and charm intermingle with a domestic feel making this a truly unique tailoring experience that strengthens the dialogue between the Milanese brand and its customer base of men of discerning taste who aim to have their wardrobe made according tot heir own desires, demands and lifestyles.

www.zegna.com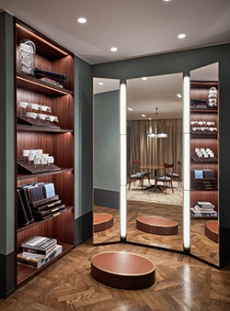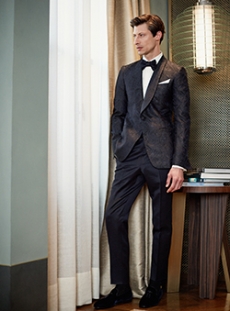 Fashion
Céline Fall/Winter 2017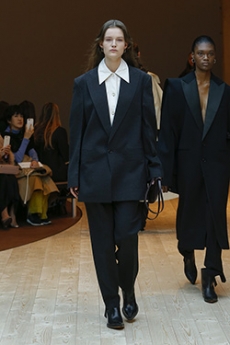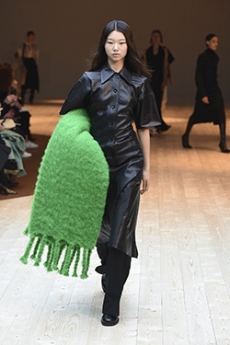 "The spectator is caught under a cloudy or a starry sky, surrounded by ocean waves or masses of people running towards him, while he is entranced by the dramatic actions of the central round arena. The division between acting and the audience no longer exists. Words, light and music no longer have a set place […] The director alters position and spatial forms and mercilessly subjects the audience to the dynamics of his imaginations".

Walter Gropius's words during 1934 Volta congress in Rome resonate strong in Phoebe Philo's setting choice for her Celine Fall/Winter 2017 show. It's not the first time that a fashion designer is fascinated by the visionary ideas of the Bauhaus pioneer for his Total Theater, where the audience was supposed to revolve during the performance, shifting the spectators and the stage area to alter the viewer's scale of values and forcing them to participate in the act.

We have known Phoebe Philo for her no-nonsense vision and relaxed, elegant silhouettes as the embodying of the powerful, confident working woman who has no time for superfluous fuss. The catwalk was populated by a tribe of women, with their different life, different tempo, like we would find in any busy street.

At first glance Celine Fall Winter 2017 is just all that. Exceptional tailoring and gimmick-free looks: the long trench coat, oversized tuxedo blazers, long tunics with matching fluent pants for the day and a modern version of emperor dresses for a more dress-up feel, a crisp white shirt.

But Philo's masterly created a collection again beautifully lying in the details, revealing its stance dramatically at a closer look.

The collection featured beautiful origami-like seam lines as mimicking the movement of the body and its presence. Like when you bend your harm and a crisp fabric would inevitably crease. It's real life that Philo delicately suggests. Real women who don't need to scream.

www.celine.com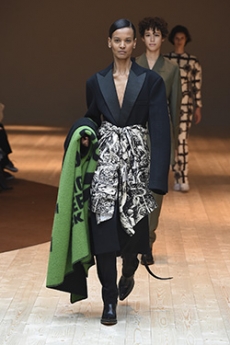 Fashion
Mugler Fall/Winter 2017
Natasha Poli storming the catwalk in a blue patent leather blazer with arched shoulders and slim pantsuit. The atmosphere was fierce and as the models powerfully marched in one after the other, the message that creative director David Koma surely had in mind was clear: effortless and daring, Mugler's woman will not be unnoticed.

Don't be mistaken: this is a powerful and confident woman who will embrace her body, in all the declinations, with no fear.

David Koma created a collection constellated mainly with evening looks. Vertiginous minidresses with cut-out star details at the bottom hemline or embroidered on the bodice, hourglass silhouettes with pleated lamé in acid green and electric blue, a long white gown with pleated contrast silver lamé. But also power suits with sharp sculptural shoulders in contrasting colours, pants-blazer combo in white, silver, black.

The last look, a dress deconstructing the idea of a smoking suit into an evening gown, said it all: Koma is in search of reinventing the house codes, keeping the identity of this iconic brand strong.

www.mugler.com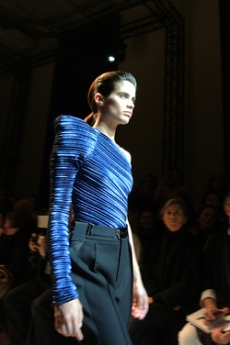 Fashion
Rick Owens Fall/Winter 2017
Sweatshirts and tees wrapped around the head, mimicking early ritual ceremonies. Coats, skirts, sleeveless jackets layered and twisted over the body recalling sacred costumes.

Rick Owens for Fall Winter 2017 designed a collection channelling the need for a positive new beginning rooted in the idea of collectivity, of gathering together, of human kind in its social form. It had a sense of austerity, of deep hope for a better future. As the model walked in the dry space of Palais de Tokyo, one following the other and randomly walking around the space it felt as a vortex of shapes, volumes and lengths was wrapping up the audience.

Deconstructed silhouettes of puffa jackets, blasers together with leather dresses pulled down and worn as captured in the second of taking them off. There was a strong sense of moving on, of change and positive transformation for a designer who has been building his reign on shades of darkness. Rick Owens chose a colour palette recalling his early work: olive green, khaki, black, shades of brown. It was as if the designer was looking for the initiation moment. The rebirth, the celebration of a future soon to come.

www.rickowens.eu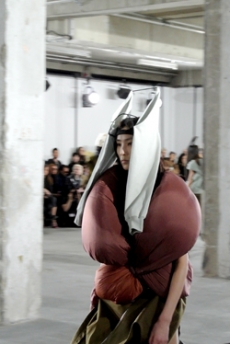 Fashion
Louis Vuitton Fall/Winter 2017: Forging Frontiers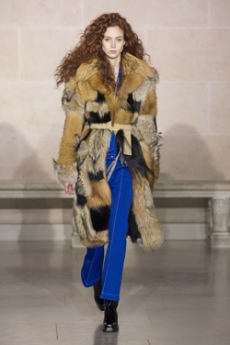 Nicolas Ghesquière had one goal in mind for his Fall/Winter 2017 collection as head of Louis Vuitton – pushing boundaries like the legendary French fashion house has been doing since its 1854 beginnings. Frontiers are meant to be broken down and Louis Vuitton has been at the forefront of innovation, know-how, design and travel, all elements that set it apart from its counterparts are continue to characterise its offerings every season.

Ghesquière wanted to re-create that very sense of boundarylessness that doubled as more of a directional seasonal messages rather that an array of options for city living. This was an evocation of the nomadic, where the city blends with distant landscapes, the masculine blurs with the feminine and Louis Vuitton heritage meets a thirst for the future. A new play of stylistic lines emerges: great American sportswear classics and Slavic accents, inspirations from fashions of the past translated into the world of today, urban classics fused with the magnetic pull of folklore.

This may come as no surprise but beautifully-treated leather was central to this collection: super polished or crackled giving the impression of age and wear. What was perhaps more noteworthy is the attention that designer paid to fur this season. Short-sleeved, patch-worked jackets were paired with relaxed, cropped flares but could up the ante when thrown over an evening dress.

Ghesquière's evening wear offering moved away from last season's dramatic naked dresses. He opted instead for knee-length slip dresses with elaborate pleats, lace insets, sheer details and fabrics with clashing prints in an attempt to infuse the collection with an easy-going, laid-back attitude.

www.louisvuitton.com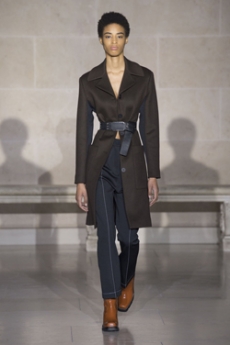 Fashion
Raf Simons presents his Fall 2017 collection for Calvin Klein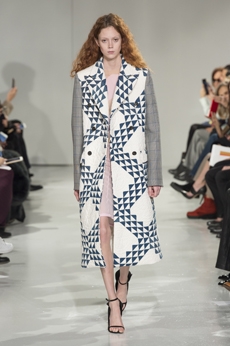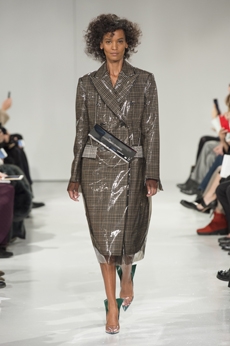 Raf Simons' debut collection for Calvin Klein was a hotly-anticipated event in this year's New York Fashion Week calendar.

Remaining true to his allegiances, Simons enlisted the help of friend and artist Sterling Ruby, giving him free reign to imagine artwork appropriate for the iconic brand's headquarters. Ruby imagine America.

Raf Simons and Calvin Klein Creative Director, Pieter Mulier created a collection that featured both women's and menswear for Fall 2017 and is in itself an homage to America. "It reflects the environment" said Mr. Simons. "All of these different people with different styles and dress codes. It's the future, the past, Art Deco, the city, the American West... all of these things and none of these things. Not one era, not one thing, not one look. It is the coming together of different characters and different individuals, just like America itself. It is the unique beauty of emotion in America."

This was a collection in which each piece communicated with the rest; one material impacted another and one style impacted the upcoming ones even in the same silhouettes making for a collection that echoes the essence of diversity.

Marching band uniforms, plastic coated protection, power broker tailoring and antique handcrafted quilting, workwear and westernwear made for this unique parade. The collection finds equal merit in folk and function, food court and courtroom in a romantic and filmic outsider's view of the uniqueness of America.

www.calvinklein.com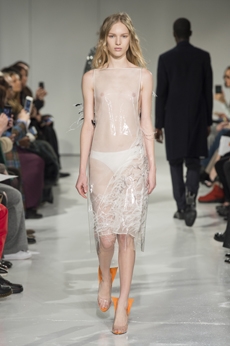 Fashion
Ermenegildo Zegna's Defining Moments
Every story worth being recounted begins with a defining moment. Ermenegildo Zegna's latest campaign focuses on just that: precious interactions, settings and conversations that trigger potentially life-changing reactions for its participants.

Robert De Niro, an actor known and revered the world over requires no introduction but it is safe to say he is no fashion ad regular. Alongside him, American Honey break-out star McCaul Lombardi whose performance generated Hollywood buzz at the end of last year. Actors of different generations, with wildly different experience levels but with an affinity that transcends age.

The campaign, shot by film-maker Francesco Carrozzi sees the actors interacting both with each other and the Zegna garments they have chose to wear and recalling their Defining Moments. De Niro's mentors, his philosophy of risk-taking and what draws him to a role are all put to the table. Lombardi appears genuinely awe-struck and profoundly respectful of his older, more experienced counterpart as he shares his experiences.

A free, real and passionate exchange that bridges a generational gap and lies at the heart of Ermenegildo Zegna's philosophy. A merging of the intensely artisanal and industrial elements that form the brand's DNA and expresses its values.

www.zegna.com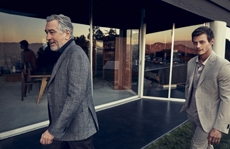 Fashion
Y/PROJECT Fall/Winter 2017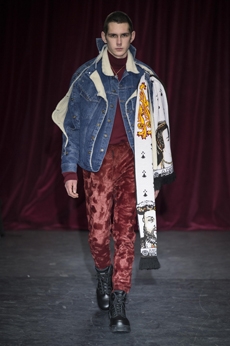 A mobius of forms, shaped in the seam lines, leading to dramatic volumes. Beautifully balanced but also true to his roots, Glenn Martens created a collection where Y/Project's identity is declined to a new sphere, all played through Martens' all-time favourite ironic approach to dualities.

The low and the high, the elites and the masses, deconstructed garments and slouchy fits. Between historical reinvention and street culture, Y/Project's Menswear collection for Fall/Winter 2017 continues to master that relaxed and youthful attitude that has characterized Martens' work from the start.

Doubled silk shirts, deconstructed faux fur, reinvented corduroy suits, slouchy oversized track suits straight from a rapper's videoclip, followed by the impressive sweatsuits with wired piping in a blobbing volume, reminiscent of that mantle draping we have seen on 1808 Jean-Auguste-Dominique Ingres's portrait of Napoleon.

As Napoleon and consort printed on scarves in football merch fashion - part of Martens' playful reference along with other royal couples such as Louis XVI and Marie Antoinette - steal the scene and we cannot choose. We can only root for this talented Belgian designer.

www.yproject.fr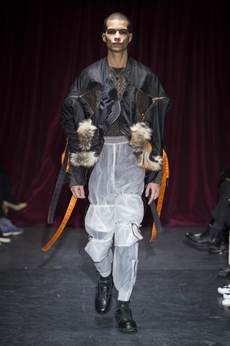 Fashion
JUUN.J Fall/Winter 2017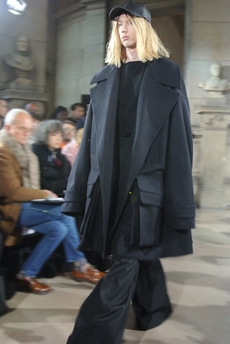 As the models stormed inside Universite Rene Decartes's suggestive neoclassic space, and the fluid body of Juun J's work floated around, we caught the power of history. The history of this brand evolved within the last ten years into an acclaimed fashion forward entity. for this celebratory collection Juun J - in name of a decade spent imagining the future of his eponymous label - choose the emblematic subtitle: "Archive".

Oversized long sweaters, heavy, massive, almost suffocating in all their fierce presence. The architectural outwear, the brand's signature trench coat and the MA1 bomber jacket. All the iconic pieces of Juun J's past collections, in a splendid parade, as an ode to this Korean designer who has influenced the wardrobe of boys and girls in recent years. The girl who has been wearing Juun J forever and who got a special place in the future course: the new Juun J will have from now on feature a Womenswear collection.

And so the oversized cargo pants transformed into high waist long skirts with maxi pockets on the hips and slits on both sides which will be a hot piece for next season. Khaki, military green, black, white and pin-striped blue: the palette focused on the brand's favoured colours. The large parachute hooded outwear with a myriad of swinging straps were certainly the protagonists, underlined in the closing act when all the possible declinations marched in, as if to suggest the impetuous movement and space of Juun J in the upcoming decade.

www.juunj.com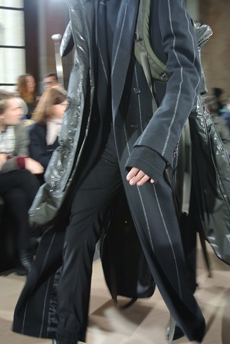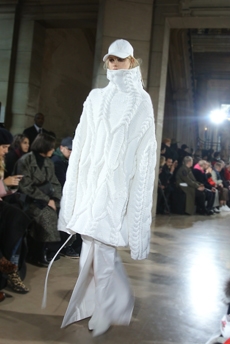 Fashion
SANKUANZ Fall/winter 2017: the chemistry collection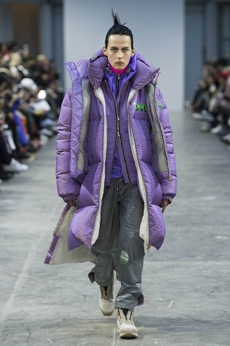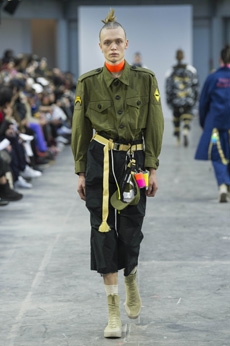 Standing for the reversal of an established system and breaking away from political correctness, that is what epitomises the Sankuanz Fall/Winter 2017 collection that explores space and chemistry.

Designer Shangguan Zhe's latest collection holds man's relationship with space and chemistry at its core, proposing garments that overlap with the idea of consuetude. Military uniforms with raw edges, primitive top-stitched suits and parkas, jumpsuits with industrial strap and bio-chemical protections, just a few examples of Zhe's research-based project. Zhe, indeed, created his own textiles mixing industrial materials and aramid fibers, usually used for spacesuits to give birth to his undoubtedly contemporary and updated vision.

Silhouettes are completed with accessories like visored bucket hats, pop military backpacks and high-top sock sneakers in a color palette that is everything but boring.

www.sankuanz.com
Fashion
GmbH Fall/Winter 2017: When a thought becomes you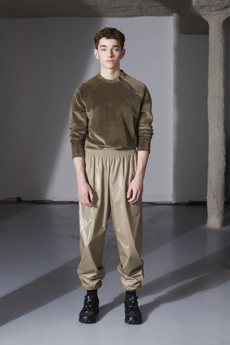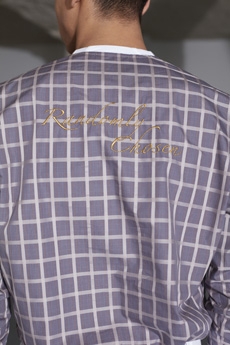 In a Society of Limitations where people are together yet alone, GmbH addresses the situation with an inclusive Fall/Winter 2017 collection dedicated to different shapes, gestures and manners.

The collection paired fashion with sustainability featuring bi-colour cropped GmbH biker jackets reworked from recycled, reversible Helly Hansen puffer coats, cropped jersey hoodies and fine knit athletic bodies of partially recycled fibres. A shot of glamour is given by tight lycra and velvet long-sleeved jumpers in a color palette inspired by artist Alexandra Bircken. Moreover traditional carpenter's guild trousers and gold embroideries enrich the outfits for an even more personal touch.

As GmbH declared: "These are directives for care and wear, eine wahre Geschichte, eine Warengeschichte, a true story a history of wares."

www.gmbhofficial.com
Fashion
Take a walk on the wild side with Christian Dada's "Blue" collection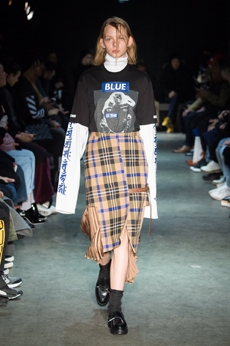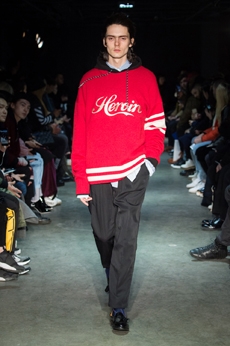 In the name of "Blue", Christian Dada's latest collection is a hymn to Japanese color traditions. Blue evokes feelings of rebellion, frustration, incomprehension that surround troubled youth.

Reaching out to our inner adolescent, the collection revolves around the concept of deconstruction that is obtained with sophisticated methods of shaping and layering. Mixing Eastern and Dadaist aesthetics, designer Masanori Morikawa plays with classic tailored jackets worn like kimonos wrapped around T-shirts and striped pajamas. Trench coats morph into tunics and army bombers and denim jackets are ripped into and skinned to expose their bone structure.

Tartan motifs and schoolboy sheepskin jackets collectively pay homage to College fashion. With slogans like "I Don't Like Drugs but Drugs Like Me" or "Too Fast to Live Too Young to Die" making appearances throughout the line, Morikawa's collection echoes messages from modern society.

Playing with double entendres is a trademark of the Dadaist mood board that definitely urges one to take a walk on the wild side.

www.christiandada.jp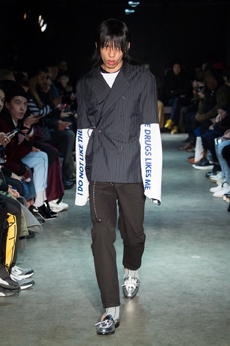 Fashion
Out Of The Blue comes Peuterey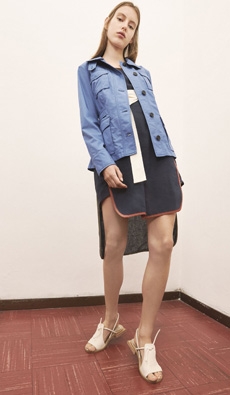 Peuterey wraps its timeless designs into the most diverse shades of blue for its Spring/Summer 2017 collection.

In Out of the Blue, a name that perfectly encapsulates the collection's essence, Italian elegance meets functionality, conceiving a wide range of models that suit our everyday life perfectly, just like their key-color does.

Whether it's trench coats, leatherjackets or blazers – creative director Federico Curradi, has definitely set a new trend for this Spring/ Summer season.

www.peuterey.com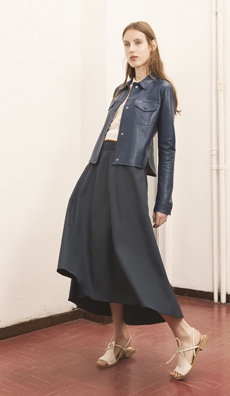 Fashion
FENDI Spring/Summer 2017: it it girls in a pink pink world
Sisters Bella and Gigi Hadid are undoubtedly a winning model duo in this day and age. For Fendi's Spring/Summer 2017 campaign the Hadid siblings join forces with Italian model Vittoria Ceretti to bring the brand's latest collection to life.

Set in a Parisian apartment, Karl Lagerfeld created a pastel-coloured world with floral wallpapers, infusing a fresh, young campaign with a delicate touch. Bella, Gigi and Vittoria reflect the brand's proposed shabby chic aesthetic while paying homage to Fendi's DNA in an ultra feminine way.

Fendi's Peeakaboo, Dotcom and Strap You bags are given candy-coloured makeovers, further enhancing their status as must-have accessories for the summer season. Fun fur details transform these into the perfect companions for these contemporary Marie Antoinettes.

The intimate, romantic and magical atmosphere created is made current with the addition of an edgy, sporty twist. Classic, yet current and so very Fendi.

www.fendi.com
Fashion
Schiaparelli's Haute Couture moment has come
Schiaparelli Maison, Chanel's historical rival is definitely back on the scene after a long hiatus. This January marks a milestone for the celebrated maison as the French Chambre Syndicale de la Haute Couture decided to enlist Schiaparelli among the 15 fashion haute couture brands existing in the world.

Ravaged by the aftermath of the war, Elsa Schiaparelli closed her iconic Paris "Schiap Shop" in 1954, the very same year that saw the release of her autobiography "Shocking Life". It was only three years ago that Italian businessman Diego Della Valle decided to revive Schiaparelli, believing in the power of its indomitable style and unparalleled innovative techniques.

Alongside stores of long-established brands in the field such as Chanel, Givenchy and Dior to name a few, Elsa's shop in Paris' Place Vendome is opening its doors again to pick up where it left of, starting a new chapter in haute couture history.

www.schiaparelli.com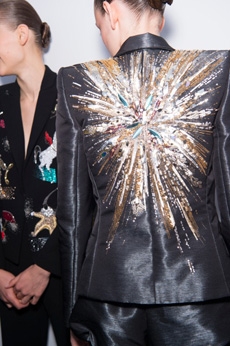 Fashion
LOUIS VUITTON CELEBRATES 30TH ANNIVERSARY IN BERLIN
France and Germany join in for the celebration of 30 years of Louis Vuitton, the brand synonymous in everyone's mind and many hearts with élégance française.

Louis Vuitton celebrated its birthday with the opening of its latest concept store in Berlin's Kurfürstendamm. Celebrities and influencers from the world of fashion were present to mark the joyous occasion. A combination of craftsmanship, savoir-faire, continuous innovation and heritage - all keywords for the long established brand as well as the city that played host to its celebrations.

Berlin incomparably contemporary dynamism and Parisian haute couture give birth to 'amour toujours'.

www.louisvuitton.com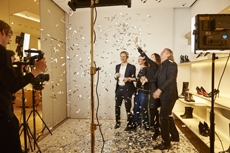 Fashion
DIESEL creates ALRITE: the timeless watch that takes art to the street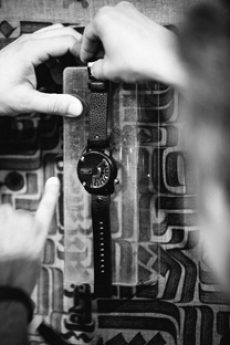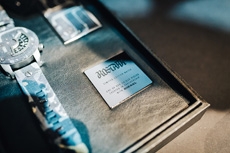 To do good and in an innovative way has always been considered one of Diesel's mottos. This winter and in collaboration with Fossil, the Italian brand has undoubtedly hit its target with its latest project: the Diesel ALRITE timepieces.

Cut out from 150 square meters of original artwork by Rostarr, who collaborated in the design of this accessory, ALRITE is literally a work of art that endures the passage of time while paying homage to both art and Diesel's DNA.

The 555 pieces that make up this Limited edition collection are completely unique and each different from one another, making for one-of-a-kind watches. This feeling of exclusivity is exactly what this hand-wrapped genuine leathers watch brings to the wearer by intertwining the aspects of time and timelessness.

Moreover Diesel ALRITE teams up with Sotheby's to reinforce the message of not only bringing art back, but also doing so for a good cause. Three pieces from this unique collection will be auctioned via e-bay for charity. Funds will be donated to the Only The Brave Foundation that has been working with Diesel for many years to fight against social inequality and working on sustainable development across the world.

"Create products that draw the line between pragmatic and fashion forward" this mission has been definitely brought to life.

www.diesel.com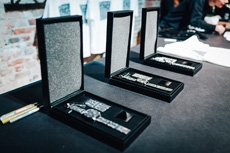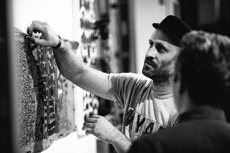 Fashion
PIRELLI CALENDAR 2017: An Unfiltered Emotion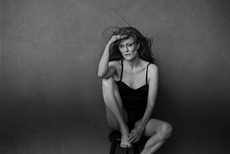 "In a time when women are represented in the media and everywhere else, as ambassadors of perfection and youth, I thought it was important to remind everyone that there is a different beauty"

'Emotional', the title chosen by Peter Lindbergh for the 2017 edition of the iconic Pirelli Calendar. No other word could strike such a chord in women's hearts that, nowadays, find themselves fighting against unrealistic beauty standards imposed by society. Fighting to fit in a world in which all things beauty are accompanied by a certain degree of fakery.

Pirelli Calendars have always been seen as conveyors of a specific message of perfection that could be hardly afforded by us, mere mortals. Following Annie Leibovitz's thread of last year, Lindbergh decided to let beloved actresses shine through their nakedness. Not a nakedness imposed by the lack of garments but by the absence of filters.

The choice of abstaining from Photoshop editing is indeed the leading theme of the 2017 Calendar, which includes actresses like Uma Thurman, Penelope Cruz, Nicole Kidman, Kate Winslet and Julianne Moore in all their natural feminine splendor. The beauty that speaks about the courage of being yourself in your own sensibility.

Lindbergh's message wants to reach all women who feel worthless, despicable, and inadequate in a way that only an artist of his caliber could achieve.

www.pirelli.com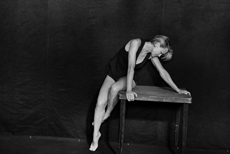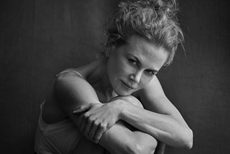 Fashion
Prince Claus Fund Gallery welcomes El Anatsui: Meyina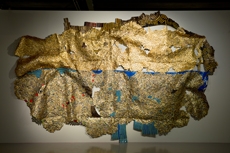 As of the 24th of November and as part of its continuing mission to collaborate with artists from backgrounds where opportunities for cultural expression and creative production are limited, Amsterdam's Prince Claus Fund Gallery will be hosting El Anatsui's Meyina exhibition.

Curated by independent curator and founder of the Centre for Contemporary Art – Lagos, Bisi Silva, Meyina paints a portrait of the artist that brings together disparate fragments that form a whole. The exhibition includes an array of materials from the artist's workspaces and past collaborations.. Sketchbooks, drawings and letters offer a unique glimpse into Anatsui's creative process.

The Ghanaian artist transforms found materials into large shimmering forms by assembling elements into vibrant patterns with a unique visual impact. Large-scale assemblages of thousands of pieces of aluminium sourced from alcohol recycling stations, are sewn together with copper resulting in an interesting texture that resembles woven cloth. El Anatsui's visually impactful cloth-like wall sculpture serve as contemporary commentary on African history, colonialism, post-colonial reality and the daily reality the continent faces.

In the exhibition the concept of a limitless horizon, an immersive space where possibilities become real resonates. The artist's dedication to exploring political and environmental issues through his work's raw materials has established him as a staunch defender of artistic freedom and an inspiration in the development of the visual arts in Africa.

Paraphrasing Ghanaian author Kofi Anyidoho, Anatsui states that, 'when I am in the studio it is as if the sky bends down to have a word with the earth.'

The exhibition, launched as part of Amsterdam Art Weekend, will run until April 28th 2017 at the Prince Claus Fund Gallery.

www.amsterdamart.com
www.princeclausfund.org
Fashion
The Pareo - Miu Miu's revolutionary skirt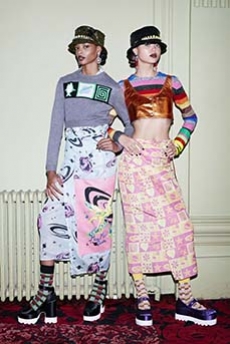 Miu Miu's Resort 2016 collection features the "Pareo skirt". This journey-inspired design makes heads turn and conversations start making it one of the collection's stand-out pieces.

With patterns that evoke 90s rave culture, this skirt strives to be infinitely adaptable, audacious and representative of the Miu Miu girl's independent spirit. She travels the world, she rejects formality and she makes her own rules.

This light-hearted take on such a long-established garment is what gives it its democratic feel. Already well-loved in continents as diverse as Asia and Africa, it is seen worn by both men and women, further accentuating the beauty of gender fluidity.

"Pareo" is packaged in a special soft fabric envelope stamped with the iconic Miu Miu logo, as to leave the indelible mark of brand's revolutionary spirit in our wardrobe.

Uniqueness is this skirt's keyword: no two people need ever wear it in quite the same way.

www.miumiu.com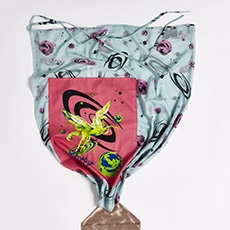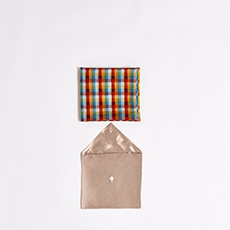 Fashion
Ermenegildo Zegna Mayfair store – A modern tribute to tradition
London's Bond Street has been the home of the Ermenegildo Zegna's flagship store since 1987 and yesterday, after a lengthy renovation project, it re-opened its doors to the public. An ode to the brand's use of quality materials, integrity and modern style, the new store is the product of a fruitful collaboration between Zegna and architect Peter Marino. 

Among classic modernist art pieces that convey the timelessness of Italian style and design, a specially-commissioned wall tapestry by William Kentridge, provides a snapshot of the company's centennial progress. The South-African artist used portraits of the founder and elements inspired by key moments in the brand's journey, successfully bridging the gap between tradition and modernity. 

Additionally, a nine piece bespoke men's shoes collection will be exclusively available at the London flagship store. Designed by artistic director Alessandro Sartori, models range from casual to biker boots – all of them inspired by nine personalities close to Sartori's heart. The Bespoke Shoe Collection represents the best in modern luxury while allowing the modern man to adopt an elevated approach to his individual style. 
Fashion
Toni & Niklas Garrn announce EQL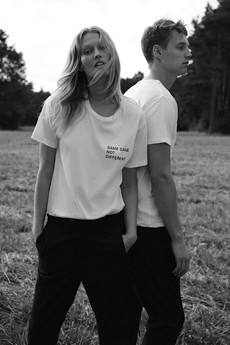 #samesamenotdifferent, the hashtag for sibling design duo Toni and Niklas Garnn's EQL unisex collection in collaboration with Closed. Twelve exclusive pieces ranging from size x-small to x-large, offering sporty, chic and classic designs. Back in 2008 Toni Garnn started out modelling for Closed and sat behind the design table six years later. She has now joined forces with her brother Niklas to create the genderless collection, proposing contemporary, minimalistic and comfortable fashion. Following the current zeitgeist, with gender slowly fading, as well as always having swapped clothes, equality is an important topic for the Garnn siblings. "EQL stands for a particular attitude as well as for the lifestyle that we both live: sophisticated, uncomplicated, open and free," Niklas says.

www.closed.com
Fashion
Louis Vuitton Spring 2017 Ready-to-Wear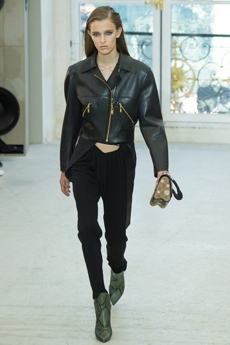 Women. Or like Nicolas Ghesquière likes to call them: Heroines. Powerful characters who conquer the scenes. Indisputable free and unique. Like Louis Vuitton's ambassadresses – from Léa Seydoux to Alicia Vikander and Catherine Deneuve, Doona Bae, Michelle Williams – all present, attending the Spring Summer 2017 show. Nicolas Ghesquière delivered a collection of poignant femininity. An interest that he already expressed in the last Louis Vuitton book, the forth of the serie: "I like to see women walking, moving. To see how fabric falling in a certain way can enhance the body; the femininity that interests me is about energy and vitality". Ghesquière woman is strong yet sinuous. Fluent dresses with midriff cutouts in jersey channelling that sensuous look, power boots as out of a manga heroine, or sheer gowns with padded shoulders hinting military epaulettes – fitting the Place Vendome scenic heritage, where the show took place. Generaless of conquest, witty, travelling – as rooted in Louis Vuitton's spirit. "6 GIRLS 6 MINUTES", the short film directed by M/M PARIS for Louis Vuitton just released to present the new collection gives a glimpse of that modern "Parisienne" attitude. A portrait of six different girls around the world in love with the French capital.

www.louisvuitton.com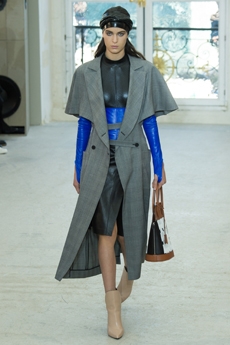 Fashion
Céline Spring 2017 Ready-to-Wear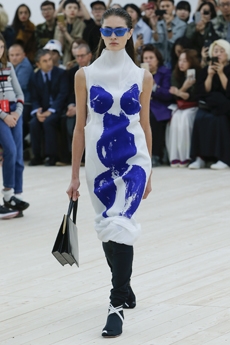 "All artists are alike. They dream of doing something that's more social, more collaborative, and more real than art". The words of Dan Graham resonate across the vision of Phoebe Philo for Céline Spring Summer 2017. The American artist, writer and architect created a spatial installation for the show, a work along the series of his "Pavilions", where transparent partitions divide the space while enabling the view toward the world on the other side. Its sounds, the flaws. Céline collection for next Spring has a sophisticated urban vibe. It pictures a multitude of women as vast as the everyday city grain. The romantic overalls in mousseline peaking from pant suits. A practical cotton oversized shirt attached to a pleated skirt to form a midi dress. The unpredictable mismatched shoes. Different personalities. At a closer look the most incredible luxurious detailing emerge, as just we would expect from a fashion house like Céline: the perfectly balanced weight of a linen unstructured dress, the supple leather, the gentle unfinished look of raw hems. But they are clothes you can pick in a rush and wear with an effortless attitude. In some of the looks the styling is constructed to almost emulate that rush, with garments layered or tucked in each other as if there was no time to overthink. A smart woman who picks a timeless vintage bag preciously kept in the years. She walks through the harsh realm of everyday noise.

www.celine.com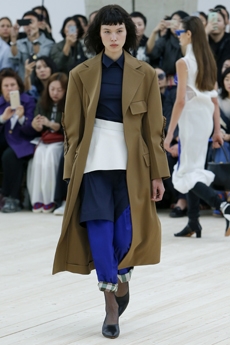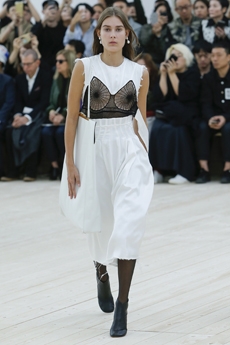 Fashion
LOEWE Spring 2017 Ready-to-Wear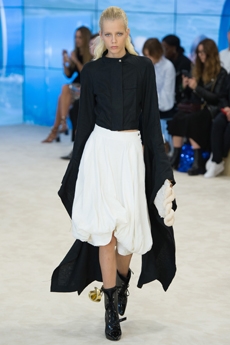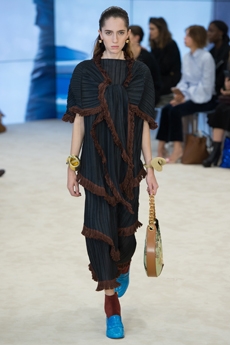 The shore of an unidentified coast. Men swimming endlessly in a deep blue sea against oil barrels floating in the water. The unsettling vision of "Offshore", the short video by Dutch artist Magali Reus, served as scenic element for Loewe Spring Summer 2017 show, giving that contemporary reference to a collection sophisticated yet sensual and fresh.
Jonathan Anderson created flowing silhouettes in black, off white, brown with a splash of fuchsia, blue, green, mixing a number of references from Japan to the Spanish heritage of the brand. Oversized long flared sleeves with leather waist cinchers as a revised contemporary version of a kimono obi belt. Long twirling dresses with bias cut, unfinished hems, the raw feeling of burlap, fringes and patchwork textiles masterly hinting to Spanish folklore.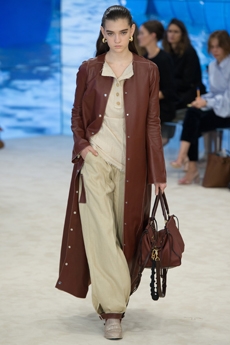 The powerful broad collection of accessories with the most iconic bags of the brand declined in several new finishes and colours and accessories like the calla lilies on bracelets and ankles complete the luxurious atmosphere frame.
Anderson's vision for Loewe is growing and becoming season after season more mature and daring, transforming in short time this label to a relevant player in the industry.

www.loewe.com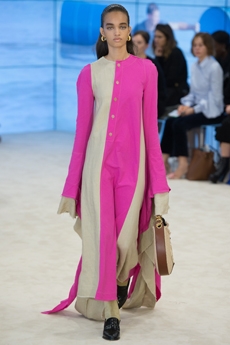 Fashion
WUNDERKIND Spring 2017 Ready-to-Wear
The Wunderkind woman has an elusive way about her, throwing her beat out of rhythm in such a way that she will never be caught. Credit to the off-center eye of Wolfgang Joop, who throws together the jagged references we see before us for SS17: prairie purged of all its hollow nostalgia, headed firmly for the future with foiled leather Western boots, op art silks and gauzy tulles so slight they trace the surface of the skin. Granted, the citations at play are erratic, but their ordering is anything but… Racer cuts quell their sporty sensibility by sheathing the body in ice white mesh, asserting its elegance with ruffled peplums and knife pleats, or romantic Victoriana smocks. Cold shoulder collared shirts gleamed in sparkly lurex, their billowing sleeves offset by the cinched waist of a peach swing skirt. Belts bolstered bodies with oversized buckles and austere cotton corsetry – a hard edge to the ruffled tiers that trapezed the torso, halterneck dresses neatly buttoned to the top while wraped layers unfurled from the hips. If the wild florals felt a little too predictable, Joop's alternative vie for femininity felt entirely futuristic, inflating shoulders and sharpening hips to file his army of extra-terrestrial bodies.

www.wunderkind.com
Fashion
Y/Project Spring 2017 Ready-to-Wear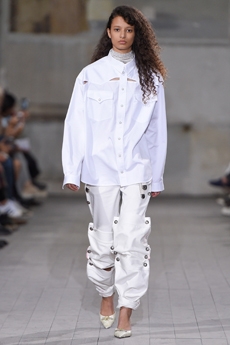 Presented in the suggestive location of the Lycée Charlemagne, Y/Project Spring Summer 17 was full of youthful energy. Glenn Martens presented a collection played around the boundaries of oversized and tight, low and high, light and dark. From his signature denim to the opulent crashed velvet. There were oversized sleeves, cut out pants with a detachable gather, and a multitude of transformable garments: adjustable corsets worn as a ruffled decoration over knits, pants you can just button up at the leg side, peek-a-boo shirts and long dresses to be laced up. It is a collection built to the last detail and Martens proved to be a master constructing layers played around volumes, a fun cool-kid attitude and a feminine subtle sensual vibe.

www.yproject.fr
Fashion
Fendi Spring 2017 Ready-to-Wear
It's a habit of Fendi's to disorientate its audience of time and place, warping history's resolvable symbols so they can no longer be defined by date, resigned to obsolescence as recognisable relics of the past. For SS17, heritage harbored a hint of the alienesque, as Marie Antoinette aprons abjured their impracticality in favor of terse technical cuts. Fine pencil stripes stalked slender peplum blouses, cinched at the waist and bolted with a highway of plump covered buttons from navel to neck. Patch pockets punctuated the breast, their sensibility softened by the buttery cuts of sloped shoulders, even the most straight-laced starched cotton evoking the ease of the neighbouring gauzy silks. Rugby hoop stripes sat thicker, banded across scarlet crop sweaters, slit with an anarchist's mind for modesty in spite of the prim powder-pink A-lines which swayed beneath. Apron dresses made a break from diaphanous tulles and brief bloomers, V-necks slashed at right angles from shoulder to sternum, as hems vied for a deep diamond, centering from the hip in towards the knee. All this technicality circuited to the finer details of the collection, models pallid but for pithy metal pouts, hair parted at the center with strands seeping into wispy pig-tails at the crown. History may have repeated itself, but you wouldn't necessarily know it, not with Lagerfeld at the helm.

www.fendi.com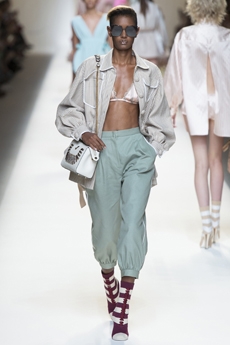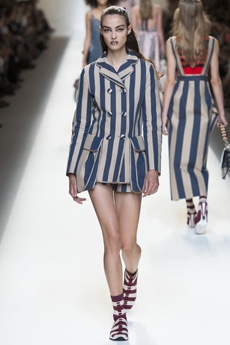 Fashion
Moncler Boutique Macau Wynn Palace
The second Moncler boutique in Macau has opened at the Wynn Palace. The interior of the 130 mq store is developed by architectural firm Gilles&Boissier. Two large shopping windows invite the consumer in the Moncler sphere. Grey marble floors and white walls create a modern shopping space, which will sell Moncler Gamme Rouge Ready-to-Wear, Moncler and Moncler Grenoble as well as the accessories collection for men and women. The opening of the Wynn Palace boutique comes a year after the first franchise opened at the Galaxy Macau.

www.moncler.com
Fashion
Acne Studios Emoji Collection
The latest capsule collection for Acne Studios embraces their playful side, as the garments are embellished with emojis. Classic staple pieces have been giving a slight twist by the quirky detailing of ordinary objects. Bananas, doughnuts and microphones are printed oversized on black and grey sweatshirts, while hot dogs are presented as a knitted pattern on sweaters and jersey t-shirts. Smaller accessories are a pig's nose printed on the chest and square emoticons with thought bubbles. The collection is available now in store and online.

www.acnestudios.com
Fashion
Swarovski Member of Fashion Council Germany
Swarovski is the newest member of The Fashion Council Germany, which was founded last year to be an advocate for and mentor to German fashion designers. One of these designers is Vienna-born Marina Hoermannseder, who has in three years gained fans like singer Lady Gaga with her orthopaedic corsets. Marina's latest collection included a corsage and skirt embellished with crystals, which was made through a collaboration with six other designers who created a special collection using Swarovski crystals. The Council's Chairman is Vogue Editor-In-Chief Christiane Arp, who said; "It is important to help design talent get more attention. We are delighted to have the support of Swarovski for our talent development initiative."

www.fashion-council-germany.org
Fashion
Diesel Fall/Winter 2016 Campaign
Photography duo Santiago&Mauricio worked alongside Artistic Director Nicola Formichetti and stylist Davey Sutton for the Diesel Fall/Winter 2016 Campaign, translating fashion culture and creating a dialogue in a series of honest and humoristic images. As diesel celebrates difference and diversity, cast are a group of individuals with different cultures and personalities. "We worked with director/photographer duo Santiago & Mauricio to shoot beautiful ad impactful images where the product is celebrated with a twist on the traditional advertising images", reveals Formnichetti.

www.diesel.com
Fashion
A Surrealist Fantasy - Moncler FW16/17 by Annie Leibovitz
Surrounded by snow, inspired by the Nordic climate. Moncler's ongoing collaboration with iconic photographer Annie Leibovitz produces a whimsical series of images for its Fall/Winter 2016 campaign, "A Surrealist Fantasy." Leibovitz relationship with the French brand is founded on a shared view on creative experimentation, made visible in their latest partnership. Moncler's FW16 Campaign is a collision of an imaginary and the natural word, which translates a surrealist vision.

www.moncler.com
Fashion
Dolce & Gabbana Alta Moda Show FW16
A collection inspired by Italian actress Sophia Loren, Naples and tradition, Domenico Dolce reveals. The Dolce & Gabbana collection is shown on the streets in the middle of old Naples. A white satin cincture hung across the body, Miss Eleganza sewn in gold, a hint to how Ms. Loren first started out; in a provincial beauty contest. The collection includes shapely pencils skirts, wavy hems and fitted suits, all in true Dolce & Gabbana manner. The looks are completed with flower, heart and bow embellished headgear, and induced with some humor; one of the satin soccer shirts reads Maradona 10 on the back.

www.dolcegabbana.com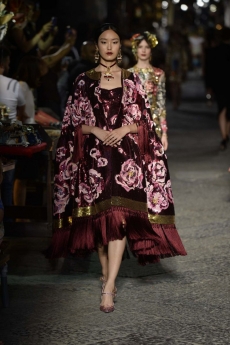 Fashion
Dior Haute Couture Autumn/Winter 2016/17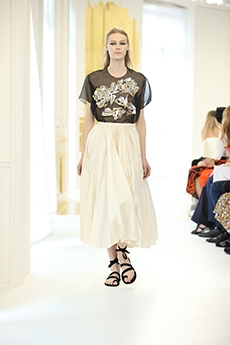 Lucie Meier and Serge Ruffieux' Dior Haute Couture collection is predominantly in black and white, which is a reflection of their relationship; it represents history and modernity and while opposites, when together it creates something greater than apart. Dior's iconic Bar suit, tailored jacket and full skirt see the Autumn/Winter 2016/16 collection go back to its origins. The skirt was the starting point, after which Meier and Ruffieux started experimenting with the lining, draping and pleating of evening dresses and skirts.The only colour visible is gold as embroidery, which is inspired by raw art and the works of César and Claude Lalanne. 

www.dior.com

Fashion
Maison Margiela Artisanal Fall 2016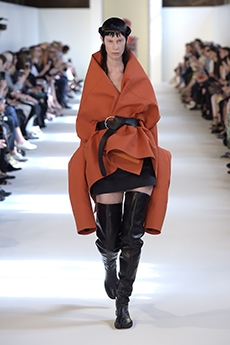 John Galliano has a much more personal understanding of Maison Margiela for its Artisanal Fall 2016, in which he experiments with a different take on haute couture. "A sense of the incredible and the impossible spins throughout the Artisanal collection, where fantasy is tempered by the jarring authenticity of today's reality." A satin orangza dress is draped around the models body, printed with Nick Knight's British Birds (2008) styled with a cycling top, arctic blue gloves and dark brown clogs, her headpiece resembling a string of seashells. Another model is dressed in an upside down orange coat, worn over a navy shift dressed, paired with rubber-soled thigh-high black 'Tabi' boots.

www.maisonmargiela.com
Fashion
the-miumiu-club Paris
Miu Miu Club members were invited to attend the-miumiu-club Paris exclusively for the celebration of Paris Couture Week, to view the Cruise collection and which also showcased the new autumn/winter 2016 campaign. Dirty Pretty Strings performed at the event, on the turntables were Paul Simonon, Kate Moss alongside others. The rooms with impeccable detailing, including the painted ceiling by Paul Baudry, were transformed into clubrooms such as a cinema, restaurant and show house. This was held in the Hotel de la Paiva on the Champs-Elysees, built mid-1800s as private residence for commissioner Esther Lachmann, also known as La Paiva. Miu Miu Clubs are also held in London, Shanghai, Los Angeles and Macau, China.

www.miumiu.com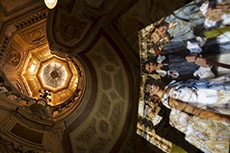 Fashion
Bottega Veneta Autumn/Winter 2016 Campaign
Models Simon Fitskie and Rianne Van Rompaey shine in the latest Bottega Veneta Autumn/Winter 2016 Campaign, shot by Dutch photographer Viviane Sassen in Sicily, Italy. The collections dark yet dynamic colour palette consisting of royal red, peacock blue and black bounces off beautifully of the paleness of the background, artistic landscape Grande Cretto Gibellina of Italian artist Alberto Burri, which is in glistening white cement. Burri created the Grande Cretto as a monument for the village Giberllina when an earthquake completely destroyed the town in 1968.

www.bottegaveneta.com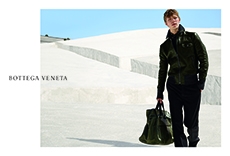 Fashion
MBFW: Laurél S/S 2017
The mix between the chic and the casual is key to the Laurél S/S 2017 collection, which was first shown at the Berlin Fashion Week these days, bringing summer to the city. Above anything the collection is stunningly summery. It is all about monochrome colours. A lush blue, yellow and red allow for primal colours to contrast different black-and-white combinations. Cleanly cut garments of flowing fabrics include light blazers, flared trousers, dresses with V-necklines and jumpsuits. There is the touch of a slightly ethnic feel to the collection, pronounced in off-shoulder tops and dresses as well as tassel earrings and pom pom necklaces. Highlights are a striped black-and-white beach ensemble with flared pants and a crop top or the filigree knitted floor-length dress with slits at each side revealing the model's long legs. While the collection makes use of stripes and symmetric patterns, it finishes with a girlish white dress, incorporating a pattern of white flowers on a sheer fabric. This is how city girls celebrate the summer.

www.laurel.de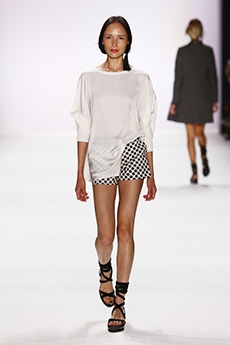 Fashion
MBFW: Hien Le Spring/Summer 2017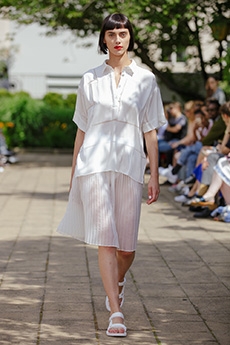 Showcased outdoors in a beautiful courtyard this Tuesday was the Hien Le Spring/Summer 2017 collection, at Berlin Fashion Week. The collection draws inspiration from the sculptural process, converted unto the garments through layering, cut-outs and various transparencies. Proposed is an elegant yet sporty alternative garments made from light cotton, different kinds of silk and Japanese tech textiles. The collection is elegant in its meticulous tailoring and includes sportswear elements. Hien Le has for this collection collaborated with Mini Cooper and created a limited sweater line with heart-shaped prints.

www.hien-le.com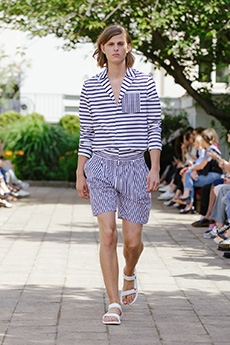 Fashion
BERLIN FASHION: IVANMAN SPRING 2017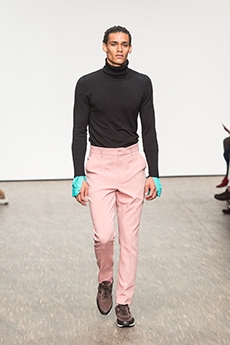 Designer Ivan Mandzukic started his brand in 2010 and is definitely a force to be reckoned with. Main inspiration for IVANMAN Spring/Summer 2017, shown at Mercedes-Benz Fashion Week Berlin, is the 80s German film Baghdad Café. The latest IVANMAN collection provides, just as in the film, a collision of modernity, tradition and clashing world views. The garments are styled in layers, with long shirtsleeves poking out of jacket sleeves. The collection has structured jackets, classic cuts in trousers and tops and is contemporary in its choice of colours, as the blush, turquoise and white colour palette give a real sense of spring.

www.ivanman.com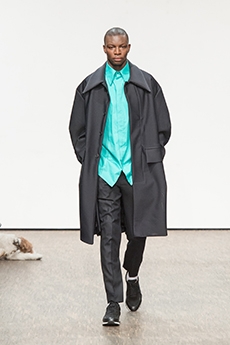 Fashion
PFW: Kenzo Spring/Summer 2017
Cool kids squads. Humberto Leon and Carol Lim presented a collection once again inspired by their youth, growing up in LA and its West coast disco scene. The models arrived in packs. There was a lot of that grungy and rave look of the 90s. Departing from the Japanese tune of last season we see an explosion of youthful energy. In a badass attitude the model's walked the runway with high waist pants and shorts in nylon look a like textiles matching tops and shirt and often underwear pulled up above the waist with prints recalling the flyers promoting the artists of the time. Relaxed oversized coats and short jacket but also rain capes with hoodies underneath. Black and white but also lemon and cerulean blue. The collection shouted a multitude of personalities and styles, the freedom of youth.
www.kenzo.com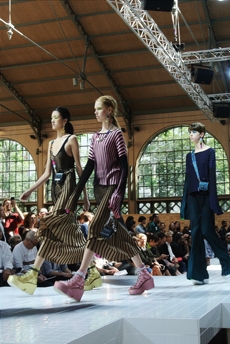 Fashion
PFW: VALENTINO SPRING 2017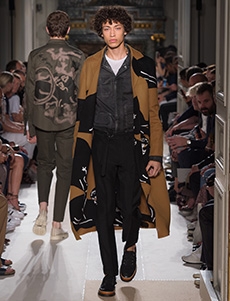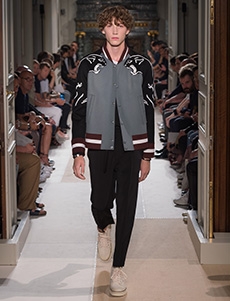 Maria Grazia Chiuri and Pierpaolo Piccioli revealed that for the Valentino Spring 2017 collection they were inspired by the "Unfinished: Thoughts Left Visible" exhibition at the Met Breuer in New York, as it allows to see the artists' development and creative process. This translated into the collection with some of the garments not being finished too, as thread hung from printed knits and stitches were loose. Nevertheless, this made for a selection of structured, luxurious appare. Military and camouflage colours as well as silhouettes start off the show which develops into denim and blue ensembles.

www.valentino.com
Fashion
PFW: HERMES SPRING 2017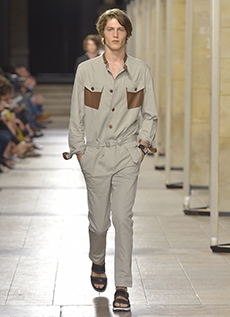 On the chart of fashion where every party tries to dictate the "extraordinary " and the "new", Hermès 's Mens director Véronique Nichanian focus on the essential and its unlimited power. Slim, simple, effortless are the key words for a collection entirely focused on a multitude of subtle details like only the house of Hermès knows how to. Sleek trousers combined with acid lemon t-shirt , hazelnut leather bomber jackets or architectural minimal coats in faint grey. Beautiful silk shirts and knits with tie - dye motifs together with relaxed sporty sandals indulge the atmosphere. Hermès's man once again plays a cool and elegant attitude.

www.hermes.com
Fashion
Our Interview with Ancient Greek Sandal
Keep your eyes peeled for this sandal brand inspired by ancient Greek mythology and architecture, hence the name Ancient Greek Sandal. We met up with the Co-founder and designer of AGS, Christina Martini who started up the business with CEO and Co-Founder Nikolas Minoglou.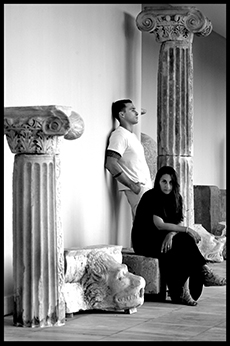 What is the philosophy of your brand?
Handmade sandals made from good quality leather in Greece inspired by Ancient Greece. Sandals have a raw yet feminine aesthetic, which would age well with time and wear.

What are the trends for this season that AGS suggest?
Bohemian and embellished lace up sandals with semi precious stones, glass beads, turquoise and corals. In addition to this, we have collaborated with the Mexican brand CARAVANA designing the 'Tulum Collection' which are iconic AGS sandals decorated with hand-painted feathers. Our collaboration with LALAoUNIS is also out, a precious collection of six bejeweled styles inspired by the powerful symbol of snake.

Why did you choose the ancient Greek civilization and what is attractive about that?
Because it's in my blood! At school all Greek students get taught Mythology and Ancient Greek history and I was always fascinated by the visits in museums or archaeological sites. When I was young I wanted to become an archaeologist. Ancient Greek Sandals are inspired by the Ancient Greek mythology, art, architecture, jewelry and everything that is connected with that era. The inspiration is unlimited.

What are the materials you use?
Although the construction is made in Greece, all our raw materials come from Italy. For the uppers we mostly use vegetable tan leather whereas for the insoles and soles we use a thicker skin. For each collection we try to introduce new exciting materials such as the sunbeam snake or pony skin, stamped crocodile but also synthetic materials such as the glitter, fabrics such as the denim for S/S16.

Who are the celebrities that love AGS and what they love about them?
Michelle Williams was the first to wear the sandals in 2012 and since then a lot of actresses have followed, such as Naomi Watts, Anne Hathaway, Diana Kruger, models Gigi Hadid and Gisele Bundchen and singers like Rihanna and Beyoncé. I think like every other woman who wears AGS sandals; they value the simplicity of design, femininity, quality and comfort.

You designed shoes for Balenciaga and Louis Vuitton before setting up your own brand.
What did working for those big fashion houses teach you?
I don't think that I would have set up my own brand if I didn't work for these two huge fashion houses. First of all the technical knowledge, a big part of my job was to be at the factories in Italy and follow the making of the prototypes so I got to witness how the most luxurious shoes in the world were made, I learnt the different leather qualities and the shoe constructions. I also learnt a lot from the marketing team how to form a complete shoe collection that makes sense to the customer on the shop floor.

What is the ideal outfit matched with ancient Greek sandals?
Anything really, from a wedding dress to jeans shorts and from a long bohemian kaftan to a little black dress.

In which place in the world do you think AGS fit ideally?
Anywhere the sun shines!

www.ancient-greek-sandals.com
Fashion
PFW: BALENCIAGA SPRING 2017
Heeled boots and boxy jackets, Demna Gvasalia knows how to keep things interesting. The Balenciaga Spring 2017 collection, the brands first ever men's runway show, exhibited on the beautiful rooftop of the Lycée Saint-Louis-de-Gonzague in Paris, saw structured silhouettes and wide shoulders in coats, trousers accessorised with lengthy silver chains and cropped shirts with elastic bottom. Gvasalia said that he "wanted a feel of formality, of perfection, to everything."

www.balenciaga.com
Fashion
MFW: PRADA SPRING 2017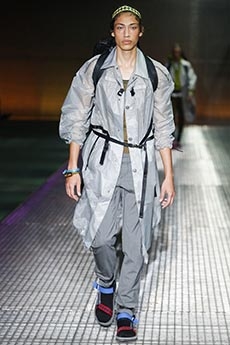 "This idea of traveling, sharing, joining different cultures interests me", Miuccia Prada reveals when the Prada Men's Spring 2017 show has finished. This vision is clearly noticeable in the collection, as every model wears tribal hiking sandals and carries a heavy backpack down the runway. Active-wear is big this show season and Prada is not staying behind, as their collection includes bulging parkas and rain pants. It felt different for the brand, but it worked out brilliantly. Miuccia Prada added "I'm kind of finished with vintage", therefore explaining the new direction the collection has gone into.

www.prada.com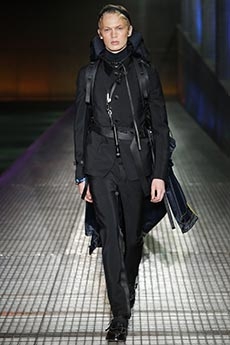 Fashion
MFW: MONCLER SPRING 2017
Thom Browne has created a collection inspired by American Boy Scouts and camping for the MONCLER GAMME BLEU SPRING/SUMMER 2017. The presentation is divided in three groups, one in all-khaki, a group mixed with checkered forest green, brown and whites and a formal group primarily wearing brown and navy. The tailored pieces are made in technical fabrics the French brand is known for, with details created via mediums such as laser cut and thermo bonding, which gives the active sportswear/ outerwear collection a functional aesthetic.

www.moncler.com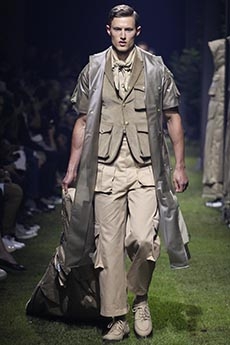 Fashion
MFW: PHILIPP PLEIN SPRING 2017
The PHILIPP PLEIN Spring 2017 collection takes it inspiration from American Basketball, complete with stylized basketball shorts and shoes, transitioning into embroidered denim, leather jackets and bombers. The German designer teamed up with Swarovski to embellish the collections sportswear pieces, creating a glam active wear collection. Starting off with hints of orange, the collection develops into solely black and white, and later back to red hues. Rapper Busta Rhymes performed, making it a real authentic PHILIPP PLEIN experience.

www.philipp-plein.com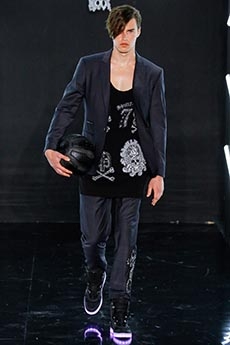 Fashion
MFW: FENDI SPRING 2017
"Sun and fun", Silvia Venturini said of the collection post-show. Rebuild is a Mediterranean villa, which results in an airy and fresh feel to the Fendi Spring 2017 collection. The garments' details are whimsical and dynamic, the colours pleasant and lively. Pequin stripes are incorporated in a new way and the models are styled with travel bags and backpacks which indicated to the fun summer theme. Fendi has introduced its first men's eyewear collection for this show in collaboration with Safilo.


www.fendi.com
Fashion
Pal Zileri Fall/Winter 2016/17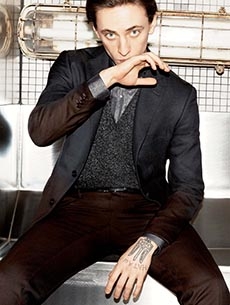 Pal Zileri Fall/Winter 2016-17 advertising campaign channels the house's new mood, direction and elegance with a balance of tradition and edge. Pal Zileri chose world-famous ballet dancer Sergei Polunin to front the images shot by photographer Maciek Kobielski on location in Williamsburg, NY.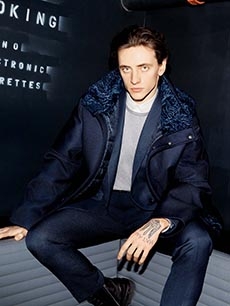 The Ukraine-born Polunin fully expresses Pal Zileri's current identity and message with his balance of dramatic flair, strict artistic rigor and unconventional spirit. The new campaign is thriving to exalt talent with an unexpected twist. Soaked by a strong lighting, a fresh-faced and intense Polunin strikes relaxed poses framed by steel grids, modern props and a tonal palette of grays and deep blue that set off a contemporary atmosphere with an industrial touch. His bold and tattooed attitude adds character to Pal Zileri's key fall looks, a mix of tailored pieces, luxe sportswear and exclusive details.

www.palzileri.com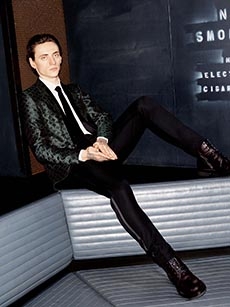 Fashion
Theory l Pre-Fall 2016
When Theory presents the new Pre-Fall 2016 women and men collection this means that this winter has it all. Apart from the always smart and safe black, it also introduces more colours such as red, yellow, grey, burgundy and khaki. The collection is smart chic with coats, shirts, pullovers, light trousers and pleaded skirts and tops. Theory presents white as one of the winter colour in skirts, trousers, coats and shirts that gives the collection an extra elegance. The menswear collection is more focused on black, brown and grey in trench coats, coats, trousers and blouses. Jeans are always on fashion matched with smart jumpers. Theory introduces leather as the winter's trend with the legendary biker's jacket.

www.theory.com
Fashion
LC:M Craig Green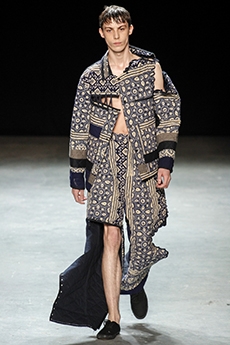 London born Craig Green showed his first collection for LCM through Fashion East and Topman's initiative MAN in 2013. Now, three years later he is an established name on the London Collection Men's schedule and recent winner of the BFC Menswear Fund. The bold new collection opens with fawn colours, transitioning into quilted jackets with rich prints and closing with black and white garments. Cords tied through eyelets are detailing elements and the colour-blocking trend is beautifully incorporated. The Spring 2017 collection also exposes some flesh. A slit coming just above the knee on wide-legged trousers, as well as some backless pieces, gives the collection a sharp edge. Added in the collection is a Scout scarf, which Green describes as a 'symbolism of belonging to something.'

www.craig-green.com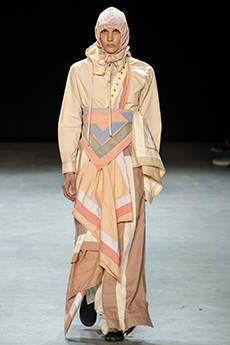 Fashion
LC:M Topman Design
London Collections Men kicked off last week with launch parties introducing the four-day event on Thursday. Friday, Topman Design was the first to present their Spring/Summer 2017 collection. The line-up was a mixture of trends and styles, lead by pastel colours. Models appeared with wet hair and sun burnt cheeks, jumpers and shorts were embellished with ice creams, dolphins and palm trees, hinting to a tropical aesthetic and the idea of unwinding by the pool.

www.topman.com
Fashion
Marc Jacobs' Resort Collection 2017
MTV logos and studs, bright pink colours and leopard prints. Leave it to Marc Jacobs to take you back to the 1980s in his Resort 2017 Collection. ''We took Fall and made it kitsch and went from Youtube back to MTV'', the designer, who won a CFDA Womenswear Designer of the Year award just yesterday, said after the show. Music track playing is of British popband Duran Duran and models were sporting scrunched hair and dark eye make-up, sticking to the overall feeling of 80s punk revival. The collection is loud, bold and feels retro and is refreshing since the 70s trend that has been dominating fashion and retailers over the last few years.

www.marcjacobs.com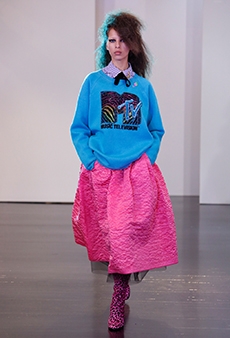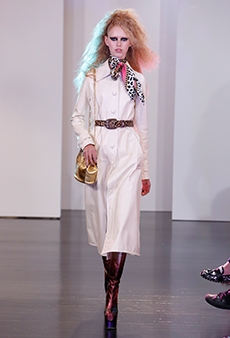 Fashion
Versace and Bruce Weber, A Golden Match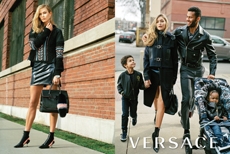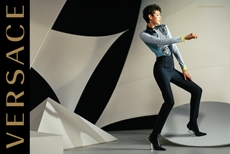 Versace has collaborated with photographer Bruce Weber on their Fall/Winter 2016 campaign. Weber is not a stranger to the brand, as he is behind most historic images for the brand ever since they started working together in 1990. This time around the campaign features supermodels Gigi Hadid, Karlie Kloss and Dilone in different scenarios. One of them being an ultra dazzling and glossy life-style, the other a day-to-day stroll with the kids, a modern looking family. The images show the versatility of the items and thus making it relatable. Shot in Chicago, Weber has decided to include men and womenswear together. Donatella Versace speaks highly of the collaboration with Weber, as they haven't worked together since 1999, with the following; "Bruce Weber is the true master of our time. His photography is deeply personal and rich, a reflection of the world as he sees it. It has been my pleasure to enter once again into that world for this Versace campaign. With this new campaign, Bruce gave me my history back."

www.versace.com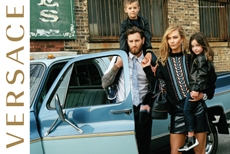 Fashion
Peuterey Fall/Winter 16/17
Peuterey is a brand drawing on its stylish utilitarian heritage and sensing an epochal shift in the way real people react to it. It is an advocate for reality telling. Peuterey's collection for Fall/Winter 2016-2017 focuses on personality and product. Piercing portraits and street shots are layered onto images of urban environments, suggesting an iconic melange that triggers the visual sensibility of the digital-savvy generation.
The campaign will debut in June with a maxi-billboard placed in Piazza della Repubblica, Florence. International brand ambassadors such as Blake Lively, Olivia Palermo, Jhoannes Huebl, Derek Blasberg, Sarah Jessica Parker, Amanda Seyfried, Aaron Paul , Felicity Jones, Tom Hanks, Leaf Greener, Jennifer Lopez and many more will further bring the message to a real audience. It will actually and factually hit the shop floor, both online and offline, with the collection distributed via top US department stores such as Neiman Marcus, Bloomingdale's, Barneys, Saks Fifth Avenue and leading stores worldwide such as Tsum. The brand targets also on the creation of dedicated partnerships, such as the collaboration with Miroslava Duma/Buro247 on a special jacket.
The campaign is shot by renowned lensmen Mert Alas & Marcus Piggott, art directed by Giovanni Bianco and featuring models Marjan Jonkman and Filip Hrivnak whose unconventional beauty is fine tuned by a cast of top innovators of all ages. The campaign has a honest tone that contextualizes clothing within the frame of real life.

www.peuterey.com
Fashion
Chanel Cruise Collection 2017 Presented in Cuba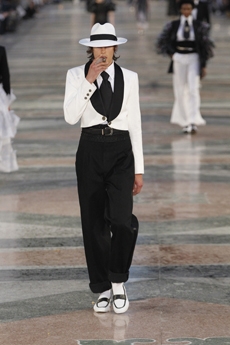 Hundreds of fashionistas in vintage convertible cars filled Paseo de Prado to watch Karl Lagerfeld making history with presenting his summer creations on the first ever fashion show on the island. Beach colours and souvenir T-shirts as well as optic white Broderie anglaise and summer tweed suits in lighter weight fabrics were some of the collection's pieces. Lagerfeld was inspired by the 'cultural richness and opening up of Cuba' showing on the collection cabanas patterns and Chanel's characteristic jackets in many colours while the Panama hats were the main accessorize of the show. Drummers, dancers and Karl Lagerfeld himself emerged to get the party started on the boulevard, as models jumped back into the convertible cars for the Insta-opportunity of a lifetime. Chanel gave every visitor a guide book and allowed them to get out and explore the country's rich culture.

www.chanel.com
Fashion
Louis Vuitton Pre-Fall 2016
Daring and self-confident is Louis Vuitton's woman as appears in the Pre-Fall 2016 Travel campaign. Louis Vuitton launches the Capucines and the City Steamer handbags and gives the handbags' trend for the fall. The City Steamer bags come in new colors like black and pink with Burgundy piping and Black and White with honey brown handle. Even though The Steamer was first created in 1901 and it was the first supple bag, today's modern heroine loves it since it has become a true city bag. The second handbag model we saw in pre-fall 2016 collection of Louis Vuitton is the Capucines; red and black leather as well as pink crocodile leather are the colours and materials that the firm suggests for Capucines bags. The Capucine is a discreetly elegant new signature bag that incarnates the Maison and its know-how. Both handbag collections take pride of place in Louis Vuitton's Travel campaign. Photographer Patrick Demarchelier, has captured the dynamic profile of today's woman in the face of the actress and Louis Vuitton's new muse Léa Seydoux. Louis Vuitton campaigns continue their architectural journey by setting this last campaign in the Ranch, a building designed by the Mexican architect Luis Barragan.

www.louisvuitton.com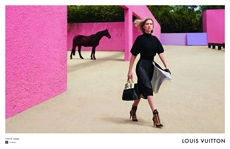 Fashion
BOSS Pre-Fall 2016
Rigorous, precise, focused. Natural, but abstract. Luxurious – and classic. With the Pre-Fall Lookbook 2016, Jason Wu has unveiled another cutting edge collection that comprises sophisticated looks with a modern and noiseless message. Whether it's with the slim coat, the A-line skirt or the pant, Wu re-engineers new classic into a contemporary wardrobe for the BOSS woman.
Business and leisure are balanced out equally, with a Hitchcockian flair contrasting the image of sportswear. As often, Wu is keen to incorporate a flair of menswear and does so in applying metal rings and fastenings, which simultaneously suggest a vibrant and energetic feel. Even if this collection is a red carpet for simplicity and urbanity, Wu still does not cease to go down a more lighthearted route and inserts floral patterns that in their assembly allude to camouflage.
The key element of functionality is furthermore not only highlighted in Bauhaus inspiration but also in flat shoes and other understated accessories. It's rigorous, it's precise, it's focused – BOSS just knows how to wrap a collection.

www.hugoboss.com
Fashion
CHANEL Spring/Summer 2016 Eyewear Campaign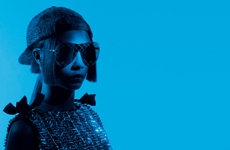 Cara Delevingne may have stopped walking the big runways, but she still has some of her modeling duties in mind – especially, if they involve her close friend Karl Lagerfeld. The British model stars in the new CHANEL eyewear campaign, which was teased by a flashing video released a few weeks ago. While the bespoke visualization presented a pair of unique CHANEL sunglasses adorned by a laser-cut quilt design, the campaign now shows a collection enhanced by more optics and sunglasses from the Plein and Bijou 2016 ranges. The Plein collection revisits models in a tie-dye optic, merging the colors from black to blue or white in the frame acetate. Bijou on the other hand focuses on a CHANEL code classic, the timeless camelia. Made from metal and enamel, it adorns the glasses in an abundance on their legs. Next to eyewear, the campaign also sees Delevingne sporting pieces from the CHANEL AIRLINES Ready-to-wear collection. A tweed cap and jacket and a grosgrain ribbon-bowed top complete her urban and contemporary CHANEL look, subtracting the need for a logo on the campaign pictures. Even if Miss Delevingne has abandoned the runways, we're still glad she makes time for her fashion friends – especially, if it's Karl Lagerfeld.

www.chanel.com
Fashion
Gucci's Second #GucciGram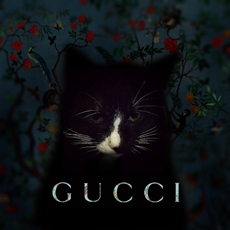 Since Alessandro Michele has taken over the reigns at Gucci, nothing the brand puts on the market is monochrome, monotonous or dull. Take their eclectic, era-spawning collections, themes and innovations, or, for example, the collaborative digital #GucciGram project. Launched in its second installment, the project now dotes upon the new Gucci Tian pattern and invited artists and online illustrators to interpret and rework their own style of the pattern. What arose from that is imagery featuring everything from blurry cats to butterflies in a jar to a floral skyline building and cartoon figures crossing the street. The eclectic, multifaceted spirit to this campaign was created by only Asian-origined artists, referencing the cultural background of the pattern itself. At the same time, the artworks refer to Western orientalist fantasies and 18th-century Chinoiserie. The final results will not only be shown across the artists' social media accounts, but naturally also on Gucci's instagram account and on an extra micro website. Gram it or talk it, if there's one thing that Gucci gets going, it's participation.

www.gucci.com/guccigram-tian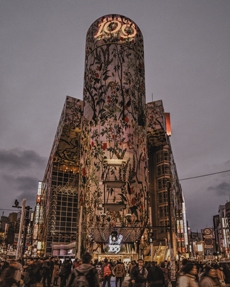 Fashion
Lanvin Fall/Winter 2016
When a Creative Director departs his position at a well renowned fashion house, there is a certain fear that lingers in the air prior the presentation of the first collection without him/her. This was most likely the case at Lanvin's latest fashion show, where the gathering crowd seemed to hold their breath before the first foot was set on the runway. It was the debut reveal since the leaving of Alber Elbaz and certainly marked the start onto new paths and into new directions. These are led by a collective of designers that for the time being has taken over the seat left by Elbaz. What they presented was a collection defined by symbolic elegance, embodied by high-necked garments alluding to ruffled blouses of past eras and a broad spectrum of cuts and fabrics, ranging from 80s-cut, asymmetric shimmer tops to sheer, double layered lavender dresses. There are a handful of paths Lanvin could set upon, for this collection has no distinctive one to itself. There were ruffle-inserted dresses with floral print patterns, but also beaming golden trench coats and lacy ensembles. It seems almost as if the customer herself could select the direction of Lanvin - which prompts us to ask: what choice would you make?

www.lanvin.com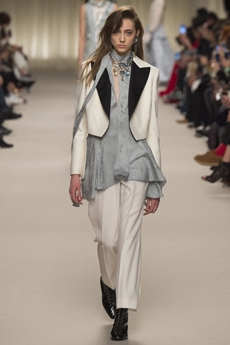 Fashion
Dior Fall/Winter 2016
Dior's Fall/Winter 2016 presentation might be the last time it's appropriate to mention Raf Simon's departure. Yes, he is gone, and yes, everyone was both thrilled and excited to see what would come next for the traditional Parisian house. No need for discussion, cut to the chase: what was there? All-black-everything looks marked a dark and gloomy start to the presentation but were quickly followed by allover floral designs that were once again reminiscent of Simons' work. Other than that, Dior presented femininity, meaning tight waistlines and short skirts, flowing to the sides or sometimes stiffly sitting on the hips. Sharpness is the base to the collection's tailoring, which – and why wouldn't it - was as precise and detailed as ever. Asymmetry and V-Necks are Dior's thing this season and often incorporated together in the making of lascivious dresses or the final piece, an egg-shaped white coat, falling loosely over one shoulder in a relaxed attitude. In fact, this final look may stand for everything the future beholds for Dior: relaxation. Drop the shoulder, drop the fear. The future can be bright for Dior, and after Fall/Winter 16, we see no reason why it wouldn't turn out to be so. Good luck.

www.dior.com
Fashion
Diesel Black Gold Women F/W 16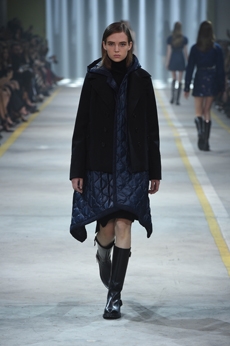 Back in January, Diesel Black Gold designer Andreas Melbostad started down the road to complete and utter urbanity. His menswear designs were an allusion to bike couriers, to the fast pace of the city and its mystery. Now, the womenswear line presents the perfect companion. The attitude is industrial, dark, nocturnal even. Melbostad creates a contrast between the raw and the decorative by juxtaposing various materials such as leather, denim, nylon and felt. Just like the menswear designs, this collection incorporates a dynamic feel to help the wearer blend perfectly into the urban space. Surely helpful in this was Melbostad's utilitarian inspiration, among others visible in tall, lace-up biker and combat boots. The Black Gold collection is sharp, cool, but not minimalistic. Biker leather jackets and felt peacoats come with an unexpected inlay of quilted nylon blankets – a design that strikes in its surprising stylishness. The Diesel woman will be well equipped on her trip through the urban mystery, and we're about to follow her. If we can keep up.

www.diesel.com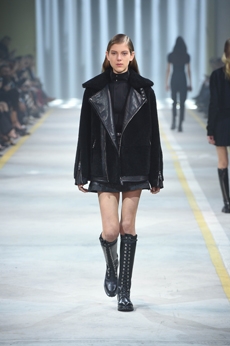 Fashion
No. 21 Fall/Winter 2016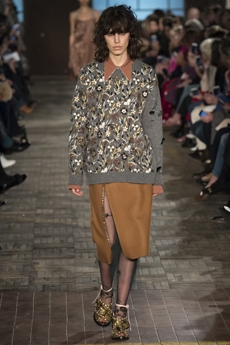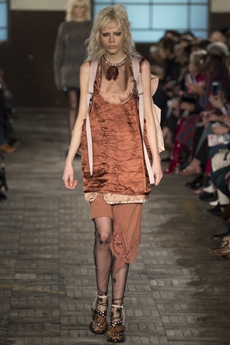 No. 21 stays down to earth. The brand's latest designs are not only actually ready to wear, but carry earthy and natural colors in the true sense of the word. At Milan Fashion Week, the show was opened with models sporting slippy dresses and slouchy sweaters in rusty tones or with delicate flower prints. Combined with ochre tones and subtle greys, the first half of the collection is a casual nod to everyday life –without getting boring, of course. However, for those seeking a little more wild life, the collection has a pattern in store that is quite the rare occurrence this season: leopard print. The wildlife reference was used in the fabrication of coats and jackets, whereas other pieces of this section come in full beach-print, with palm trees blowing in front of an overcolored sunset. Part 3 of the collection in a way is more classic, with just a little twist. Pattern-wise, multicolored checks are no rebellion, but it is their assembly and usage in the making of patched coats and a layered baby doll dress that makes them special. As with every good collection, there's one piece dancing out of line: a brown-and-white fur coat with an oversized silhouette makes for this season's surprise moment. As said before, down to earth does not mean boring. For reference, see No. 21.

www.numeroventuno.com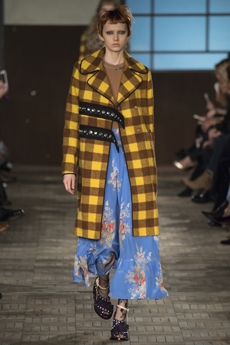 Fashion
Louis Vuitton Pre-Fall 2016
They say all good things come in threes, and with Louis Vuitton, three seems to be the lucky number. Their latest Pre-Fall collection stands on three major pillars that are core to the Maison's designs: neo-classic, elevated sportswear and the dream adventure. Beneath these summarizing definitions lays a collection that forms a complete wardrobe playing on androgyny and the fluidity of style. With Louis Vuitton, all things are fluid, such as the video shot by campaign photographer Karim Sadli, defined by energetic motion and movements. Such fluidity is supported by the actual designs that come across as confident monochrome looks. Color is not a theme in this collection, with only few sprinkled inserts highlighting shoulders or hips. Nevertheless, Vuitton plays with contrasts in tartan dresses, sporty legwear and a block-striped coat. According to the fashion house, this collection's interpretation depends upon the point of view and personal prism of its wearer. And that's the best thing about fashion: your wardrobe is your adventure. Welcome to Pre-Fall.

www.louisvuitton.com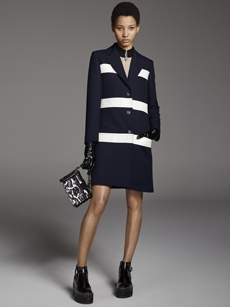 Fashion
Paul Smith Women F/W 16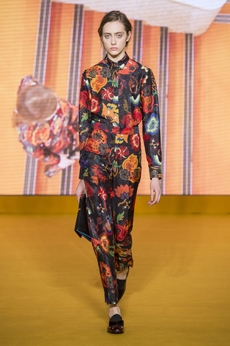 The Fall/Winter 2016 season sees Paul Smith once again turn towards the past. The British designer is the master of archive work and reinvention, and so it comes as no surprise that he applied it once again to his latest designs. The garments resemble a walk through an archive closet, with Paul Smith creatively picking his inspirations here and there. This time, they start in a very private closet: the one of his wife Pauline. Smith creates the image of a handsome woman with a nod to the sophisticated femininity he originally created from his men collections. Smith goes back to the 1970s and 80s, back when he was just starting out. From the latter decade, he takes the photo-print of an eaten apple and reworks it into prints, embroidery and appliqués in various scales. He also makes a halt at his own closet and takes on bicycle breeches. Those are met with raglan-sleeved coats and embroidered pleat dresses. Regarding accessories, the designer once again goes "way back": all bags are equipped with new locks, taken from an old Paul Smith briefcase. Rework, revamp, refurbish – however Paul Smith does it, the journey to the past is always an exciting one.

www.paulsmith.co.uk
Fashion
Replay Replica 1972 Scatto Collection
With their new shoe collection "Replica 1972 Scatto", Replay is quite literally kicking it back. The label rediscovered the 1972 soccer shoe "Scatto" and chose to bring it back to 2016. Thus, Replay's design team started to fuse the spirit of a handmade 70s piece of footwear with contemporary sneaker designs. The result is a collection consisting of four themes, two of them for men only, with various approaches to a hand-made classic. Replay restyled the "Scatto" with an eclectic range of materials. Ranging from suede leather in the eponymous line to lycra geo patterns featured on the heel in "Lycra 3D", they make the collection go from sporty to stylish. We're glad Replay took on that workshop.



www.replayjeans.com
Fashion
Alexander Wang RTW F/W 2016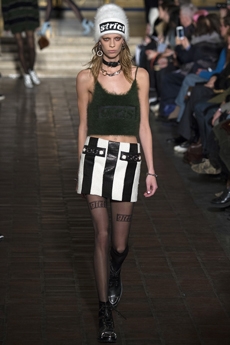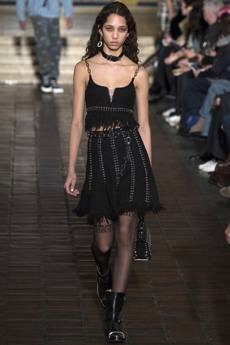 St. Bartholomew's Church, New York, in the middle of February: Marijuana leaves, pole dancers and chained leather are assembled in the church aisles. Coming from every angle are words like "strict", "tender", "girls", "faded" and "violator". This scenery is by far no church service, but the presentation of Alexander Wang's latest Fall/Winter designs. Displaying garments anything but holy, the designer sent down the runway rebellious garments that set upon the popular "sloganeering". Hats, sweatshirts, dresses and tights call out the aforementioned key words in this collection, crossing over both mens – and womenswear. Going along with that are fuzzy sweaters as much as see-through tops and dresses and more classic tweed ensembles. Still, Wang takes on a little bit of Prep with reinvented Argyle sweaters (with exposing parts, of course) and a checkered coat in menswear. Although we're not sure what the priest would say about this, in St. Bartholomew's Church, New York, in the middle of February, the applause spoke for itself.

www.alexanderwang.com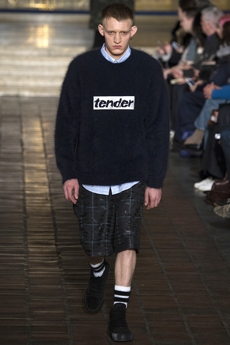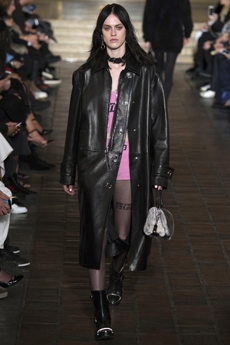 Fashion
McQ F/W 16/17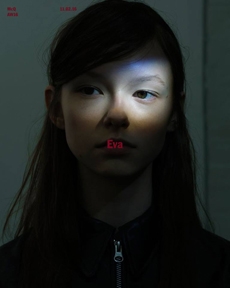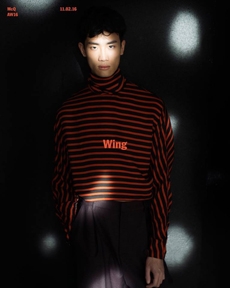 While the world was buzzing with talk about fashion shows and the upcoming award ceremonies, Thursday, February 11th, 2016, saw the revelation of McQ's new F/W 16 Digital Presentation. The date of the reveal lined up with Alexander McQueen's sixth death anniversary, to which the brand had paid tribute before in a post on their instagram. It is also on their social media and website that McQ chose to release the campaign in an all-round digital presentation. Consisting of documentary photography by Caroline Södergren, character studies by Jack Davison and short films by Shorna Osborne, the campaign aims to highlight the collection at every angle. The designs themselves combine the brand's rebellious attitude with ready-to-wear style that lets each item unfold in its own measure. Womenswear is influenced by Japanese culture, in particular the dance and strip clubs of Shinjuku, Tokyo, in the 1970s and 80s. Leather is a central player in motorcycle jackets and capes. Another reference to Tokyo is made in floral prints that were mainly inspired by Japanese kimonos. The go-to accessoire for the McQ Misses is the overknee boot, available in various colors and materials. Surprisingly, this is where the collection interlocks with the menswear designs: Mister McQ also sports overknee footwear, only for him laced up and thick-soled as in 90s culture. The menswear designs furthermore reference Phyllis Galembo's book MASKE which revolves around African tribe culture. In honor of fusing new and old worlds, McQ takes this to intertwine African patterns with its heritage Scottish Fairisle tartan. The McQ man is both the grown-up realist and the adolescent free spirit. The world might be buzzing about many things, but from Thursday on, McQ is up on the agenda.

www.mcq.com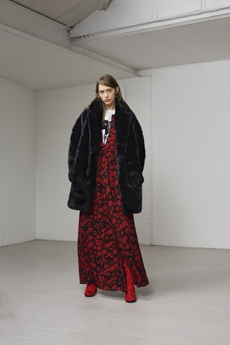 Fashion
Versace Shares Emoji App and T-Shirts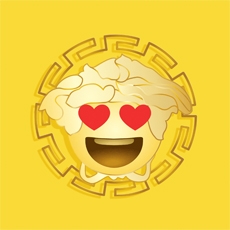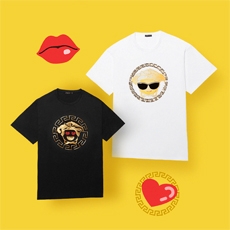 Valentine's Day is just around the corner and so is the big fear: what am I going to do? If you're one half of a happy couple but haven't found the right gift just yet, Versace will stand beside you. Released on the day of love, the brand shares its #VersaceSharesLove project that centers around the 21st century expression of emotions: emojis. Versace has launched its own emoji app with which users can embellish their photos with a range of backgrounds, filters, text colors and – of course- emojis. Now, these are not just your regular go-to emojis, but ones that Versace had customized: they come stylized as the iconic Versace Medusa head. Along with the free app download comes the perfect gift. Versace launches a new line of T-Shirts, embellished once again with the special smiley head. So if on the 14th, you're short for words in order to express your feelings, just send the hearty-eyed medusa. He or she will understand you, for sure.

www.versace.com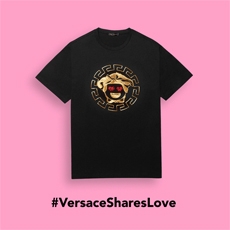 Fashion
Tommy Hilfiger Men's F/W 16 "Hilfiger Edition"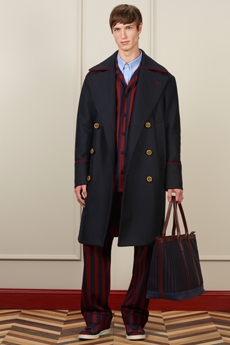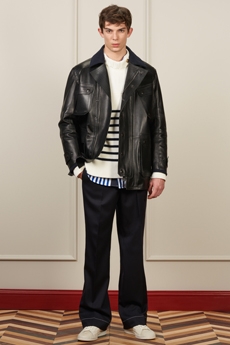 If you're a very classic brand, the ability to reinvent yourself over and over is key. Luckily, reinvention is the sub line in pretty much everything that Tommy Hilfiger does. It thus comes as no surprise that for his latest F/W 16 Menswear collection, titled "Hilfiger Edition", the designer again tackled both heritage and haute style. At New York Men's Fashion Week, Hilfiger presented a collective of indispensable menswear classics that once more embody the brand DNA. Covetable coats and thickly cabled fishermen sweaters make for warming outerwear, whereas slouchy trousers and selvedge denim create a relaxed look that is supported by the easy silhouette. Another part of Hilfiger's reinvention is also taking the promotion of this collection to the next level. Managed by instagram curator Jordan Watson, Hilfiger collaborated with fine artist Austyn Weiner. Using her explosive color palette, she reimagined three original works that feature the Hilfiger Edition collection. Tommy Hilfiger always makes an effort to reinvent – and the victory is his.

www.tommy.com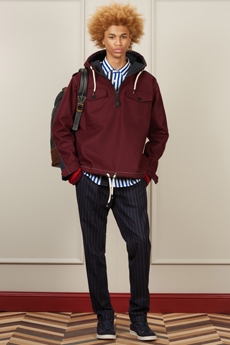 Fashion
Keta Gutmane S/S 16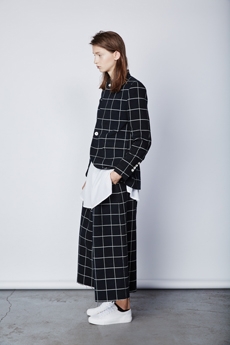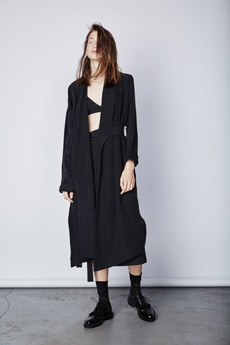 Hello from the outside: for Keta Gutmane, their latest SS16 collection is all about observation. Observation for the label creates a dialogue and builds a bridge between those who belong and those who were once lost. At Keta Gutmane, the outsider is never forgotten. For the new garments, the designers took loose inspiration from one of the greatest observers of all time: filmmaker Wim Wenders. Adapted to fashion, this inspiration translates into a combination of traditional craftsmanship with contemporary tailoring. To break it down even more: long oversized coats float along with sharply tailored poplin shirting. Fitted slim pants are teamed up with confident woolen blazers, whereas graphic trenchs are paired with coated cupro skirting. To not confuse the aesthetic, the collection is maintained by deep black and white, only occasionally interrupted by an expressive dash of checkered tartan. In conclusion, the collection forms are casually tailored silhouette that leaves the perfect room for observation. May it be from the inside, or the outside is of no importance. As Keta Gutmane said, we're always in a dialogue.

www.ketagutmane.com
Fashion
Sandro F/W 16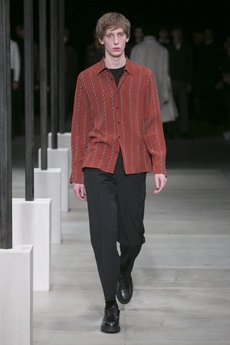 For a fashion designer, a collection can be like a play. Different actors, different looks, different parts of the play – in other words, acts. French fashion label Sandro took this as a chance to divide their latest collection, their play, if you will, into such different acts. The first one throws it way back to 1980s Berlin, where anarchical urban structures drained romance through the industrializing reality. This message translated into fabric calls for a denim jacket pattern realized with suede, combined with yellow rollneck jumpers. Act two introduces a series of silk shirts, emblazoned with a chain print, to be worn with tapered trousers that are cut off at the ankle and feature a generous hem. A theatrical play would maybe suggest a break by now, but Sandro dives right into the final act: suits with wider collars break on boots and are complemented with black-and-wide check motifs on mohair knits. As the curtain falls, the label presents the last look formed by leather trousers and long cashmere coats in a variety of colors. Applause!

www.sandro-paris.com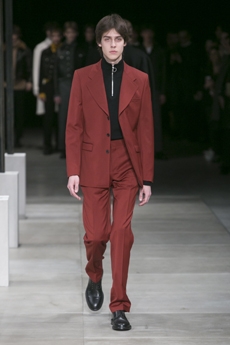 Fashion
CHANEL Couture Spring/Summer 2016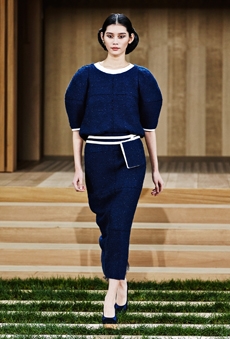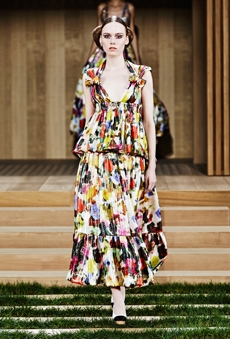 One could say that haute couture in its traditional realm is nothing to be worn while on a walk. As often, Karl Lagerfeld doesn't think so. For CHANEL, he created a collection that illustrates a walk in the park, a stroll in style while the spring sun shines upon your head. It is with an atmosphere of calmness and serenity that the models take their steps down the catwalk, outside the coulisse of a large wooden house. They present elegant garments defined by natural colors. Several beige tones, according to Lagerfeld, refer to Gabrielle Chanel being the "Queen of beige" while natural dark colors like black and dark blue are sprinkled throughout the collection. Lagerfeld found the starting point for these designs in the silhouette, playing with inverted volumes by creating short tweed jackets with oval sleeves, paired with sleek pencil skirts. Of course, CHANEL's stroll trough the park shouldn't be too wild, as materials such as chiffon or rhinestone-embroidered fabrics could be too easily damaged. But then again, keeping the contenance is CHANEL's specialty, isn't it?

www.chanel.com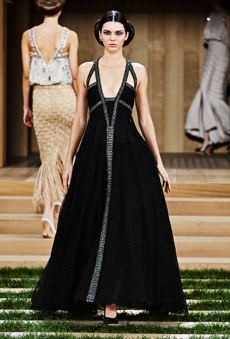 Fashion
Baldessarini F/W 16/17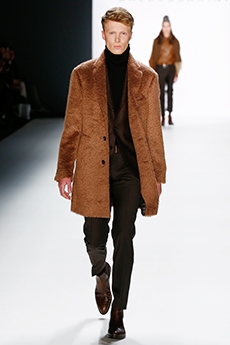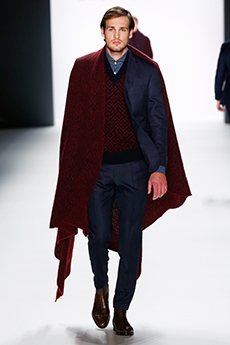 Baldessarini caters to the confident man about town, providing him with classic and elegant wardrobe staples rather than trendy throwaways. Key to success are craftsmanship and high-end materials, combined with a sustainable production centered in Europe. By no means is Baldessarini's FW 16/17 collection old-fashioned though: Yes, designs are predictably dapper. Why would you change a running system? Here and there, noticeably younger items turned the collection on it's ear: rough leather pants, sheepskin jackets, sweats with smart jackets and ties all carried a youthful vibe onto that runway. Aside from sweaters, turtlenecks were big, worn under crisp button-downs or suits. For one-stop shoppers, the label offers a complete range including scarfs, gauntlets and hats. Stripes and checks livened up an otherwise muted color palette of black, grey, blue, green, oxblood and beige, adding some well-received youthfulness to Baldessarini's Mercedes-Benz Fashion Week Berlin debut.

www.baldessarini.com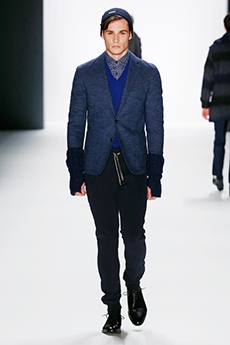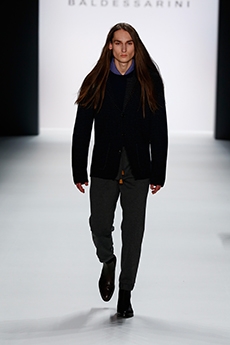 Fashion
Vladimir Karaleev Fall/Winter 16/17
For his first show during MBFWB since July 2014, Vladimir Karaleev hit a high note with his intricate construction and easy breezy styling. His expertly crafted, sculptural designs were set in a presentation rather than a runway show – a no-brainer considering Karaleev's pieces are more of an art installation than a nod to fast fashion. His FW 16/17 designs combine touches of cubism, mod-style and origami, resulting in exciting plays on volume, fabrics, and personal style. Each piece is in itself glorious and intriguing, yet full of possibilities in terms of combination. Grey, black, midnight blue and petrol, deep magenta, mauve and mustard could easily be overwhelming, yet Vladimir Karaleev has nuance and the masterful eye of an artist. Here's to hoping he won't hold out on us for another season or two.

www.vladimirkaraleev.com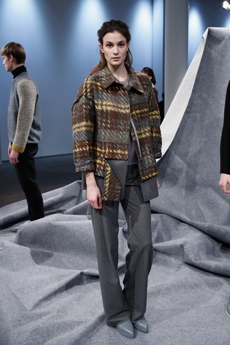 Fashion
McQ's Goes Clubbing With Nan Goldin
Strobe lights blur the sight; distant beats make the heart hammer. People are rushing through the crowd; the occasional flash of a camera interrupts the lights. The scene at McQ's new SS16 campaign sees legendary photographer Nan Goldin on the hunt. She follows models through the location at McQ's own McQ x WARP night, creating pictures that speak her unique language while also submitting a very realistic and "close" atmosphere. Shot in other parts on location in Spitalfields, London, the campaign does not only emphasize Goldin's style of work but also empowers the brand image of McQ as a rebellious, youthful, but highly contemporary brand. All of that -come to think of it - in "just" a few pictures. We feel like we're coming along. With Nan Goldin tracking our every move. We're in!

www.mcq.com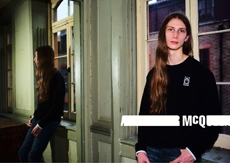 Fashion
MP Massimo Piombo Fall/Winter 16/17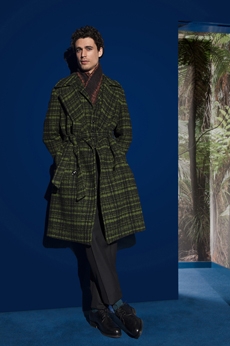 Blue is the great clarifier, blue makes all the other colors beautiful. MP Massimo Piombo has fallen in love. Blue is the "grande amore" in their latest Fall/Winter 16 collection. While the classic color is in favor, the label also experiments with, well, pretty much everything. For Piombo, there are no limits in their dynamic designs. The ideas are realized with fabrics from Nothern Europe (Scandinavia) and Old Europe (Austria, France, Belgium). The objective is to merge together allure and functionality, to create a concept of sensation and emotions free from restriction and prejudice. The result comes in form of a literal world of coats, jackets and knits that follow the brand's values of refinement, vitality, variety, dignity and – eroticism. There are no limits to experiments, and for Massimo Piombo, we wouldn't ever want there to be.

www.massimopiombo.com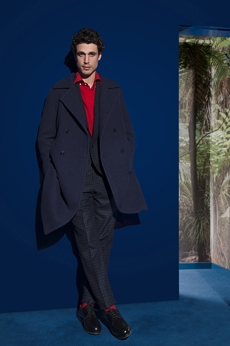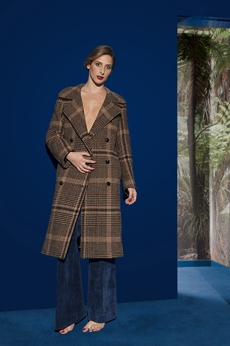 Fashion
Kiton Menswear Fall 16/17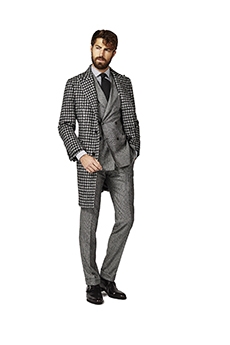 They say you can't do everything at once, but Kiton sure can. With their latest F/W menswear collection, the label crossed off every possible category one could feature in a collection: sartorial, thermal, denim, sportswear and accessories. Each subline has it's own revolutions – and together, they form a wholesome collection. The tailoring's masterpiece is a three-piece suit with vest highlight. A jacket gets a new outline with exclusive blends of cashmere borrowed from knitwear. Special attention is drawn to pants, which the label offers in a rich selection of cotton corduroy. Thermal wears brings on the CUTLO project and presents three jackets, overcoats and sports jacket that ensure a perfect balance between detail and performance. Kiton dubs it "the first sartorial thermal outerwear". Denim comes in organic cotton with up to eight processes of washing. Sportswear and accessories are equally as diverse, with a sportswear capsule collection devoted to skiing and accessories ranging from backpacks and duffels to crocodile leather shoes. They say you can't satisfy everyone, but Kiton sure can.

www.kiton.com
Fashion
Versace Opens Doors in Berlin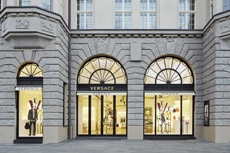 January 19th, 2016 saw a crowd of 400 sophisticated guests make their way to one Berlin address: the Kurfürstendamm, number 194. Here, Italian luxury brand Versace opened the doors of their new 350 square metre boutique with a special cocktail celebration. Among the crowd were several famous faces from the German culture scene, ranging from Iris Berben's son Oliver to fashion darlings such as model Franziska Knuppe. The store itself beholds the label's latest Ready-to-wear collections as well as accessories. Donatella Versace herself developed the store concept in collaboration with English architect Jamie Fobert. Customers will have the privilege to walk on mosaic floors, inspired by Byzantine churches of the Ninth Century, and surrounded by Perspex walls. As Donatella Versace puts it: "In fulfilling this project Jamie Fobert has created a space in which the new Versace spirit can take flight. For me the boutique suggests an uninterrupted dialogue between our past and our future, between me and Jamie Fobert and obviously between Versace and our clients". We're off to Berlin!

www.versace.com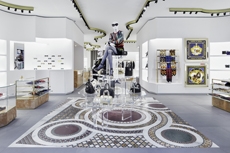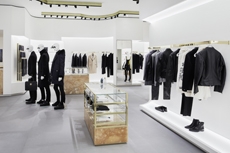 Fashion
Raf Simons Reveals: Spring/Summer 16 Ad
When Raf Simons closed a door, another one finally swung wide open. It's an odd saying – but it's true. After having left Dior in what was an unintentional kick-off to several changes in the fashion industry, Simons turned his back on French fashion houses and focused on his own line. And it's not just one door that has opened for him, in fact, it seems like Simons is standing in a metaphorical corridor, with multiple doors open to his side. Almost parallel to the presentation of his F/W 16 looks at Paris Men's Fashion Week, the designer revealed his advertising campaign for the Spring/Summer season. The visuals, shot by Willy Vanderperre and styled by Olivier Rizzo, consist of 8 pictures, most of them black and white, and illustrate a daunting scene in an abandoned park setting. One of the models is obscured by a full facial mask but not afraid to express their affection towards the counterpart. The looks feature repeated prints, expanded silhouettes and sleeveless tops. The time to be wearing them might actually be quite a bit away - but who knows which door Raf Simons will have opened by then.

www.rafsimons.com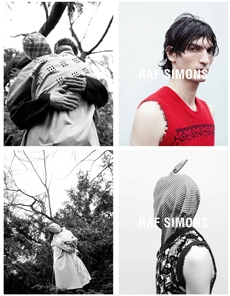 Fashion
Y/Project's Eclectic Darkness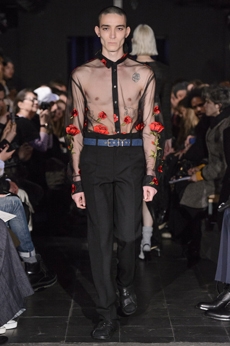 Industrial techno and cold wave sounds bounce through the Le Gibus in Paris. Backstage, models get in line, rearrange their look and get ready for entering the void. It's time for Y/Project's F/W collection. The French label presented their latest designs at Paris Men's Fashion Week in a rather gloomy but fascinating setting. Through the darkness, models walked dressed in an eclectic mix of industrial, medieval and classic French styles. For his 5th collection with Y/Project, head designer Glenn Martens found inspiration in films like the The Lost Boys or My Own Private Idaho. His creative process was a transformation of these inspirations into the key pieces that were presented on the Paris runway: washed and frayed denim pullovers and trousers, multi-zip bombers and shearling patchwork jackets. Harris tweed trench coats meet bustier dresses, snake-skin print hoodies and pants converge with oiled cotton bondage jackets. Such an eclectic mix provides wardrobe choices for an even broader audience. Just don't get lost in the darkness.

www.yproject.fr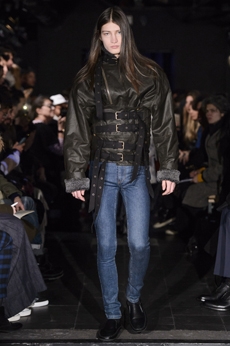 Fashion
Versace Men F/W 2016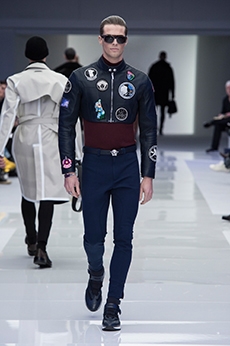 Versace certainly isn't only known but also loved for their eccentricity. For decades, the creative minds behind the brand have proved to be unlimited in their creative innovation. With the latest menswear collection, introduced at Milan's Men Fashion Week, Creative Director Donatella Versace presented yet another take on their anything-but-quiet attitude. For the latest designs, the Italian brand shot off into space. It's Versace-on-the-mars with futuristic metallic looks, astronaut-inspired sweatshirts and astrological prints. Additionally, the collection features all that is in style on planet earth right now: tracksuits, MA-1 jackets, cropped leather jackets and, of course, just the right amount of denim. "The Versace man is a pioneer, his ambition as big as the universe. This is a collection for men who are totally real, totally bold and totally connected with the future.", Donatella Versace commented. Houston, we don't see a problem here!

www.versace.com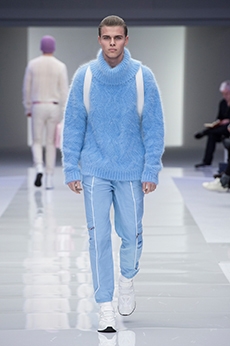 Fashion
Antonio Marras F/W16 Collection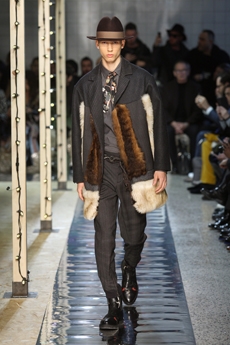 Cowboys, Indians, gold prospectors, saloon girls. Tumbleweeds, dusty roads, no life in sight, apart from a few wild horses, lizards and the occasional mosquito buzzing near your ear. We're thinking of the Wild West, thinking of Colorado, maybe, or some nameless town in the outskirts of the US. We're wrong. Antonio Marras has taken the latest collection to the West, but it's not western at all: the location in mind is in Sardinia. Illustrating the picture of a rural ghost town, the brand reinvented the motif of the Wild West by dislocating it to the Italian south. Inspired by this abandoned place in Sardinia, the designs feature a new take on the cowboy look with mélange sweaters, plaid trousers and a lot of checks. Intarsia shirts and velvet trousers dislocate the traditional idea of Wild West as much as the actual location. They are teamed up with patchwork jeans or denim overalls, biker jackets or floral jacquard fabrics. Colors range from moss, forest and military greens to red and mustard, forming an eclectic mix for a collection that can't possibly be narrowed down to one definition. There is no need for definition, though, as we know, that with a Wild West in Sardinia, the things are not what we define them as anyway. Open your mind to new definitions. Antonio Marras certainly does.

www.antoniomarras.it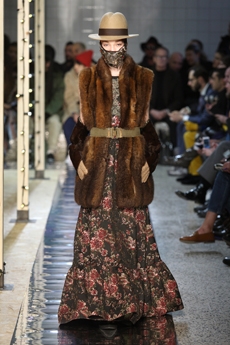 Fashion
Marni Men Fall/Winter 2016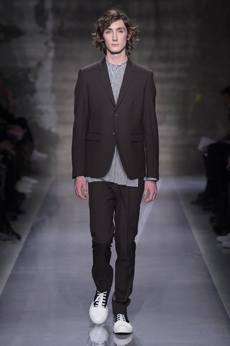 Marni's Fall/Winter 2016 is a swift motion between balanced elegance and subtle rebellions against clothing classics. On one hand, the brand presents soft and elegant silhouettes and suggests intimacy with this collection's number one theme: wrapping. On the other hand, raw cuts also convey strength. Suits are still precisely tailored and the use of fur provides some texture. Never judge a book by its cover, and never judge a fashion collection by the first impression. Caps and sneakers that contradict the elegance of the garments make another break in balance. The collection's color palette adds in elegance and subtleness with blues, greens, burgundy, ochre and light blue. We told you it was a swift movement. And with Marni, you just go along easily.

www.marni.com
Fashion
Louis Vuitton & UNICEF: #MAKEAPROMISE
Louis Vuitton's latest campaign line-up reads like the database of a Hollywood agency. For their #MAKEAPROMISE campaign, the fashion house collaborated with UNICEF to raise worldwide awareness for children in need and captured various darlings from the entertainment industry. Shot by Patrick Demarchelier at the sixth UNICEF ball in Los Angeles, the likes of Paul Bettany, Nicole Kidman, Léa Seydoux, Xavier Dolan, Adèle Exarchopoulos, Mariah Carey and many more posed with the "Pinky Promise" gesture, a symbol to assure commitment to the campaign's goals. These include not only raising awareness to children suffering from humanitarian catastrophes but also providing actual help. The brand will collect donations through an exclusively designed product: the Silver Lockit (wristband or necklace) will have 200 Euros from its total price of 500 Euros be forwarded to UNICEF immediately. The campaign is set to be a long-lasting project and was developed by Vuitton's employees. Having put an increasing focus on social media in their recent campaigns, LV and UNICEF once again ask users worldwide to share their #MAKEAPROMISE moment with a #pinkypromise post as a continuation of the movement started by the testimonials. Promises might be given out like free samples these days, but there's a feeling that this one might just be the change. Agree? Show your pinky. Promise.

www.louisvuitton.com
www.unicef.com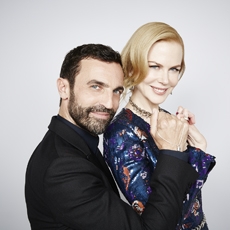 Fashion
Burberry at London Collections: Bowie Tribute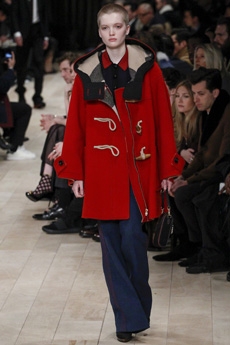 Burberry's London Collections: Men show didn't only include their latest designs in menswear, but transformed into probably the fastest tribute to the death of David Bowie. Coincidentally, the day of Burberry's presentation had also been the day of Bowie's passing. Models presented the garments with glitter on their face and Bowie's name scribbled across their hands. With 2016 being the year Burberry announced as the unison of its three lines London, Brit and Prorsum, Christopher Bailey and his team went through the archive and got inspired by multiple eras from the late 19th century to the 1970s. This collection's lovechild was the track top, worn either as outerwear or layered under typical Burberry coats. Colors were as varied as ever, ranging from warm moss greens to neon reds. Of course, with Burberry always being one of the most anticipated labels to present at LC:M, Bailey didn't disappoint and joined this season's train of military inspiration. And with a portfolio that diverse, there is no doubt that Mr. Bowie up in heaven would have been proud.

www.burberry.com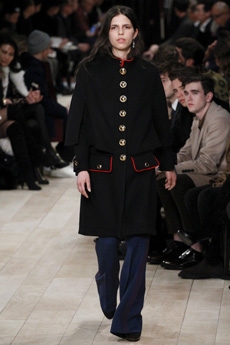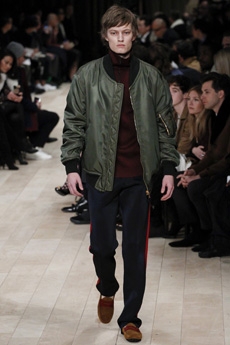 Photos: Marcus Tond/indigitalimages.com
Fashion
DIESEL Goes Emoji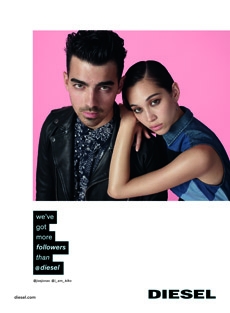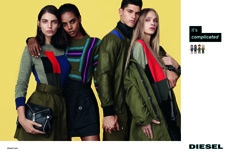 The wink-face, the monkey, or rather just the thumbs up – what's your favorite emoji? Don't deny it, you have one. Emojis have become the new sign language, a universal communication system that everyone in the world can understand. Whereas other fashion labels in the past have taken this as an inspiration to paste the tiny symbols onto their clothing, DIESEL winks at us and creates their own emoji alphabet for their Spring/Summer 2016 campaign. At first sight, the visuals are clearly an established fashion campaign – but with the slogan comes the twist. "It's complicated" is adorned with little couple symbols while the expression "holy denim" is reinforced by – of course – a praying emoji. For DIESEL Creative Director Nicola Formichetti, this campaign is a comment on our digital culture, the absurdities that define our on- and offline life. The digital world is more real than reality and has become a next-level superpower. No part is to be disregarded: the moving intimates visuals will also play on the world's most important porn sites. The campaign's faces are also no strangers to the digital world and it's open-minded spectrum. Model Stav Strashko, who was born male but identifies as a girl, rejoices in the gender diversity now most prominent in the digital world. Singer Joe Jonas poses alongside his colleague Kiko Mizuhara and his band DNCE. Now where did Formichetti find this pool of beaming faces? Your guess is correct, online. We clap our hands to that. Not literally. The emoji. You know.

www.diesel.com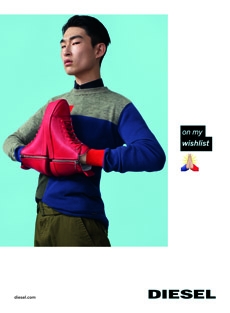 Fashion
Nasir Mazhar FW 2016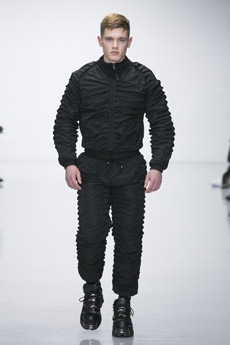 There are few things as fascinating and endless as the darkness. Its space of interpretation appears to be as vast as the darkness itself. Inevitably, the inspiration drawn from the dark is equally as tremendous. London designer Nasir Mazhar took this as a chance to dive into the deep and uncertain – and returns with his FW 2016 collection. His latest designs imagine a club world of individual characters, unified by darkness. A group that shifts in varying shades of black. Black - a color that ties together wide experiments in shapes and textures. Apart from this floating unison, each outfit stays an entirely separate project. Whether it's strapped tops, crumpled looks or extraordinary headwear, Mazhir's collection leaves as vast room for interpretation as the darkness. He recalls the creative freedom of his non-commercial, purely creative beginning. An approach that has been featured for the second consecutive season, as long-planned changes for the brand are set to be revealed. Who knows what they're going to be – as for now, we only know that Mr. Mazhar sure loves a bit of uncertainty. Just like the darkness.

www.nasirmazhar.com
Fashion
Moschino feat. Gilbert & George: FW Men 16
Moschino's Jeremy Scott might just be one of the most contemporary designers of our time. After having incorporated the world of fast food chains and Barbie dolls in his past designs, with the AW 16 menswear collection, he is onto the next collaboration. This time, only, it's art. Scott met up with artist duo Gilbert & George and, after a round of tea, was granted full access to their artworks for the new Moschino collection. The designer jumped at the possibility and therefore included everything he could: the new designs feature collaged coats, knit cardigans and jackets with patches of the artists' images of young men's faces. Typography, words and phrases have also been taken along. Other garments are peppered with crucifix patches that refer to G&G's 1982 art piece "Youth Faith". According to Scott, everything in Gilbert & George's work speaks to him, from the saturated colors to the slogans and provocative attitude. Well, this could just be a match made in heaven. 

www.moschino.com
Fashion
Neutral Party: Richert Beil FW15
Gender neutrality is the design world's (current) darling. Labels little and large are trying their hand at unisex apparel, but that doesn't mean they're any good at it. So often it's an indiscriminate approach they take, meeting the needs of many but flattering no one. But men and women are approaching a mid-point from two very different starting points; the solution cannot be one-size-fits-all. No, it takes a skilled eye and strident instinct to tailor a collection to both sexes with success – that's where Richert Beil comes in. The brainchild of Berlin-based designers Jale Richert and Michele Beil, the label lauds an erudite aesthetic irrespective of gender, sympathetic to the structural, social, and emotional subtleties that have so far mantled man and woman. Ankle-grazing slacks prove a universal staple – smart with a sexy sensibility. Knits take neutral but directional dimensions, sweaters understated in their elaboration, chunky tabards tossed over stitched skirts. Longline macs layer their enduring appeal over culottes, kilts, and tunics, while coltish calves are slicked by black stockings and bolstered with sturdy leather lace-ups. Now there's a style to suit all.

www.richertbeil.com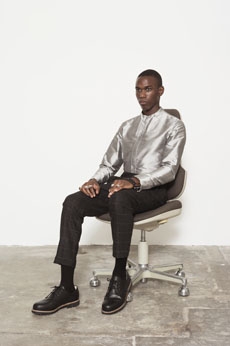 Fashion
Giorgio Armani Pre-Fall 2016 Collection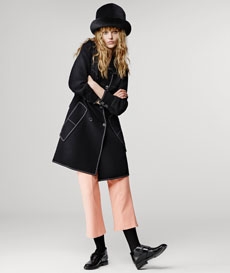 It's time for the next Pre-Fall revelation. Next in line is the Italian master of tailoring, Giorgio Armani. Titled "Bohemian Rhapsody", the new collection features everything from city chic to floral bohemian vibes. That's right, it's not all dreamy and mysterious: Armani stays right on track of time while referencing his own unique style with a cheeky wink. The Pre-Fall collection resembles the closet of a very stylish clique, with each member sporting her own, unique look. Very much the latest innovation comes in form of cut-just-above-the-ankle legwear, optionally also featured as cuffed pleated trousers. While certainly this supports a "city" vibe, floral dresses and fuzzy artistic coats bring the splash of bohemia. After all, variety is key. With this collection, Armani also keeps things quite casual – flowing valance dresses are combined with flat boots. If you opt for a more eye-catching look, check out the garments with shiny pinstripes. Finally, the collection is rounded up with the one fabric that should not be missing in a fall collection: elegant velvet. Now, without a doubt, we would love to have a look in that clique's closet, too.

www.armani.com/giorgioarmani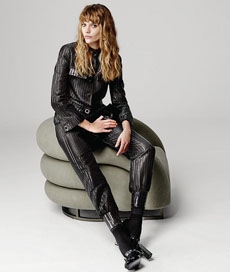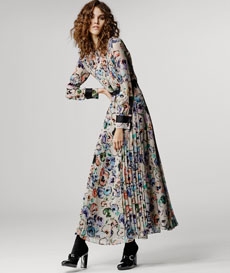 Photos: Courtesy of Giorgio Armani
Fashion
CHANEL'S City Western SS16 Campaign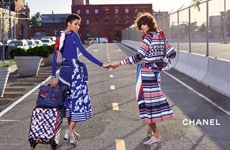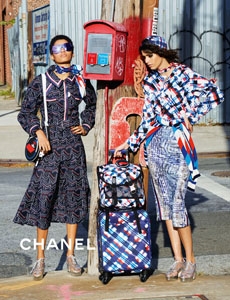 To be honest, the fashion world is spinning so fast that sometimes, one has trouble to keep up. Think CHANEL. One minute, we're still reminiscing about their iconic airport show, the next we've already taken off! Destination: Wild West, but also the city. The latest SS16 campaign combines both: CHANEL's City Western. The French brand premiered the new RTW and accessories campaign with two mini feature films. In it, models Lineisy Montero and Mica Arganaraz take on the empty streets of Brooklyn, New York. Their favorite travel accessory: the "Coco case" cabin case. The main collection's visuals were shot by Karl Lagerfeld himself and feature ethereal and colorful silhouettes. Montero and Arganaraz wander about in eccentric print combinations, oozing sophistication and effortless coolness. Functional-but-chic accessories that range from the all-essential cabin case to floating silk scarves complete their look. The only thing missing? A stylish lasso, maybe. It's the Wild West, after all.

www.chanel.com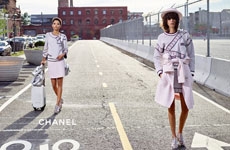 Copyright: CHANEL
Fashion
Givenchy Launches SS 16 Campaign
New York, I love you! This declaration has become the inspiration for Ricardo Tisci's latest Givenchy creation. The Spring/Summer 2016 campaign is his personal "Love card" to the city. Shot by Mert & Marcus in, of course, Manhattan, the campaign indeed focuses on love and our personal relationships. Following the three main messages Love, Gang and Family, the imagery features group photos of both new faces and Givenchy veterans. Clustered under the Manhattan sky, they present signature black & white looks with timeless elements such as lace and pinstripes. And, to reference love again, each picture is decorated with a handwritten quote by singer Anohni: "I am a child on the river and love waits downstream, a waterfall to steal my breath and change my mind". Ricardo, we love you, too.

www.givenchy.com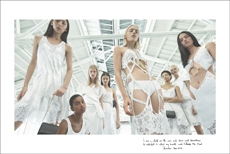 Fashion
Ermenegildo Zegna Presents SS16 Advertising Campaign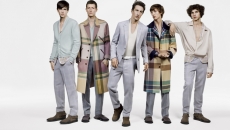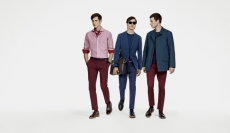 What does masculine identity stand for these days? It's 2015 – well, 2016 almost – and the masculine identity has once again shifted in the past year. Is it more fragile than ever – or have we finally settled into a state of relaxation? Italian heritage brand Ermenegildo Zegna has the answer – their latest Spring/Summer 2016 advertising campaign. The key lies in blending. Zegna forms a new, global aesthetic with a fusion of "new" and "old". While still revolving in an overall angle around their heritage and DNA, relaxation is an addition to the brand's values. This is why the campaign, shot by Inez & Vinoodh, features a row of self-aware, relaxed men posing in front of a simple, white background. Ermenegildo Zegna presents the new man: stylish, masculine – but contemporary. Main act of this set-up is actor and filmmaker Benn Northover – known for his role in the last two parts of Harry Potter as well as for his huge commitment to the independent film scene. For the Couture collection, the brand also settles into a lighter, more transparent atmosphere. Shades of "non-whites" are framed by optical whites and all-black looks. Next to the world of classic tailoring, the brand even sprinkles in a bit of colorful, informal attitude disguised as a relaxed take on the daily act of dressing up. Ladies and gentleman, get ready for 2016 – and the new Zegna man.

www.zegna.com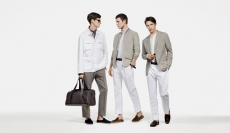 Fashion
DKNY x New Museum Host Intimate Miami Beach Dinner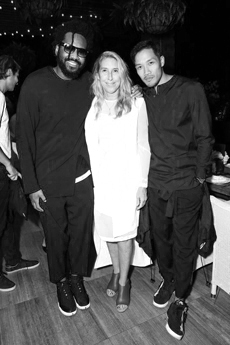 In celebration of a new partnership December 2, 2015, saw DKNY and New Museum host an exclusive dinner as part of the Miami Beach Art Basel. As guests were top names in fashion and art, they included the likes of Lisa Phillips, Shelley Fox Aarons, Dominique Levy and Karen Wong. With creative directors Dao-Yi Chow and Maxwell Osborne, DKNY is collaborating with the art institution to further advocate women artists, as the New Museum has made one of its top priorities over the past 38 years. "The New Women's Project" brings focus and support to the exhibitions and commissions of five women artists this coming year. Not only this, but DKNY will become the Lead Sponsor of the New Museum's spring 2016 exhibitions, including solo exhibitions by Nicole Eisenman, Goshka Macuga, Cally Spooner and more, whilst overseen by Massimiliano Gioni, Artistic Director of the museum.

www.dkny.com
www.newmuseum.org
Fashion
"Once and Forever"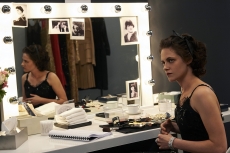 Next week on December 1, Karl Lagerfeld will be revealing the CHANEL Métiers d'art collection in Rome's legendary film studio complex, Cinecittà. As a prelude to the showing of the Paris-Rome 2015/16 collection, Lagerfeld will present his latest short film, "Once and forever". With the aim to portray Gabrielle Chanel "through all stages of her life and the comeback in the 1950s", current CHANEL muse, and face of the Paris-Rome 2015/16 Métiers d'art collection's advertising campaign, Kristen Stewart will be embodying the label's legendary founder alongside Geraldine Chaplin. The film itself takes place behind the scenes of costume tests and script meetings to tell the story of a lively film production with the aid of Jérémie Elkaïm, François Marthouret, Amanda Harlech, Jamie Bochert, Jake Davies, Baptiste Giabiconi and Laura Brown.

www.chanel.com
Fashion
FENDI Reopens Rome's Palazzo FENDI
This December FENDI are unveiling their completely refurbished Palazzo FENDI near Rome's Spanish Steps. The five-storey building houses FENDI's first boutique hotel alongside the Salon Privé, which is a luxurious apartment exclusively for VIP customers, and designed by the infamous Dimore Studio. Their largest flagship store accompanies the private residences after FENDI recently established their new headquarters in Palazzo della Civiltà in Rome's EUR district.

Fashion
Dries Van Noten Designs Costumes for Dance-Chamber Opera, Hagoromo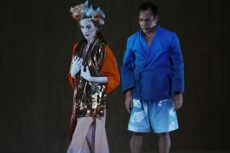 For his second design collaboration with contemporary dance since he teamed up with Teresa De Keersmaeker for her work "Rain", Dries Van Noten is behind the authentic costumes of David Michalek's reinterpretation of Hagoromo. A piece of traditional Japanese Noh theatre, this multidisciplinary show reunites Wendy Whelan and Jock Soto, both former principle dancers of New York City Ballet, to retell the tale of a fateful meeting between a poor fisherman and a fallen angel. The Belgian fashion designer draws inspiration from traditional Japanese costume design as well as typical kimono colour combinations to create a beautiful feather printed look for Whelan and a fish printed costume for Soto. Van Noten allocates minimalistic outfits to the other performers in the show, complimenting the simplistic set design of Michalek's Hagoromo.

The world premier of Hagoromo is held at the Brooklyn Academy of Music Harvey Theatre between November 3 and November 8, 2015.

www.driesvannoten.be
Fashion
Say Goodbye to Blood Diamonds
"All human beings are born free and equal in dignity". It was December 10, 1948 when the U.N. proclaimed in Paris the "Universal Declaration of Human Rights" (UDHR). However, there are countless places in the world where basic, personal rights are not respected in any way.
Gilardy Jewels aim to tackle this head on and produce beautiful jewelry that does not come with the usual price tag of someone else's integrity. In celebration of the UDHR, they create timeless pieces to be worn by everyone, from anywhere on any occasion, whilst supporting various organizations that fight for human rights, such as Amnesty International and Human Rights Watch. The Gilardy Human Rights collection consists of rings, charms, wristbands and bracelets, all made in a robust stainless steel. Free of nickel, this jewelry is extremely dermatologically friendly and its rings and engravings are manufactured by fairly employing disabled workers. Furthermore, for every ring or chain sold from the collection, Gilardy Jewels donate 5€ to the "Human Rights Watch" Organisation, for every bracelet they donate 3€. All in all, this unique label is giving their wearers something to be proud about, fine handcrafted jewelry that is complete with a conscious.

www.human-rights-collection.com
Fashion
Mademoiselle Privé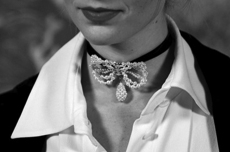 ©REUTERS/PETER NICHOLLS

An enchanting exhibition, "Mademoiselle Privé" depicts the charm and creativity of the captivating Gabrielle Chanel and Karl Lagerfeld. Hosted at London's Saatchi Gallery, the exhibition begins outdoors, in a beautiful English garden, designed by Harry and David Rich. A tribute to Mademoiselle Chanel, the contemporary garden is split into three sections: "Liberty", "Boy Capel" and "Leo"…these symbolizing her free spirit, the love of her life and a symbol of her strength and astrological star sign.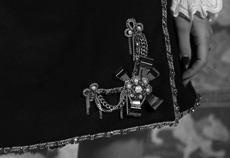 ©REUTERS/PETER NICHOLLS

Visitors are then invited to explore the very heart of CHANEL in an exhibition commemorating the things and places most dear to Gabrielle Chanel, with an emphasis on her and Karl Lagerfeld's most inspired haute couture creations. Eighty three years after it was rejected by Britain's Custom regulations, the 1932 "Bjoux de Diamants" Collection exhibits alongside CHANEL N°5.
The final chapter to this remarkable journey realizes itself as an 18th century garden, "Jardin à la Française", inspired by the stained glass windows of the orphanage in which Gabrielle Chanel grew up and learnt the seamtress trade…This being the original home to the iconic, interlocking Cs of CHANEL.

"Madmoiselle Privé" is held at London's Saatchi Gallery until November 1, 2015.

www.saatchigallery.com
www.chanel.com
Fashion
Rick Owens Unveils New Hollywood Boutique
With the aim to create something truly "Cecil B. Demille worthy", a 450 square meter warehouse on La Brea, dating since the 1920s, has been renovated with the help of Owens' long time architect-of-choice, Anna Tumaini.
Together they have created something outlandish and abstract, in a tribute to the epic biblical movies that Owens watched as a child. He claims these movies have proved huge to be huge sources of inspiration for him throughout his life with "doomed heroic purity in black and grey draped robes in huge, dusty marble temples".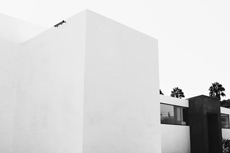 In representing this imagery, the La Brea boutique contains high ceilings, huge angular beams and the label's signature fog glass tank, which by engulfing the room fills it with "a billowing ejaculation of fog every 5 minutes". Not only this but there is also Owens' own dramatic reinterpretation of a swimming pool that tantalizingly releases slow motion bubbles…The boutique is located in L.A. after all.

www.rickowens.eu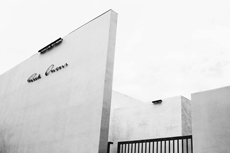 Fashion
Louis Vuitton Spring/Summer 2016 Collection at PFW
The virtual age is taking over and Louis Vuitton is yet another label this season choosing to comment. Unlike his contemporaries however, Nicolas Ghesquière's opinion is not one of doom or disaster but ferocity and strength.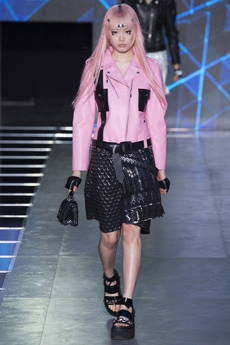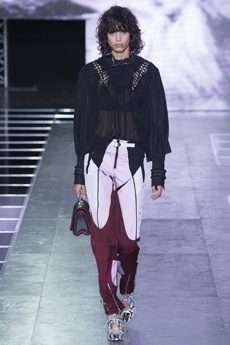 Absorbed in a cyberspace setting, the look was digital and fierce. Military inspired leather jackets worn with metal textured mini skirts and chained platform sandals introduced a new wave of punks. Patchwork trousers with silver zippers reappeared throughout the show in various forms, whilst beaded knitwear provided a kind of protective armour.
The classic Louis Vuitton print was splashed sparingly on jacket sleeves whilst the ruched drawstring bag in look 45 proved a real stand out in the accessories and no doubt a must have this season.

www.louisvuitton.com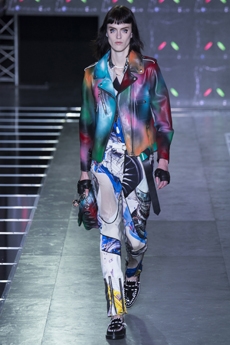 Fashion
Hermès Spring/Summer 2016 Collection at PFW
It's clean lines, geometric shapes and sleek silhouettes at Hermès this season.
Nadège Vanhee-Cybulski recovered the label's heritage in bringing back leather once again this season in various midi length skirts, coats and dresses. Trainers appearing in white, blue, ochre yellow and red will surely prove to be a hit in store, not to mention the tailored longline coats.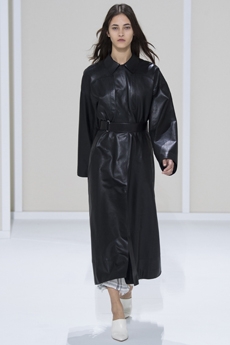 Oversized stone jewelry adds drama to the understated collection, whilst Vanhee-Cybulski's beautiful palette of colors elevates this understated collection to the height of Spring/Summer elegance.

www.hermes.com
Fashion
Kenzo Spring/Summer 2016 Collection at PFW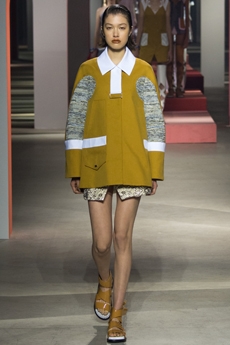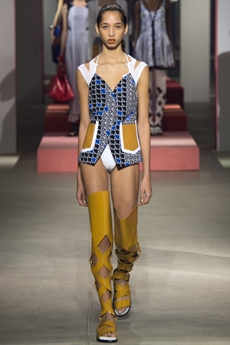 Carol Lim and Humberto Leon have transported us to the heart of the Meditteranean Summer with their latest line for Kenzo.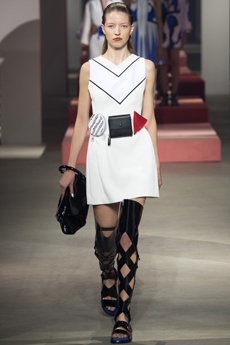 A decidedly young collection, it is packed with crop tops, bodysuits and mini skirts, not to mention their brilliantly reimagined 90s waist bags. Accessorizing with ornate jewelry and contemporary, gladiator-style thigh high boots, Lim and Leon elaborately mix occasions in each look whilst exploring bold tribal prints in vivid colours. The end effect is busy, but a cheerful one at that.

www.kenzo.com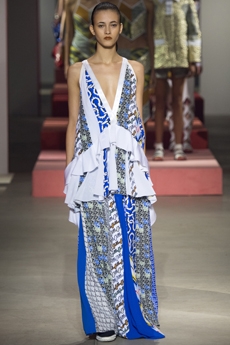 Fashion
Comme Des Garçons Spring/Summer 2016 Collection at PFW
"Ready-to-wear" is not a phrase that means much to Rei Kawakubo. The enchanting "witch" collection from the most anti-commercial label in fashion wass both baffling and exciting.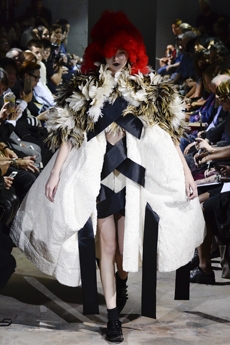 Silhouettes were magnificent, with ruffles and feathers galore. Shoes were stereotypically "witchy" pointed boots whilst deranged hair was coloured vivid red to offset the dramatic looks.
Luckily, Adrian Joffe was on hand to explain more, with the idea of witches referencing "Powerful women who are misunderstood, but do good in the world" – potentially also referring to Kawakubo herself.

www.comme-des-garcons.com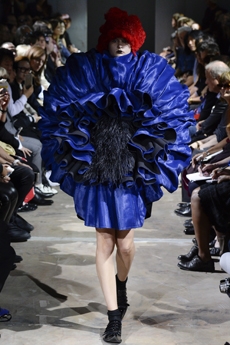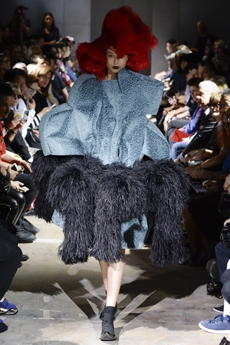 Fashion
Maison Margiela Spring/Summer 2016 Collection at PFW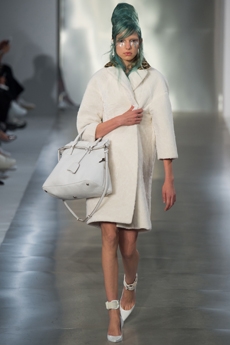 "Lo-fi, sci-fi" is John Galliano's latest collection for Maison Margiela. An eclectic assortment of references, the designer's otherworldly show saw the union of the vintage 50s, a futuristic space age and traditional Japan.
A turquoise beehive, leopard print collar 50s style coat and silver make up à la Pat McGrath; it began with a psychedelic bang. Next came fishnet limbs, appliqued glass fragments with an over layer of mesh. All oddly ready to wear for Galliano, we were later introduced to his reinterpretation of kimonos. Liquid-look skirts dripping in applique grazed the ankles and appeared among beautiful prints and obis in creating kimono-style silhouettes… This enthralling collection has the Galliano stamp all over it and it is spectacular.

www.maisonmargiela.com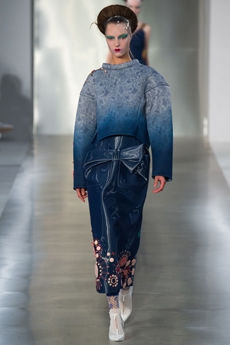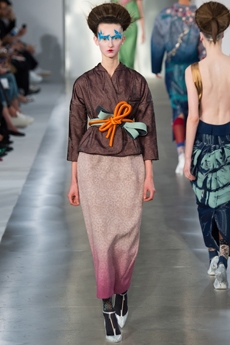 Fashion
Jacquemus Spring/Summer 2016 Collection at PFW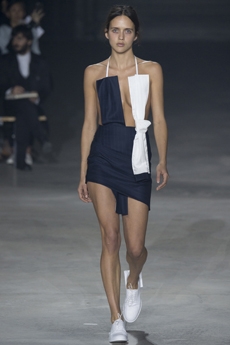 In a surreal Parisian show, "Le Nez Rouge" came complete with ginormous balls of fabric, a barefooted child in a man's shirt and the designer himself leading a horse down the runway.
The collection itself was outstanding. Heavily deconstructed suits resulted in asymmetric lines and contemporary shapes in the label's signature style. Crisp shirts and tailored trousers appeared in the designer's trusted palette of navy, white, grey and red.

jacquemus.com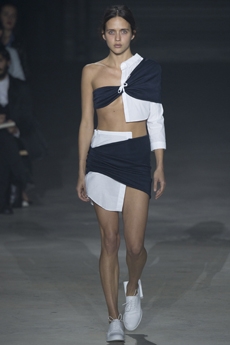 Fashion
Emporio Armani Spring/Summer 2016 Collection at MFW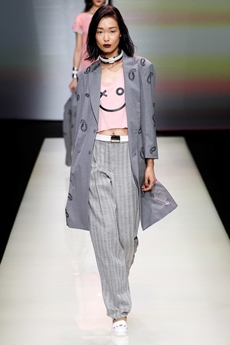 If it was blue last season then it was orange this one at Emporio Armani. Well with a majority neutral palette throughout, he ended the show with a vibrant orange, evocative of a summer sunset.
Continuing with a casual trend to his clothes, this line sees a fluid transition from androgynous looks to decidedly feminine ones, from eighties inspired power dressing to nineties sports-inspired leisure wear. With the adoption of a number of shapes, a stand out are the ruffled suit trousers that cinch in with a belt buckle.

www.armani.com
Fashion
Blumarine Spring/Summer 2016 Collection at MFW
A jewel encrusted, court-studded, floral print explosion of sheer netting, draped fabrics and relaxed jackets is occurring at Blumarine this season. Anna Molinari has let her imagination run wild and created a collection in which two worlds collide, those of surrealism and reality.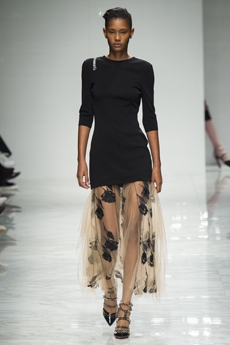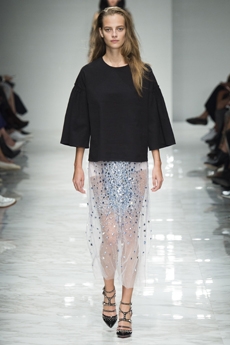 Take billowing satins or sheer printed skirts against simplistic ribbed jumpers and oversized coats. This fusion of ornate decoration and modern minimalism creates a look of ethereal elegance finding its feet in an urban world.

www.blumarine.com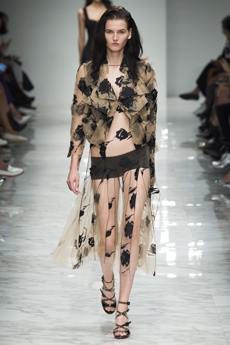 Fashion
Trussardi Spring/Summer 2016 Collection at MFW
Seemingly having had sourced inspiration from a documentary depicting one man's travel through Western Australia, the undertone to Gaia Trussardi's latest collection is of exploration and survival.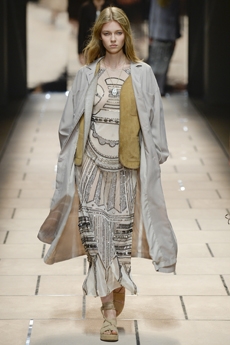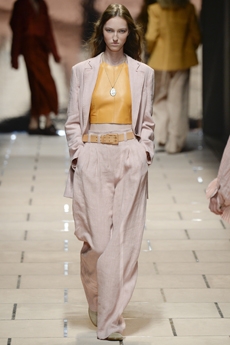 Longline jackets and shirts sail over matching linen trousers, all with distressed raw edges, appear as though they have withstood the harshest of elements of a desert. There is patchwork, layering and leather all realized in a warm, earthy palette and slouchy silhouettes.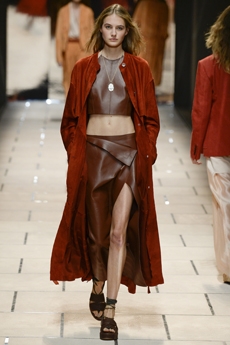 Amidst all of this, Trussardi is having a somewhat vintage moment, with beaded dresses and waistbands and a nostalgic pendant necklace featuring in every look. The culmination of which is a collection fusing roughness with luxury, a novel interpretation of shabby-chic.

www.trussardi.com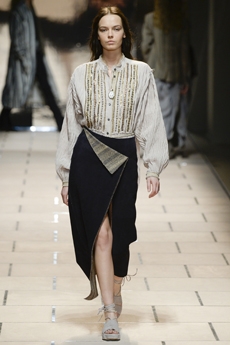 Fashion
Fendi Spring/Summer 2016 Collection at MFW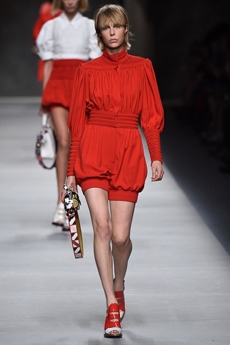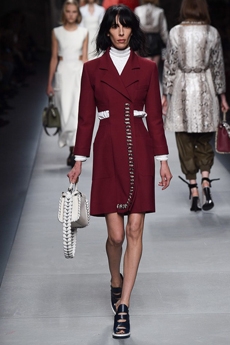 Opposing retro at all costs, Karl Lagerfeld implies that there are no references in his latest Fendi collection. The puffed up sleeves, the high neck collars and the repeated latticing are puzzling... With coral, oversized leather sleeves and a pleated maroon skirt that flows to the ankles, I can't decide if we're in the eighties or the Renaissance, with look 16.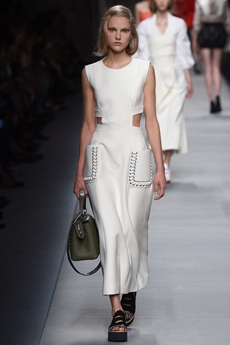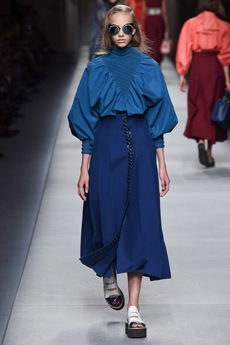 Lagerfeld incorporates a diverse number of silhouettes, fabrics and colors into the collection and more often than not with this one it really seems as though they shouldn't work together… Somehow though, they definitely do.

www.fendi.com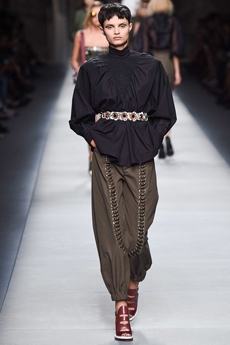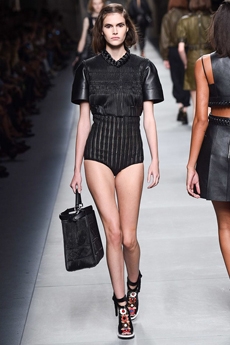 Fashion
Philipp Plein Spring/Summer 2016 Collection at MFW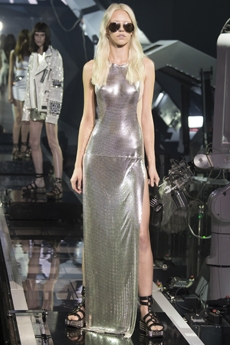 As promised, Philipp Plein has delivered another rock-pop spectacle with his show at MFW. Studded boots, a robot-backed Courtney Love performance and Black Swan style tutus, it is Terminator meets eighties Rock God and conjures up memories of his SS16 menswear line.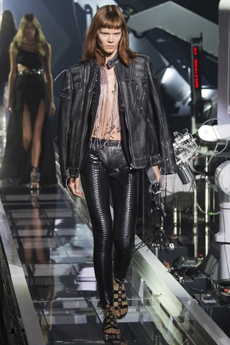 Leather biker jackets, emblazoned with patchwork badges reading quotes like "GOD SAVE HIP ROCK", are covered in his signature studs and teamed with slinky metallic dresses.
With technology being a key ingredient to this collection, models walking the catwalk as if on a conveyor belt… This was of course after a robot had accessorized them.

www.plein.com
Fashion
Replay Footwear Launch Online 24h Shoe Design Competition
In collaboration with Desall, a digital startup boasting an international platform of 60,000 creatives, Replay Footwear have announced a shoe design contest to extend their current shoe line and design their "24th shoe".
The urban, unisex shoe must reflect the Replay brand DNA and must be of an original, unique design, appropriate for 24/7 use, with a monetary prize at stake. Replay fans can follow the competition and vote online at Replays Facebook and Instagram pages. Prospective entrants must personally subscribe to the Desall platform to participate in the competition. The contest ends in November.

www.desall.com
www.replayjeans.com
#Replay24hshoe
Fashion
J.W. Anderson Spring/Summer 2016 Collection at LFW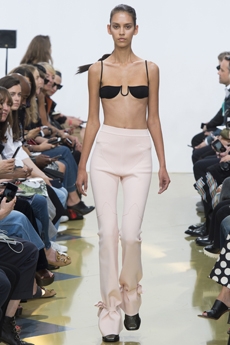 "A Woman's Odyssey" is what J.W. Anderson was apparently calling his show backstage. A jumble of periods there was oversized ruched shoulders from what could only be the Renaissance period, monochrome sixties squiggle prints, eighties bodycon dresses and some incredible nineties metallic square toe boots.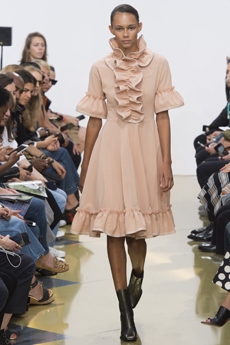 In adopting a fairly neutral palette, the creative collection was eye opening but not overly excessive – it worked. J.W. Anderson has successfully created yet another completely original line.

j-w-anderson.com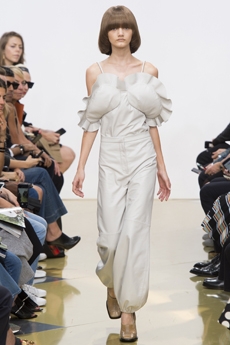 Fashion
Proenza Schouler Spring/Summer 2016 Collection at NYFW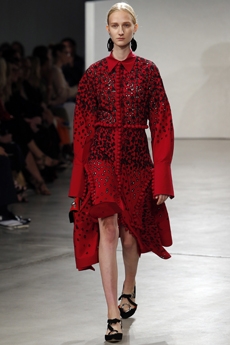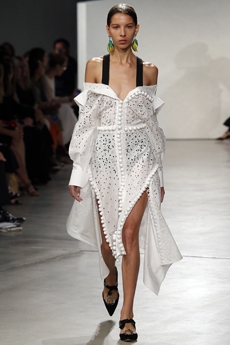 Open shirt-dresses peeling off model's shoulders, undone fastenings and asymmetric hems overtly hint at the inspiration behind this season's Proenza Schouler Collection.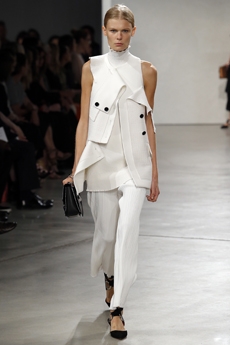 Indeed, Lazaro Hernandez and Jack McCollough claimed it was "a peeling banana" that influenced the label's luxurious ready-to-wear line. Makes sense doesn't it? Already a clever collection, its combination of interesting shapes, textures and colors make it a beautiful one too. Mix in some ruffles, pom poms and feathers, and you are left with an ultra-feminine, contemporary line with a hint of Spanish influence.

www.proenzaschouler.com
Fashion
Jeremy Scott Spring/Summer 2016 Collection at NYFW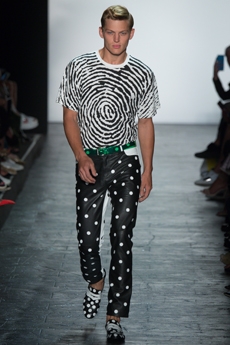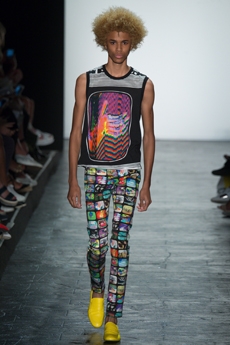 The inspiration behind Jeremy Scott's latest collection is blatantly obvious: 60s screen meets sci-fi. The designer fills his catwalk with a classic T.V. screen "squiggle" print on metallic fabrics amongst psychedelic monochrome patterns, alien green trapeze dresses and even a show-stopping conical bra to finish.
Indeed the ever-playful Scott has moved away from last season's twee style and gravitated towards a cheekier look of fishnet tights, dangerously high hems and retro cartoon character prints…All made easier to digest by the collection's simple shapes and silhouettes.

www.jeremyscott.com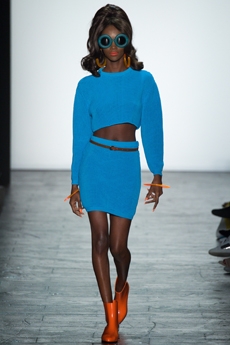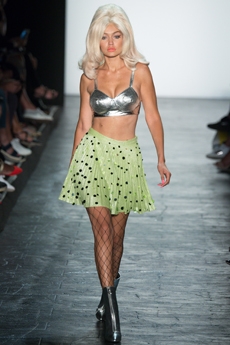 Fashion
Hood By Air Spring/Summer 2016 Collection at NYFW
Another season at Hood By Air equals another season of Shayne Oliver doing whatever he wants. With deconstructed shirts, trousers, skirts, and just about everything else, Oliver consistently takes the mundane and transforms it into something extraordinary.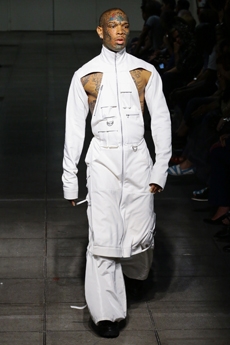 This school-uniform inspired collection sees the designer jump on the trend of gender blurring and showcases an equal number of male and female models wearing his interpretation of skirts and dresses on the runway. The bad boy of New York Fashion Week, Oliver revels in his Hood By Air revolution.

www.hoodbyair.com
Fashion
Signature Scent
Madame Tussauds may as well give up now, as the candle replica of Karl Lagerfeld is quite brilliant. His iconic look of dark shades, signature white collar and black top button is perfectly captured in this amusing homeware delight… Perfect if you feel you need a little Karl in your life/cupboard.

Co-designed by John-Paul Welton, the scent itself is naturally inspired by all things Karl. Delicately spiced mandarin surrounds the top notes of cinnamon, whilst it's center includes soft jasmine and orange blossom fused with cardamom, nutmeg and tobacco. Cedar and teak wood, musk and amber finish up at the base of the luxuriously elegant scent, ultimately embodying his very character.

"Candle Karl" has found itself on shelves in limited edition at the Maison and Objet Paris and is available to preorder in store at Karl Lagerfeld.

www.karl.com
www.weltonlondon.com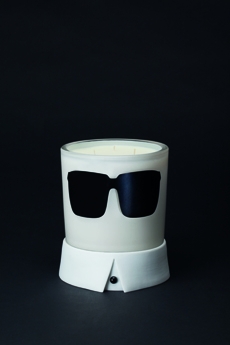 Fashion
Acne Studios Embrace Change with Fall/Winter 2015 Campaign
Adopting fashion's recent shift away from gender distinctive clothing toward current trends of gender blurring and androgyny, Acne Studios' Creative Director Jonny Johansson has featured his 11-year-old son Frasse in the label's Fall/Winter 2015 campaign. Shot by Viviane Sassen, the ad sees the preteen football fanatic tottering about in heels and a number of coats from the new womenswear collection – looking unnervingly cool whilst doing so.

In a recent statement, Jonny Johansson said "I've seen this new generation's attitude to fashion where the cut, the shape and the character of the garment is the crucial thing, rather than seeking approval from society or to follow set norms." The outdoor ad will appear in major cities New York, London, Paris and Hong Kong.

www.acnestudios.com
Fashion
PARIS XVIE: A Short Film for Dior Homme
Yesterday saw Dior Homme unveil its latest collaboration between artistic director Kris Van Assche and photographer Willy Vanderperre. "PARIS XVIE" is a short film exploring what it means to be this season's Dior man, with actor Boyd Holbrook guiding us through a day in Paris.

Wearing a tuxedo whilst exploring the depth of Paris' urban landscape, Holbrook is charmingly confident. Playing a harmonica as he wanders through the streets and picking up flowers as small souvenirs, his pensive expression draws a certain curiosity about him. Toward the end of the film, as a nod to the stylized, cinematic screens of Hollywood, we see him dance around the room and walk under the lights of Paris at nightfall… A clever mix of old and new, this season's Dior man must be witty, romantic and self-deprecating. PARIS XVIE is online now and accompanied by a still image campaign.

www.dior.com/parisxvie


Fashion
Tiger of Sweden Jeans Pop-Up Store in Central Copenhagen
Just this afternoon Tiger of Sweden / Jeans opened a brand new pop-up store in the heart of Copenhagen. Landing in perfect timing for Fashion Week, it stocks the Tiger Jeans A/W 2015 collection for both guys and girls. This collection exudes the brooding edge that Tiger of Sweden Jeans prides itself upon, using a combination of "minimalistic expression with a dark, dreamlike print" in creating looks.

According to Fredrik Folkesson, who is Product Manager for the brand, Tiger Jeans has evolved massively over time, since its birth in 2001. After departing from the larger fashion family, Tiger of Sweden, Tiger Jeans has used it's cooler, more urban reputation to become one of Sweden's' leading jeans brands.

The store opening today in Copenhagen is the first to date that sells exclusively Tiger Jeans, and reflects its' growth to an established Fashion line.

www.tigerofsweden.com
Fashion
Hogan Celebrates The Opening of Their New Boutique in Munich
The second Hogan Boutique in Germany follows their boutique in Dusseldorf as a unique two-storey flagship store, combining modern elegance and sophisticated creativity. Hogan was founded in 1986, and is part of the TOD's luxury goods group, and has been at the forefront of casual luxury ever since. The Hogan look is dominated by an urban effortlessness; simple, elegant and refined yet relaxed. Hand made from high quality materials, each Hogan garment is a timeless wardrobe staple. Hogan welcomes you to the new Munich boutique with their Fall/Winter 2015/16 collection. www.hogan.com
Fashion
Moncler Campaign Fall/Winter 2015-2016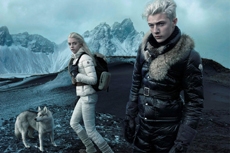 Drawn from the dramatic mysticism of the Nordic Sagas and traditional Russian and Slavik folklore, the Moncler advertising campaign takes a dark turn. The formidable photographer Annie Leibovitz evokes in Moncler's fairytale a take on various literary inspirations: from Tolkien to Hans Christian Andersen. Breathing life into these reimagined characters are the siblings Lucky and Pyper Smith, of the band "The Atomics". The stunning backdrop of the glacial Icelandic landscape frames the characters within a dream-like cinematography. Echoing the color palette of the Moncler collections, the earthy, raw tones are intertwined with nature, embodying the heartfelt relationship of the Moncler approach.

www.moncler.com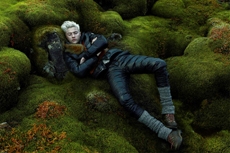 Fashion
Maison Margiela Fall/Winter 2015 at Paris Fashion Week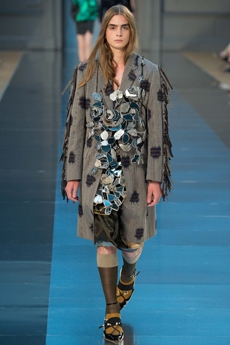 Recalling the striking blues of Yves Klein, abstract patterns and what looked like Granny's crochet patterns, designer John Galliano presented an otherworldly couture collection for Maison Martin Margiela. Disjuncture, contrast and curiosity seemed to be the unifying trend – the collection could swing from showing a majestic coat of beige simplicity to metallic abstraction in the way of a skirt and a paint-splattered ruched top. This fluctuation only served to highlight Galliano's inventive spirit, and his return to what he does best.

www.maisonmargiela.com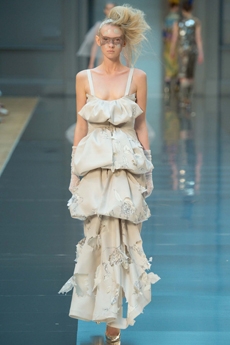 Fashion
Jean Paul Gaultier Couture Fall/Winter 2015 at Paris Fashion Week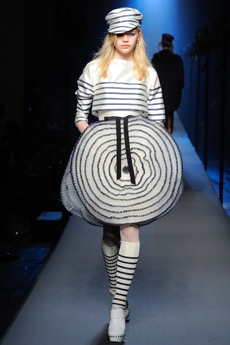 Inspired by Bretagne, the French region known for sailing, the Breton sailor stripe and Crêpes, Gaultier goes fully French. It was more than fanciful; it was a sneak peek into the continual curiousness of Mr. Gaultier's creative mind. Amongst his angular take on the beret, the part chefs-hat, part statuette headpiece exemplified the very present theatrical element of Gaultier's France. Theatrics aside, the collection contained an array of beautifully constructed fabrics, the intense yellow, gold, orange and blue color scheme only highlighting the mastery of construction. Despite the whimsicality of Gaultier's shows, it is something that has become a bit of a trademark — and in the end, his playfulness is always breath of fresh air.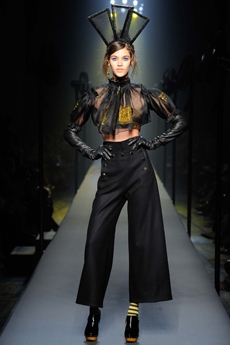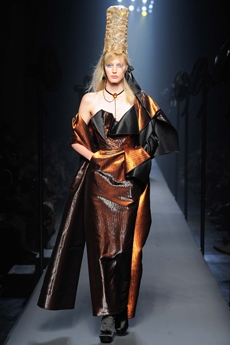 Fashion
Herr von Eden v MÜHLE Shaving Culture
Together with MÜHLE, Herr von Eden is launching a set of premium-grade shaving accessories for all men with an eye for quality and style. Good taste and an attention to detail are perfectly combined in this elegant shaving kit. Timelessly and traditionally crafted, the shaving set consists of a high-quality shaving brush with a handle made of resin, in combination with a low-maintenance synthetic fiber — the Silvertip Fibre ® - a MÜHLE innovation. In addition to this highly constructed kit, the aloe vera shaving soap ensures a thoroughly enjoyable shaving experience — for the cultivated gentleman.

www.herrvoneden.com
Fashion
Guess: His & Hers
Forget everything you know about denim. Guess' slogan challenges you to ponder the age old adage of 'no denim on denim' with their denim capsule collection. Who doesn't like to shake up the rules every once in a while? Well forget everything about what you'd think a denim suit would look like – Guess throws all the rules out of the window and presents the tailored denim suit… and nails it. The collection showcases the customization of the sophisticated suit, where Guess presents a complete reversal of this thought-to-be fashion faux pas. A top to toe denim suit . A sexy one. For both him and her. The tailored denim items will be available from September 2015.
Fashion
3 Stripes In Motion – adidas Spring/Summer 2016 at Paris Fashion Week
As the only German fashion brand present on the French runway during this year's SS16 Men's shows, adidas presented new collections and upcoming collaborations. Amongst these were the Y-3 brand in partnership with Japanese designer Yohji Yamamoto, exclusive styles for Rick Owens, Kolor and Raf Simons, as well as new ventures involving Kris Van Assche. Adidas was in good company at the SS16 shows this year, as the biannual Paris fashion week as been laced with a good amount of sportswear inspired looks this season. Emphasis has been on practicality, agility and wearability and this has certainly been reflected in the footwear design. Throughout the fashion week events, adidas maintained a strong presence, having presented five new styles of footwear from is Tubular series and featured in a total of seven outings, either through their own showcases or as creative collaborators.

www.adidas.com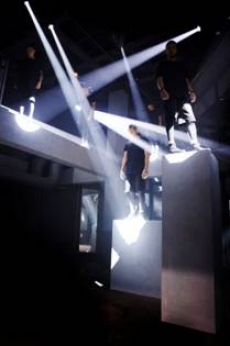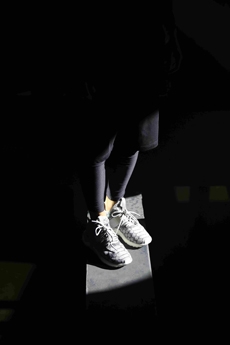 Fashion
Balmain Menswear Spring/Summer 2016 at Paris Fashion Week
Olivier Rousteing's Balmain man is definitely memorable. A reimagination of the twentieth-century adventurer, Rousteing evokes the essence of a contemporary city explorer. Though perhaps not as practical as it is aesthetically pleasing, the throwback headpieces, khaki belted jackets and pocket-heavy pants are the results of a certain military pragmatism and an appreciation for the classic cuts of the 1900s, refashioned with the modern man in mind. Indeed, as Olivier Rousteing's first menswear collection for Balmain, the collection is decidedly statement-worthy, and iconic in the way that it neatly reflects the iconic qualities of its inspirational figures – the traversing scientists and aristocrats of old.

www.balmain.com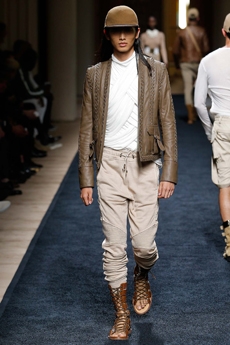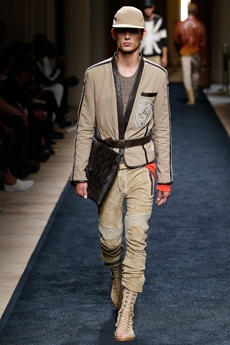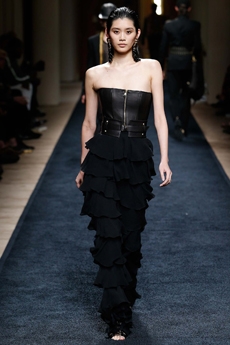 Fashion
Dries Van Noten Menswear Spring 2016 at Paris Fashion Week
Red scorpions, red palm trees, a red Marylin – the Dries Van Noten Menswear collection was a thoroughly enjoyable, somewhat ominous seduction by way of iconic imagery. Images of Marylin Monroe were emblazoned elegantly through monochrome patterns peppered throughout the collection. Checkered billowing pants, striped shirts and paisley shorts were paired with summery, silky pieces in dark, somber colors. The Van Noten theme evoked imaginings of a sumptuous Hollywood pool party, only darker and more eerie.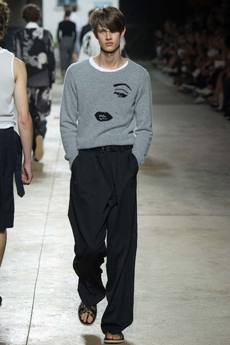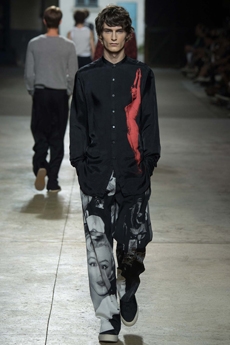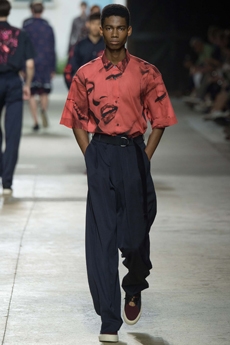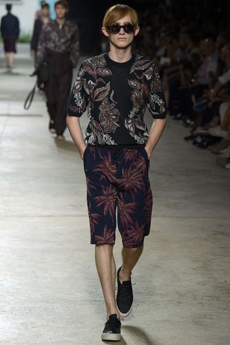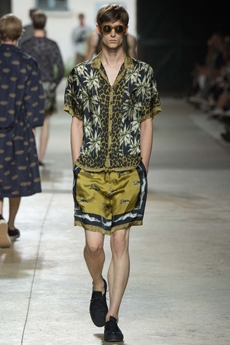 Fashion
Philipp Plein Spring/Summer 2016 at Milan Fashion Week
Welcome to the 'hip-rock' generation. Dubbed and exemplified by Philipp Plein's SS 16 menswear collection, the young fashion house presents a virtual summary of what's what in urban contemporary street fashion. Graffiti, ripped shirts, hoodies, biker jackets and tons of leather characterize this development of hip hop fashion – a movement headed by the pop culture Rock stars of today such as Rihanna, Jay-Z and Kanye West. Philipp Plein's collection is an ode to the focus and celebration of hip-hop tradition and its newborn fashion child appropriately named 'hip-rock'.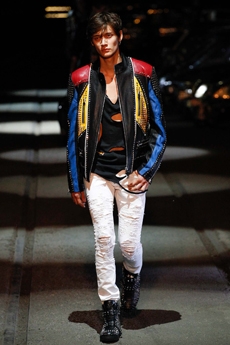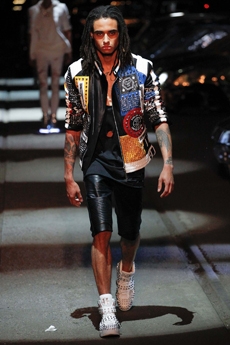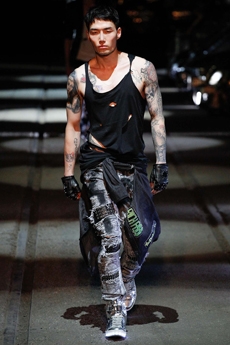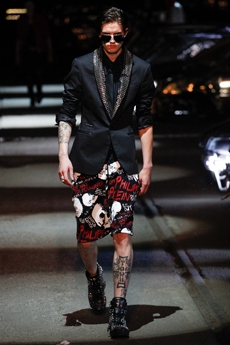 Fashion
Diesel Black Gold Menswear Spring/Summer 2016 at Milan Fashion Week
Creative director Andreas Melbostad presented the Diesel menswear collection in industrial surroundings during Milan Fashion week. With a reworked safari garments, the Diesel Black Gold man is irrevocably modernist and utilitarian. Textured and layered, the collection conjures and image of an urban survivalist. Safari pockets are teamed with survival jackets and cool color palettes, echoing a contemporary tailored collection.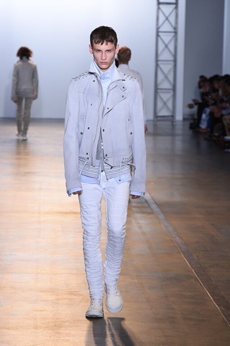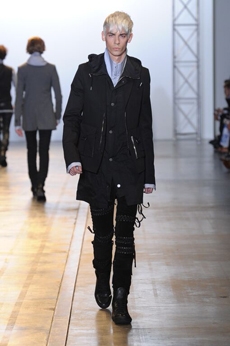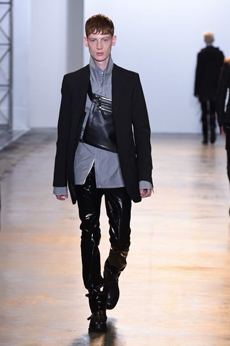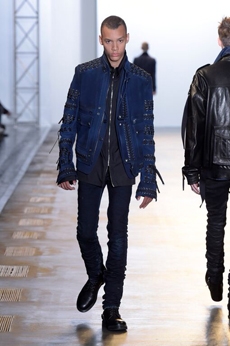 Fashion
Kenzo Resort 2016 Collection
The unifying pillar of the Kenzo Resort 2016 collection is its nod towards the modern-day woman on the go. With the universe at her feet and a yearning for functionality, Kenzo provides the sartorial relief for a woman in need of comfort paired with practicality and elegance. With subdued prints and flowing fabrics, the collection is made decidedly versatile with its soft, natural color scheme. Camouflage greens, stone greys, pale violets and beiges make sure the Kenzo Resort 2016 garments fits into any setting.
Fashion
Moschino Menswear Collection SS 2016
Inspirational origins were decidedly unsubtle and in-your-face at the Moschino Menswear SS 2016 show. Models walked out to the backdrop of a classical French mansion wearing accessories fit for… well Louis XVI himself. Certainly fascinating and absolutely eccentric, creative mind Jeremy Scott channels motor sports, French luxury and the rebellious air of Jimi Hendrix and Prince all at once.

Scott's take on menswear prescriptions are definitively not to be put into a pigeonhole. Indeed, the signal is that there is absolutely nothing keeping you from wearing what you want to wear but availability, and Moschino and Scott certainly delivers.

"This is not about more pocket squares, more deconstructed jackets, more athelisure, more meh. It's Moschino, baby."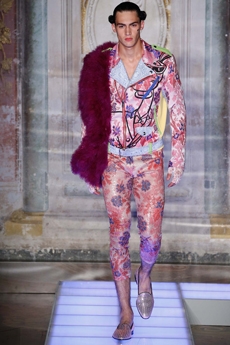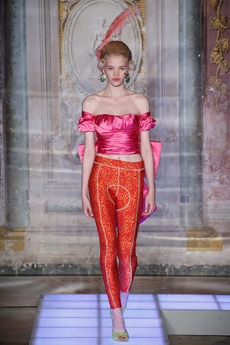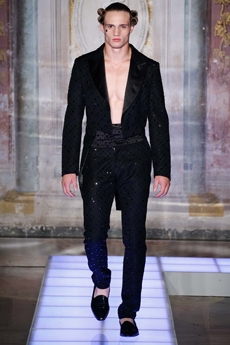 Fashion
AGL Fall/Winter 2015 Campaign starring Dakota Fanning
The Giusti sisters welcome back the ethereal Dakota Fanning back into the fold with her renewed position as face of AGL for a fourth season. The Fall/Winter 2015-16 collection is laced with androgyny, combining boyish styles with a feminine taste through its minimal shapes and bold details.

Vera, Marianna and Sara Giusti chose Dakota for her embodiment of the refined AGL spirit of femininity and playfulness, her energy captured in the monochrome images of photographer Rankin.

www.agl.com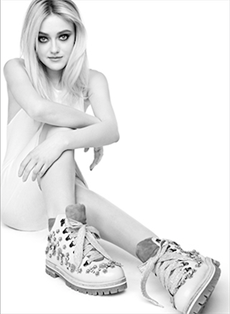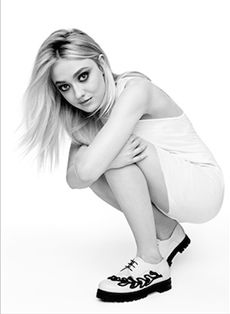 Fashion
HUGO BOSS Fall/Winter 2015 Campaign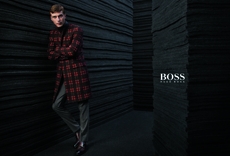 Industrial cuts, classical in nature yet futuristic in look is the order of the day in the recently revealed HUGO BOSS FW 15 campaign. Laced with crimsons, the pervading grays are elevated from classic to edgy, safe to bold. Artistic Director Jason Wu brings to the campaign a cemented Berlin feeling in his refined layers of anthracite felt.

Featuring Clément Chabernaud and Edie Campbell, this ode to Wu's structural vision is reflected in the photographic work of Inez van Lamsweerde and Vinoodh Matadin, directed by Stephen Galloway. The collection tells a story through the play between structure form and a striking palette of black, red, camel and gray.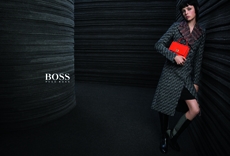 Fashion
Barny Nakhle for Haider Ackermann
Shoemaker Barny Nakhle has been appointed the new creative head of Haider Ackermann's accessories department – more specifically its diverse footwear collection. Following work for stockists worldwide, Nakhle will contribute his own distinct craftsmanship to the Belgian shoe house. The Nahkle-conceived collection will be launched in a few weeks for the SS16 season.

With a decidedly architectural approach, playfulness and the sharpness of form come together to create an assemblage of uniform classicism with a twist of innovation. The collection is currently available via appointment only at the Boon showroom in Paris between June 24th – July 3rd.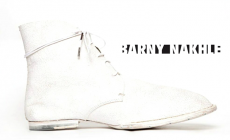 Fashion
Converse and COMME des GARÇONS announce new collaboration
The fruits of a collaborative effort between CONVERSE Inc. and COMME des GARÇONS, the brands unveil the fourth installment of their Play Special Edition Chick '70 Sneakers.

Under the expert eye of the iconoclastic Japanese fashion house founded by designer Rei Kawakubo, the SS '15 collection features black and milk canvas uppers, reinforced canvas heel strips and cushioned sock liners.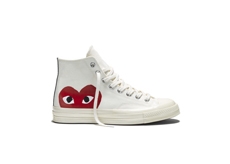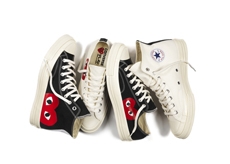 The red "Peeking" heart logo, created by New-York based graphic artist Filip Pagowski, embellishes the limited-edition collection. Featuring four exclusive pairs of premium All Star Chuck 70 sneakers, they come available in both high top and ox silhouettes.

The collection will be available for purchase exclusively at Dover Street Market stores in London and New York, as well as COMME des GARÇONS New York and online on May 14.

www.doverstreetmarket.com
www.converse.com
Fashion
CHANEL, Pharrell & Lederhosen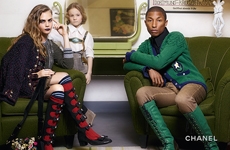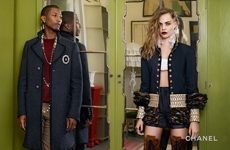 The Paris-Salzburg Métiers d'Art campaign stars CHANEL veteran Cara Delevingne, tour-de-force musician Pharrell Williams and the now seasoned runway walker Hudson Kroenig. Taken by Lagerfeld himself, the campaign features the collection's trademark knits, knee-high lace-up boots and lederhosen.

Pharrell Williams, who will be awarded the CFDA Fashion Icon Award at this year's ceremony, looked suitably at ease in the pieces inspired by the Hamburg-raised Lagerfeld's roots. By combining the traditions of the region with a touch of Haute Couture, the collection evokes in the viewer connotations of a contemporary von Trapp family.

The collection will be available in boutiques and on chanel.com in June.

www.chanel.com
Fashion
Slam Jam x Carhartt WIP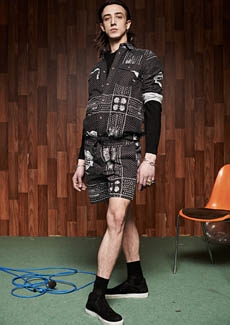 To celebrate the anniversary of Slam Jam, the Italian based clothing company rallied the creative force of Carhartt WIP and the British designer Andrew Bunney to develop their Boom Town Slickers jubilee project. Consisting of five looks under the themes "Putty Canvas", "Denim", "Reflective", "Bandana" and "Chase Thermal", the looks are all made of Carhartt WIP classics, and are an amalgamation of the reinterpretation of the old and the new.

Rooted in "street culture", Slam Jam's aesthetic hails from the influences of music, sports and the visual arts. Over the past twenty-five years, the company has been bridging the world of streetwear and fashion.
The 3rd drop of its capsule collection "Boom Town Slickers" consists of special material and workwear items. The items from the 3rd drop entitled Reflective will be available from April 25th, followed by the 4th and 5th drop on May 25th and June 25th respectively. They will be available at Slam Jam and Carhartt WIP, both online and in store, as well as selected stores worldwide.

www.slamjam.com
www.carhartt-wip.com

Fashion
Miu Miu: De Djess
Miu Miu has been celebrating femininity with the short-film series called Miu Miu Women's Tales. This time, Alice Rohrwacher was given the chance to write and direct a film about the power of women. The film follows the story of several dresses that arrive at the shore. The main dress, also the lead in this particular film, has a different story to tell.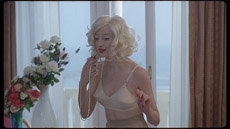 For some reason, the film has a slight Wes Anderson feel to it. There is some kind of uniqueness in the way the actors move, in art direction and communication. Even though the language used in the film is made up, it communicates the message clearly. Rather than giving you all the right answers, Rohrwacher makes you want to ask more questions.
Fashion
Armani's Art of Living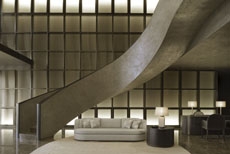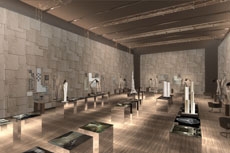 For the first time, Armani Casa is showing work from the most important projects, together with scale models, samples, stylistic research and sketches. To see the process behind the interior collection of the Armani house, you can visit them during this year's Salone del Mobile in Milan.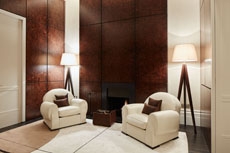 Since 2015 is an important year for Armani, the exhibition will represent important milestones for the brand. Many projects from all over the world will all be showcased.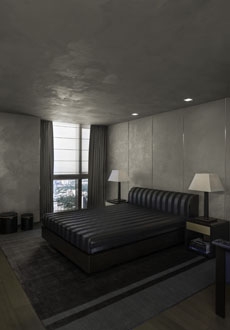 Fashion
Fendi Launches a Digital Boutique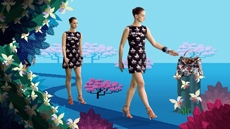 Fendi has just launched their digital boutique. You can now have the experience of visiting a Fendi store whenever you want. Whether it's a holiday or the middle of the night, you're always welcome to look around and see the latest capsule collections. The brand is offering you a 360° experience, where service is of high importance. The boutique is open in Europe for now, but the US and Japan will follow later this year.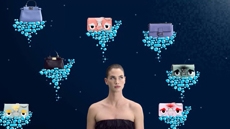 Fashion
BORIS BIDJAN SABERI X MAD et LEN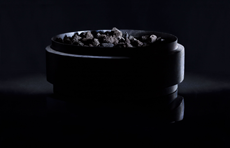 Designer Boris Bidjan Saberi and blacksmiths MAD et LEN have worked together to create a new line of candles that are both unique and utterly sublime. In style of both brands, the candles are hand poured and made into burned steel jars, which gives them a dark and mysterious design.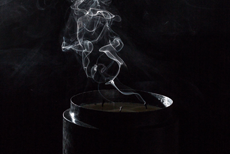 Fashion
Saint Laurent at Paris Fashion Week Fall/Winter 2015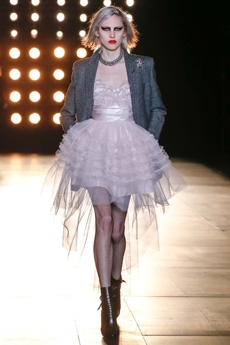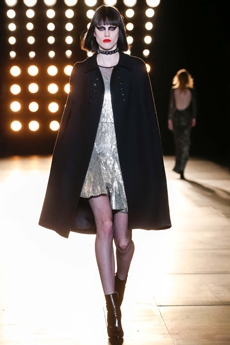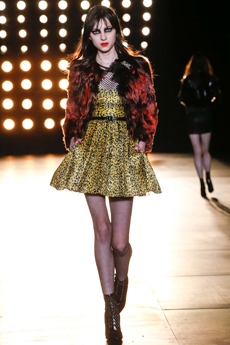 Whenever Hedi Slimane shows a collection, we are sure of one thing: people will talk. The opinions are never as divided as they are at a Saint Laurent show, which makes it one of the most anticipated shows during Paris Fashion Week.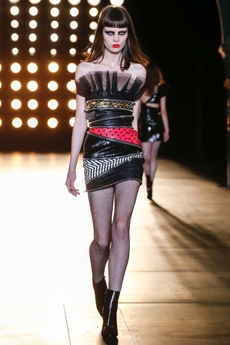 The great thing about Slimane is that he does not really care, and that is exactly what he showed us with his creations for next fall. His Saint Laurent girl is back. Or maybe she has never been gone to begin with. She continues to be the coolest girl in town. Careless and feisty, a little like Slimane himself. She hangs around at rock shows and ends up modeling by accident. She is the girl that most girls (secretly) want to be, and that is why Slimane proves to be a commercial success. Over and over again.
www.ysl.com
Fashion
Louis Vuitton at Paris Fashion Week Fall/Winter 2015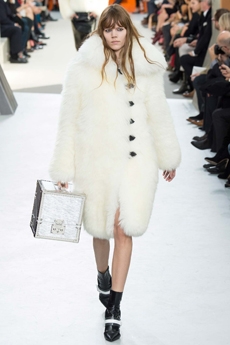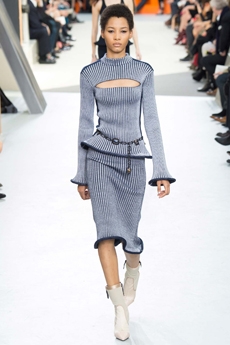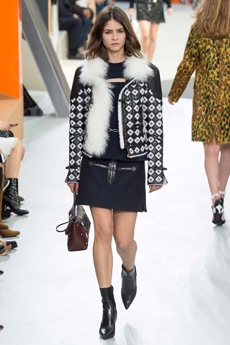 Ever since Nicolas Ghesquière took over the steering wheel, Louis Vuitton has been traveling into a slightly different direction. For the Fall/Winter 2015 collection, he has found a way to add some of that Parisian rock 'n roll into Vuitton's classic luxury.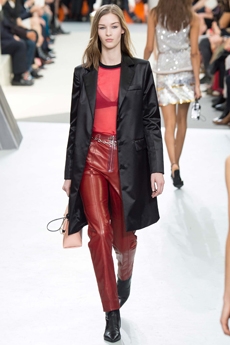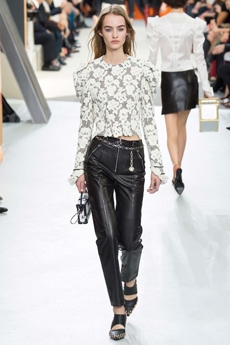 Biker pants and jackets were combined with short dresses in flower prints, finished up with pointy heels and low, black boots. The looks felt casual and laid-back, but none of them lacked flare.
Fashion
Maison Margiela at Paris Fashion Week Fall/Winter 2015
Even though it does not always seem like it, fashion is an industry that accepts and forgives. This was proven during the latest Maison Margiela show by John Galliano, when we all embraced him back into our hearts.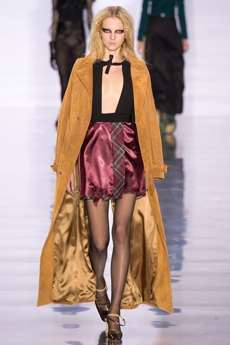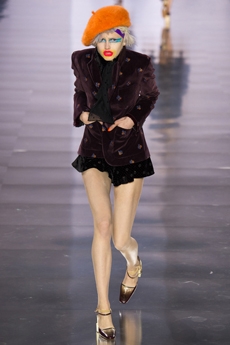 The collection itself contained a perfect balance between Galliano's signature style, together with how we see Margiela. It had humor, uniqueness, craftsmanship and was it filled with small references. Everything we ever expect from a Margiela collection.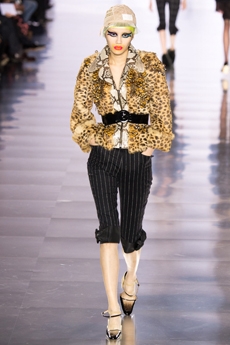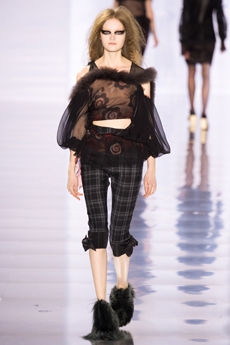 Fashion
COMME des GARÇONS at Paris Fashion Week Fall/Winter 2015
Rei Kawakubo's collections tend to get smaller, but for some reason they tend to get more powerful too. Her latest show had a certain sadness, perhaps portraying the pain of an artist.
Every piece in the collection was grand, perfectly made and telling a different story. Or maybe the story was not different, but each and every look went trough a different phase. In a way, the show was about a lack of freedom. Covered arms and almost suffocating dresses showed a broken woman; a women who couldn't seem to escape and completely accepted her condition.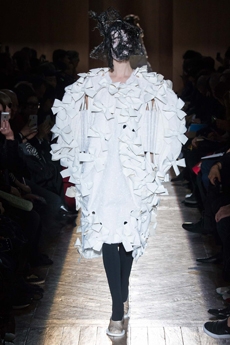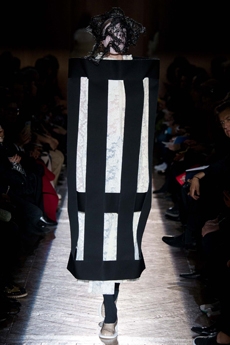 Even though we might not know the specifics, Kawakubo told us her story. We may or may not understand it, but we surely like to keep on trying.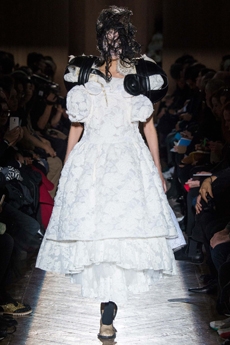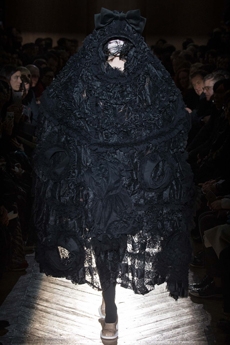 Fashion
Dries Van Noten at Paris Fashion Week Fall/Winter 2015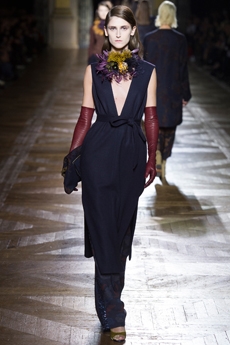 Dries Van Noten never fails to amaze. His Fall/Winter 2015 collection has clearly been inspired by his earlier work, which was simply inevitable by this point in time. We saw oriental colors and prints, combined with powerful but effortless shapes. Strong and rich materials met stiff and oversized fabrics that made every look slightly more modest.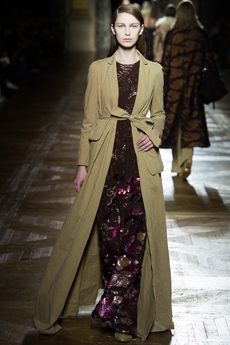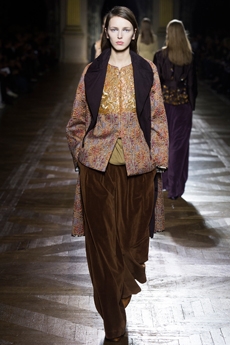 The Dries-woman looks like she is somewhat of a modern emperor. Golden prints and embezzlements, together with the use of satin, scream femininity and refer to old China, where she seems to be taking over.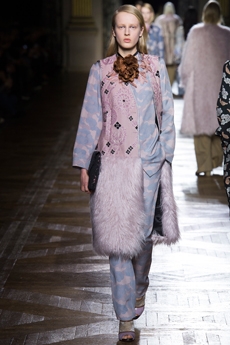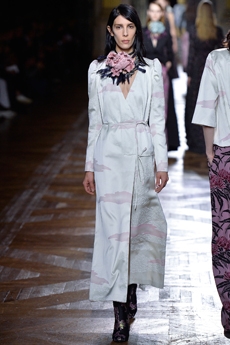 Fashion
Zadig & Voltaire at Paris Fashion Week 2015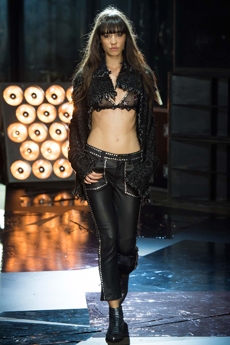 The two Swedes behind Zadig & Voltaire, Cecilia Bönström and Paulo Melim Andersson, have managed to make the brand more French then ever. The Fall/Winter 2015 collection radiates Parisian rock and roll, which has always been the core of Zadig & Voltaire.
Embellished pinstriped suits and studded leather showed the essence of their style, but the use of fur added something slightly new. Highly luxurious, long, patchwork fur coats were key pieces in the collection.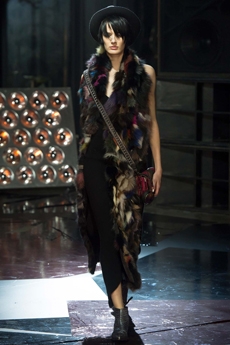 Fashion
Tod's at Milan Fashion Week Fall/Winter 2015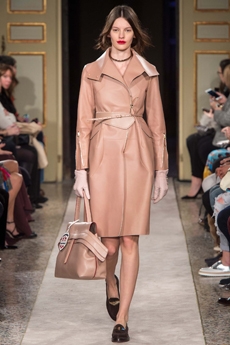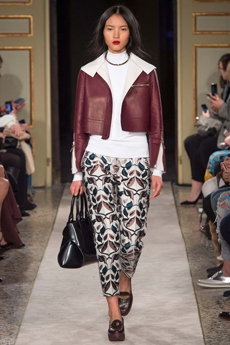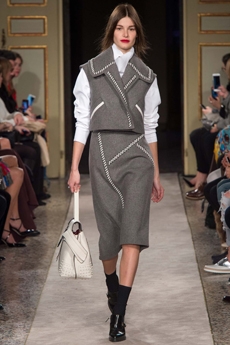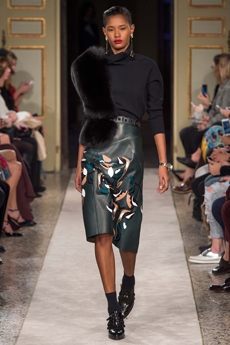 Alessandra Facchinetti knows exactly what she is doing with Tod's, which originally started as a footwear brand. For the past few seasons, she has been pushing the boundaries within Tod's design. She showed us full looks in leather for Fall/Winter 2015, in soft pastels with a few popping brights. The collection is extremely feminine and dares to combine many different styles into one.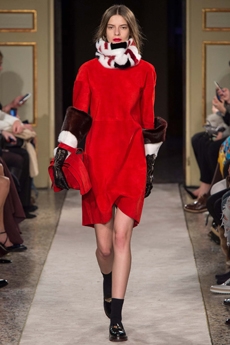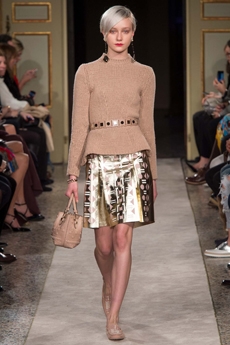 Fashion
Versace at Milan Fashion Week Fall/Winter 2015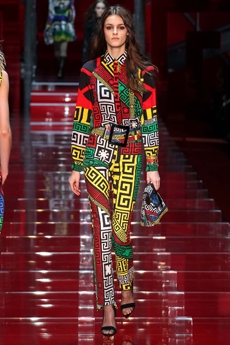 For Fall/Winter 2015, Donatella Versace is giving us exactly what we have expected. Fur, over the knee boots, cut-out fabric and glitter. We saw full looks in primary colors, next to eye-catching graphical prints. Short dresses were bedazzled with rhinestones and covered with the Versace name. All of this gave us the feeling that Donatella was introducing us to a Bond girl from the sixties.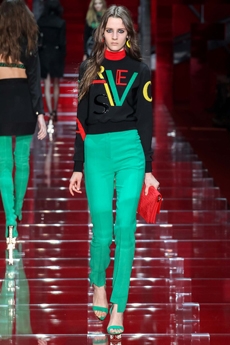 Fashion
Fendi at Milan Fashion Week Fall/Winter 2015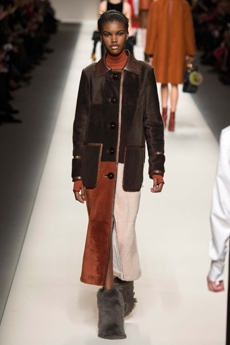 The F in fur is for Fendi, so naturally the Fall/Winter collection for 2015 had lots of it. The focus within the show was on animal materials, with different kinds of fur, leather and shearling.
Lately, the brand has been in a specific late sixties mood with A-line dresses, large buttons, and graphically assembled patchwork. We saw architectural creations in perfectly matched colors. The silhouettes were fresh and intriguing, embracing Lagerfeld's look on luxury.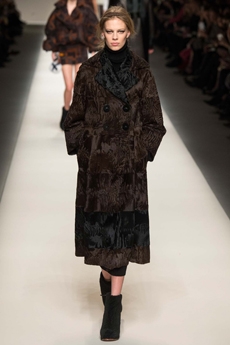 Details were – like always – of high importance. Cut off fur on the cuffs of blouses and on gloves were nicely and elegantly placed. Graphical prints turned looks into paintings and left us in awe.
Fashion
Gucci at Milan Fashion Week Fall/Winter 2015
Alessandro Michele's debut for Gucci womenswear is everything we hoped for. Ultra feminine silhouettes and colors, perfect pleats and refined craftsmanship show how he was the right choice for Gucci all along.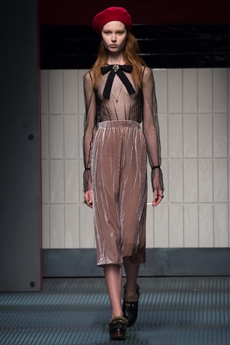 Michele's goddess is an unexpected one. She is the girl in your class you never paid attention to, the one who sat in the corner of the room reading. By introducing her, Michele is applying a new kind of sexiness to the Gucci style. Buttoned up shirts with bow ties, long and thick fur coats and medium length skirts and dresses are combined with see through lace tops. Her outfits are slightly mismatched, which gives her a certain charm that we haven't seen at Gucci before. At least not like this.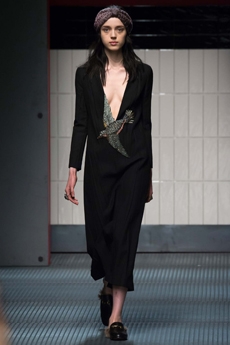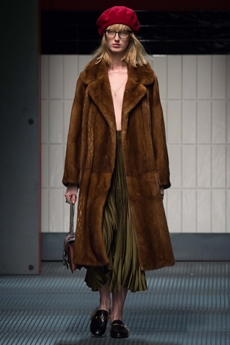 Floral dresses, pleated metallic skirts and silk blouses point at a commercial collection. Almost every garment is easy to include into any existing wardrobe, but still manages to bring extra allure.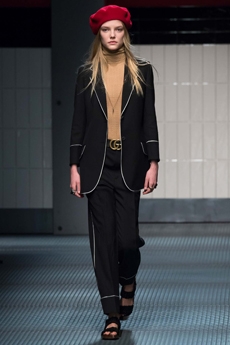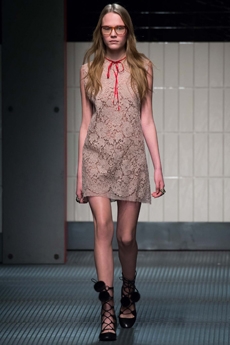 Fashion
Vivienne Westwood Red Label at London Fashion Week Fall/Winter 2015
There is always something particularly dramatic about Dame Vivienne Westwood. For the first look of her new collection, she started off with a quite quiet, grey oversized coat. Immediately after that, we saw her true nature come out with various asymmetric designs in bold color combinations. There was a lot of Westwood's classic tailoring going on, combined with perfect draping that showed impeccable fluidity. By using velvet and silk, she made sure that this would only be complimented.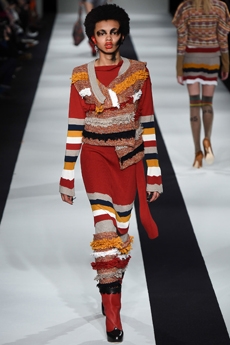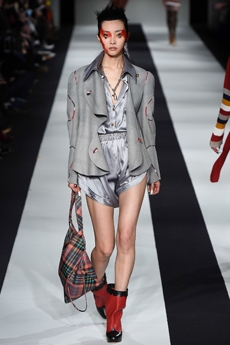 The show existed out of both quirky items and highly wearable, slightly discreet jackets and pants. Altogether, Westwood –once again- managed to meet our expectations.
Fashion
Design Museum London x Akris
click to play "Fashion Power Travel" video
Albert Kriemler, the creative director of Akris, has designed a capsule collection for the travelling woman. Inspired by modern businesswomen, he created eight items that are practical, comfortable and at the same time very stylish. Each garment is created in such a way that everything fits into a carry-on, and can be pulled out without ironing. It's about travel and effortlessness, which is precisely what we need.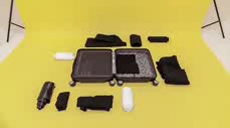 Fashion
Alexander Wang at New York Fashion Week Fall/Winter 2015
Alexander Wang's warriors are walking a different path. Since his last collections have been inspired by sportswear, he has chosen to go into a rougher direction for next fall.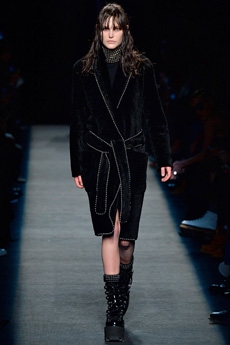 Wang's overload of black, the combination with plaid, studded details and heavy shoes clearly link to the music scene of the nineties. In fashion, we always go back to punk, heavy metal and everything else that tries to stay as far away from fashion as possible. It seems as if we adore the things and people that dislike fashion the most. Wang embraces this idea with both arms, and creates a cult of which we all want to be a part of. His use of hardware does not only show the influence of Balenciaga on Wang as a designer, but turns the garments into something utterly sophisticated as well.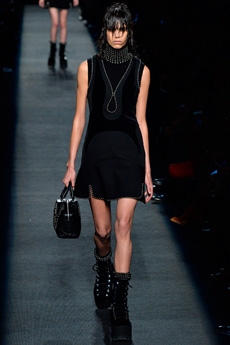 Fashion
Ellen von Unwerth shoots G-Star RAW Spring/Summer 2015 Campaign
Ellen von Unwerth and G-Star make perfect bedfellows, each exalting a strength of soul in body and spirit. Affinity certainly strikes true of this pertinent pairing, coming together to produce this arresting SS15 campaign.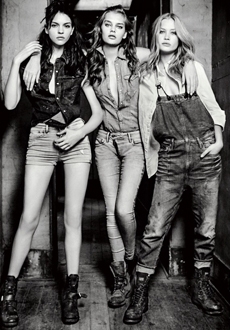 The erratic beauty of von Unwerth's inimitable photographic style speaks plainly of the endlessly altering merits of denim, wonderfully wavering under           G-Star's empathetic eye for fit. Men's and Women's styles span a spectrum to suit all manner of tastes, from chalk-white to cobalt denim, crisp and clean to distressed, skinny to slack. The only invariable, it seems, is a flattering fit, exceptional shape arriving in the form of perfectly-placed pockets and supple, stippling seams, or an artfully adjudged waistband to sculpt the body. Each image bearing the hashtag slogan, "Wear it #tightorwide", interaction is impossibly inspired, G-Star's capricious campaign tailored to the individual, just like the jeans.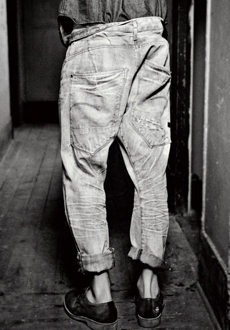 Fashion
THE STORE x Soho House Berlin
True to its rather succinct name, THE STORE offers a refined range from the very best cultural offerings, from fashion to furniture, art, beauty, books and food. Nestled in the lower ground and ground floors of Soho House in Berlin Mitte, the artfully architected space stretches over 2800 square-meters – a setting to inspire thought and creativity under an immersive installation.
Divided into two distinct zones, THE STORE centers around its Cultural Hub, boasting art installations, photographic and broadcasting studios, collaboration stations, Pizza East, Barber&Parlour and THE STORE Kitchen.
The retail element of THE STORE curates the most considered in fashion, art and design, a new home to brands such as Balenciaga, Jil Sander, J.W. Anderson, Proenza Schouler, Issey Miyake, Junya Watanabe, Christophe Lemaire and The Row.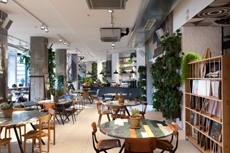 THE STORE x Soho House opens February 2015.
photos: KirchnerKutt
www.thestore-berlin.com
Fashion
Hien Le at Berlin Fashion Week Fall/Winter 2015
Hien Le knows how to make sportswear sartorial; for FW15, chubby jerseys doted to sweatpants and sweaters, clean and correct in a piercing Yves Klein blue – a lesson in covetable casual tailoring. Silhouettes were unsullied, but not deprived of charming quirks; arms of crew neck sweaters cropped at the wrists, banded by gently wrinkling cuffs and punctuated by the peep of an ice-white shirt sleeve.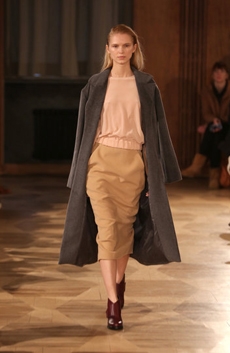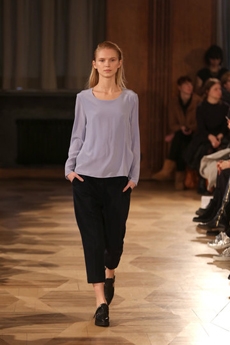 Sweatpants bore tailored crease lines – a dashing detail deepened by the addition of leather laced loafer. As the archetypal marl grey emerged, a scant sight of print played through under plump laser-cut bombers, suitably restrained in its orderly paint strokes.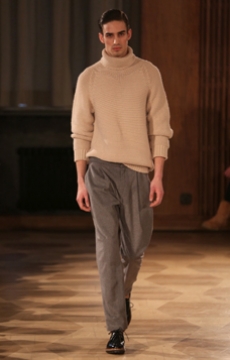 Camel boiler-suits were buttoned up to the neck, smartened by shirt collars and slipped under smart wool coats. Fisherman knits were fattened-up, dense like brittle honeycomb, but in buttery buff hues, turned over at the neck for a suave sense of charm. Rarely has sportswear been so charismatic.
Fashion
Amsterdam Fashion Week Highlights Fall/Winter 2015
Amsterdam Fashion Week kicked off to a sterling start with the advent of the Avelon show – a masterstroke in balancing boyish bedraggled tailoring with light, unruffled romance. Felted wools curled the body in sensible tones of charcoal and claret, sculpting wrap jackets, tailored co-ords and simple flared pants. Crombie coats were decked in intrepid Aztec prints – a heavy punch of pattern to punctuate a predilection for purity.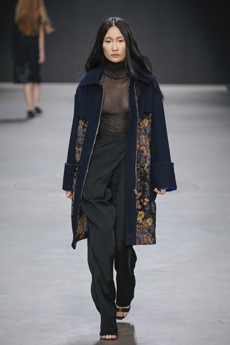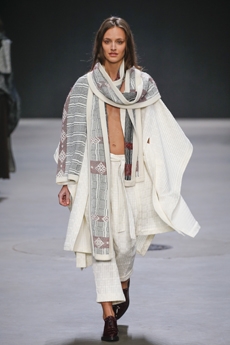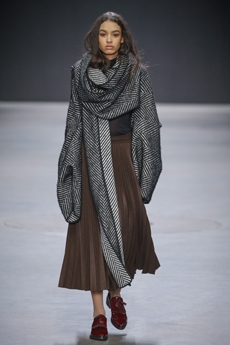 Said Mahrouf followed suit with simplicity for an unusually fluid execution of color-blocking. Bleach white sheaths were cut on the bias, lithely traipsing from shoulder to hips – a bite of crimson or pine green breaking through, but never once breaking the flow. Asymmetric vests curtained over slim tapered pants, but excellence certainly lied in Mahrouf's sweeping gowns, so whispy and graceful, yet holding a determined strength in their decided geometric cuts.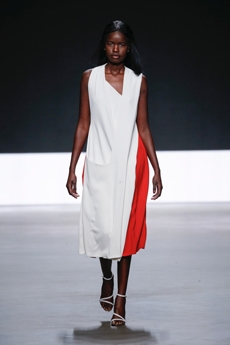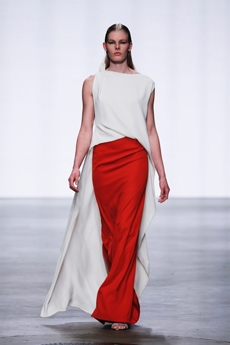 Liquid cuts also found their way to the center of Barbara Langendijk's debut collection. Influenced by the flat fabric construction of traditional Japanese textiles, Langendijk draped clean, curtly-cut silk swathes over the shoulders, cloaking sheer chiffon layers in a strict spectrum of blanch and buff gold.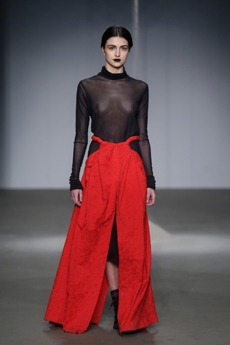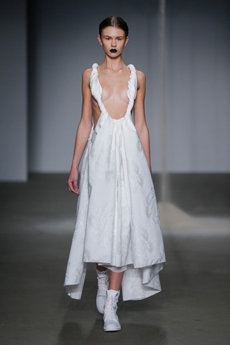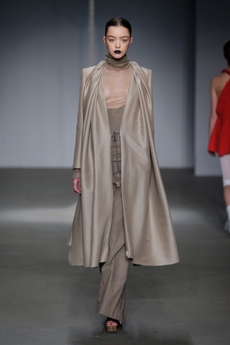 The wildcard arrived in the form of Azis – a plague of digitized monochrome motifs and jarring visual texture. Diamond grid-check scarves were piled high on top of jackets on top of sweaters – a suffocating coddling of wool, snatched away by a sleek plain pencil skirt. Wraparound pinstripe funnel shirts flirted with chunky strap backpacks and varsity jackets adding a touch of scholarly rebellion, while hockey socks and virgin-white sneakers spoke of a wayward sensibility. Parachute silks bust in an exhilarating electric blue to spool salient sportswear, while buttery leathers blocked broad schoolboy shorts in a studious sooty grey, before giving way to the obligatory all-over tartan.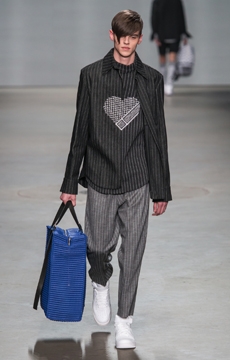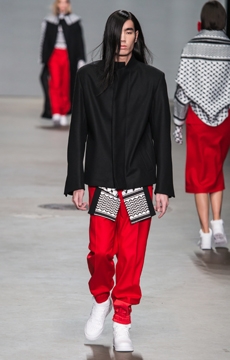 Read about more of the shows at www.fashionweek.nl
Fashion
Kaviar Gauche at Berlin Fashion Week Fall/Winter 2015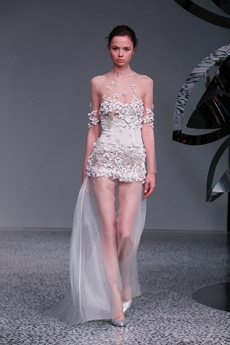 Swollen swathes of snow white tulle and all-over applique lilies drive heads to the clouds under the distinctly dreamy vision of Kaviar Gauche this season.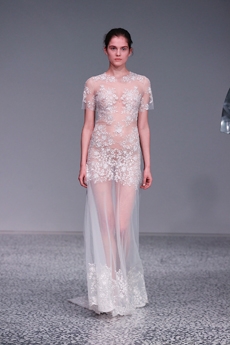 A fine art to master, Kaviar Gauche here managed to strike the perfect balance between verbose elaboration and artful absence in negative space; porcelain-pure gowns were encrusted with a plush, pure white bed of blossom, flowering from the bodice and giving way to soft and unsullied sheaths of a silk chiffon skirt. Against long-sleeved tee-dresses, the bouquet sprawled to the hem, petering out in its climb to the neckline. The effect was that of a balancing act – give and take at its most resplendent.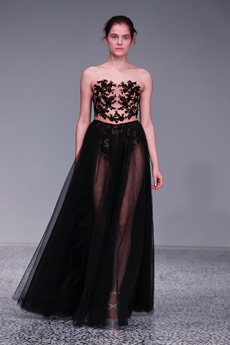 When ornamentation ceased to bud from the cloth, it inverted, almost dissolving into a frosted layer of lace. Whispering over the body, nude tulles bore just a suggestion of Belgian lace, its intricacies only discernible if they happened to catch the light – a tailored mirage. An ivory illusion, dreamed up by Kaviar Gauche.
Fashion
Raf Simons at Paris Fashion Week: Menswear Fall/Winter 2015
The sentiment behind Simons' collection was "youth on a pedestal", which accounts much for its soul-baring, Dadaist print, raw-hemmed DIY aesthetic.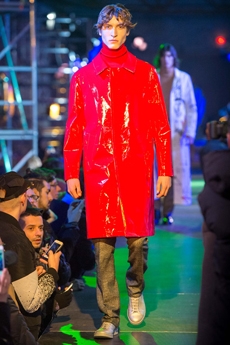 Graffiti-scrawled lab coats drew-out the length of the body, punctuated by a preppy poloneck peeping from a scholarly sweater. Knitted tank tops were mawkish in model but not in practice, as fluro freeform checks bedazzled in peachy pink and green.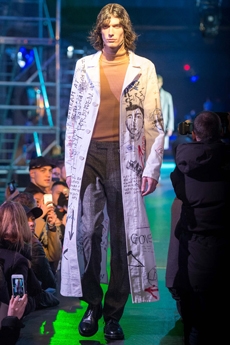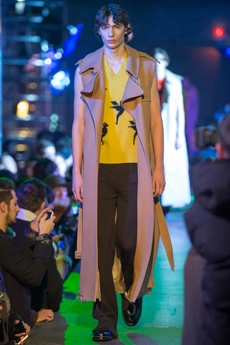 Plum slim-fit pants were poised with pockets at the hips, slender to the knee before eeking out to a gentle flare, traipsing over shoes and under soles. Footwear flipped between sneakers and brogues, just the glimpse of toe cap to testify which was in post.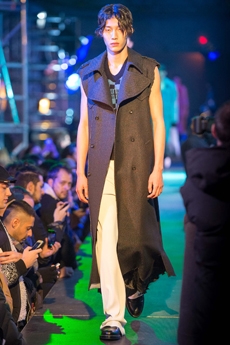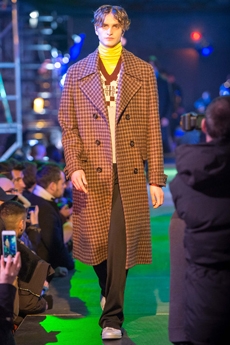 Cartoonish-collared coats were thatched in a russet gridded weave, paired with mustard scallop sweaters ripe from a seventies' sofa – that is, of course, unless they were being lacquered in urgent licks of crimson and jet, rotund, waxy and warped to the knee. Simons may well have set out to put youth on a pedestal, yet they soon knocked themselves back down, self-deprecating as his teens did seem – but then again, angst is in the nature of the beast.
Fashion
Ermenegildo Zegna at Milan Fashion Week: Menswear Fall/Winter 2015
A great collection requires an equally great theme, a point of departure that can be built upon, layer after layer, until the end product is as polished as it could possibly be. For FW15, Ermenegildo Zegna's Stefano Pilati took inspiration from the most fundamental source of everything there ever has and will exist, mother earth, and delivered a perfect compilation of sophisticated old-money outerwear and sumptuous casuals.
Set in a darkened forest, Pilati's exploration of the natural world started off with a master class in luxurious everyday fashion. Through his elaborate fabric choices (plush velvet and coated tweed), the head of design presented a swarm of freshly traditional separates: manly long-line coats with a silvery sheen, roomy trousers, pulled high on the waist, and tailored riding jackets, worn over cashmere turtle-neck sweaters or under a leather duster.
The show ended with more stripped-back looks consisting of crisp white shirts with zipper or pocket detailing and barely pressed trousers. In a sense, then, he really went back to basics.
Fashion
PHILIPP PLEIN at Milan Fashion Week: Menswear Fall/Winter 2015
Harder. Better. Faster. Plein-er? Who's to say that a designer can't outdo themselves and add extra, extra oomph to an already over-charged aesthetic? Because, believe it or not, that's exactly what German-born glitz and glamour designer Philipp Plein has accomplished for his latest menswear effort, showcased in the beautiful Milan.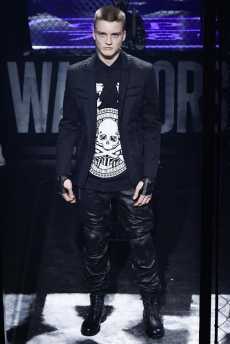 For starters, to call it a show would be a gross understatement; the FW15 spectacle was nothing short of a, well, spectacle. #PLEINWARRIORS took over a cage-like rostrum, clad in lavish sportswear-esque garb. Bedazzled tiger heads found their way onto luxe jerseys. Coated onyx studs adorned smooth leather biker jackets - and pretty much everything else in sight. There was even a devil-horned motorcycle helmet. Is Plein the bad boy of fashion? Sure, but then again, it really does suit him.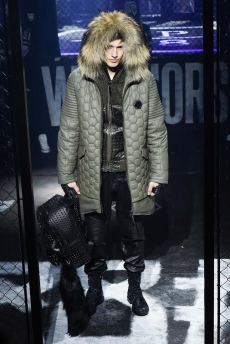 The FW15 show oozed the kind of bravado and over-the-top-ness that only Plein is capable of pulling off sizzlingly. Speaking of which, the one and only Snoop Dogg delivered a two-part surprise performance, while party queen extraordinaire Paris Hilton cheered on from her front-row seat. With friends like that, you simply can't lose.
Fashion
J.W. Anderson at London Collections: Men Fall/Winter 2015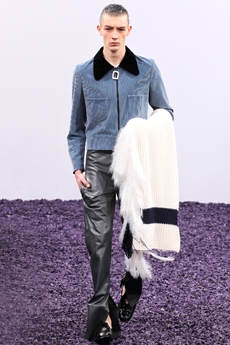 Designers are a divided bunch; there are those who are disciples of beauty, and those who are disciples of thought. And then there's J W Anderson – an exceptional master of both.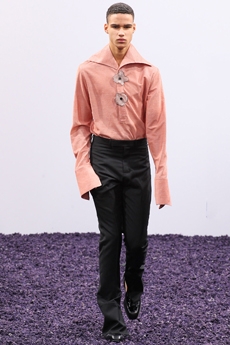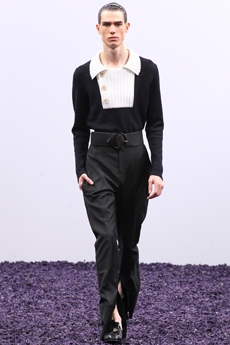 A single glance affords inescapable parallels to fashions past; flared legs and fluted cuffs belted by square psych pilgrim buckles and paired with spread lapels. Some might think it a perverse indulgence in all that's ugly – a severe case of cacophilia – making a fetish of all that causes the skin to crawl. Brown leather trenchcoats bedecked, effeminate bodies – bare save the bolster of a chunky knitted choker. Giant daisy buttons dotted the chests of beige duster coats like girlish gingerbread men, but hyper-bland. Taupe conquered again, this time stretching over languid limbs as a slinky elastane number, tediously dreary and yet ripe for the disco.
Shearling suede coats were reconfigured as mod bombers, tight to torso while 90s bootcuts flared. Leather received the lurid treatment, emerging as cherry-red trousers and violet-stained jackets, replete with the delightfully repulsive silver ring zipper. Knitwear was, likewise, unashamedy plain, monotonous in mushroom bar a tubular roll of crimson to pipe a cartoonish turtleneck. The effect was that of a marvellously lacklustre Jetsons – the color turned down to a brilliant beige. As for a patchwork of fashions past, how could such a futuristic reference be nostalgic?
Fashion
Miu Miu Spring/Summer 2015 Campaign by Steven Meisel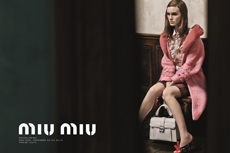 It's hard to imagine a designer better suited to the big screen than Miuccia Prada, as Miu Miu's latest campaign will surely testify. Under the dependable directorship of Steven Meisel, a tense and tortures story plays out, calling upon Mia Goth, Marine Vacth and Imogen Poots as valiant starlets of the campaign. Each frame affords a covert glimpse at the seductive and spirited central cast – freezeframes charged with tension and suggestion.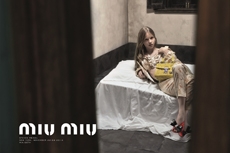 Wily and ashen, an impish Mia Goth reclines on an unmade and austere white bed, a doe-eyed gaze transfixed on the camera, baiting the viewer to assume the supporting role. Poots, meanwhile, exudes rebellion, the cascading sunlight splaying shadows across her sprawling silhouette as she slouches atop an antique dark wood table. The camera centers on Vacth as the narrative teeters on the edge of conclusion, dangling on the angst of her pained stare.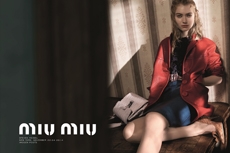 The fusty and threadbare scene which surrounds almost permeates through the soul of the collection – the clash and pull of antiquated icons, re-imagined as artefacts of a modern ideology. Dusky jacquard housecoats, pyjama suits and ruffled blouses slashed to the midriff, topped with a trim of fuzzy hazy-hued fur. Chunky platforms and girlish bowed peep-toe mules subvert the plot with sublime complexity, throwing a curveball to ladylike classicism with the assistance of supple leather handbags, thick leopard-print belts and glasses edged in glitter frames. A masterstroke by Miu Miu and Meisel– so brooding and cinematic is the narrative, the mere film stills warrant a full-length feature of their own.

www.miumiu.com
Fashion
PHILIPP PLEIN Pre-Fall 2015
PHILIPP PLEIN fashions Pre-Fall flawlessly – muted and hazy, not an inch excessively autumnal. This time around, Plein's concoction proved a dreamy affair, a cloudy mix of smoked lavender, ice blue and leaden greys – and texture rendered the redolence all the more palpable.
Chubby fur jackets clip supple skin-tight leathers, taking the line of the body from slight and sleek to swollen and cocooned – the contrast impossibly elegant, if a little defiant. But the girlish palette pardoned all sins, peppering peekaboo dresses and flared miniskirts with a wilful blush of coquettish colour.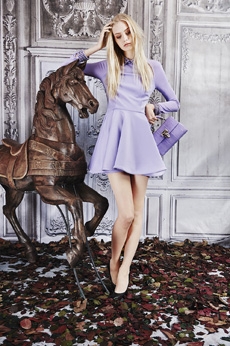 All that's powdery and playful gave way to an elongated outline that was all the more urbane, draping the body in sweeping swathes of jersey, restrained monotones edited by deep plunging necklines met, almost, by the halting insolence of a thigh-high slit. Bags, meanwhile, carry the rock 'n' roll rhetoric, ladylike frame bags and satchels clad in crystal skulls and python skin, studded leather totes and backpacks bridging the gap between Lolita and lavish rebellion with impeccable flair.

www.philipp-plein.com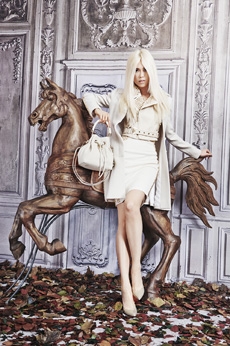 Fashion
Versace Spring/Summer 2015 Campaign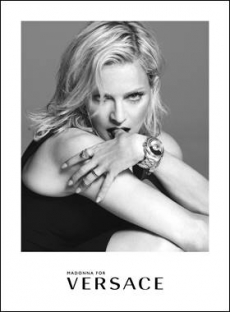 Madonna is the new face of Versace. Photographed in New York by Mert Alas & Marcus Piggott, the Queen of Pop smoulders in a series of black and white shots for the brand's Spring/Summer 2015 campaign. The timeless images are a testament to Madonna's everlasting power and undeniable cultural presence, which has only grown stronger over the years.

"Madonna is one of the true icons of Versace. I am thrilled to have my friend and the most powerful and directional artist as the face of Versace for Spring 2015," said Donatella Versace.

www.versace.com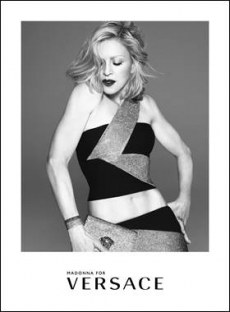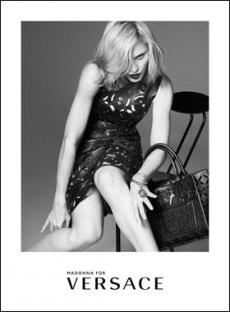 Fashion
British Fashion Awards 2014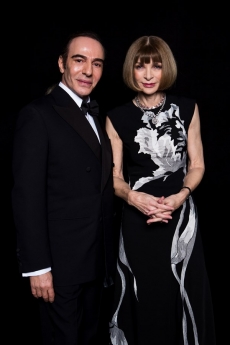 Hosted by English comedian Jack Whitehall, the annual British Fashion Awards took place on 1 December, 2014, at the London Coliseum. The ceremony was attended by some of the fashion and entertainment industries' biggest names such as Anna Wintour, Victoria and David Beckham, Lana Del Rey, Kate Moss, Rihanna, Karlie Kloss, Mario Testino, Kendall Jenner and Tom Ford.

Voted for by more than 400 fashion world professionals, the winners included Cara Delevingne (Model of the Year), Anna Wintour (Outstanding Achievement), Erdem (Womenswear), J.W. Anderson (Menswear), Victoria Beckham (Brand), Emma Watson (British Style) and Nicolas Ghesquière (International Designer).

www.britishfashionawards.com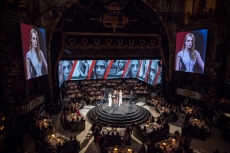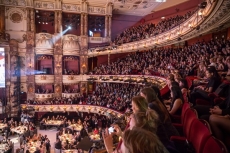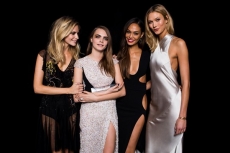 Fashion
Fred Perry Gary Hume Blank Canvas Collection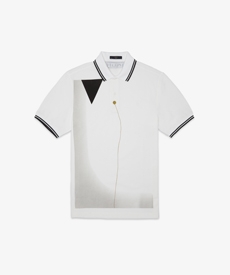 Continuing to collaborate with iconic British artists, fashion brand Fred Perry have announced their Gary Hume Blank Canvas Collection.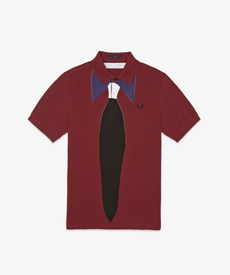 The collection will consist of three screen printed shirts based on original Gary Hume artworks. Chosen to enhance the classic Fred Perry shirt the artworks Spike (2006), Exclamation Mark (2004) and Blue Collar (2013) have been selected for their simple yet striking aesthetic.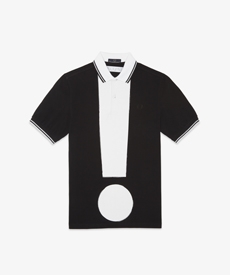 Describing Fred Perry as "the uniform of the smart, disgruntled youth" Gary Hume is a successful English painter and printmaker famous for his work in London during the 1990s. The shirts will be available for men in Laurel Wreath collection stores and online from August 2014.

www.fredperry.com
Fashion
The Neo-Neoclassic Diesel Fall/Winter 2014 Campaign
Incorporating Diesel icons, leather rock 'n' roll, denim and military – utility, the Fall/ Winter 2014 Diesel campaign entitled 'The Neo – neoclassic' comprises of an exciting amalgamation of dynamic imagery and explosive backdrops. 
Modelled by actors, models, musicians and internet stars, the campaign fuses the classic with the contemporary to create something distinct and spirited whilst adhering to a 'new vision of the brand and 'the forming of a new kind of tribe'.
Formulated by Nicola Formichetti and Nick Knight, the images capture the sleek and distinctive Diesel collection and showcase 'a new form of Diesel's alternative spirit'.

www.diesel.com
Fashion
Marina Hoermanseder at Berlin Fashion Week Spring/Summer 2015
Frank and provocative best describes Marina Hoermanseder's designs. Hoermanseder was one of the finalists of this year's Start Your Own Fashion Business awards and had the audience gasping at the first glimpse of her SS15 collection. This time around the 28-year-old Austrian focused on a particular way of leather treatment. Bags, corsets, dresses and skirts were made from belt-like leather elements, which Hoermanseder combined in a herringbone fashion. The resulting shapes and patterns were interesting and quirky with loads of sex appeal. But Hoermanseder does not simply make clothes, she creates stories and discourse: a high-necked nude leather poncho stiffed the model's movement and covered chin and mouth, silencing here in a way we attribute to veiling.
At the same time the design bared most of the models lower body. Another stand out was an anatomically correct torso-corsage, which suggested the model to be a naked mannequin. This avant-garde SS15 showcase stuck to feminine natural colors, such as nude, coral, soft yellow and apricot, which added to the surreal and disturbing vibe of the collection. Hoermanseder's mix of cheery, bright pieces and surreal details set the mood of David Lynch's Twin Peaks universe, where nothing is quite what it seems and reality and dream are indistinguishable – social commentary included.

www.marina-hoermanseder.com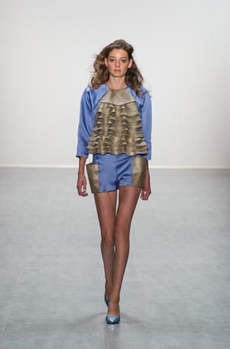 Fashion
Vladimir Karaleev at Berlin Fashion Week Spring/Summer 2015
 Photos by Mercedes-Benz Fashion
Sporty, sporty is the way to go for Vladimir Karaleev. His show for SS15 paired opaque and see-through fabric for light and fresh summer ensembles. Colors are reminiscent of a poolside session - sandy creme, rich shades of blue, sunny yellow, berry hues as yummy as a raspberry margarita, and forgiving favorite black. There is more than meets the eye to Karaleev's looks and it needs a second and often third take to fully grasp the inventive cuts, fabrics and patterns of his designs. Surreal, patchwork-esque even, best describes the SS15 collection in which he sows different color and texture fabrics together right down the middle, reuses scraps of fabric to create prints and patterns, yet manages to never turn clownish in the process. That is true craftsmanship and a unique POV.

www.vladimirkaraleev.com
Fashion
SOPOPULAR at Berlin Fashion Week Spring/Summer 2015
Photos by Mercedes-Benz Fashion
If there is one point of critique about Daniel Blechman's SS15 collection, it'd have to be that he has not yet ventured into womenswear. SOPOPULAR has quickly become a fashion pack favorite during Berlin Fashion Week, leaving female guests extremely jealous of the urban, purist menswear looks. The current collection, called "Wasteland", sticks to black, white and gray, mixed with quiet wooden and dusty prints. Military elements could be seen here and there. Singer Ben Ivory composed a song of the same name as the collection, that set the tone during the presentation. Inspired by tribes and gangs, Blechman send bermudas, biker jackets, blousons and tunics down the runway, all the while paying close attention to his design's sustainability. And now some of those cool pieces for the ladies, please.

www.sopopular.net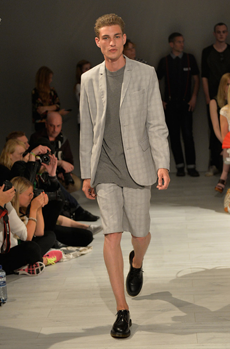 Fashion
Perret Schaad at Berlin Fashion Week Spring/Summer 2015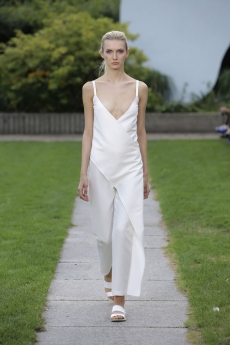 Photos by Mercedes-Benz Fashion 
It's already been Johanna Perret and Tutia Schaad's 10th collection at Mercedes-Benz Fashion Week in Berlin. For their SS15 presentation, the dynamic duo drew inspiration from the French Riviera. The contrast of down-to-earth Southern France and its exciting Mediterranean charm resulted in pieces that are perfect for a day at the Côte d'Azur. The label interpreted SS15's trend color blue in combination with light hues. Surprising details such as outside stitching and laser-cut details add to the collection's modern vibe, and thereby turn the otherwise tedious rush hour during summer time into an imaginary stroll down the Corniche.

www.perretschaad.com
Fashion
Patrick Mohr x Reebok Classics
Photos by Mercedes-Benz Fashion
Sportswear brand Reebok teamed up with designer Patrick Mohr to create an incredible collaboration that is testament to the designer's Goth aesthetic and the sportswear giant's core values. Renowned Reebok styles such as the Ex-O-Fit Hi and the Womens Freestyle Hi - two classic high-tops - were designed by Mohr unison with his dazing style. Luxe materials and textures from calfskin to ostrich leg and salmon skin with a little rock star attitude in the form of studs mark the, collaboration. Mohr's colors of choice here are ubiquitous black and loud purple. The collection collaboration will be available exclusively at Solebox, Berlin, and online.

www.patrick-mohr.com
www.reebok.de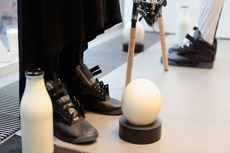 Fashion
Julian Zigerli at Berlin Fashion Week Spring/Summer 2015
 photos by Getty Images
Swiss design genius Julian Zigerli had the honor of opening Mercedes Benz Fashion Week Berlin. Following showcases in hip and urban spaces around the city in past seasons, this comes to show how well appreciated the quirky designs are in the midst of the usual New Objectivity that reigns among most of the city's designers. Inspiration for his SS15 collection came from his father's philosophy, "life is one of the hardest", which serves as the title for the collection.
The collection intends to depict a wonderful, dark and crazy world from the POV of a stressed nine-to-fiver, who steps out of his everyday monotony into a world he can't quite fathom. However, he still indulges in the uncertainty of things to come. Zigerli sticks to what he knows, and once again masters prints to the fullest. This time they were done by hand in an actual physical environment by using foam, rather than designing them on a computer screen. The collection's color scheme stems from the CMYK color palette.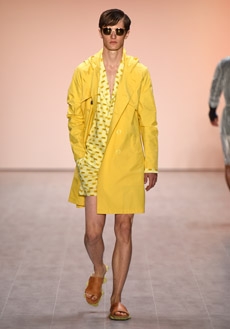 Zigerli's focus remains on designing cool - at times kooky - contemporary clothing. For SS15 he sent out soft sportswear and bright two-toned suits. Vibrant tones and the experimental foam prints brought sass to the runway. Constructed cut outs, half sleeves, freely flapping loops of fabric and peek-a-boo gaps, showed off the designer's fresh and cheeky approach to fashion. Zigerli also incorporated head-to-toe patterns, such as camouflage or chevron stripes, which took center stage on swimwear, sweaters and summer suits, making for easy breezy summer styles.

www.julianzigerli.com
Fashion
Atelier Versace Haute Couture Fall 2014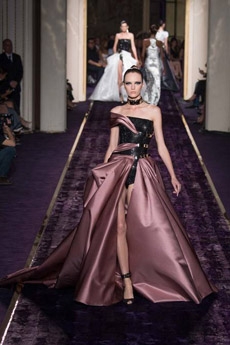 Not shy of the Avant-garde, the Atelier Versace Fall 2014 Haute Couture show adhered to classic Versace extravagance. Exaggerated, powerful shoulders graced snazzy jackets, excessive fringing was incorporated onto jackets, dresses, trousers and gloves and leg revealing slit dresses were covered in shades of deep blue, purple,black and white. Buckle detailing was placed onto dresses, jackets, skirts and tops producing a strong aesthetic and colored fur coats and sparkling glitter made for a flashy and dramatic finale.

www.versace.com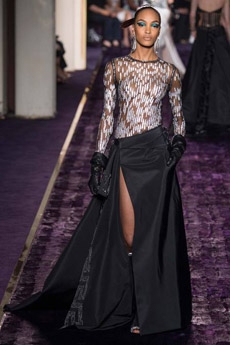 Fashion
Trussardi Fall/Winter 2014 Campaign
Photographed by postmodern photographer Roe Ethridge, the Trussardi Fall/Winter 2014 campaign deconstructs traditional fashion images and explores new and creative visuals.
Featuring the Trussardi greyhound, the images use a cutout effect to creatively combine human arms and legs with images of greyhounds. The campaign focuses on chic Trussardi accessories that comprise of fine leather and excellent detailing and puts them at the forefront of the inventive campaign shots.

www.trussardi.com
Fashion
HUGO BOSS Fall/Winter 2014 Campaign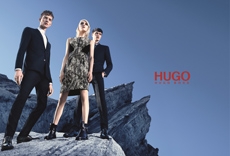 Located on the Vasquez rocks north of Los Angeles, the HUGO BOSS 2014 Campaign showcases men's and womenswear in a simple yet strong set of images.
The tranquil and scenic desertscape background is juxtaposed by the powerful and authoritive stance of the models and provides the ideal scenery for the sleek and striking clothing.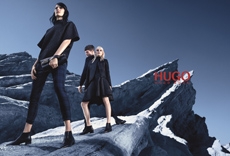 Photographed by Pierre Debusschere, the campaign is accompanied by a video which highlights the progressive looks in the Fall/ Winter 2014 collection and displays Debusschere's talent for producing inventive and innovative images. 

www.hugoboss.com
Fashion
Kris Van Assche at Paris Fashion Week Spring/Summer 2015
Sleek and innovative, the Kris Van Assche Spring 2015 Menswear collection presented an originative and stylish compilation. Suits were skillfully reinterpreted; trousers and shorts had slits at the knees, white shirts were worn with cut off neck ties and hoodies were worn underneath blazers. A distinctive pale blue pattern was seen on shorts, trousers and suits and metallic suits were worn with printed shirts, the result was a sharp yet fresh amalgamation.

www.krisvanassche.com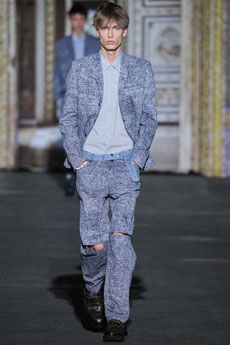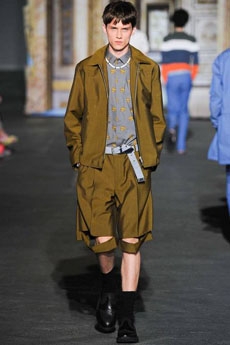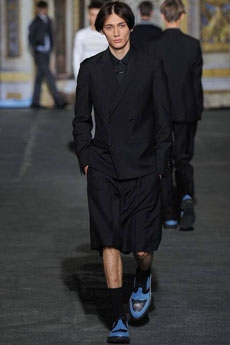 Fashion
Blumarine Fall/Winter 2014 Campaign
Described as "a woman's journey through her dreams and her deepest sensuality " the Blumarine Fall/Winter 2014 campaign incorporates timeless femininity and the wistful allure of a traveller in a sensuous mix.
Set in a modern Japanese Ryokan, model Thairine Garcia is embellished with traditional far east prints, precious silk dresses and flower decorations. The softeness of the clothing is juxtaposed by vivid atmosphere of the setting and the exotic backdrop provides a dreamy and tranquil ambience.

www.blumarine.com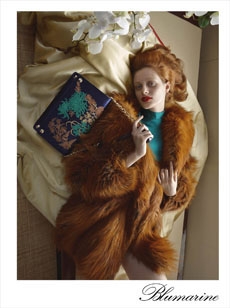 Fashion
Dior Homme at Paris Fashion Week Spring/Summer 2015
Transcending from polished and dapper suits to 90s style loose, light blue jeans and classic white trainers, the Dior Home show provided a suitable aesthetic for the modern man. Suits were decorated in striking prints and jackets and jeans were embellished with logos. Effective layering was applied to striped vests worn under blazers and striped t - shirts worn over white shirts. Casual yet chic double denim provided a quirky alternative to the suit and shiny, patent blazers added something unique.

www.dior.com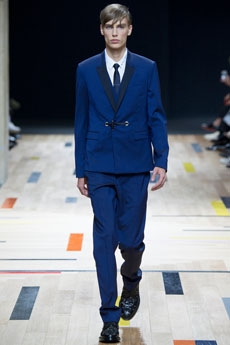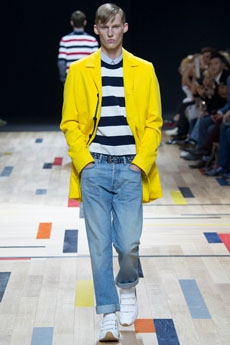 Fashion
DENHAM store Berlin
Amsterdam store DENHAM famous for being 'the jeanmaker' will open their first stand alone store in Berlin Mitte.
As well as the seasonal ready to wear collections, the full range of premium 5 pocket denim will be available across the 117sqm store. The store launches after the success of the 14oz pop up in the Blue Yard shopping center which will serve as an anchor to the standalone DENHAM store.
The new store will also feature DENHAM's signature on site sewing repair concept with a denim wash service also being offered. Already popular in the Amsterdam and Tokyo stores, this service will give customers a personalized and unique shopping experience while adhering the the DENHAM ethos. Complying with the brands modernist and rich vintage aesthetic, the new store will feature key retail fixtures and fittings and will celebrate its opening on Tuesday 8th July.

www.denhamthejeanmaker.com
Fashion
Valentino at Paris Fashion Week Spring/Summer 2015
In an artistic amalgamation, the Valentino Spring 2015 Menswear show incorporated vintage style prints on shades of elegant brown, taupe and silvery grey. Interesting print were mismatched on silk fabrics that gilded down the runway and metallic, patterned suits were accessorized with hand held leather bags and slip on leather sandals.Relaxed sweaters and long coats were layered over silk shirts and patchwork butterfly motifs and plant embroidery was emblazoned onto jackets; the result was a vintage influence on a contemporary aesthetic.

www.valentino.com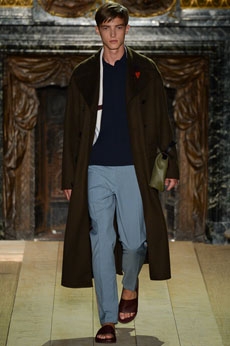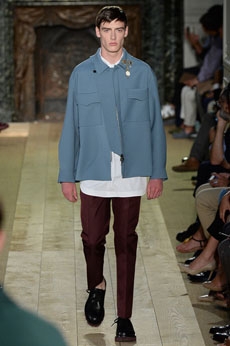 Fashion
Emporio Armani at Milan Fashion Week Spring/Summer 2015
 A creative amalgamation of geometrical black and white lines was offered at the Emporio Armani Spring 2015 Menswear show. Totalling 91 looks, the impressive collection was suave yet innovative, conventional yet modern. Long black overcoats that emulated night gowns were paired with striped shirts and white leather loafers and buttoned up sweaters were worn with straight black trousers and monochrome flatforms.Carrying a futuristic essence, the collection fused sports luxe with sleek sophistication, thus producing a timeless and original combination.

www.armani.com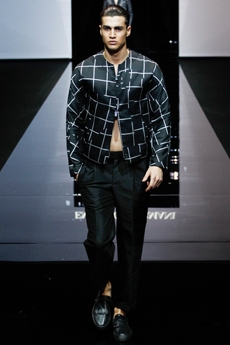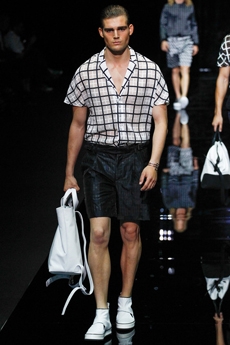 Fashion
Dsquared² at Milan Fashion Week Spring/Summer 2015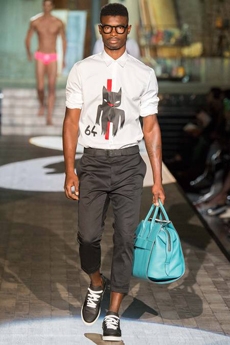 Bright and bold prints and patterns were accompanied with beige garments in the Dsquared²  Spring 2015 show. Small, artistic images were printed onto shirts, jackets and trousers and bold badges were placed onto denim jackets and shirts. Modern and colourful designs were placed onto white t - shirts and worn with flat form sneakers and colour blocked sandals. Adding an air of sophistication, long beige overcoats were styled over buttoned up denim shirts and fitted trousers but the quirkiness was brought back through two toned bucket hats and bright stripes placed onto beige jackets and trousers.  

www.dsquared2.com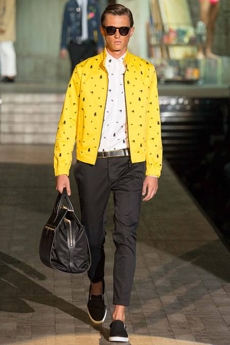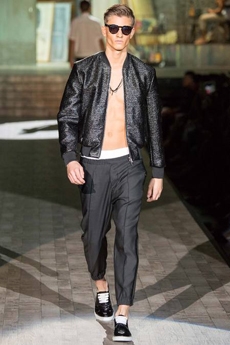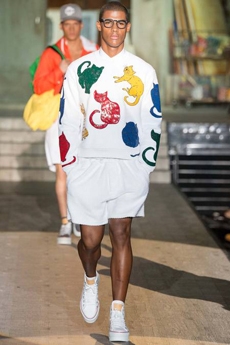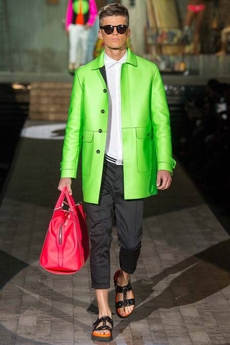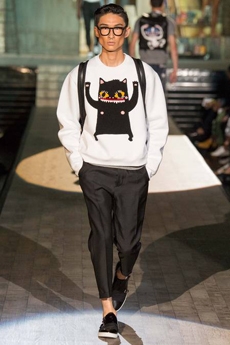 Fashion
Prada at Milan Fashion Week Spring/Summer 2015
Prada's neat and defined Menswear Spring 2015 collection incorporated womenswear in a slick amalgamation. Suits with the seams clearly outlined were paired with sharp shirts and sandals. Colours and materials were effectively clashed; dark blazers were combined with striped shirts, beige  sweaters and coloured trousers with long patent leather overcoats placed over. Clashed patterns were styled with chic blazers worn over sweaters and sleek metallic suits exuded sophistication. The womenswear, showcased alongside the menswear adopted a similar aesthetic with patterned sweaters clashed with patterned pencil skirts and worn under patent leather overcoats and straight , mid length dresses emblazoned  with the seams outlined.

www.prada.com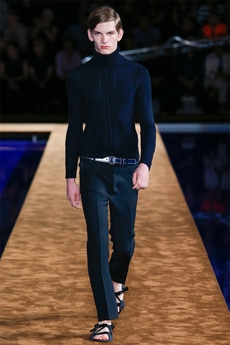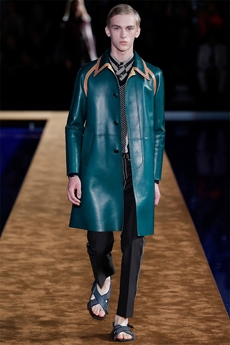 Fashion
John Varvatos at Milan Fashion Week Spring/Summer 2015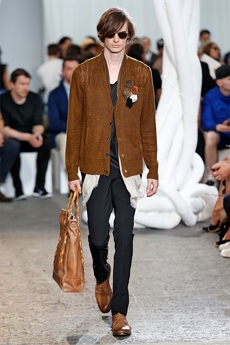 Keeping to nautical tones, the John Varvatos Spring 2015 menswear collection combined well-tailored blazers with fitted trousers and loosely wrap around scarfs. Cool silvers, whites and greys were integrated with earthy browns to create a casual and cosmopolitan style. Excellently tailored and incorporating an amalgamation of textures and detailing, the collection provided a sleek and characteristic combination.

www.johnvarvatos.com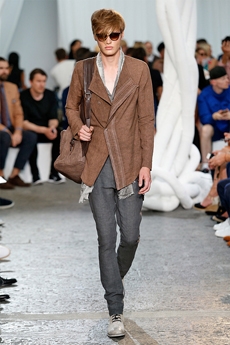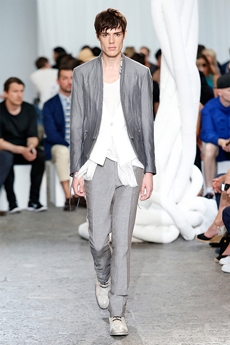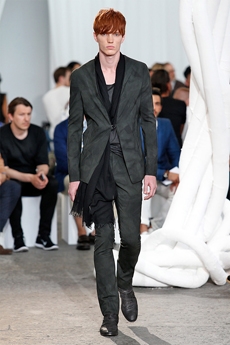 Fashion
Bally at Milan Fashion Week Spring/Summer 2015
Keeping it simple yet sophisticated was the obvious mood at the Bally Spring 2015 runway. The lines were kept clean, the tailoring was finished impeccably and the accessories were kept to a minimum; plush leather oversize bags and black sunglasses. The colour palette however, was adventurous and bold, deep turquoises and burgundies covered jackets, dark beige was used on leather jackets and rich dark blue on trousers. The fourteen piece collection exuded refinement whilst adhering to a modern style.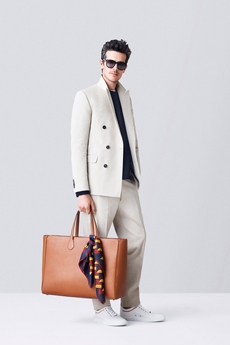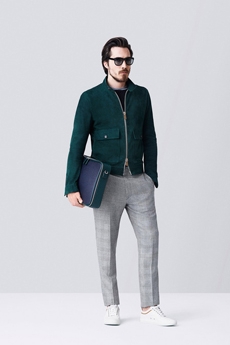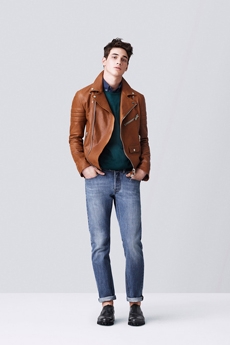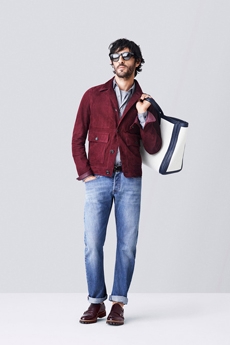 Fashion
Vivienne Westwood at Milan Fashion Week Spring/Summer 2015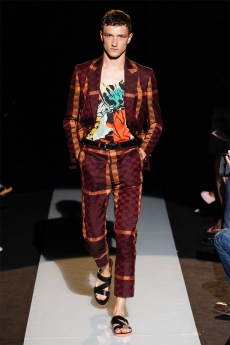 Sporting 'Moral Outrage' emblazoned t – shirts, Vivienne Westwood's activist views were not left out of her Menswear Spring 2015 show. Westwood created a truly experimental and theatrical collection with distinct, unbuttoned shirts being worn under bright, deconstructed blazers, farmer-esque top hats and frayed cowboy – style denim. The show was eclectic and in keeping with the activist undertone, models wore pink pig snouts, Westwood not only exhibited a striking and skilful collection but used the runway as a platform for her environmentalist beliefs.  

www.viviennewestwood.com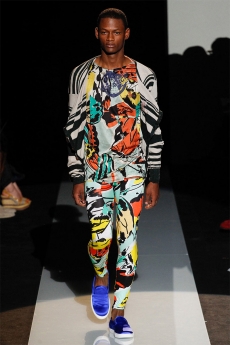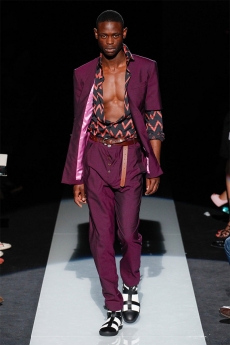 Fashion
RAW for the Oceans wins Grand Prix
Denim brand G – Star RAW's collaboration 'RAW for the Oceans' has won the Grand Prix award for Product Design at Cannes Lions Festival. As a long-term creative exploration between G-Star RAW and Bionic Yarn, 'RAW for the Oceans' innovates denim whilst impacting the plastic pollution in our oceans. In partnership with The Vortex Project and Parley for the Oceans, the initiative is culminated in G-Star collections and made from Bionic Yarn.
Offering solutions to the issue of ocean pollution, the project aims to tackle this problem through highlighting innovative product design. Described by President of the Cannes Lions Festival Jury, Donghoon Chang as "the Holy Grail", G –Star RAW's campaign underlining denim innovation presents sustainable and functional fashion that is to become part of the collection's design.
G – Star has produced another revolution in the denim industry and Chang goes on to characterize their campaign as a stand out for "form, function, innovation, and a commitment to sustainability and social responsibility."

www.g-star.com
Fashion
G-Star and Marc Newson
Denim specialist G – Star RAW and industrial designer Marc Newson celebrated their decade long working relationship with an insightful event at the Design Museum in London.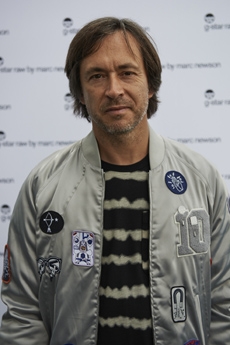 Experimenting with art and fashion, an iconic piece from the collaboration is the Reversible Tour Jacket. A changeable bomber jacket with features including a compilation of graphic patches, grey silk sateen and a black quilted back.
Renowned for their stylish collaborations between art and fashion, the duo's collections have expressed architectural constructions, streetwear references, and premium fabrications.  
Australian born Marc Newson is a multi-disciplinary artist and has been described as the most influential designer of his generation. On speaking on his relationship with G – Star, Newson expressed "I think it is admirable that G-Star has the vision to embrace one industry's ability to learn from another. They understand that design is a way of a company differentiating itself."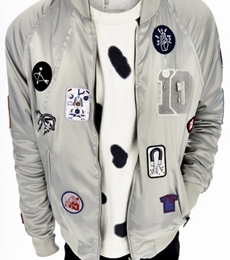 The event took place on 11th of June and the G-Star RAW by Marc Newson Anniversary Collection for Fall/Winter 2014 is available from 1st October 2014.


www.g-star.com
Fashion
G-Star Raw Seasonal Highlights
Focusing on dark, chic and stylish denim, the G–Star Raw Fall/Winter collection offers a large range of men's and womenswear in a sharp selection of coats and finishes.
Varying in textures, materials and styles, the collection comprises of classic G–Star pieces as well as modern interpretations of the denims. Sophisticated and elegant yet contemporary and edgy, the collection can be worn layered or alone to create a sleek and polished aesthetic.  

www.g-star.com
Fashion
Louis Vuitton Cruise 2015 Collection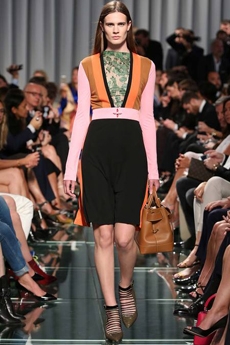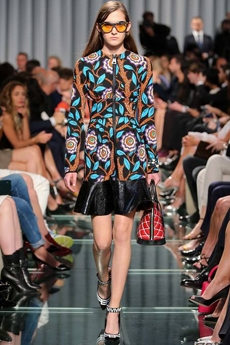 A compilation of bright colours dominated the Louis Vuitton runway at the Cruise 2015 show. Mismatched colourful prints and patterns were illustrated onto structured silhouettes and heavily embellished pieces were worn with distinctive patterns.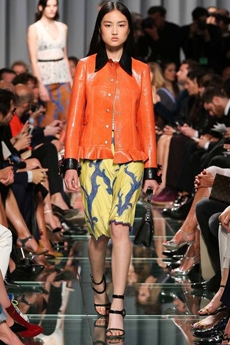 Consisting of a series of well put together outfits, the collection presented bright high waist fitted trousers, slick zip up dresses and eccentric matching suits. Lace was incorporated, softening up the strong and bold lines and adding elegance, whilst shiny and structured leather coats offered a powerful yet polished aesthetic.  
Immaculately put together and refreshingly original, the collection embodied vibrancy whilst remaining exquisitely stylish.  

www.louisvuitton.com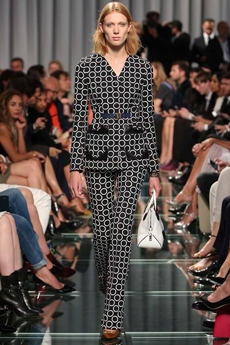 Fashion
CHANEL Cruise 2015 collection
It was print and pattern extraordinaire at the Chanel Cruise 2015 show with mismatched and intriguing shapes and styles and all out artistry. Big hair and exquisite makeup flawlessly complimented the heavily embellished attire, producing an extravagant yet stylish look and a chic colour palette.
Daringly experimenting with shape, pattern and texture, the collection provided lavish holiday dresses, a mixture of glitzy precious and costume jewellery and tailored pieces emulating the classic Chanel suit.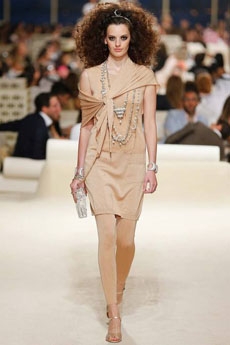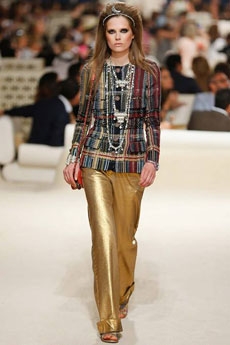 Showcased in Dubai, the collection gave a theatrical essence and emanated luxury through metallic trousers, moon headdresses and beautifully crafted sarees. Models including Lindsey Wixon and Malaika Firth emulated princesses as they wore textured harem pants and all in one patchwork pieces.
Modern and fearless yet still adhering to a classic Chanel aesthetic, Lagerfeld has fused the modern with the classic and the Arabian with the elegant.

www.chanel.com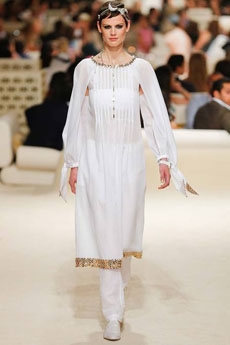 Fashion
WOLFGANG JOOP launches Eyewear Collection
In time for a stylish summer, fashion label WUNDERKIND have launched a new online store that will present Wolfgang Joop's sleek new eyewear collection.
Coming in four unique and equally chic models, each with individual colour combinations and creative styles, the sunglasses have individual names representing their original shape. Deriving from Wolfgang Joop's print creations of current WUNDERKIND collections, the hand made and high quality sunglasses are an ultra-mod fuse of distinctiveness and elegance.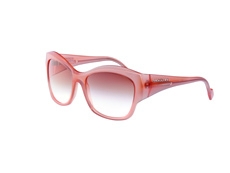 Available at the new WUNDERKIND online store and at all WUNDERKIND boutiques as well as an exclusive selection of shops and department stores worldwide, these cool yet classic sunglasses are available to everyone and can be found at www.wunderkind.com/shop.
Fashion
Tiger of Sweden Fall/Winter 2014
Inspired by timeless rock and roll icons, the Tiger of Sweden AW14 collection epitomises a sleek yet edgy style that is polished without losing the rock and roll roots. 
Offering a compromise between sophistication and spirit, the collection uses layering, exciting combinations and a neutral colour palette to create a distinctive and effortlessly thrown together aesthetic.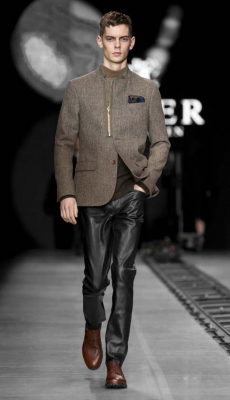 Seeking inspiration from Robert Redford's cult figure from the movie 'Three Days of the Condor', the seventies influenced menswear embodies this inspiration through heavily layered suits in brown, mustard yellow and black leather and tailored suits worn with long oversize overcoats and smart brogues.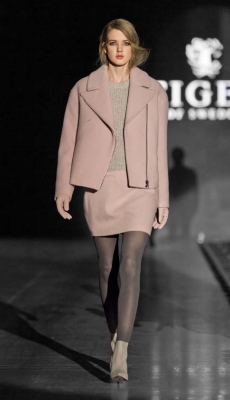 The womenswear collection comprises of a balance between "classically feminine parts and a more pronounced leaner, more masculine silhouette". Based on black, the colour palette incorporates more feminine tones of powder pink, light grey and deep turquoise and fuses minimalism with dynamism.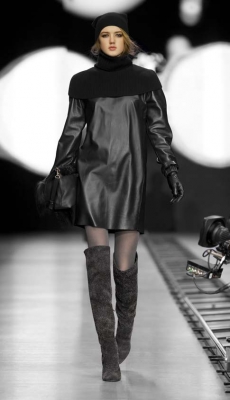 Established in 1903 and redefined in 1993, the traditional brand has reinvented itself to become a modern and exciting label that offers contemporary, sleek and stylish fashion for both men and women.

www.tigerofsweden.com
Fashion
Replay: Replay One Off
Italian fashion house Replay have launched a collection entitled Replay One Off for Fall/Winter 2014 that epitomises strong, edgy and playful fashion. Consisting of both men's and womenswear, the collection is effortlessly sophisticated with a casual and laid-back edge.
The men's collection references sportswear pairing thick, quilted duffel coats, relaxed hoodies and jersey chinos whilst still remaining cosmopolitan through clean, structured lines, fitted denim and smart brogues. Equally chic, the womenswear uses high gloss leathers, shiny metallics and luscious fur to create a powerfully sleek collection for the modern, urban women. Sharply cut black bikers combined with classy, tailored trousers exude hip sophistication while lavish fur pieces are contrasted with deconstructed denim to produce an easy-going edginess.
As a denim specialist, Replay One Off puts a particular emphasis on the jeans throughout the collection, using both classic black and blue denim as well as providing a smart element through added leather, tech fabric and brocade appliqués. Claiming to be "a collection all about innovation and experimentation", the clothing caters to the young and stylish consumer whilst producing an individual and playful aesthetic.

www.replay.it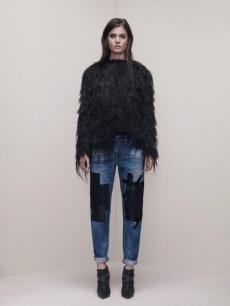 Fashion
Diesel Jogg Jeans Presents the A-Z of Dance
If you thought denim and dance were like oil and water – two incongruous concepts that are never to coalesce – think again, for Diesel puts an end to the notion the notion with one fell swoop: the all-wear Jogg Jeans.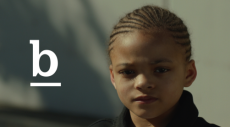 A hybrid of 21st Century design, Diesel's new Jogg Jeans cherrypick the best elements of jeans and sportswear to arrive at material that sits somewhere between denim and sweat. A circular weaving technique affords 360° stretch, while the cunning exploitation of deceiving indigo dye plays the ally to the sweatpants' artful guise. Drawstring waistbands take comfort further still, all the while providing a stylistic alternative to the commonplace button. Side stitching and coin pockets, meanwhile, ensure all artifice is kept incognito. An eclectic menu of styles caters to all manner of tastes, whether skinny or slouched, ankle-skimming or bagging at the knees – bleached, black or bullet-holed. The comprehensive collection also extends to shorts, jackets and jumpsuits – ever exquisite, but made markedly more malleable.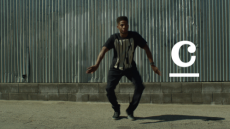 To paint the proficiency of their most dextrous pieces yet, Diesel and i-D have taken the opportunity to teach the A-Z of Dance in the form of an exclusive video directed by Jacob Sutton. The Soul Step team of Rick Owens' notorious SS14 show, Northern Soul star Levanna McLean and Nicole 'The Pole' Williams of Rihanna's Pour It Up video are but a few of the 26 acts to feature in the film, in which an illustrious cast performs the cult dances for which they are renowned - animate and unperturbed in a wardrobe of Jogg Jeans. Thanks to Diesel, there is now no occasion for which denim is a bad fit.

www.diesel.com
Fashion
The Fashion World of Jean Paul Gaultier from the Sidewalk to the Catwalk exhibition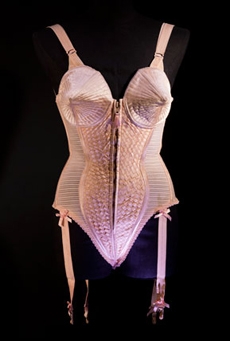 French Fashion extraordinaire Jean Paul Gaultier will have an international exhibition dedicated to his life work that will allow us a vast insight into his remarkable fashion world. A notable name in the industry, Gaultier is known for his challenging approach to fashion and redefining the dress codes of masculinity and femininity.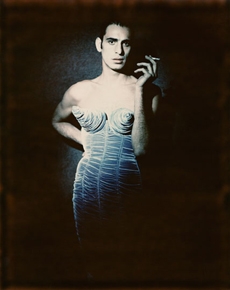 The exhibition showcases the variety of world cultures which are amongst Gaultier's most dominant inspirations and displays his most revolutionary work in an interactive and audio-visual form. From Madonna's Blond Ambition tour costumes to the attire of the characters in Pedro Almodóvar and Luc Besson's The Fifth Element, the exhibition showcases Gaultier's life work and wealth of collaborations in an interactive and theatrical format.  
Inviting us to experience the world of Jean Paul Gaultier, the exhibition features around 140 haute couture and prêt-à-porter outfits as well as detailing the journey from sketches and inspirations to the fascinating runways, costumes and avant – garde designs that made his name inextricable with the fashion industry. The exhibition will be at the Barbican Centre from 9th April – 17th August.

www.jeanpaulgaultier.com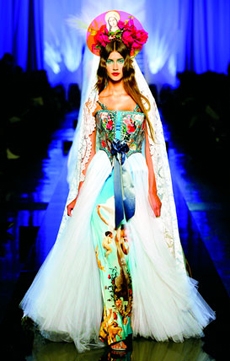 Fashion
Y/PROJECT Fall/Winter 2014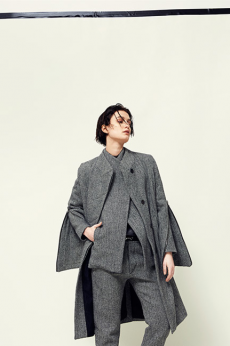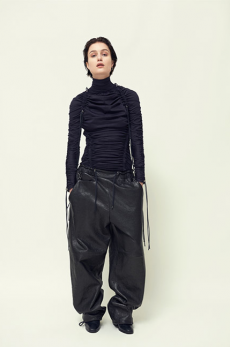 Grungy and gothic 90s it girl was cleaned up in Glenn Martens' debut collection for fashion label Y/PROJECT Heavily layered, oversize and floor length pieces added an element of exaggeration to which Martens' harmonised with clean, architectural lines and exciting, body hugging ruffles on sensual sheer dresses and tops. Modern, sleek and clean cut lines paired with ultra-fashionable all black ensembles adhered to grunge while white and grey pieces provided a sleek modernity.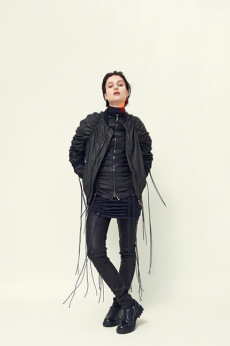 The clothing epitomized versatility; oversize black bikers were thrown onto slim fitting dresses paired with black patent pumps, ruffled turtle necks combined with leather trousers and matching suits worn under uniquely cut coats. Stating that "Today a woman has to be adaptable, she has to be modern… be flexible in any situation and I think this collection tries to follow that." Glenn Martens created a dark and sophisticated collection that complied with the desires of the contemporary woman by providing equilibrium between the laidback and the refined. He also experimented with texture, materials and cuts to add to the eccentricity of the collection while staying true to the brands urban lifestyle composition.

www.yproject.fr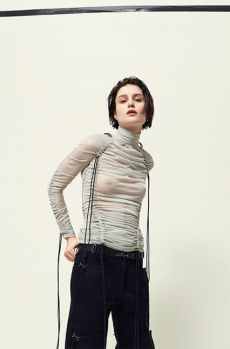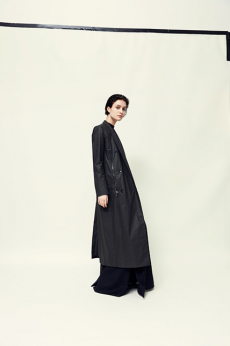 Fashion
Jean Paul Gaultier at Paris Fashion Week Fall/Winter 2014
Space like silhouettes mixed with fishing style thigh high green boots provided an interesting yet stylish combination at the Jean Paul Gaultier FW14 show during Paris fashion week. The just landed to earth from space theme continued with large headpieces, glitter leggings and metallic silver high boots before transcending into full blown dark silver space suits. London's Punk rock scene was referenced with the amalgamation of tartan, Mohawks and leather. The collection continued to seek influence from London with large union jacks seen on bomber jackets, floating skirts, matching top and trouser combinations and short dresses.

www.jeanpaulgaultier.com
Fashion
Alexander McQueen at Paris Fashion Week Fall/Winter 2014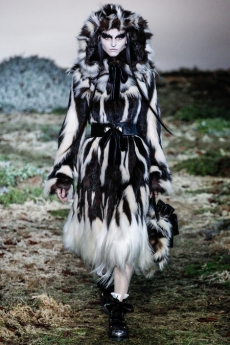 Fur was the material of choice at Alexander McQueen's deeply dark and mysterious FW14 show. Adhering to the inspiration of 'wild beauty' the show was set in a seemingly derelict and deserted garden and showcased large jet black oversize sweaters and coats with fur detailing around the edges. Extravagant all fur hooded coats with matching boots and black and white long fur coats were displayed on models with doll like white painted faces. The show finalized with a compilation of straight textured figure hugging dresses that scraped the floor, it was dramatic yet demure.

www.alexandermcqueen.com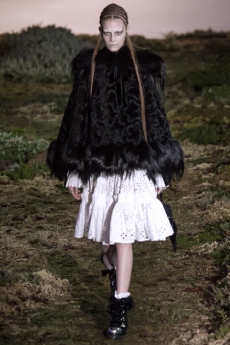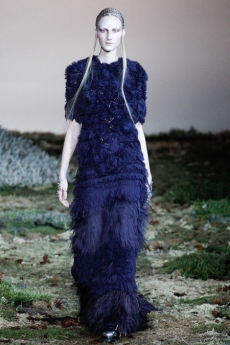 Fashion
Yohji Yamamoto at Paris Fashion Week Fall/Winter 2014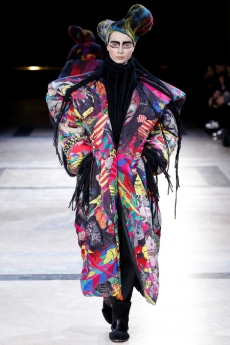 All of the drama and theatrics you could wish for were at Yohji Yamamoto's fairy-tale esque FW14 show. Bright and flamboyant makeup was accompanied by extremely stylistic hairstyles and duvet like large black overcoats whilst bright and vibrant graphics were painted onto all black pieces. These experimental and unique graphic designs continued with large florals and heavily layered black pieces added a lavish sophistication and weighed down the exaggerated theme of the show. It exposed us to a more bizarre and outlandish winter wardrobe.
www.yohjiyamamoto.co.jp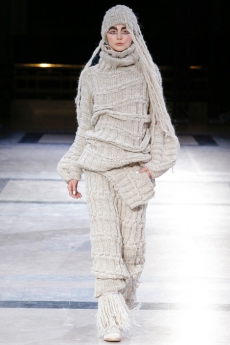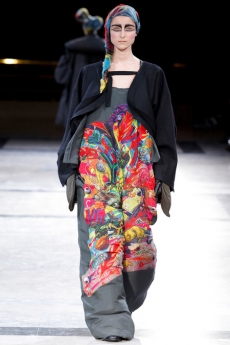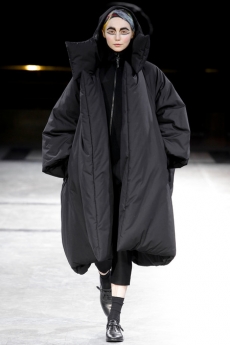 Fashion
Christophe Lemaire at Paris Fashion Week Fall/Winter 2014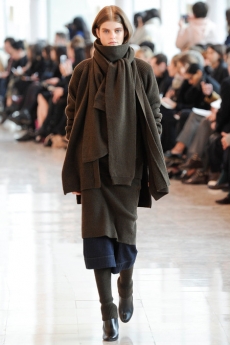 Strong utilitarianism was accompanied with soft knitted wool and a subtle elegance at the Christophe Lemaire FW14 show. The largely navy blue, cream and black colour palette combined with relaxed silhouettes to create a casual yet professional chic. The simple colours and clean cuts were mixed with the creative use of layering to produce a simple and classic collection.
www.christophelemaire.com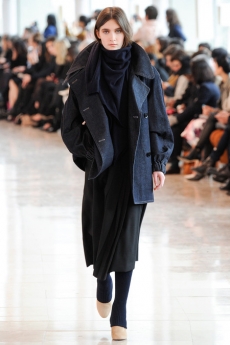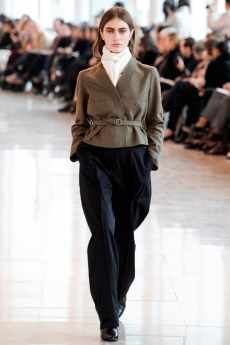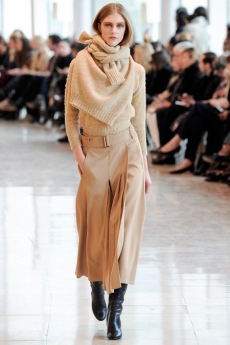 Fashion
Balmain at Paris Fashion Week Fall/Winter 2014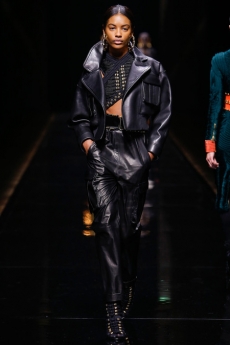 Powerful, strong utilitarianism was presented with the signature intricate Balmain patterning and experimental combinations were worn alongside stripes of leopard print at the Balmain FW '14 show. The collection was fearless in its obvious extravagance and daring in its combining of jungle style zebra and leopard prints with bright yellow and orange furs. Hip hop style was referenced through all black leather and gold hoop earrings and an inventive rope like texture was used to create unique dresses and tops.

www.balmain.com
Fashion
Dries van Noten at Paris Fashion Week Fall/Winter 2014
A bright pop of colour provided an exciting accompaniment to a fall/winter aesthetic during Dries van Noten's Paris fashion week show. Clashing geometric patterns highlighted the designer's innovative approach to using prints and sportswear references alongside bright floral prints provided a diverse winter wardrobe. Transcending into a darker colour palette, the show concluded with luxe metallic striped pieces, luscious black fur and space girl style sparkling silver.

www.driesvannoten.be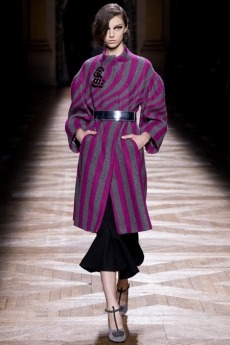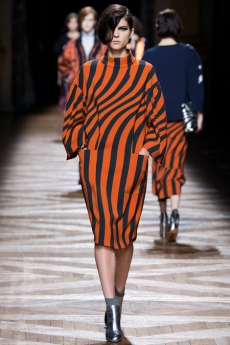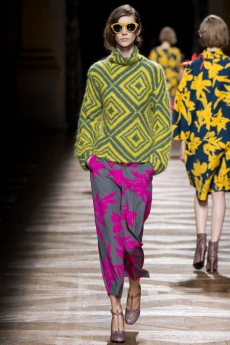 Fashion
Day 2: Fendi, Prada and Moschino at Milan Fashion Week Fall/Winter 2014
Opened by Cara Delevingne wearing a long black overcoat with a hood flamboyantly lined with black fur and carrying a miniature Karl Lagerfeld, the FW Fendi show boasted an extraordinary range of colours, textures and excessive fur. Pairing thigh high black boots with oversized printed sweaters and large coats accessorized with luxurious fur, the show captured edgy elegance in a dazzling array of black, brown, deep blue and orange.

www.fendi.com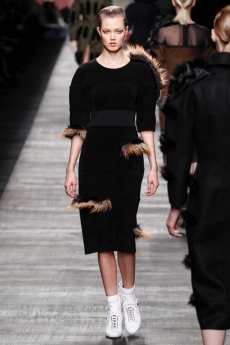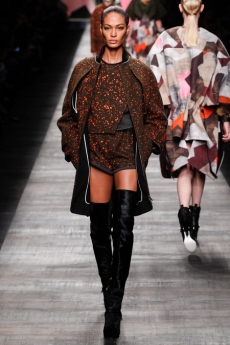 Asymmetrical prints and structured silhouettes personified dominance while bright reds seen on dresses and patent boots exhibited seductive femininity at the Prada FW '14 show. Sharply tailored blazers were lined with lush fur and sheer long dresses were worn with multi coloured, patterned underwear. Sailor style was referenced through gold lined grey overcoats worn with bright red scarfs and exaggeration was incorporated through brightly colour clashed fur coats. 

www.prada.com
Fast food meets fashion made for an intriguing mix at the Moschino FW '14 show. Models graced the catwalk in archetypal McDonald's emblems and colours of yellow and red and CHANEL detailing was incorporated to fuse quirky and classic. The collection transcended into hip hop chic where bags embellished with the words 'Moschino' were used as necklaces and lavish fur coats were sported alongside metallic gold jackets, gold chains and glitzy black bomber jackets. Jeremy Scott's innovative use of SpongeBob prints and cereal box inspired dresses made for an eclectic show that referenced modern as well as youth culture.

www.moschino.com
Fashion
Diesel Black Gold at NYFW Fall/Winter 2014/2015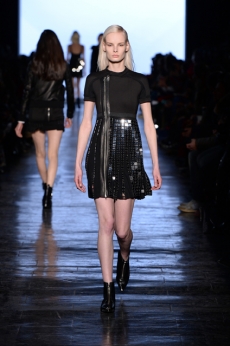 For New York Fashion Week Fall/Winter 2014-2015 creative director Andreas Melbostad took it's spectators on a futuristic Science Fiction journey. On first sight, the collection seemed to be inspired by cosmic space suits and Smart Wear, but on closer inspection the brands typical elements were eminent: denim and leather, accented  by zippers, multiple buckles and mirrored metal discs. Dominated by a rather monochromic colour palette, metallic surfaces and silvery laquered fabrics perfectly matched with neoprene, quilted leather and lightweight jersey. But also the choice of classical materials such as merino wool and 'Prince of Wales' highlighted this marvelous collection.

www.dieselblackgold.com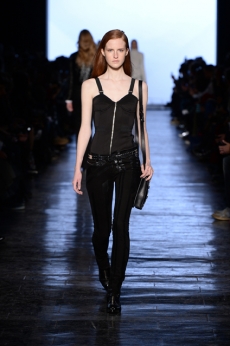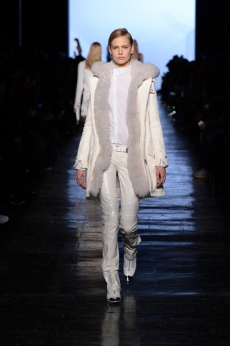 Fashion
'8 Pieces' by Claes Iversen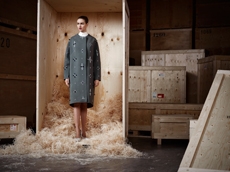 Claes Iversen is proud to present this season's graceful collection: '8 Pieces': a tribute to the brand's signature of authentic couture, the luxurious use of materials and an eye for detail. The eight looks are made of high quality fabrics in bright colours and tailored in fragile, female silhouettes. Elaborately embroidery techniques of beads, crystals and sequins are combined with laser-cutted plexiglass shapes and compose floral patterns.

www.claesiversen.com
Fashion
Chanel at Paris Fashion Week Haute Couture Spring/ Summer 2014
Under the dome of the Grand Palais in Paris on tuesday morning, Karl Lagerfeld's Haute Couture Spring/Summer 2014 surprised with a young and youthful défilée. Accompanied by melancholic orchestral sounds of French singer Sebastien Tellier, a rotating stage with mobile walls revealed two staircases and it seemed as if his mannequins would just enter the legendary Cambon Club.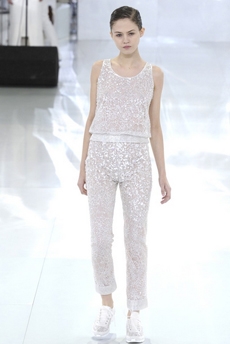 Chanel's elegant looks had sporty and young elements. Whether cropped boleros and belled- skirts or transparent, sparkling dresses or the classical Chanel costume -one thing was for sure- the sneaker was the main shoe. Some outfits in girly cream pastels were even worn together with knee pads, elbow protectors and bumbags and underlined the youthful attempt. The show ended with Cara Delevingne's final appearance in a transparent T-Shirt shaped wedding dress.

www.chanel.com
Fashion
Dior Homme at Paris Fashion Week Fall/Winter 2014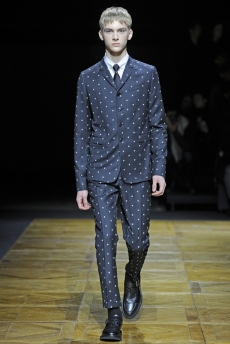 During the first part of the Dior Homme Fall/Winter 2014 collection, it seemed as if Kris van Assche was touching a more nostalgic and romantic part of himself. Tailored pinstriped suits were adorned with lily of the valley-embroideries and brooches representing heirlooms of the house. But gradually the modernist in Kris came to the surface as he began to play with these very classical elements. The pinstripes varied in thickness and the flower-motif was manipulated so that it almost became an camouflage-print. This fresh air of youthfulness was fortified when blue jeans were added to the looks with five-pockets, shirts and a great parka. The same was done with army-green. This collection can be considered as an evolution of the Dior house in it's entirety as Homme remains the cool and modern menswear brand, but at the same time the mens- and womenswear are gradually finding each other again. With Kris van Assche at menswear and Raf Simons at womenswear, the two Belgian head designers are both looking at the past of the house, but only to push it to horizons it has never been.
Fashion
Melinda Gloss at Paris Fashion Week Fall/Winter 2014
Mathieu de Ménonville and Rémi de Laquintane of Melinda Gloss made a contemporary silhouette with loose shapes and sharp tailoring for their Fall/Winter 2014 collection. Subtle ski-references were made with headbands, elastic hems and big parka's. The color palette was dark but deep with bottle-green, grey and purple.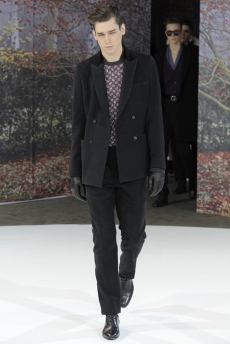 Fashion
Hien Le and Baby-G at Berlin Fashion Week Fall/Winter 2014
Traditionally, Hien Le's show kicks off Mercedes Benz Fashion Week Berlin. This time around the designer partnered up with Baby-G, re-interpreting the classical model of the watch brand - with the wristbands almost cut from the same cloth as Le' s designs and therefore being the perfect addition to the collection's looks. The collection in itself was rather bold in shades of Bordeaux and petrol, considering Hien Le's usual affinity to intriguing designs in muted colors and patterns. That is not to say that Le strayed from the usual grays and nudes.
For fall/winter 2014/15, wearable pieces for both sexes were made from wool, cashmere, leather and silk. Hien Le's choice of music was maybe just as bold, with Kanye West blasting from the speakers the second the lights went off. Once again, Le put forward game-changing looks and ideas.

www.hien-le.com
www.baby-g.eu
Fashion
Givenchy at Paris Fashion Week Fall/Winter 2014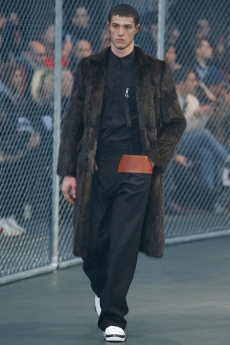 The setting for the Givenchy Fall/Winter 2014 show was a fenced basketball field, a literal reference to the main inspiration of the collection. Riccardo Tisci used several trademarks from the sport, like the orange hems that reminded of the Knicks, seams from basketballs and marks used on the field. Other influence for Tisci was the Bauhaus movement, which explained itself in the lines and big bands used as pockets on pants and to gather fur vests.The overall impression was very street, with some posh exceptions. Take for instance the classic sleeveless jersey that was made of fur rather than nylon mesh. Most outings fit right in with the Givenchy-vocabulary but the newness of the collection were the outings that consisted a wide, slightly flared pair of trousers and a knee-length slim coat.
Fashion
Boris Bidjan Saberi at Paris Fashion Week Fall/Winter 2014
The poetic collection Boris Bidjan Saberi showed for this fall and winter came from his vision on the Ottoman Empire and Topkapi architecture. At the same time it was the designer's most essential collection to date, taking his aesthetic and perfecting it with refined tailoring. The balanced collection sported some more athletic details like rucksacks and sneakers as well as subtle prints and long wraps, nonchalantly draped over sharp leather jackets.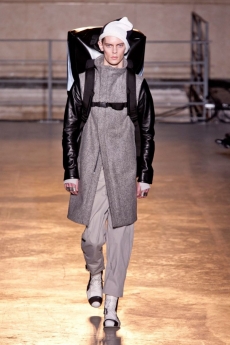 Fashion
Dries Van Noten at Paris Fashion Week Fall/Winter 2014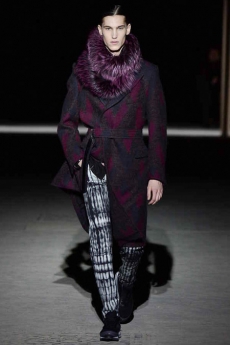 Dries van Noten looked extra confident today when he took his bow after the Fall/Winter 2014 mens presentation. And why wouldn't he? His past seasons have not only gathered him raving reviews but also a loyal fan base and he just delivered another stellar collection. Instead of exploiting the formula he is known for, he took his core and moved on. There was still an aloof and bohemian spirit to the clothes, but Dries infused it with decadence from the sixties and seventies and more surprisingly: neon. Tie-dyed pants and jackets, victorian blouses and furs were all energized by colors as fuchsia, green and lemon. New was the graphic patchwork on flowing parka's and biker jeans.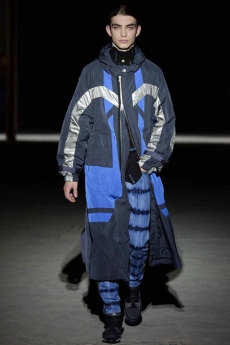 Fashion
Walter van Beirendonck at Paris Fashion Week Fall/Winter 2014
The soundtrack to Walter van Beirendock's fall/winter presentation was Gesaffelstein, a young DJ from France known for his aggressive and loud music. This could not have fit better in a collection so militant as the latest by the Belgian designer. Although the whole presentation was very colorful, most outings came with a felt soldiers helmet which at times was adorned with an enormous Native American head dress. There were some military influences on the clothing itself but they mostly centered around the idea of cut-outs. Side-panels of belted wool coats were left open to reveal colorful prints. Somewhere in the mind of Walter van Beirendonck must have been a schoolboy, which explains the vertically striped suits and emblems on sweaters.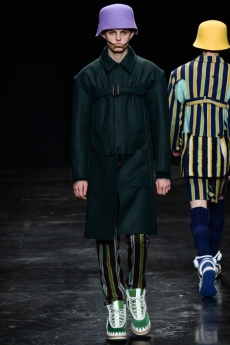 Fashion
John Varvatos at Milan Fashion Week Fall/Winter 2014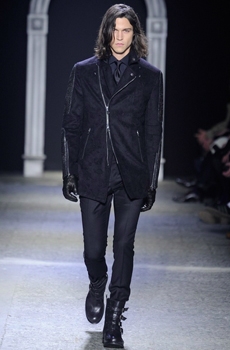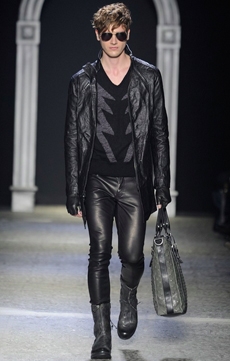 At John Varvatos, looks are fearless, confident and as usual influenced by Varvatos passion for Rock' n' Roll. So of course Kiss, in the main soundtrack accompanied his muses, when they  pranced down the runway. John's leather looks were mainly black, often in shimmery shades, combined with white suits. Throughout the edgy spirit, elegancy is not getting lost. 

www.johnvarvatos.com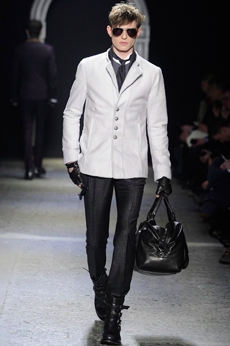 Fashion
Gucci at Milan Fashion Week Fall/Winter 2014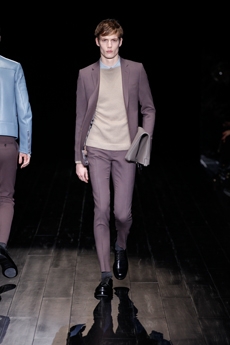 Inspired by the empathetic portraits of Canadian painter Kris Knight, the new Gucci Fall/Winter 2014 collection shows linear, graphic shapes with the precision in design. The Gucci men -during the day- wears sixties pants, nappa leather and biker jacket, and velvet blazers at night. Manifested in Gucci's traditional craftmansship, leather is the protagonist of most garments and occures in almost every look. Creative director Frida Giannini chose a colour pallete, that culminates from deep black into dusty pastels.

www.gucci.com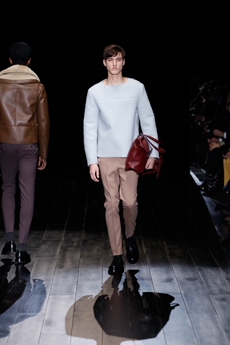 Fashion
Diesel Black Gold at Milan Fashion Week Fall/Winter 2014
For Diesel Black Gold Fall/Winter 2014, creative director Andreas Melbostad showcased a fearless, authentic and original tailored menswear collection. Born out of military inspiration, the line does not miss out on it's wild rock 'n' roll roots. Mirrored silver leather pants and bomber jackets are covered with badges and cut in a in a masculine silhouette.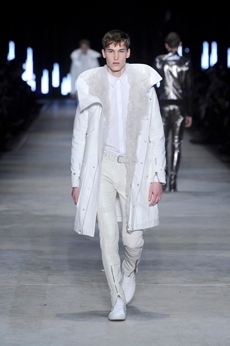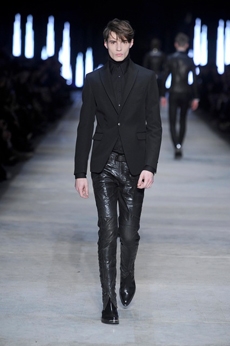 Fashion
Lou Dalton & Astrid Andersen at London Collections: Men Fall/Winter 2014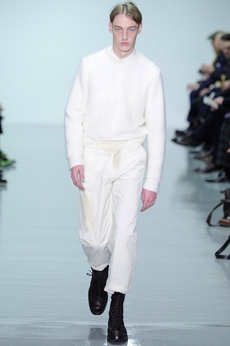 Lou Dalton Fall/Winter 2014
As designer Lou Dalton has established herself as a starlet of British Menswear, no other than her was destined to open the first day of festivities at London Collections: Men. Alongside punk-inspired streatwear elements and chic tailored suit jackets, her creations were built on the inspiration of her grandfather's farm and it's workers. Lou Dalton's signature of contemporary classicism and refined tailoring got crossed by pieces in acid-pink denim.
Astrid Andersen Fall/Winter 2014
Only four years after Astrid Anders graduated from the prestigious Royal College of Art MA course, the successful Danish designer for Fall/Winter 2014 hit the zeitgeist with a modern, luxurious street style collection. Sticking to her use of exclusive fabrics, the line was based on shiny satin's, laces and faux furs. The 'Astrid' branding emblazoned hoodies,T-shirts and underlined the graphical demand that make all of her collections unique. Other key elements were asymmetric strapless and cropped tops. Down Jackets and silver chains gave the final finish and a slight 90ies spark.

www.loudalton.com
www.astridandersen.com
Fashion
Kaviar Gauche 'Fleur De Force'
Since in 2004 Johanna Kuhl and Alexandra Fischer-Roehler created their unique style, it's not possible to imagine the fashion universe without Kaviar Gauche's femine designs. With the delicate yet strong collection 'Fleur De Force' the Berlin-based fashion label welcomed the Spring/Summer season 2014. The two charming founders for this occasion chose the St. Agnes church in Berlin, Kreuzberg to present the collection and show it in a rather minimalistic and industrial ambience. A light installation rotating to the rhythm of 'Einstein on the beach' by Phillip Glass graced the show with artificial golden sunlight and underlined it's cool and antagonistic spirit.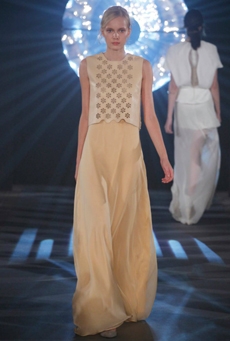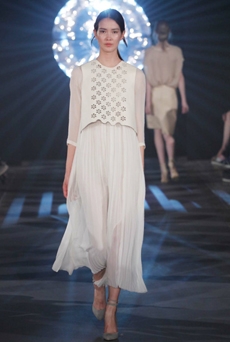 The collection is influenced by floral and contrasting graphic elements dominated by warm and light-beige colours, besides silver-grey combined with the classic Kaviar Gauche shades, such as ivory and black. In addition to the mix of silk, organza and leather, the line features the modern laser cut in blossom shapes. Next to the ready-to-wear collection the designer duo showcased dresses of the Bridal Couture 2014 putting the focus on the opulent Pavot dress, made of silk laces. In the selection of suitable accessories the exclusive garments find a final conclusion.

www.kaviargauche.com
Fashion
Ermenegildo Zegna's L.A. Global Store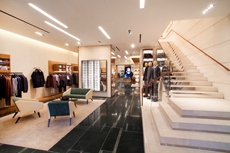 To celebrate the opening of it's new global boutique on Rodeo Drive, the luxury menswear brand Ermenegildo Zegna hosted an exclusive soiree at the new designed three floor Concept store. Italian fashion designer and Zegna's Creative Head, Stefano Pilati showcased an impressive preview of the Spring/Summer 2014 Couture collection, including mohair suits, wool gabardine jackets and floral jacquard knits. As always focusing on success, excellence and craftsmanship, the now available selection in the store dedicates to Italian high-quality heritage and  ranges from clothing to accessories and fragrances, and from formalwear to sportswear, made of exclusive materials that have distinguished Zegna for over a century now.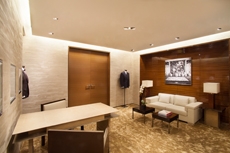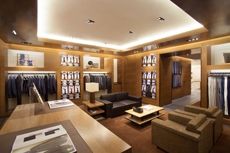 The Beverly Hills boutique was designed by renowned architect Peter Marino and creates an extravagant ambiance, dominated by brownish, earthy and golden beige shades. The interior designs of the boutique echo the brand's use of quality materials, integrity and modern style and enrich the visual shoppong experience in store, accompanied by a chic VIP room in the top floor devoted to personal shopping.Invited guests, such as legendary actress Sharon Stone and musician Gavin Rossdale, enjoyed a unique dinner and cocktail night at the JF Chen design gallery, and experienced the new creative concept behind the campaign Eminences Grises, shot by the two renowned photographers Inez van Lamsweerde & Vinoodh Matadin. Under the artistic direction of Pilati the campaign images have been set up in the event space and marked another highlight of the opening.

The new global store is located on 337 North Rodeo Drive, Beverly Hills, Los Angeles.

www.zegna.com
Fashion
NEIGHBORHOOD for Converse Sneaker
NEIGHBORHOOD, the exclusive lifestyle denim brand from Tokyo and Converse presented their first joint project, the first String Holiday 2013 collection, through adding a slight Japanese touch to the most two well-known Converse classics. When the Japanese clothing brand was founded in 1994 by Shinsuke Takizawa, NEIGHBORHOOD immediately succeeded with their motorcycle culture inspired designs, which also gets visible in this very unique collection. Combining classic Converse DNA with the Japanese brand's own vision, the two iconic staples are processed with high quality materials: the Jack Purcell Johnny Mid, made of deep petrol blue leather with tonal stitching and the All Star Chuck '70 Ox realized in a blue suede, both with white midsoles and toe-caps.

The First String's Premium sneaker collection is available in selected Converse retailers across the globe since the 1st of November 2013. For more information visit 
Fashion
Azzedine Alaïa and Women
By Ria de Borja
Alaïa, an exhibit chronicling the designer's career and influence in fashion, recently opened at Palais Galliera, musée de la mode de la ville de Paris. The exhibit goes through the designer's history, designs, techniques, inspirations - and his penchant for women, including famous actresses. Azzedine Alaïa was born in Tunisia and attended the country's École des Beaux-arts. "I used to spend my nights oversewing dresses for a local dressmaker in order to pay for my school equipment. I learned the different stitches by doing my sister Hafida's sewing exercises because she wasn't very keen on manual skills," says Alaïa in the exhibition catalogue. Soon after, the designer finished his studies and was encouraged to move to Paris by a family friend.
"The designers who have made a lasting impression on the history of fashion are those who have concentrated on celebrating and liberating the body. Of all contemporary creators, it is Alaïa who has best embodied this spirit since the 1980s, using precise seams and darts to produce a silhouette that has become his hallmark," says Olivier de Saillard, director of the Galliera museum and the exhibit's curator. "He drew inspiration from the spirited style and arrogance of personalities like Arletty and Louise de Vilmorin."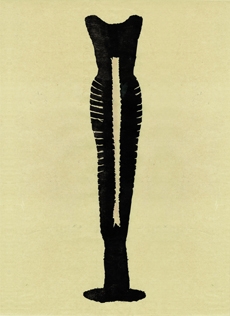 Alaïa met the French actress Arletty in Paris in 1960. "She's the one who gave me the idea of making skin-tight dresses. She was used to adjusting the volume of her skirt with a pin. 'It falls too well, she used to say. It has to be skewed somewhere.'" Towards 1971, he was inspired by Greta Garbo: "She came with a friend, Cécile de Rothschild, and wanted me to make a very full- bodied coat. I remember some fitting sessions and measuring sessions. The coat was never big enough for her taste.
At a time when everything was tight- fitting, the 1970s, I had to make an immense, navy-blue coat for her, with turned- up sleeves. In the 1980s and 1990s, I often presented huge coats with generous shoulders, a definite nod to Garbo, to her inimitable and avant-gardist style." When he met Louise de Vilmorin, he was further schooled in fashion: "Meeting her I realized that Parisian chic was all about the little details. One evening when Louise de Vilmorin was supposed to go to a dinner, she asked me to help her put the finishing touches to her outfit.
She remembered that she had seen a concierge wearing a cardigan from a department store like Prisunic so we bought it. We replaced the buttons with something more elaborate in metal and put a long ordinary chain around her neck that she rolled up and plunged into a pocket. It was a demonstration in just a few seconds of her inimitable sense of style, and she got a lot of envious looks that evening." Over the course of his career, the designer has created collections that include leather or waxed fabrics perforated with eyelets, skirts laced at the back, metal zippers running from the neckline to the hemline, tight and structured leather suits, seamed stretch jersey dresses, leather tube dress with asymmetrical folds revealing the naked skin, stretch jersey hood dresses and coats with hood collars and reversible boleros with strips of mink. "Alaïa fashioned a new body, like a sculptor working with muslin and leather. Inventing new shapes out of simple interplay between complex stitchings, Alaïa became the creator of a timeless body of work. His influence on today's fashion is fundamental," says Saillard.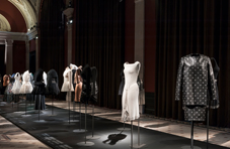 In 1986, Alaïa presented Naomi Campbell in her first fashion show (she was 16).  "Naomi Campbell, Farida Khelfa, Veronica Webb, Stephanie Seymour, Marie-Sophie Wilson, I am grateful to them all for accompanying me through all the research and the long posing, fitting and tweaking sessions. If I don't have models before my eyes I have no ideas. I need to see their bodies near me," says the designer. He acknowledges the profound influence women have had on him: "I have never followed fashion. Women have always dictated my behaviour. I make clothes, women make fashion."

www.alaia.fr
Fashion
Onitsuka Tiger's 'My Town My Tracks'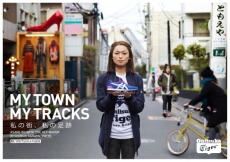 Sports lifestyle brand Onitsuka Tiger takes on Tokyo's diverse backstreets for Fall/Winter 2013. In 'My Town My Tracks' three natives explore their urban lifestyles and neighborhoods. Through the power of images and film the juxtaposition of this modest and outgoing, quirky and elegant culture, which is the birthplace of Onitsuka Tiger, is related. British photographer Laurence Ellis snapped Asami, a barista and actress in the hip Shimokitazawa district, artist Que, while wandering around counterculture hub Kichijoji, and Chris - the third local - cycling around Nakameguro, a quiet residential area.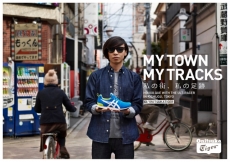 The trio showcases models from the upcoming, running-inspired street collection through 1,000 candid Instagram photos, which can be seen on Onitsuka Tiger's official Instagram profile, @onitsukatigerhq. Throughout this personal city tour, the ULT-RACER and HARANDIA take center stage. Both shoes are inspired by the brand's running heritage. The HARANDIA features performance technology and will go down in Onitsuka Tiger's history as its first shoe to feature GEL technology, for extra cushioning and comfort, all the while. As a special gimmick, it's the brand's first shoe to have Onitsuka Tiger written on the heel tab in Japanese.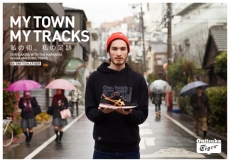 The other shoe featured - the ULT-RACER - is a modern interpretation of the ULTIMATE 81, which was one of the brand's most famous running shoes in the 80s. Sleek nylon, a chunky sole and herringbone rubber pattern make this a great allrounder for everyday explorations. Both models come in seven combinations as well as three specifically female fits.

www.onitsukatiger.com
Fashion
Saint Laurent at Paris Fashion Week Spring/Summer 2014
For Spring/Summer 2014 the traditional French House Saint Laurent transformed the runway into a spectaculous culisse with moving light rods in triangle shapes accompanied by synthy riffs of Liar's 'Mr. your on fire Mr.', which created a strong ambience. Very chic feminine, yet masculine looks mainly consisted of tight leather mini skirts, chic strapless night dresses and transparent chiffon blouses combined with casty blazers. Hedi Slimane got inspired by music icons and youth culture of the 80ies which creates a nonreversible and unique spirit. 
 
Fashion
Wunderkind at Paris Fashion Week Spring/Summer 2014
Wolfgang Joop's Wunderkind Spring/ Summer 2014 collection was a prelude to celebrate individualism and free thinking as if there is nothing left to loose. Inspired by the wild flair of the 70ies, stunning floral dresses with floating silhouettes, high-waisted hotpants and fringed leather jackets underlined the main theme and created an effortless and liberated spirit, that shouldn't be missing at an un- forgettable performance. Chiffon garments in acid colours and vibrant prints, next to sporty leggings made of transluscent fabrics and elements of baseball tricots completed this energetic and charismatic ambience and added a touch of youthness.

www.wunderkind.com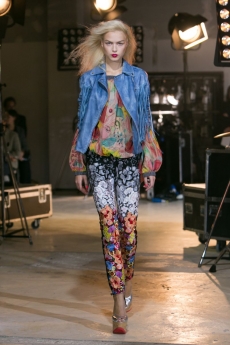 Fashion
22/4_femmes at Paris Fashion Week Spring/Summer 2014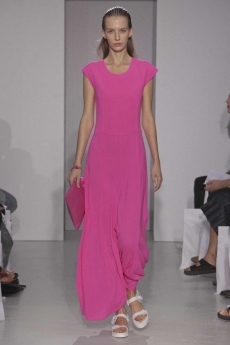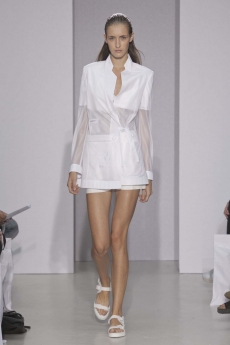 Stephanie Hahn, the designer of 22/4_femmes, has her roots in pattern making, which makes her a gem of know how in the middle of superficial big ideas. The way she cuts a shoulder on her new T-shirt is only one example of the way Hahn structures and controls a fabric. For Spring/Summer 2014, the designer looked at Jazz Age tennis player Suzanne Lenglen, resulting in a minimal, sportive collection without neglecting the feminine. Relaxed silhouettes with big striped trousers and shirts were vamped up with brazeers in the same fabric. As Lenglen, also known as "the Divine", never wore an underskirt while playing, an exercise in transparency gave the collection depth and light.

www.224hommesfemmes.com
Fashion
Prada at Milan Fashion Week Spring/Summer 2014
For the second day of Milan Fashion Week Spring/Summer 2014, Prada sent out a collection that reflected femininity and female empowerment at it's best. Eye-catching prints, which reminded of mural paintings and Richard Lindner dominated this artistic line. Most of the prints showed graphical images of women, which underlined what this collection is all about. Knife-pleat skirts, tube socks, shift dresses and coats with round buttons were showcased in the colour palette of mustard, lilac, turquoise and tangerine. Accompanied by hot vibes of Britney Spears new song "Work bitch!" this show was a must-see at MFW Spring/Summer 2014.

www.prada.com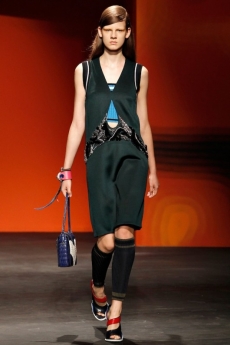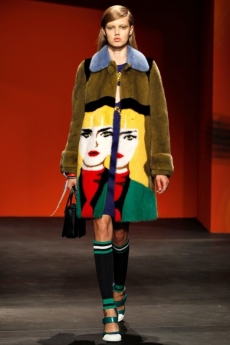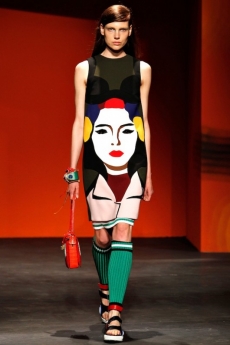 Fashion
Emporio Armani at Milan Fashion Week Spring/Summer 2014
The Emporio Armani Spring/Summer 2014 show was inspired by the spirit of nature and flaunted with modern qualities. Rippling water reflections and shadows on plants glazed on exclusive garments, in juxtaposition to floral patterns and imaginative, abstract watercolour illustrations. Shadows of tropical flowers in a colour palette of pale blues, greens, grays and dawn pinks completed the whole appearance.
Casual outfits included a range of double-pleat and widly-cutted pants and leggings that covered the skin like a tattoo. Flowing jackets in glossy and monochrome looks and elementary shapes, next to sleeveless silk dresses conjured a symbolic modernity accessorized with colour-matching clutches and handbags.
 
Fashion
Preen by Thornton Bregazzi at London Fashion Week Spring/Summer 2014
For this SS14 Justin Thornton and Thea Bregazzi showcased a collection dominated by gaudy, graphic and geometric patchwork prints and floral patterns. Being well known for hand crafted effects and precise cuts, the designer duo draped feminine and sporty dresses, skirts and parkas with vibrant silhouettes.
A pink glaze on the runway harmonized with pastel pink and blue colour palette, as well as strong neon pinks and yellows. Remaining true to the Rave spirit Preen is known for, second phase of the show brought up numerous futuristic looking pieces made of transparent high- tech fabrics, semi- sheer plastic raincoat textures and metallic foil.

www.preen.eu
Fashion
Calvin Klein at NYFW Spring/Summer 2014
Speaking the language of minimalism and innovation, Francisco Costa, who is Creative Director for Clavin Klein since 10 years now, put on the final run at NYFW Spring/ Summer 2014. Simple, oversized and unfinished looking pieces gave an industrial, experimental look.
Knee lenght skirts, on top oversized tops and wide-strap dresses were made of unique fabrics like woven snakeskin, silk and multicoloured yarn. Inspired just by a simple boys' T-Shirt and potato bags, Francisco experimented on taking apart, fringing and fraying his exclusive fabrics, that were dominated by white, bright sandy and black colours.

www.explore.calvinklein.com

Fashion
Hervé Léger by Max Azira, Mara Hoffman, Lacoste, Jill Stuart at NYFW
Third day at the New York Fashion Week brought up a number of remarkable styles. Designer Max Azira showcased his collection of pieces for Hervé Léger with geometrical printed patterns, sharp silhouettes, combined with leather pieces and added zippers. The show was accompanied by strong dynamic drum rhythms and thrilling beats.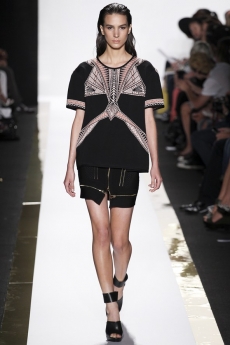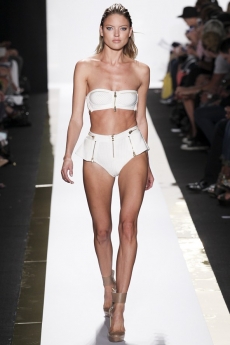 Hervé Léger Spring/ Summer 2014
Similar to Max Azira also Mara Hoffman was giving importance to magnific patterns, including tribal kaleidoscopic shapes and rainbow colours. Mara Hoffman -who is also well known for conquering the fashion world with her swim and beach wear - in this collection got inspired by a Dashiki, a traditional West African men's garment.
Mara Hoffman Spring/ Summer 2014

Continuing in Lacoste's efforts to keep a certain contemporary look - Oliveria Baptista created remarkable pieces with a slight touch of sportswear. He sticks to the old image of tennis courts in strong colours such as clay browns, rosy beiges and dusty pastels.

Lacoste Spring/ Summer 2014

Last but not least speaking of Jill Stuart -who opened the show with a high waisted black skirt and a rounded shoulder top - is bringing back the seventies.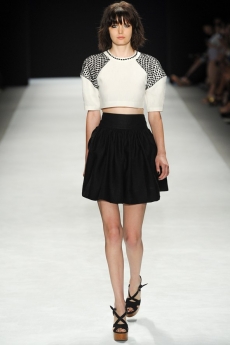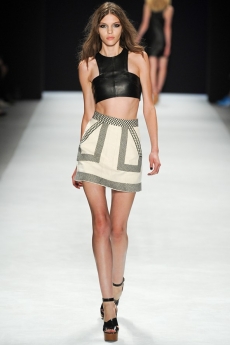 Jill Stuart Spring/ Summer 2014

Fashion
New Mulberry Bayswater Shoulder Bag
It is surely a testament to design when an accessory comes to be a celebrity in itself; sacrosanct and scrutinised by an adoring public, Mulberry's Bayswater bag is just that – a cult style staple that is at once practical and ever en vogue. Though change is in the air this Fall/Winter, as a handsome adaptation of the label's dearest descendant is sure to cause quite a stir among disciples and decriers alike.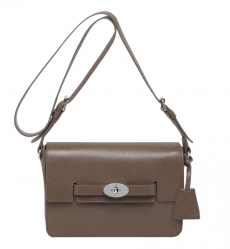 Effortless and unassuming, the new Bayswater Shoulder bag is very much the cooler, cultured cousin to Mulberry's iconic original – insouciant and bare but for its enviable quantities of uncalculated chic. Exquisitely crafted leathers case its humble frame, streamlined to its classic and quintessential components. In Autumnal hues of taupe, crimson, plum and midnight blue, the superb grain of the polished skins comes to surface, from grainy calf and goat hides, to tactile lizard prints. Alongside this novel addition to the lineage, is the Bayswater Double Zip Tote; a distinguishable relation to its ancestor, but reworked, this time with an optimised layout, made possible by a zipped compartment layout. All the while, dependably present is the charming motif of the classic Bayswater – or, rather, any Mulberry handbag worth its salt – in the form of its plated postman's lock – a Royal seal, if ever there were one. Only one element is sure to stay consistent to such a tumultuous collection: it won't be long before the Bayswater Shoulder is seen to be a pin-up in its own right.

Available online and in stores as part of the Fall/Winter 13 Main Collection

www.mulberry.com
Fashion
Ralph Lauren to Restore École Nationale Supérieure des Beaux-Arts
The École Nationale Supérieure des Beaux-Arts in Paris has acquired worldwide recognition as an institution to nurse such masters of design as Valentino Garavani and Hubert de Givenchy. Artists, too, have flourished under its coaching, with Degas, Marisse and Monet all walking through its magnificent doors. It's pertinent, then, that one of the greatest designers of our time has pledged to honor its two-year restoration by funding several millions of dollars towards the project.
The campus buildings date back to the 17th century, and house a 90-foot mural by French painter, Paul Delaroche.The historic semicircular lecture theatre that forms the heart of the school will be renovated with stadium-like seating and top-of-the-range audio-visual equiptment. It's cobblestone courtyard, meanwhile, will undergo significant work as part of the plans, which, once completed, will host a gala dinner and Fall/Winter catwalk show by Lauren on October 8th, making his first European show.

www.ralphlauren.com
Fashion
Prada Marks 100th Anniversary with Galleria Restoration Project
Setting up shop in the Galleria Vittorio Emanuele II in 1913, Mario Prada – father of the legendary fashion house – opened the first of many Prada boutiques under the roof of Milan's most spectacular shopping mall. A neo-classical landmark, the ornate architecture of its breathtaking façade is all part of the romance in the Prada story.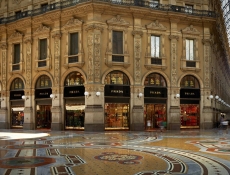 In fitting commemoration to its centenary, Prada plan to reinforce its roots with an extensive restoration of an entire quadrant of the Galleria, opening onto its historic central intersection and adjacent to its current residence. The Prada Galleria was waved in by the launch of a new dedicated menswear store.
At 400m², it occupies not even a tenth of the proposed development, saving room for more sales space, event areas, a restaurant, an exhibition hall for contemporary art under the Prada Foundation and brand headquaters. The ambitious renovation will encompass a thorough reworking of the vicinity, from interior layout to its outer structure, sculpting a complex for culture, business and lifestyle in the heart of the city, and under the magnificent roof of a monumental Milanese fixture.

www.prada.com
Fashion
Claes Iversen Spring/Summer 2014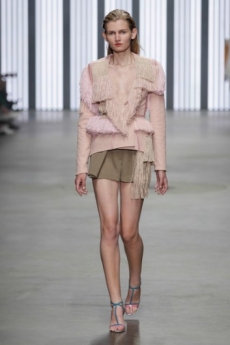 Known not for its tropical summers, Amsterdam nonetheless delivered a ray of sunshine at this season's fashion week in the form of the Claes Iversen show, inspired by the city's showery climate.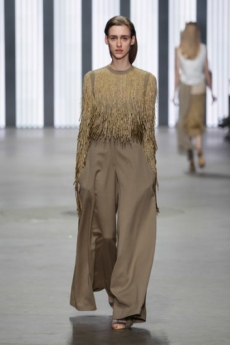 The banana-yellow ouverture said it all: a satirical displacement of a classic's typical context. Hooded macs cropped up throughout the collection, severed and layered or thrown suggestively over bare legs. Raincoats weren't the only pieces to face the chop; hemlines teased, courting thigh and floor with their sheer promiscuity, though tailored cuts and long fitted sleeves translate sensuality into sophistication.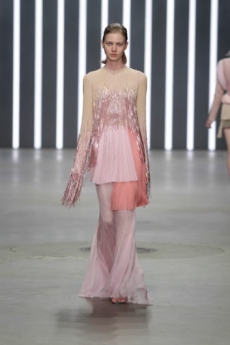 Chiffon singlets were cinched into banded waists, rising as maxi-skirts or breezy palazzos flaring to a splaying umbrella line. All the while lengthy fringes were raining down in washed pastels, hailing unexpected embellishments as erratically as the weather.

www.claesiversen.com
Fashion
Royal Hem Fall/Winter 2013
Cyclewear just got stylish with Royal Hem's Fall/Winter 13 collection, a tribute to London's cult cycle ride and mirthfully named 'Tweed Run', for which contestants take to the pedals in a dress code of traditional British biking attire.
Royal Hem unpick the stitches that form the patchwork of British style; a fusion of sartorial British classicism, French mystique and knife-sharp Italian tailoring, its foreign accents are what steer the aesthetic from costume, to a kind of charisma that is more difficult to define.
Casual stands up to a hit of formality, with Shetland wools and Aran knits layering bow-tied shirts and waistcoats. Plus fours are revived with that eccentric taste for color-clashing that could only get past a British palate, as flecked tweeds and dogtooth checks bicker politely amidst a canvas of ¾ length pants and deconstructed blazers, lined with vintage Penny Farthing prints. Slimline silhouettes streamline with single breasted jackets, while Chesterfield coats are made boxy by shawl collars and patch pockets. Styled with a contemporary hand, however, fedoras and rolled ankle cuffs speak with an audacious London twang.

www.royalhem.it
Fashion
Boris Bidjan Saberi Spring/Summer 2014
It's not often that a designer can pull off 'sailor' without pieces looking caricatures of their influences. Though that's exactly what Boris Bidjan Saberi has accomplished with his latest Spring/Summer collection. Perhaps that's because his eye has always been close to the source; penned from his seaside workshop, maritime garments find new function in the modern man's wardrobe, pooling in the weather-beaten folds of slouched silhouettes.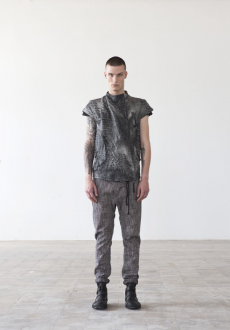 Ropey knits in murky off-whites bear the industrial scuffs of hard labour, underwritten by the utilitarian buckled fastenings of cropped life jackets. Waxed cotton sweaters are somehow made unspeakably modern, layering light jerseys and oversized pants etched in grainy graphic prints.
Boat sails are reworked to breathe authenticity into hooded cloaks, their original seams still visible so as not to mask character. Yellow waders and fishermen jackets are tailored to question the possibilities of function, narrated by removable sleeved jackets, adjustable length pants and an integrated backpack vest.
Stripes, too, are redefined, their identity chanellenged as they struggle to keep in line on asymmetric cuts. In a palette of worn whites and greying navy, marine wear, here, evades the obvious by all possible costs.

www.borisbidjansaberi.com
Fashion
Laurèl Spring/Summer 2014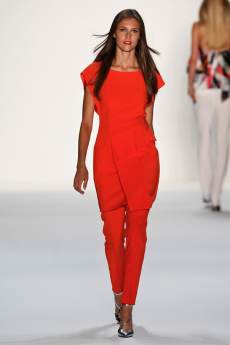 Elisabeth Schwaiger creates high quality pieces from leather, silk and jersey. For Laurèl's spring/summer 2014 collection she drew inspiration from Asia's aesthetic language. As a result, the designs are modern, urban and infused with exotic impressions. The color palette for spring/summer 2014 is framed in black and white with a vibrant impressionist print in and strong one-pieces in turqoise or purple. The Asian influence adds a relaxed touch to the smart clothes, which are suitable for all occasions from the office to the beach.

Images:© Mercedes Benz Fashion

www.laurel.de
Fashion
Salon Show Spring/Summer 2014 Green Showroom
Sustainability is growing ever more important in fashion and the green showroom during Berlin Fashion Week provides a platform for sustainable labels. At the salon show 20 brands showcased 54 looks from avant-garde designs to delicate silk dresses and fine blouses as well as all the way to accessories. Among the labels were renowned designers such as Lanius or Elsien Gringhuis and Swiss label Royal Blush by Jana Keller / Johanna Riplinger, who employ plant-based treatments for the leather and organic salmon they use -all made locally. Their collection is simple, reduced and puristic. For a more rock 'n' roll vibe, designer Aleks Kurkowski combines straight forward, avant-garde designs with relaxed urbanity and the essential thought of sustainability. Once again, the show proofed that fashion and awareness can create something beautiful.

Images: © Mercedes Benz Fashion

www.green-showroom.net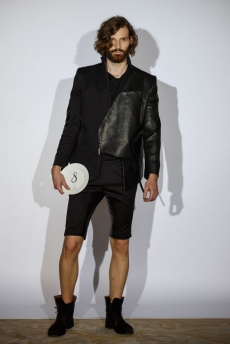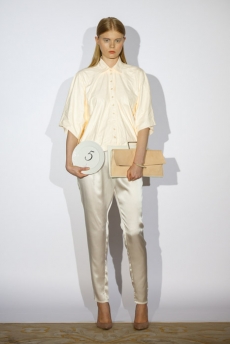 Fashion
Designer for Tomorrow by Peek & Cloppenburg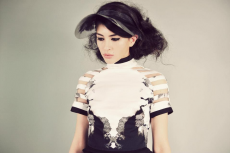 For the fifth year running, Peek & Cloppenburg Düsseldorf and Fashion ID have awarded the 'Designer for Tomorrow' award during MBFWB. As a visible platform for creativity, it gives up- and coming talents the opportunity to present their designs. This year's patron Stella McCartney helped mentor the finalists and gave them advise ahead of their showcase. The five designers were Katy Clark, Jamie Wei Huang and Ioana Ciulacu Miron from the UK as well as Hannah Kuklinski and Annalena Skörl Maul from Germany. With her collection 'Paradox', Ioana Ciulacu Miron took the award. For her it is all about contrasts. Her creations are soft and flowing, appear structured and feminine while simultaneously expressing a masculine strength. A diversity of materials like wool, plastic, chiffon and even plastic foam fuse in quite extraordinary unity. The prints on the pieces kept in subdued color were all hand-drawn by the designer herself. Having won over the jury and the audience, Ioana is 2013's 'Designer for Tomorrow'.

www.designer-for-tomorrow.com
Fashion
Patrick Mohr Spring/Summer 2014
The injustice of humanity is a tricky subject to broach at the best of times. Through a fashion collection, however, the challenge grows near insurmountable. But where others see impossibility, Patrick Mohr sees an obstacle to be conquered.
The presentation of Mohr's Spring/Summer collection was unorthadox, to say the least. But then again, who could expect anything less? Succinctly entitled Human, the line takes an avant-garde take on couture, fusing with streetwear to evoke the idea that we are all equal.
Beautiful models were made repugnant by beards and monobrows, while society's most marginalised were pushed to the forefront, taking to the stage in Mohr's thought-provoking designs. Disabled, Body-building and transgender mannequins sported baggy printed vests and T-shirts – a tired pair of eyes staring as its sole motif. With unfinished seams, the look was poignantly run-down.
White dresses were magnificently pure; folded crisply and escaping all embellishment, they were a testament to artful restraint. In thick plain bolts, they skirted – even lined the floors, their fantastic immaculacy stripping down an aesthetic to a utilitarian skeleton.

www.patrick-mohr.com
Fashion
Jean Paul Gaultier Couture Fall 2013
Few people do couture like Jean Paul Gaultier. His affinity with provocative excess brands him a soulmate for the season, often shamelessly themed and always a little decadent.

Flamboyance, as custom, knew no bounds – a conclusion that could be made from the very first look, through the chunky tufts of fur and layers of leopard-skin. Hair too, was skinned in spots – statuesque and towering heads brazenly with the callous confidence of a cavewoman.
Color palette made a surreptitiously subdued entrance, but fooled noone into thinking this would be a show made of strictly natural hues. After all, it is Jean Paul Gaultier. While sandy browns kept quiet, inflated shapes made a cacophonous bang – chunky quilting piped volume in lines and tapered pants grew pockets so accommodating they became closer cousins to harems.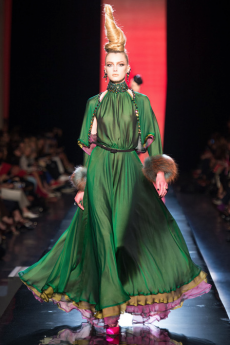 Velvets, feathers and furs ran with the raucous sense of feminine pride bestowed by Gaultier, amplified by bejewelling tones of piercing green and electrifying fuchsia. His characteristically crafted impression of the female form, meanwhile, did not go overlooked. Puffa-like piping etched the distinguishing features of the bustier, cinching waists and rounding at the hips, deciding whether to tulip or flare. Lavish it may have been, but limitless it most definitely was.

www.jeanpaulgaultier.com
Fashion
Sissi Goetze Spring/Summer 2014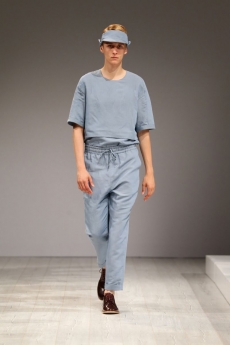 The spring/summer 2014 collection had a 1990s hip-hop feel to it. Visors are the hot weather update of Sissi Goetze's somewhat signature accessories: the cap. Since a man in shorts is super relaxed, Sissi Goetze made loose-cut, shiny black drawstring shorts. The focus of the collection is on black and denim materials. Aside from cropped pants, Sissi Goetze has men in layered, overlapping clothes next summer. Color choices for spring/summer 2014 range from light blue to safari style camel. The designer's unconventional approach to contemporary menswear is a nod to every man's inner rascal.

Images: © Mercedes-Benz Fashion
www.sissigoetze.com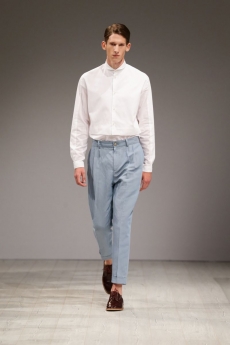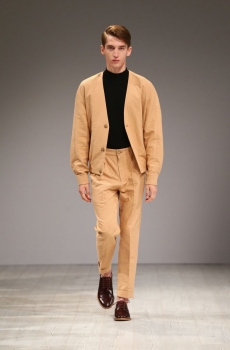 Fashion
MALAIKARAISS Spring/Summer 2014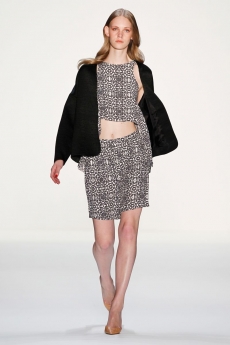 Amidst the hyped New Objectivity, MALAIKARAISS spring/summer 2014 collection found itself between the purism, extravagance and wearability. Pleated collars, asymmetric features and contrasting lining added intrigue to the designs. For next summer, Malaika Raiss played with different length seems, varying textures and see through elements. Her fabrics of choice are silk, soft leather and knit which made for fun pieces such as berry colored leather shorts or an easy, see through maxi dress in light rose.

Images: © Mercedes-Benz Fashion
www.malaikaraiss.com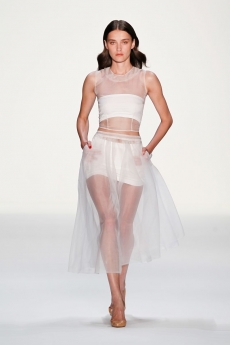 Fashion
Fendi for Fountains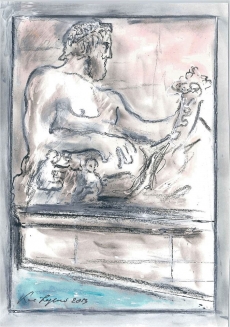 Roman by birth, the Fendi fashion house is to pay gratitude to its heritage by funding a major restoration of Rome's ancient fountains, including the Trevi Fountain and the Quattro Fontane complex. Founded in Rome in 1925, Fendi has sourced illimitable inspiration from the city, and hope to pay tribute to both its striking beauty and historical identity through the preservation project.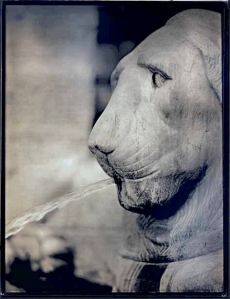 "Rome is eternal, therefore, there is no better place: Rome has changed and has not changed," said Karl Lagerfeld, who has been head designer and creative director of the brand since 1965, marking the longest collaboration between a designer and fashion house. Lagerfeld, who claims to have visited Rome over 740 times, has also photographed the most iconic fountains of the city, ready to showcase in an exhibition entitled The Glory of Water.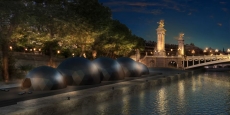 Running from July 4th-14th in Rome's sister city of Paris, the exhibition will be displayed in five domes, symbolic of Rome's iconic cupolas. The Glory of Water is to make history as the largest ever display of daguerreotypes, as fifty prints will exploit the now nearly extinct traditional processing technique. Upheld for its mirror-like realism, daguerreotype printing is now only practiced by 6 master printers around the world, and the history of the technique will make a dedicated feature at the exhibition. The event promises a multi-sensory environment, with photographs accompanied by the music of Vivaldi, contemporary digital compositions and the sounds of the water from the fountains themselves. By the Ponte Alexandre III on the banks of the Seine, its showing will coinside with the opening of Fendi's new boutique, its Maison moving from number 22 to 51 Avenue Montaigne.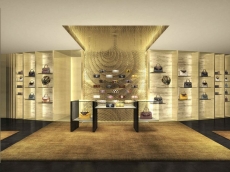 The 600m² store was designed with the vision of femininity in mind; bathed in soft bronze lighting, an abundance of rich textures - from velvet and leather to natural stone – form the curves of the space. In tune with Fendi's Roman roots, walls are covered in travertine plates, clad to enhance the height of the vertical structure. The ground floor will host an installation surrounding the iconic Baguette bag, where a wall pierced with 30, 000 bronze needles will display the different styles, representative of the craftsmanship behind their fur pieces. Here too, will be a made-to-order service space, where bags from the Selleria line and the Peekaboo bag can be customised to a unique specification of colors, leathers and finishes, while the Haute Fourrure room above will allow clients to create bespoke fur items.
Perhaps most exciting about Fendi's contribution to the project, is another kind of restoration, this time of the film Histoire d'Eau by Jacques de Bascher. Shot in 1977 and starring Suzie Dyson, Bascher's eighteen-minute piece gave way to the concept of the fashion film, intended to present Karl Lagerfeld's ready-to-wear and fur collection for Fendi. The story of a young woman who travels to Rome, she bathes in the city's fountains, stowing their water in glass vials. Her parents, meanwhile, believe her to be holidaying at a Spa in Baden-Baden. The last shot depicts the woman transformed into a mannequin, standing in the window of the Fendi boutique – the jars of water drawn from the fountains of Rome lined behind her. And so the restoration gives truth to its name: Rome really is the Eternal City.

www.fendi.com
Fashion
Thom Browne Spring/Summer 2014
Thom Browne's spectacular presentations are always a highlight on the menswear calendar and his presentation for spring/summer 2014 was no exception. The collection balanced between the super masculine and the super feminine, the masculine part being the navy with their broad-shouldered and heavy-armed costumes and hats and the feminine in details like laced corset-backs, crinoline hips and lacquered fabrics. There was an air of fetishism in the way the models wore the silhouettes with high heels and red lipstick with a tough attitude. If you want to see them, there were lots of political messages in the collection; maybe gays in the army or the perception of what is feminine or masculine. But above all, these were clothes crafted with immaculate attention to detail and a lot of ideas to distill.

www.thombrowne.com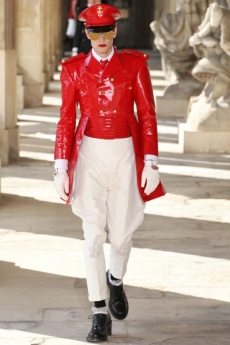 Fashion
Givenchy Menswear Spring/Summer 2014
It has actually been a few seasons that Riccardo Tisci did the very black and gothic collections that made him famous. Lately he had been much more optimistic; the pre-spring collection was full of flower-prints, for example. This continues for Spring/Summer 2014 in a collection that was inspired by geeks and tribes. Tisci took a trip to L.A. and was obsessed by its skater culture which led him to vintage hi-tech. This goes surprisingly well with his other inspiration, Africa, in a way that some prints were confusing: photo-print of a record-player or a traditional African pattern? Very strong were the printed parkas and the times he used see-through fabrics, like the pants and a flesh-toned jacket (which was actually made of a very new knitting technique). The tribal face painting enforced the influences and the strength of the models/warriors.

www.givenchy.com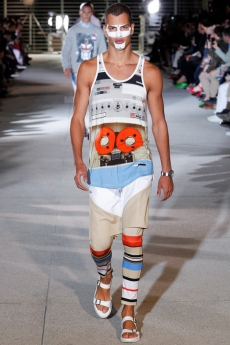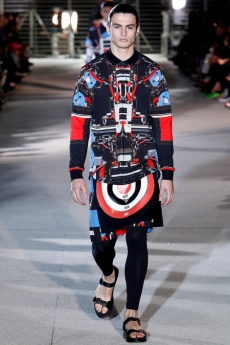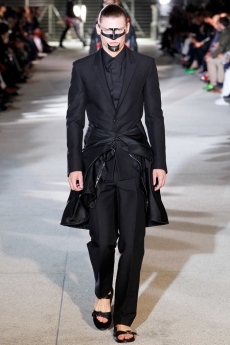 Fashion
Rick Owens Menswear Spring/Summer 2014
Out of the darkness, bandmembers arived on the catwalk rather than models at the Rick Owens show. Shortly after came a installation twirling the band's drummers around while performing. The clothing of the collection was in line with this exciting performance with lots of black, leather and strings dancing around the models. Last season, Rick brought his man back to the street and this season he continued this path. The most precise example of that are the sneakers he designed with Adidas, that were finally presented to the public.

www.rickowens.com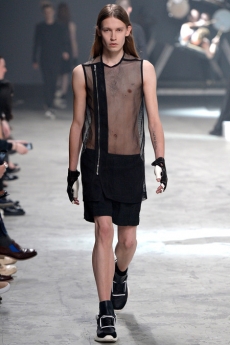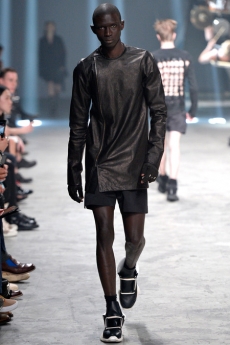 Fashion
Ann Demeulemeester Menswear Spring/Summer 2014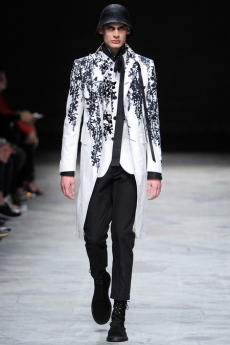 The great designer of melancholia and poetic sensibility, Ann Demeulemeester, outed a emotional collection full of greatly cut jackets and shorter pants. She started with a couple of white looks delicately embroidered with black patterns. Later on the collection took on colors like dusty pink and dark purple that gave the collection more depth, but never made it heavy. The collection had a victorian air but it was kept modern with light cottons and fluid silks. The models wore subtle black make-up around their eyes to highlight both the rocker and the poet that is the Ann Demeulemeester man.

www.anndemeulemeester.be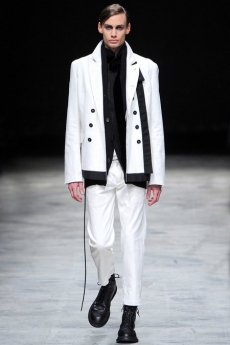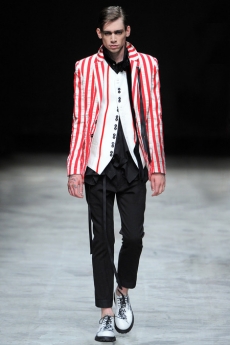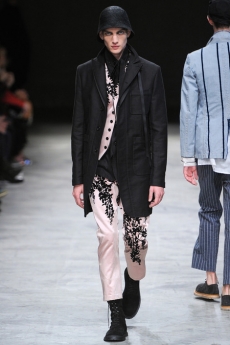 Fashion
Marni Menswear Spring/Summer 2014
Spring/Summer at Marni gave us a touch of the trainspotter; all anoraks and flasher macs – a look which is at once smart and scuffed. Oversized raincoats swamp the pencil-frame lent by slim cigarette pants, with skinny ties elongating yet further. Chelsea boots mark the footprint of '60s London. Come to mention it, the look would not seem altogether out of place were it sported by Jimmy Cooper in Quadrophenia.
Checkerboard shirts – more 2 tone than Mod – tuck half-heartedly into schoolboy shorts, buttoned up neatly to the collar as if in ironic jest. Tailoring is as sharp as it always was on Carnaby Street, still in tonic fabrics but color-blocking makes it current. Print is an alien force, speckled few and far between a line that is squarely minimalist. Marni may have gone back in time to deliver this collection, but pieces sit firmly in the future of Spring/Summer.

www.marni.com
Fashion
Fendi Menswear Spring/Summer 2014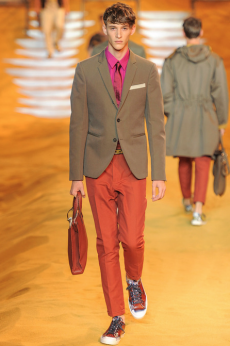 Stepping onto scorching sands this Spring/Summer was the heated pace of Fendi. A duned setting helped to lay the tone, though the arid designs spoke for themselves.
Sunset yellow drove full-throttle, terracotta as deep as desert sand belted tightly in the passenger seat. In the shades afforded by the powdered dyes of the East, vibrancy permiated in blocks – though speckled paint stains told of their source.
Fabrics befitted the sweltering heat, in airy yet endurable weights. Jackets, meanwhile, puckered and glossed like roasted leather. Tailoring remained subdued; in sandy camel hues, slim-fit fought the oversized elements, with the aforementioned ultimately winning. Co-ordinated pieces jarred ever so slightly, as scratchy straw checks weren't quite in tune. Piled together, the look is undoubtedly eclectic. Standalone, however, each piece simply blazes in the summer sun.

www.fendi.com
Fashion
Vivienne Westwood Menswear Spring/Summer 2014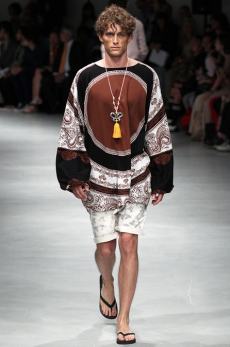 So the spirit of the libertine made it onto the catwalk at Vivienne Westwood - what else is new? Perhaps a topical political statement will suffice. The heart of the collection's theme, Truth, was not just worn on its sleeves, but rather fully emblazoned sandwich-board style across the chest. Printed T-shirts carried a stencilled impression of uniformed soldier Bradley Manning, an alleged source to the WikiLeaks scandal. Not worlds apart in style from the emblematic image of Che Guevara, both icon and models who bore it donned berets fit for battle. The medium may have been subtle, but the message was strong.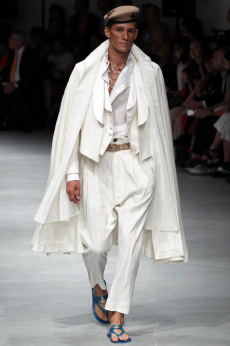 Westwood, by her very nature, likes to shine a light on the side-lined. All the while being radical, the line was designed to cater to the eclectic tastes of the bohemian traveller; think breathable linens and a penchant for print. Heritage checks fused with harems, but just when you thought designs were headed for tradition, pieces would throw out a host of contradictions. Silk cummerbunds were swapped for boxer-bearing jean, and neckerchiefs dressed up but deconstruction tore down: vive la revolution, vive Westwood.

www.viviennewestwood.co.uk
Fashion
Mulberry Fall/Winter 2013 Campaign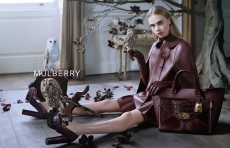 Can Mulberry help but conjure a wonderfully whimsical campaign? With Tim Walker in tow, it would be foolish to expect anything otherwise. Oxfordshire's Shotover House provided the aristocratic setting, made all the more magical by the other half of Walker's imagination: set designer Shona Heath.

Framed by a typically period setting, doll's house trimmings are the perfect partner for the porcelain features of model Cara Delevigne – a quality only further accentuated by her stoic air.
Crooked branches creep eerily into frame – a homely haunt for the wildlife of the woodland – tipped by shrinking buds and starkly bare twigs. Camel and oxblood take preppy cuts, reflected by its Oxfordshire setting. Leather and black stir a sombre concoction, whilst all-white puritan shapes radiate with a deceptively angelic snowy gleam. Played out to its sole spectators, the story is cloaked in supple merlot leather, like a faded fairytale.

Only walker could make innocence so haunting; only Mulberry could dress the tone.

www.mulberry.com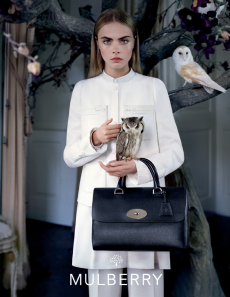 Fashion
Happy Birthday Hugo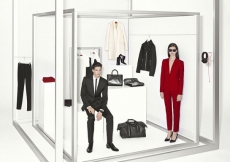 Counting twenty years of avant-garde design this summer is the German diffusion line, HUGO. Born in 1993 to the Hugo Boss group, HUGO has come into its own as a pioneer of trends, looked to for trailblazing design in finely focussed cuts.
To mark the occasion, HUGO is hosting a summer-long celebration at the Saatchi Gallery in London, in the form of its exhibition, Red Never Follows. From July 21st to September 1st, twenty inspiring creators and inventors will present their artworks under the exhibition. From interactive multimedia installations to unflinching street art, this diverse showcase of creativity will mark two decades of innovation by HUGO.
Also honoring the anniversary is the launch of an exclusive retrospective collection of 20 signature HUGO designs. Pieces set to feature in the capsule line include the red woman suit, a bicolor man shirt and limited edition '90s style headphones, and will be premiered at Galeries Lafayette in Paris from September 2nd, before going live online and in the Champs-Elysées flagship store.

www.redneverfollows.com
Fashion
Jil Sander Menswear Spring/Summer 2014
How does Jil Sander manage to fill a blank page without actually penning any ink? Clinical whites were taken to their logical conclusion with the very first look – white coat and all. Save the neon-light glow of luminous piping – a scant sight stolen from a chance flash of lining – whistle clean sterility dictates. The signature Sander classic – the starched white shirt – is a consistent throughout, seeing character alternate schizophrenically between sportswear and futurism.
Lacquered swing coats shine with a bleachy gleam, despite orange and pink flirting luridly against the chaste wishes of white. Longline shorts peep from knitwear, making a play for tailoring, while parachute-style silks take windbreaker sillhouettes, tapered in to an elasticated waist. Tarnished plaids sully a pristine reputation with dirty grays, and scribbled prints downright deface. Silhouette, nonetheless, retains its streamlined shape til the bitter end, with a form that cages and contains graphic's wayward spirit.

www.jilsander.com
Fashion
Tom Ford Menswear Spring/Summer 2014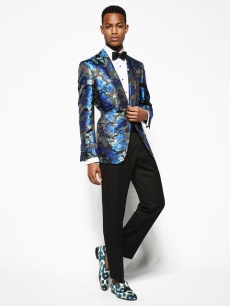 Inverted florals adorning raw silk jackets makes for a slick wardrobe in anyone's books. When such designs are penned by Tom Ford, however, they enter a league of their own. Hawaiian prints played out on slim-fit tuxedo pants and tassel loafers slipped into cheetah skin: Ford's collection bought into the philosophy of the single statement piece, treading only the perimeters that skate the treacherous ground of layering; busy motifs can vie for the attention of everyone, and win the affection of no-one.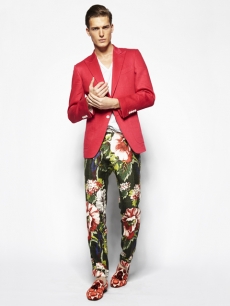 But with a pronounced tongue, luridness can translate to luxury. Ankle grazing slacks wink to modern day suave, while an iridescent sheen gives the fully-fledged nod. Beneath opulent blazers, staples veer anywhere between deep V-neck cuts and sky-high turtlenecks, with the classic shirt signposting the dependable middle ground of snappy dressing. A slick wardrobe then? Tom Ford brings new meaning to the term.

www.tomford.com
Fashion
London Collections: Men - Day 2
Katie Eary
Driving round two of London Collections: Men was a sherbert-sweet sense of summer. Doused in pastels, Richard James gave us soft and simple tailoring, with stand-out espidrilles the only statement piece against a refreshed line of loyal staples.
 Rag & Bone
Rag & Bone, too, presented pared-down pieces, as anoraks and fishing hats echoed the loutish slur of the nineties britpop scene. Katie Eary's graduated prints bought hues to daze in eye-sore orange and fuchsia pink, deep from which jungle skins and flocked flamingos swarm to hypnotise.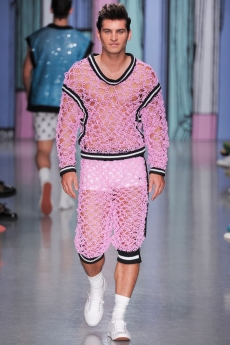 Sibling
Graphic print reigned supreme at Christopher Kane and Sibling, with co-ordinated two pieces obeying a form that is strictly streamlined. Kane's electrifying palette and symmetrical motifs reflected the digital age, whereas Sibling's mix of sportswear and gridlock knits in early nineties lilacs stirred a soup of all-American references, when cliques collided and shared wardrobes. KTZ usurped Arabian silhouettes with a collage of dizzying print; ying and yang motifs, candy stripes and map prints cloaked bodies in draping lengths, with the menace of slogans reading "Poison" and "Terror" made all the more tangible by studded spike accessories.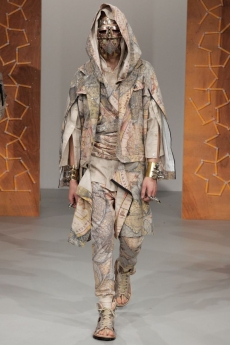 KTZ
True to form, Alexander McQueen delivered classical ceremony with typically macarbre undertones, as worn scalloped lace and frayed jaquard were a nod to lost nobility. J.W. Anderson, however, waved the flag for conceptual design. Bold, basic shapes were contorted and displaced, stomachs bared and shoulders constricted in an almost straight-jacket style – a shining example of London's progressive eye. It was Martine Rose, however, who hosted the show that was London incarnate: strewn about a showspace kitted out to enact an unkempt living room, sunblushed graphic tees and scuffed denim set the tone of the collection. Wigged male models lounged on upholstered sofas, flicking through tabloids in white wide-legged pants – not defined by subscription to gender, Rose's proved for a surreal show, to say the least. Only in London...

www.londoncollections.co.uk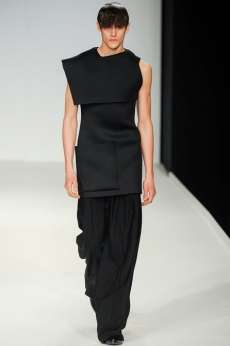 J.W. Anderson
Fashion
A Cannes Diary by Louis Vuitton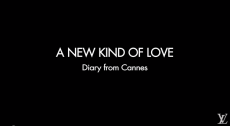 Causing quite a stir at this year's Cannes Film Festival was Sofia Coppola's newest release, The Bling Ring. As preparations go underway for its premiere around the world, Louis Vuitton, together with director Jordan Schiele, present a short cinematic snapshot of the festival in A Cannes Diary.
Beautifully framed in timeless black and white, the opening shots capture the quiet anticipation of locations lying in wait for a hype of activity, before washing into the full-colour vibrancy of Coppola's premiere party. Maurice Chevalier's You Brought a New Kind of Love to Me provides the soundtrack to the piece, whispering timbres of old Hollywood glamour to a tradition whose roots lie in deep in the 1930s, and re-emerge today as the ever-opulent celebration we know it to be.

www.louisvuitton.com
Fashion
LVMH presents Les Journées Particulières
If curiosity ever proves too much to bear, Les Journées Particulières may go some way to satisfying that thirst for knowledge – just the tonic for an inquiring mind. Following its successful launch in 2011, this weekend's program of events serve an art and design initiative conducted by luxury brand group and patron, LVMH.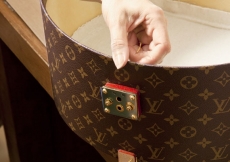 Through Saturday and Sunday, houses under the LVMH umbrella will leave their doors open to the public accross 42 European sites. The Ateliers of Kenzo, Dior and Louis Vuitton – to name but a few – will impart ticketholders with a rare glimpse of their creative environments, providing behind-the-scenes insight to the work of craftsmen and artisans.
From couture to cosmetics, watches to wine, Les Journées Particulières hosts an extensive array of workshops to cater to all trades. With open-houses in six countries, the celebration will surely be far-reaching, enlightening and simply unmissable.

Les Journées Particulières runs from June 15-16th at various venues.
www.lesjourneesparticulieres.com
Fashion
Replay Spring/Summer 2014
More than a splash of beach style made its way onto the Replay's Spring/Summer catwalk for the 2014 season. In fact, the Urban Surf collection was awash with sun and surf pop – a perfect postcard of the Hawaiian shores.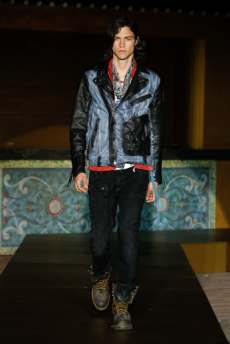 The free-spirit of the surfer shines in the design of the Replay Blue Jeans line, whose bleached tones speak of saltwater-drenched and sun-dried carelessness. Loose fit and unfinished edges render Men's and Women's styles characteristically cool, as rolled-up cuffs reveal ankles and attitude. Laserblast denim lies at the heart of the hippie vibe. Eco-friendly and low impact, skinny, boyfit, biker and carrot cuts are a reaction to responsible youth culture. Nostalgic femininity is plucked straight from Venice Beach, when broderie anglaise confronts cold-dyed leather. Meanwhile, fringed T-shirts and are taken from day to night, when cargo jackets are swapped for stone studs and sequins. Menswear, too, is distinctly understated. Oversized T-shirts are aged by texture, as crinkled fabrics appear blushed by the sun, while biker sleeves reinterpret the nylon bomber.
Vibrant hues make waves when palm-print takes the form of macro print and batik. Neoprene mini dresses and mesh knits steal structure from scuba, applying exposed zips and stitching as a playful final point of reference.

www.replay.it
Fashion
Roberto Cavalli: Psychotic Love
Sometimes hysteria can get the better of us. For fans of Roberto Cavalli, the launch of the label's newest accessory may explain that neurosis. Psychotic Love is a short film for the brand, and a tale of one woman's delirious obsession: her Hera bag. Sensational viewing is the least to be expected, shot by the lens of Diego Diaz Marin - whose photographic work is both wonderfully erratic and eccentric – Psychotic Love does not disappoint.
Through a spellbinding spectrum of kaleidoscopic colour, the woman's state of torturous infatuation culminates in the moment she surrenders to her mania. Walking out out on her life, she abandons everything she owns - everything but her beloved Hera bag.

Fall madly in love with the Hera bag when it hits the shelves later this month.

www.robertocavalli.com
Fashion
Giorgio Armani Fall/Winter 13 Campaign
The sun may be beaming on your back, but just one glimpse at the steely sobriety of the Giorgio Armani Fall/Winter 13 campaign is enough to give you chills. Captured by the painterly eyes of Mert Alas and Marcus Piggot, an inky color palette and soft elusive lines lend an impressionistic quality to the photos. As the twenties theme subtly sings, angular form appears to almost dance, with a gently-focussed lens illustrating a dreamy sense of movement. Starring Mariacarla Boscono and Florian Van Bael, the campaign is to debut worldwide later this month.

www.armani.com
Fashion
Dior's Secret Garden 2
Step into a world of secrecy and splendour. To sequel the success of their Secret Garden short film last Fall, Dior are bringing their Fall/Winter collection to life through another directed piece. Inez van Lamsweerde and Vinoodh Matadin have been called upon to direct the Secret Garden 2- Versailles. Starring Daria Strokous as Marie Antoinette, the Château de Versailles provides the backdrop to an enchanting tale, dreamt upon the painting by Edouard Manet, Le déjeuner sur l'Herbe. Launching live online in June, prepare to explore a realm abound with poetry and colour, as flower-women bloom from its mysterious grounds. Fantasy thrives in the most unexpected of places, as luxury gives way to dark imagination - illustrious of the season's peek-a-boo cuts to established sillhouettes.

www.dior.com
Fashion
Fred Perry 60 Years auction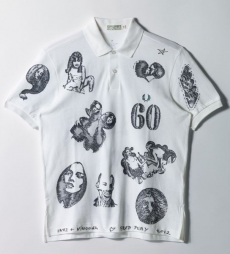 As part of the 60 Years anniversary of Fred Perry, the brand has compiled a list of their most loyal and distinguished fans and invited them to personalize a 1952 reproduction shirt. 60 shirts have been individually customized with special birthday messages and unique designs as part of the charity fund raising exercise.
From 30th May to 21st July, each of the customised shirts will be available as part of a special online auction in aid of the Amy Winehouse Foundation. The foundation has been set up in Amy's memory to prevent the effects of drug and alcohol misuse on young people and aims to support, inform and inspire vulnerable and disadvantaged young people to help them reach their full potential. The first 15 shirts will go for sale on Ebay on May 30th for a period of ten days and includes customisations from Sister by Sibling, Raf Simons, Bradley Wiggins, Damon Albarn, Exactitudes, Jamie Reid, Neville Brody and Inez & Vinoodh.

The shirts can be bid on from now at www.fredperry.com/60-years-gallery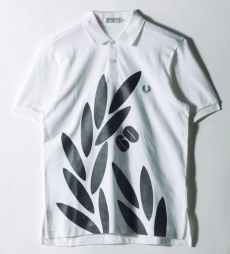 Fashion
J.W. Anderson for Versus Versace
When it was announced some months back that Jonathan Anderson was invited by Donatella Versace to design a capsule collection for Versace, opinions were both in doubt and in awe. In some ways, the two aesthetics could not be further apart. Jonathan's brand J.W. Anderson is known for it's rigourous and boxy cuts and unisex approach. Versace obviously likes to keep its clothing as close to the body for it's sexually agressive and confident man and woman. But on another level, the brands have a similarity that can not be denied; J.W. Anderson is heavily influenced by the nineties-era and that period was, of course, Gianni Versace's initial heyday.
That tension is clearly visible in the collection presented wednesday in New York. Andersons personal influences were the austere and graphic pieces like cropped tops and skirts with high slits on both legs. J.W. Andersons latest menswear collection was all about ruffles, short hems and knee-high boots. That unisex-feeling returned in this Versus-collection as the clothes didn't change that much for him or her. The Versus-man is as confident in a croped and sliced top as his female counterpart. When the Versace-trademarkt made their appearance in the collection, it added extra depth to the collection with signature gold buttons, lace and safety-pins. The collection, reminiscent of Helmut Lang, Jil Sander and Versace himself, celebrated the nineties. But most of all, it was the result of an balanced joining of forces, in which both parties had an equal voice.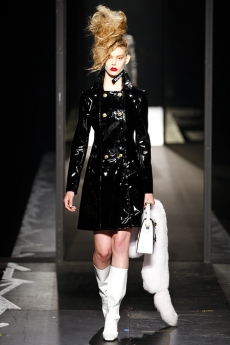 Fashion
Stella McCartney joins Designer for Tomorrow
Peek & Cloppenburg Düsseldorf is proud to announce that Stella McCartney is the new patron for their annual talent award Designer for Tomorrow. Since its initiation in 2009, the fashion award is yearly given away during the Berlin Fashion Week, giving young talent the chance to be discovered and providing them with a creative platform.
With Marc Jacobs as the patron of the project for the last two years, Peek & Cloppenburg found a worthy successor in Stella McCartney. She will be part of the whole process of finding the next winner of the fashion design competition. The first step of the process will be reviewing every application sent in from all over Europe and for McCartney to select her favourite ten designers. Along with an expert jury board, she will view the presentation of the finalists' collections in Berlin in May 2013. Ultimately then they will decide on a winner, who will present his collection at the Berlin Fashion Week and receive the fashion award's grant.

www.designer-for-tomorrow.com www.stellamccartney.com
Fashion
Jimmy Choo at London Collections: Men
It's a first for Jimmy Choo! In previous years the fashion brand always presented their menswear collection in Milan, but in June 2013 the men's collection will make its debut in London for the first time.
The Spring/Summer collection 2014 will surely be a great addition to the third installment of the London Collections: Men, which will take place from the 16th til the 18th of June.
To fully win over the hearts of the fashionable Londoners, Jimmy Choo will also be opening a flagship store in Dover Street in the beginning of May.
Fashion
Window Displays at Lanvin Paris
Inspired by the prints of Alber Elbaz' Lanvin Winter/Fall 2013-14 collection, the window displays at the Lanvin Paris store are currently filled with hundreds of butterflies. Swarms of fluttering creatures are suspended in mid-air surrounding the still mannequins, they seem to defy gravity.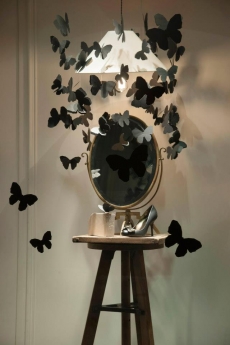 The shapes of the butterflies give a playful notion and their elegant black colour is a contrast to the white skin of the mannequins as well as the Parisian creme stone walls found at 22 Rue du Faubourg Saint-Honoré. Flying through doorways, out of fireplaces and old-fashioned record-players the butterflies are attracted to Lanvin garments like bees are attracted to honey. The mannequins seem surprised by the sudden appearance of the butterflies, there's nothing left to do but to hold on to those gorgeous Lanvin handbags and be careful not to take a tumble in those wonderful heels.

www.lanvin.com
Fashion
The Surf Shack by Tommy Hilfiger
When surf culture emerged in America in the 60s, it was about much more than just the sport. It created a new direction in music and fashion - in fact, a whole new lifestyle still embraced by surfers around the world today. That surf culture inspired Tommy Hilfiger to create Surf Shack, a limited-edition capsule collection to accompany his spring/summer 2013 collection.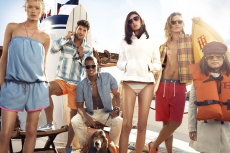 Tommy Hilfiger normally takes a fresh and young approach to classic American apparel. Surf Shack manages to create a crossover between preppy and laid back, resulting in surf sophistication. The 12 womenswear and 16 menswear pieces are made of summery fabrics like chambray and feature bold prints and neon colors. The beach apparel, swimwear, footwear, sunglasses, watches and bags are ideal from sunrise to sunset on a hot summer's day.
Tommy Hilfiger has also collaborated with the Art Production Fund again to invite five contemporary artists to design five unique surfboards. They will be available in selected Tommy Hilfiger stores from April 15, once the in-store installations of sandy beaches are complete.

www.tommy.com 
Fashion
Human Made X Coca-Cola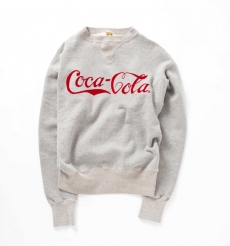 The Japanese designer NIGO® launched his new capsule collection inspired by vintage Coca-Cola. The capsule collection is released under his newest label's name – Human Made. The new line of menswear takes its inspiration from iconic work wear from the 20th century. A wide grey sweater with the old-fashioned Coco-Cola logo in a blazing red, a cap with stripes and simple white T-Shirts with prints of the coke bottles remind of the days, when Coca-Cola was brand new and everybody raved about that new fizzy drink.
Fun fact behind the collection: The designer owns a personal collection of Coca-Cola memorabilia including a red retro leather jacket from his high school days. He was also the Japan Coca-Cola yo-yo champion back in the 80s and awaited this collection for a long time.
The capsule collection is a collaboration with one of Japan's fanciest boutiques, Beams. The collection is solely available at Beams surrounded by fitting decor like a neon light script of the Coca-Cola logo and a red vintage metal box filled with the classic coke glass bottles.

www.humanmade.jp
www.beams.jp
www.coca-cola.com
Fashion
New Converse collections
by Rachel Marie Walsh
How many ways can Converse update their perennially popular Chuck Taylors? Well, this season they're releasing several new lines with strong, creative themes. Well Worn boasts seven faded, retro-denim styles. The look harkens back to nostalgic American films such as My Girl and Stand By Me, where youngsters in scuffed sneakers experienced friendship, love and loss.

Other lines like Camouflage, Hawaiian and Animal answer questions like: "If a Chuck Taylor were an exotic holiday destination, what would it look like?" Jungle prints, hibiscus patterns and leopard prints showcase the colors of nature and Soho nightclubs.

Collaboration with Jack Purcell brings a touch of femininity, such as a pretty rose print on the plimsolls. Another line co-designed with Finnish brand Marimekko draws attention with crimson strawberry, clouds and spots. John Varvatos toughens things up New York-style, with zips, studs and monochrome colors.

All styles sport traditional chunky soles, breathable uppers and soft lining. You have to hand it to Converse - a brand that never stops reinterpreting a tried-and-true favorite.

www.converse.com
Fashion
Dior at Harrods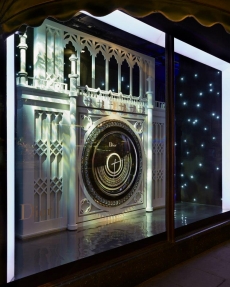 Inspired by Christian Dior's love for the British culture, the luxury fashion house just launched their collaboration with Harrods, one of the most renowned British department stores. The windows in Brompton Road display an exclusive collection of accessories, which bring French elegance and British charm together. The traditional Dior colours of white and grey are combined with red leather and tartan pattern for this special occasion. Apart from garments, handbags – including new designs of the 'Lady Dior' bag – and jewellery, the range of items also includes little snowglobes displaying the 'New Look' and teddy bears with the Dior logo.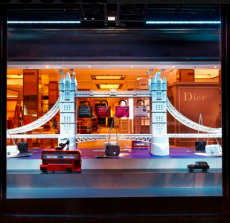 The histories of Dior and Harrods are already interlinked. In 1954, Monsieur Dior not only attended a Dior fashion at Harrods, but also inaugurated the Harrods Fashion Theatre. To celebrate this occasion, every customer who visits the legendary department store until April 14th will be able to the enjoy a unique Dior experience. The fourth floor is transformed into a Dior wonderland, where the customers will be reminded of the all-time greatest designs of Dior with the essence of J'Adore wafting through the air. The Café Dior in style of Dior's favourite 18th century decor caters for some delicious cupcakes and lobster club sandwich to enjoy during well-deserved shopping breaks.

Don't miss out on your chance to visit the special Dior experience at Harrods! It is located at 87-135 Brompton Road, Knightsbridge, London.

www.dior.com
www.harrods.com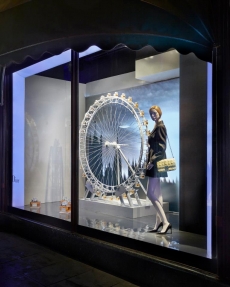 Fashion
Gucci Chime For Change
Chime for education. Chime for health. Chime for justice. To empower women all around the world and to strengthen women's right is the aim of Gucci's new project Chime For Change. The campaign was just launched at the TED 2013 and its spokeswomen are Gucci's creative director Frida Giannini, singer Beyoncé Knowles-Carter and actress Salma Hayek Pinault.
To bring together and unite voices defending girls and women from all over the world is the way how to achieve change. Via social media platforms such as Twitter or Facebook everyone's voice can be heard. "There is no innocent bystander in the information age," says Salma Hayek Pinault at the TEDxWomen Luncheon. Social media offers the opportunity for anybody to become active and push positive social change forward.
While in many countries women still struggle for basic human rights,
Chime For Change is not only raising awareness about said topic, but also cooperates with the social change makers of Catapult. Catapult is a crowdfunding platform to better and further the living conditions of girls and women, representing over 50 organisations in 38 countries. It will link Chime For Change members to charity projects they can participate in and donate to.
The Nigerian women's rights activist Hafsat Abiola left the women at the luncheon with a hopeful and motivating statement: "Let us stand in solidarity with each other in our common struggle for a better world and step by step, not over night, but step by step we will change the way that the world sees women and treats women."

Get involved and encourage change on the official website of Chime For Change:

www.chimeforchange.org
www.gucci.com
Fashion
Céline Fall/Winter 2013-14
A soft colour palette of nude tones defined the Céline Fall/Winter 2013-14 collection. British designer Phoebe Philo chose a toned down, but elegant look for the Céline woman of the next cold season. Skirts that flared perfectly around the knees, creme V-neck dresses or ones with broad off-shoulder collars floated along the runway. Integrating statement jewellery into the garments and pairing them with tight overknee leather boots were a contrast to the clean cuts.
Amongst all those oversized coats one of them stood out in particular – that one coat that reminded of a dalmatian's fur. A beautiful piece of clothing in white with a lot of furry black spots. It looked a little more eccentric than its counter part with creme spots, which fit more into the line of nude colours.
Elegant stand-up collars were essential to the collection, no matter if they were part of luxurious wool jumpers or checkered jackets. A few looks combined different plaids with each other in bright reds and blues. The collection came to a finish with a range of navy blue garments. Their designs reminded of the creme coloured dresses and so the runway show came to a perfect close.

www.celine.com
Fashion
Kenzo Fall/Winter 2013-14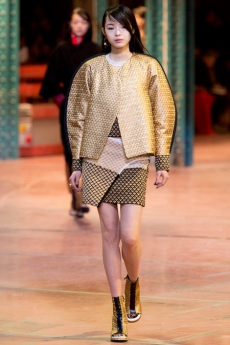 The Kenzo Fall/Winter 2013-14 collection goes back to the roots of the Japanese fashion brand creating an exciting mix between traditional and modern shapes. The designer duo Humberto Leon and Carol Lim stay true to the Japanese heritage of the label with shapes that resemble kimonos and traditional Japanese robes. Jumpers with wide sleeves, asymmetric cuts, tight trousers, kimono-like belted wool jackets, a variety of skirts and flowy floor-length silk dresses are the collection's essential designs.
Various prints are also a key to the Fall/Winter collection. Either inspired by Asian patterns or featuring geometric designs, there is a whole range of different patterns. One of the most dominat ones is the a pattern that featured a print of a great number of eyes, which seemed to be staring at the watching crowds.
The first colours to appear on the runway were glamorous tones of gold, black and a bright red, then a number of light blue garments followed, the red reappeared in cornflower-blue patterns, while the collection ended with a splash of orange.

www.kenzo.com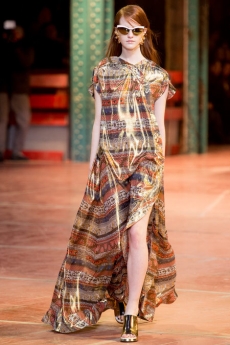 Fashion
Lacoste Lab 2013 Collection
by Rachel Marie Walsh
Lacoste creative director Felipe Oliveira Baptiste and design director Christophe Pillet have taken the label's tenacious crocodile far beyond the tennis court over the last two years. While Baptiste gives the sportswear an urban sensibility, Pillet, who heads Lacoste Lab, works to expand its reach.
Lacoste Lab revives the tradition of innovation, which the prolific Frenchman considers an integral part of the brand's DNA. The products, mostly outdoor sports equipment, are created through collaborations with carefully-selected partners. Unlike other collaborations, however, the Lacoste brand remains
firmly in place. "These are Lacoste products. They're sold, promoted and designed by Lacoste, but produced by experts," says Pillet.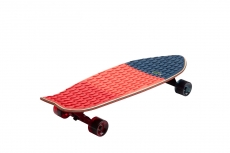 Pillet's team compiled a shortlist of up-and-coming, state-of-the-art sports brands. "We looked for the most innovative brands, the ones that could offer us real, contemporary technicality, but also the modern ones which are open-minded and enjoy collaborating," he says. "The choice wasn't so hard, because when you look at something like a motorcycle helmet, there's only about five or six brands that really stand out."
The Lacoste Lab 2013 Collection was developed with the young, thrill-seeking consumer in mind. New products include goggles created in partnership with Dragon Alliance, a football, rugby ball and volleyball created with Duarig, petanques with Obut, helmets with Design GPA, and skateboards and snowboards with Artprint and Salomon.

www.lacoste.com
Fashion
Marni Fall/Winter 2013-14
Images of a forest were the backdrop for the Marni Fall/Winter 2013-14 fashion show, which showed black silhouettes of bald trees and soft light that reminded of a sunrise on a crisp morning in fall. Tall trees towered around the audience's seats and displayed the romantic beauty of nature.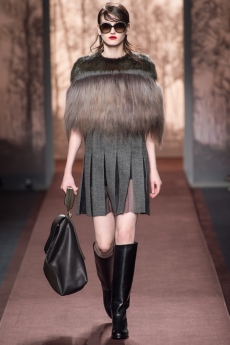 The garments were a symbol for romanticisim stripped down to the very bare essentials. The varied usage of fur was one of the collection's key elements. It was fur of all colours and of all kinds – shiny, fluffy, astrakhan. Furry stoles accompanied bandeau tops and wide pants, fur collars added a finishing touch to coats and even gloves as well as boots' main material was fur. Oversized coats and blazers accentuated clear cuts with diagonal zippers as details. Skirts of dresses were slashed, giving away a view on delicate underlying mesh fabrics. Leather jackets and dresses added a feel of casual coolness, while the romantic theme of nature returned in the collection's prints of trees and abstract flower patterns.

www.marni.com 
Fashion
Prada Fall/Winter 2013-14
With this Prada Fall/Winter 2013-14 collection Miuccia Prada paid tribute to designs she personally liked. Unusual to Prada, it was a very personal approach to creating fashion. Flared coats with round buttons and knee-length skirts with asymmetric cuts were key pieces of the collection. Essential was also the accentuation of sleeves and their puffy look with either pleats or furry details.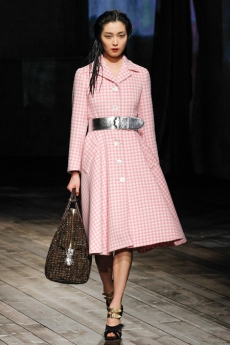 The theme of gingham check of Prada's menswear was continued in the womenswear collection. Playful coats in white, light pink and soft blue as well as colourful weekend bags and shoppers were made out of checkered fabrics. Yet the feel of this collection was more mysterious than its menswear counterpart. Dresses and coats were slightly unbuttoned, zippers of jackets and skirts slightly unzipped. Necklines from shoulder free to V-neck were revealing a layered styling and the tender skin of the models. Fine brown crocodile leather as well as shiny gold and silver patent leather added a little more glamour to the collection, as if the dresses covered in black sequins and the luxurious fur coats were not enough.
The models with wet hair look walked their choreographed path accross the runway with sophistication and silhouettes of seducing women and straying cats were projected onto the walls. The inspiration to this Prada collection might have been more emotional than usual, but it still displayed perfection in every garment.

www.prada.com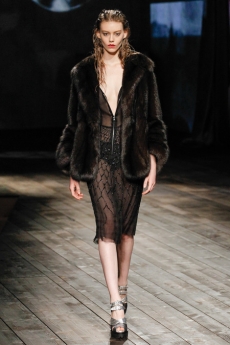 Fashion
Fire Etchings by Karl Lagerfeld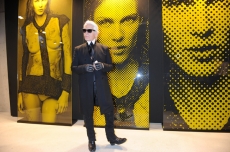 From oil painings to contemporary photography the portait is one particular form of art that artists have been fascinated with ever since. None other than Karl Lagerfeld has created one of the most recent responses to what contemporary portraiture could look like.
In his exhibition "Karl Lagerfeld: Fire Etchings" at the Galerie Gmurzynska in St. Moritz, the fashion designer and photographer dicovers a whole new medium for portraiture by using backlit glass and etching images into its surface with fire.
The subjects of the glowing blue, yellow and white images are rapper Theophilus London as well as the models Freja Beha Erichsen and Aymeline Valade – Lagerfeld's current muses. The exhibition is on display at the Galerie Gmurzynska until the 23rd of March and viewable seven days a week from 10-19 hrs. The gallery is located at Via Serlas 22, 7500 St. Moritz, Switzerland.

www.gmurzynska.com 
Fashion
Ralph Lauren Fall/Winter 2013-14
The atmosphere of the Ralph Lauren Fall/Winter 2013-14 fashion show reminded of Russia in the beginning of the 20th century. Black caps and furry hats were worn by the models and they looked like they were part of the movie classic Doctor Zhivago.
The collection didn't really settle on one certain look and had many different facettes to it. Another theme that reappeared was that of sailor and navy wear with designs that resembled captain's jackets. The runway show started off with preppy ruffle blouses and bows, cableknit jumpers and turtlenecks, duffle capes and well-fitted coats, wide pants and flared high-waisted trousers, floor-length ruffled skirts and A-line leather ones – all in black and white.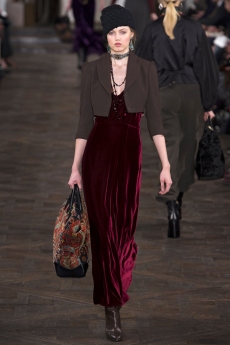 Then came a series of colourful velvet dresses with puffy sleeves and clever details created by gathering of fabric. The velvet garments in red, purple, blue and green were accossorized with tapestry bags and paired with brown, black as well as grey cropped and longtail blazers. But the collection wouldn't be complete if it didn't end with a number of glamorous gowns. From creme tulle to deep red taffets dresses, from black gowns with leather pleats to blue velvet dresses with bejewelled necks, the variety of gowns vowed the audience and got them up their feet to end the show with standing ovations.

www.ralphlauren.com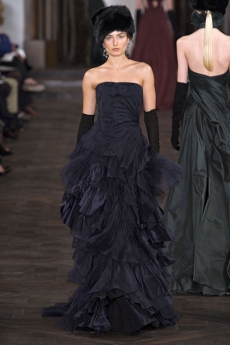 Fashion
The Unfolder 7 by Alexandre Vauthier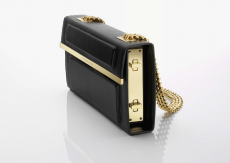 This is it. The Unfolder 7. The first bag ever to be designed by Alexandre Vauthier. While the fashion brand marks its fourth year in existence, this is the first accessory by the French designer. It's the cherry on top accompanying the garments of the current collection.
The square and slim structure of the bag looks classic, yet modern. The same effect is achieved by its materials of lambskin and crocodile leather as well as the golden metal chain and details. The versatile bag can be worn as a clutch or across the shoulder, just as one pleases. So it's an ideal companion for a night out, but just as much for a relaxed day in town.

www.alexandrevauthier.com 
Fashion
Happy Birthday, Dior!
It's a birthday to celebrate! 66 years ago on a snowy day in Paris the very first collection of Dior Haute Couture was revealed. The 12th of February 1947 became a date that marks a pivotal day in fashion history.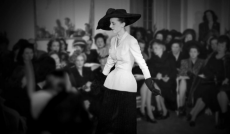 To the astonishment of the fashion show's audience feminine dresses and the typical defined high waist showed of the female body. No longer were those models hiding in their bodies in unflattering clothes of the war-time. Femininity made a comeback and the Parisians audience as well as women and men all around the world were admiring the Dior Haute Couture collection.
On the same day a second new thing was introduced to the world: Dior's first ever perfume. The smell of Miss Dior was everywhere in the rooms of Avenue Montaigne No. 30, where the fashion show was taking place hinting that the new look of a woman was not only about what she wore, but about her overall presence.
 
www.dior.com 
Fashion
Closed Spring/Summer 2013 Campaign
The Spring/Summer 2013 Campaign by Closed has a young and fresh feel to it. The 16-year old German model Esther Heesch is accompanied by Swedish model Lingus Gustin, whose aethestics fit well together.
The couple was photographed by Benjamin Alexander Huseby against a clear blue sky and all of the photographs seem to be in soft and light colours. The garments look casual and range from thin jeans and chambray shirts to light white cotton trousers. A matching video clip by Jonas Lindström shows the young models diving into a pool, splashing water and glistening water surfaces as well as the two of them looking up into the sunlight and open sky. It is full of symbols for freedom and the love of being independent. As new as the campaign is, so is the design of the Closed website. Following through with the simple black logo on a white background it got a makeover and is now ready for summer to come. A nice feature is the display of all the different key looks with pictures of tiny models, who seem to move around their frames freely.

www.closed.com 
Fashion
Marc Jacobs becomes Creative Director of Coca Cola Light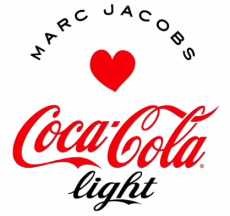 It's time to celebrate! Marc Jacobs is the new Creative Director of Coca Cola Light in 2013. After 30 years of the invention of the low-calorie drink the genious fashion designer is taking the leads to bring the Coca Cola brand forward.



In the new amusing advertisement three girls stumble upon Marc Jacobs posing inside a photo booth with his ice cool Coke tin. He is taking the idea of the Coca Cola Light Man to the next level, taking off his shirt and baring it all. While the flirty tune of I just want to make love to you by Etta James is playing the girls can't help but steal a glance at the photos the booth spits out. They gasp once they recognise Marc Jacobs: The surprise is out and he just casually announces that it's time to celebrate his new position.
So raise your glasses (or Coke Light tins) and say cheers to a new Coco Cola era led by Marc Jacobs.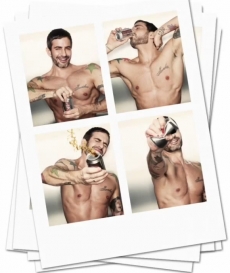 Fashion
Stone Island S/S 2013 Night Glow Jacket
Some garments of the Stone Island Spring/Summer 2013 collection have a special feature: The ability to glow in the dark. Luminescence techniques have always been fascinating and now Stone Island is pushing them forward with their recent inventions.
The key to the glowing fabric is an extraordinary double-layered polyester piqué that captures light and reflects it when worn in complete darkness. A membrane inserted into the fabric prevents water and wind from entering and makes the jacket a perfect garment to wear outside on a dark and stormy night. Twelve items from hooded jackets over cardigans to waistcoats carry the glow in the dark fabric.

www.stoneisland-corporate.com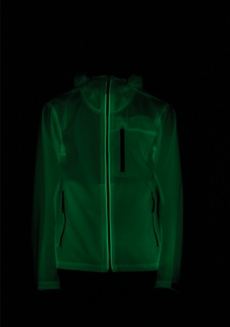 Fashion
Leandro Cano Fall/Winter 2013-14
A shining addition to Berlin Fashion Week was the collection of newcomer and emerging designer Leandro Cano. He was the winner of the 2012 Designer for Tomorrow competition by Peek&Cloppenburg Düsseldorf, which was hosted by Marc Jacobs. The financing and presentation of Cano's first collection was a worthy price for winning.
White and creme as well as bordeau are the main colours of the collection. Almost every garment has delicate ceramic pieces attached to them. Sometimes on the shoulders, sometimes on skirts or even on tights and leggings. Unusual for something made out of cloth fabric, the ceramic makes the collection seem fragile.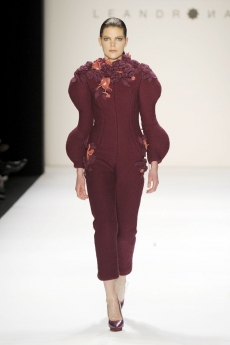 Some pieces are made out of clear plastic resembling rain capes. The designs as well structured, mostly highlighting hips and sometimes shoulders. Another essential piece is the peplum top. Patterns of flowers entwine around the models' bodies adding a playful touch. Furry details on the back of the white garments remind of little angels' wings. The models themselves look more like sinister mermaids with wet hair, who just broke through a surface of water, now wading through fog near the water's edge.

www.leandrocano.com 
Fashion
A.P.C. Berlin Store Opening
After expanding world-wide with stores in major cities such as Tokyo, New York City and Hong Kong A.P.C. is returning to Berlin to open yet another store in the German capital. It will be the second store in Berlin and the expenditure can be traced back to the designer's love of the vibrant city. Jean Touitou has even contemplated moving his studio and atelier from Paris to Berlin.

Touitou worked together with architect Laurent Deroo on the refurbishment of the shop in Fasanenstrasse 22. It will carry A.P.C.'s men and women line, jeans and accessories. The opening celebration is taking place on January 31st from 18.00 til 21.00 hrs.

www.apc.fr 
Fashion
Prada Fall/Winter 2013-14
A domestic setting became the scenery of Prada's menswear Fall/Winter 2013-14 collection. A furnished house with modern designs and pristine clean furniture by the designer team AMO was the setting. Cubic chairs and glass tables were decorated with lonely fruit bowls, electronic gadgets, plants and vases. The "ideal house".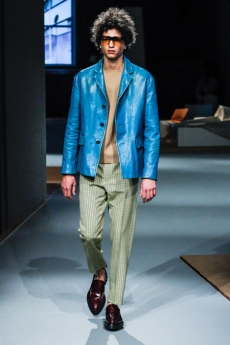 Fittingly the collection seemed familiar and homely. Gingham shirts untucked under compfy, but high quality sweaters and ankle length trousers are the key pieces of the collection. Ruffled shirts are worn underneath short checked jackets and long coats with velvet collars. Shiny brown and black leather brogues with thick spiky soles add the final touch.
The boys with the fringe haircut and their big sunglasses as well as bright coloured leather jackets seem like they just time traveled in from the 70s. Casually they walk from one door frame to the next one, entering one room after another. Miuccia Prada returns to classicism and simplicity with her collection. Less is more it is.

www.prada.com 
Fashion
Balenciaga Fall/Winter 2013-14
From casual outerwear like the green military parka or black leather jacket to smart coats the Balenciaga F/W 2013-14 proves to be versatile. The well-fitted camel jacket or the oversized grey cocoon coat are essential for this year's Balenciaga's menswear collection.
A varied mix of suits and wide pants makes the collection what it is. Graphic prints to fine stripes are covering the high quality fabrics, which vary from wool tweed to velvet. The versatility can not only be seen in style but also in colour: bright to navy blue, dark greens to khaki, different tones of camel, varied shades of grey and black combine well together. Defined cuts give the garments a clear shape and symmetrical buttons add a finishing touch.  

www.balenciaga.com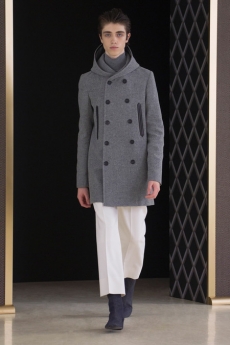 Fashion
Dries van Noten Fall/Winter 2013-14
It seems like a lovely idea to wake up one day and realize you're a rock god in the sixties. That was exactly the metamorphose that happened to the Dries van Noten man of fall/winter 2013-14. Like a modern Jim Morrison in Paris, he walks confident in his pyjama-shirt or ethnic robe, wearing it with studded jeans that were made to look like leather. Fuzzy and loosely fitted sweaters added a layer of warmth to a collection showing quite some neck and chest to enhance the nonchalant and louche aura. Silhouettes were sometimes slightly (and sometimes not so slightly) oversized. Some jackets' shoulders extended way beyond the ones of the models but with their striding strut and wit in layering, it only added to his coolness. Dries is a master in mixing patterns and materials, som