Travel
A New BVLGARI Resort Opens In Dubai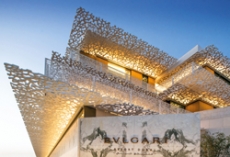 A coral texture, filtering the sun, creating a decorative motive imbued of a Mediterranean style halfway in between the creation of a goldsmith and a sophisticated natural element. Designed by the Italian architectural firm Antonio Citterio Patricia Viel, the new Bulgari Resort Dubai is a play between the Italian heritage of the maison and the suggestive surrounding landscape.

Exclusively situated on the manmade seahorse shaped island of Jumeira Bay, connected by a 300m bridge to central Dubai, the 1.4 million-square-foot property is a first-of-its-kind development for Bulgari, both in terms of scale and magnitude. With its Mediterranean village charm, the complex features the Resort, joined by six residential buildings of 173 sea-facing apartments, 15 private mansions, a Beach Club, and Bulgari's first-ever Marina and Yacht Club. The resort includes 101 hotel rooms and suites and 20 hotel villas.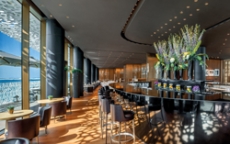 Antonio Citterio Patricia Viel and Bulgari wished to create a whole new hotel concept. Throughout the Bulgari portfolio this concept is seen in innovations such as the rooms' square-shaped floor plan to allow windows of natural light; a niche alcove doorway and entry vestibule for privacy and soundproofing from the bedroom. A flow that renders the living experience something more akin to apartment living.

While the Bulgari Hotels & Resorts collection has evolved to include a new location, a Bulgari property is always born of the same Roman spirit. Throughout the property, a repeated use of the custom-design 'Maglia Pantheon'mesh pattern recalls the ornamentation of the historic Roman Pantheon's floor, as it is a part of the architectural tradition of Baroque Rome: an inexhaustible source of inspiration for Bulgari. The pattern features intricate bronze lattice-work, as well as Bulgari's eight-pointed star motif which appeared first as an inlay in the vestibule of Bulgari's flagship Via dei Condotti boutique.
Recalling a Mediterranean garden, La Limonaia, the hidden 'lemon garden' homes the resident array of birds and wildlife. Sculpted as a geometric Italian garden with a birch walkway, La Limonaia recalls an ancient Roman garden. Bulgari's landscape designers also brought hundreds of trees onto the island, including Australian baobab trees, to establish a natural, verdant setting, a Mediterranean garden in the middle of the sea.

In every Bulgari property guests find a similar design philosophy: clean lines, peerless materials and furnishings, and a welcoming feeling of spaciousness. Iconic Bulgari photographs, often of vintage celebrities dating to the Dolce Vita, are framed above common areas with a nod to BVLGARI'S red-carpet connections. Original jewellery sketches from the Bulgari archives are placed within rooms or in hallways, recalling the 130-years of Roman jewellery design history.

www.bulgarihotels.com
Travel
The Weinmeister: The Heart of Berlin Mitte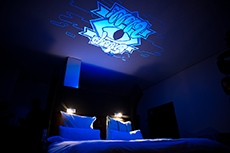 If you are planning a trip to Berlin, you won't want to miss the raw, energetic street art that overran the Mitte district after the Wall came crumbling down in 1989. Right in the middle of this colorful cultural hub is the Weinmeister hotel, which welcomed the art style that made its neighborhood famous: signature rooms and staircases were "paint bombed" by outstanding graffiti artists such as René Turrek and The Paint Club collective, giving the hotel a chic, modern ambience.

Its proximity to Museum Island and contemporary galleries, such as the C/O Gallery or KW Institute, make it a popular destination for a young creative crowd angling for inspiration. Fashion hunters can flock to the nearby Herckescher Markt to discover the latest German designers, or get their high-end fix at the Friedrichstrasse. And you mustn't worry about finding your way home once the sun goes down: the Weinmeister's gleaming metal facade, which has earned it the nickname "the Golden Cage," makes it impossible to miss.

A five minute walk from Alexanderplatz, the Weinmeister is in the perfect location to explore the best that Berlin has to offer, day or night. But if you are not up for being sucked into the hustle and bustle of the busy city, you can still breathe in the atmosphere while enjoying a glass of champagne on the private rooftop terrace overlooking Berlin's iconic TV tower.

www.the-weinmeister.com
Travel
Le Narcisse Blanc: pure Art de Vivre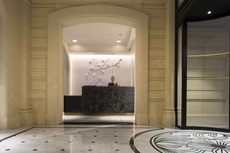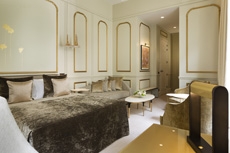 Like a bright flower blossoming in the heart of Paris, Le Narcisse Blanc is a contemporary pleasure dome where guests can breathe the magic of the French capital.

Situated between the Eiffel Tower and Les Invalides, this 5-star hotel and spa casts an incredible view to the Seine and the most majestic Parisian buildings from its bohemian terraces. Le Narcisse Blanc offers the proper Art de Vivre feeling through its cozy sitting rooms, luxurious spa with swimming pool, hydrotherapy massage jets and sauna and last but not least its 37 spacious bedrooms and suites in silky champagne tones.

Designed in luxurious and refreshing taste by "Laurent & Laurence", the hotel creates a perfect balance between Art Nouveau and Art Deco that are fused with contemporary elements, serving as an homage to the perfect Parisian lifestyle. Because, in the words of Victor Hugo "Respirez Paris, preserve l'âme".

www.lenarcisseblanc.com